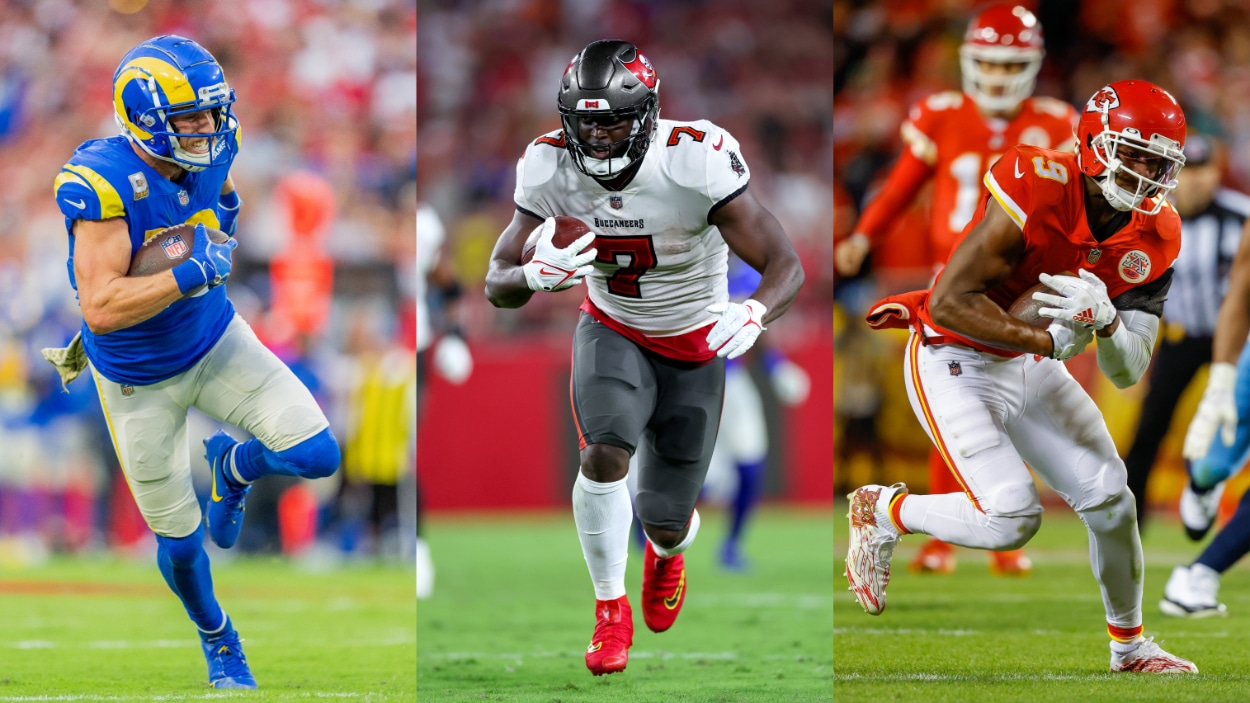 NFL Injuries: The Offensive Stars Who Left the Game in Week 10, and What Week 11 Might Have in Store
There were some big-name NFL injuries in Week 10 that included stars like Cooper Kupp, JuJu Smith-Schuster, and Leonard Fournette going down.
NFL injuries are a big part of pro football unfortunately, and Week 10 was no exception. Over the course of 12-plus hours (because of the international game, a handful of NFL players went down and could be out for a while. This week, there were more big names taken off the field than there were in Week 9. With that in mind, here is an NFL injuries roundup about the most well-known stars whose injuries could make a difference for your favorite teams and your fantasy team alike.
NFL injuries: Week 10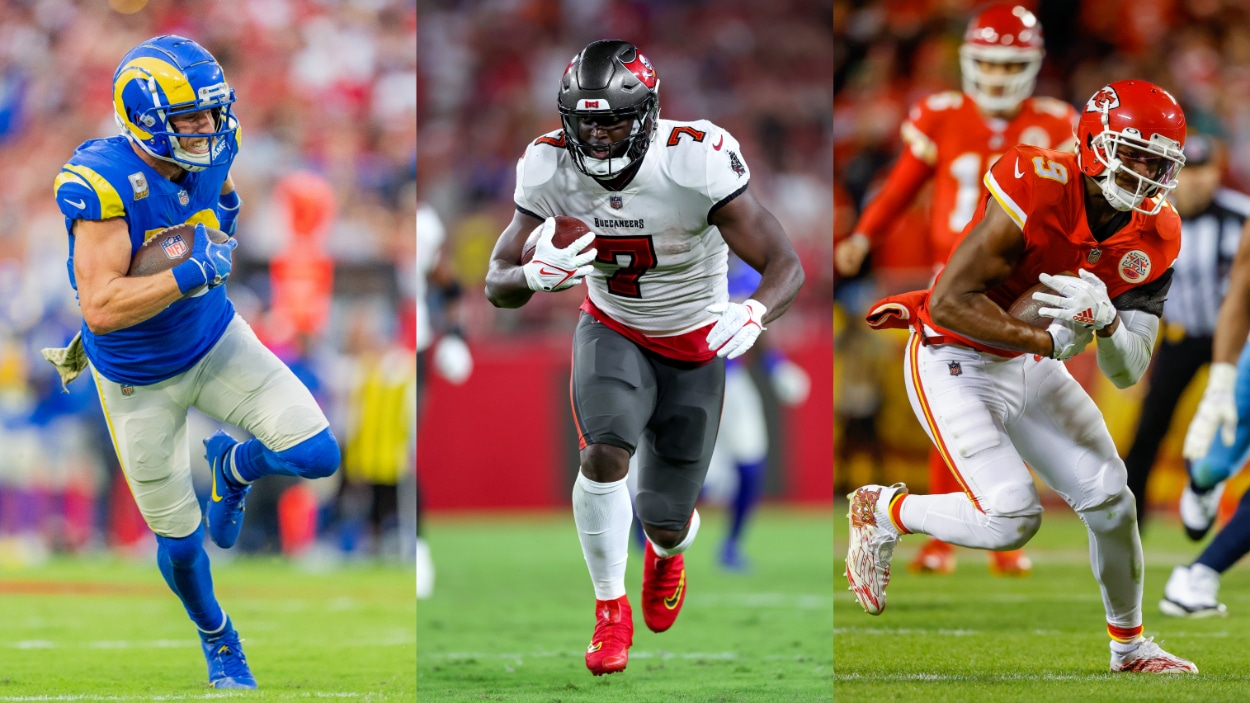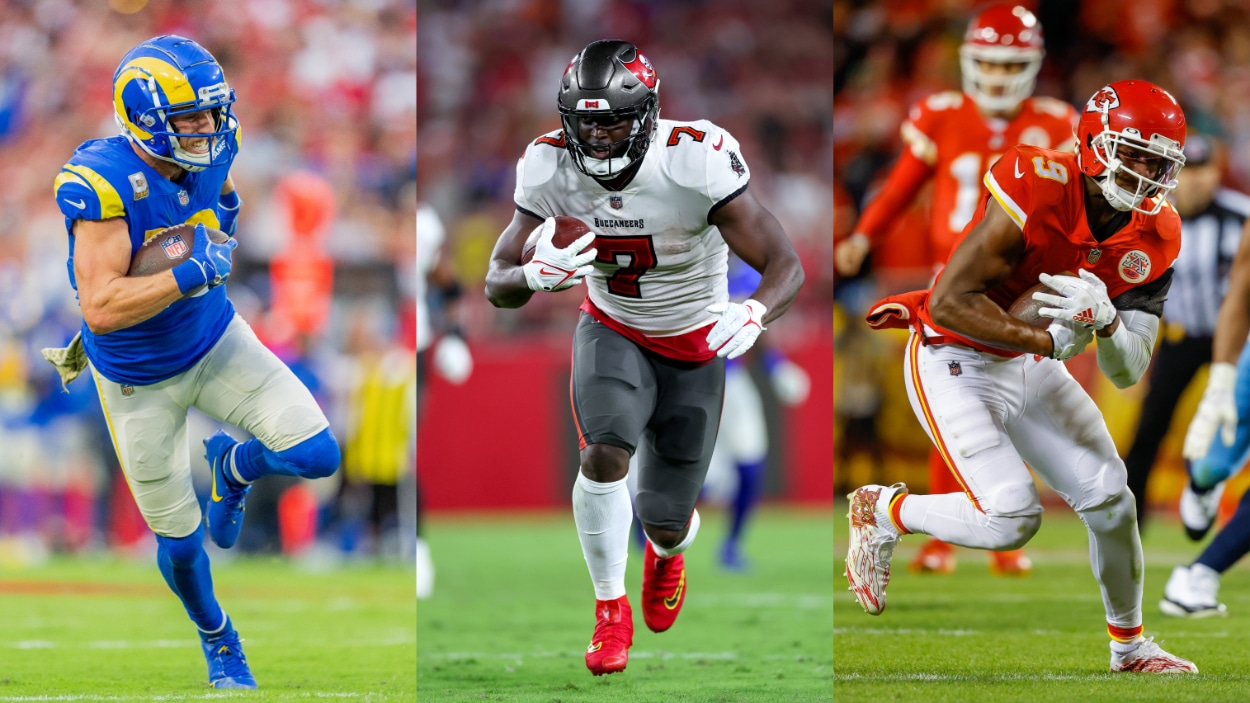 WR Cooper Kupp, Los Angeles Rams
In a horrific title defense season for the Los Angeles Rams, wide receiver Cooper Kupp has been just about the only bright spot. Last season's NFL Offensive Player of the Year has 72 catches for 813 yards and six touchdowns in the 2022 campaign. 
However, the Rams' nightmare season may have worsened on Sunday, as Kupp went down with what looked like a serious ankle injury. The WR went down early in the fourth quarter and didn't return in the Rams' 27-17 loss to the Cardinals. 
After the game, head coach Sean McVay didn't have an update about the precise nature of the injury, but he gave a quote that tells fans almost everything they need to know about this biggest of Week 10 NFL injuries. "It didn't look good. It didn't sound good," McVay said ominously. 
WR JuJu Smith Schuster, Kansas City Chiefs 
Another scary injury on Sunday was Kansas City Chiefs wideout JuJu Smith-Schuster. The first-year Chief caught a pass coming across the middle in the second quarter of the Chiefs' 27-17 victory over the Jacksonville Jaguars. 
Safety Andre Cisco hit Smith-Schuster helmet-to-helmet, and Smith immediately went into the "fencing posture," reminiscent of Tua Tagovailoa's scary brain injury in Week 4. 
As with all concussions, there is no telling how long Smith-Schuster will be out. The Chiefs next play in Week 11 in the late Sunday window vs. the Los Angeles Chargers. 
WR Jerry Jeudy, Denver Broncos
Denver Broncos WR Jerry Jeudy has been coming on the last two weeks, recording 13 catches for 159 yards and a touchdown the last two weeks. In Week 10, Jeudy didn't even have a chance to get going, as he collapsed after a cut on the Broncos' first offensive play. 
The team ruled Jeudy out for the rest of the game, which the Broncos lost 17-10 to the Tennessee Titans. 
After the injury, reporters ruled out an Achilles injury and pegged the issue as an ankle problem. The extent of the damage won't be known until the team gets home to Denver, but Jeudy did leave the stadium in Nashville in a walking boot. 
TE Zach Ertz, Arizona Cardinals
Despite not having Kyler Murray, the Arizona Cardinals picked up a W vs. the LA Rams in Week 10. However, they picked up one of the most problematic NFL injuries this week with tight end Zach Ertz going down. 
The TE had one catch for 12 yards before he exited the game. After the game ended, ESPN insider Adam Schefter reported that Ertz will be out for "multiple weeks" with a knee injury.
"Cardinals TE Zach Ertz, spotted in a brace after Arizona's win, is expected to miss multiple weeks with the knee injury he suffered today, per source, Schefter tweeted. "The team does suspect that his ACL is intact, however. But Ertz will undergo an MRI on Monday to determine full extent of injury."
RB Leonard Fournette, Tampa Bay Buccaneers
Leonard Fournette had one of the (poor) plays of Week 10 in Germany when he threw a ridiculous interception to Tom Brady (you read that right) in the Tampa Bay Buccaneers' overseas win vs. the Seattle Seahawks. 
While the running back got away with that in the long run, it does seem like a lingering hip injury has caught up with him. Late in the game, Fournette went out with a hip pointer and didn't return. 
This is one of the NFL injuries that seem to be lingering and fantasy football players should keep an eye on Fournette's backup, Racheed White.