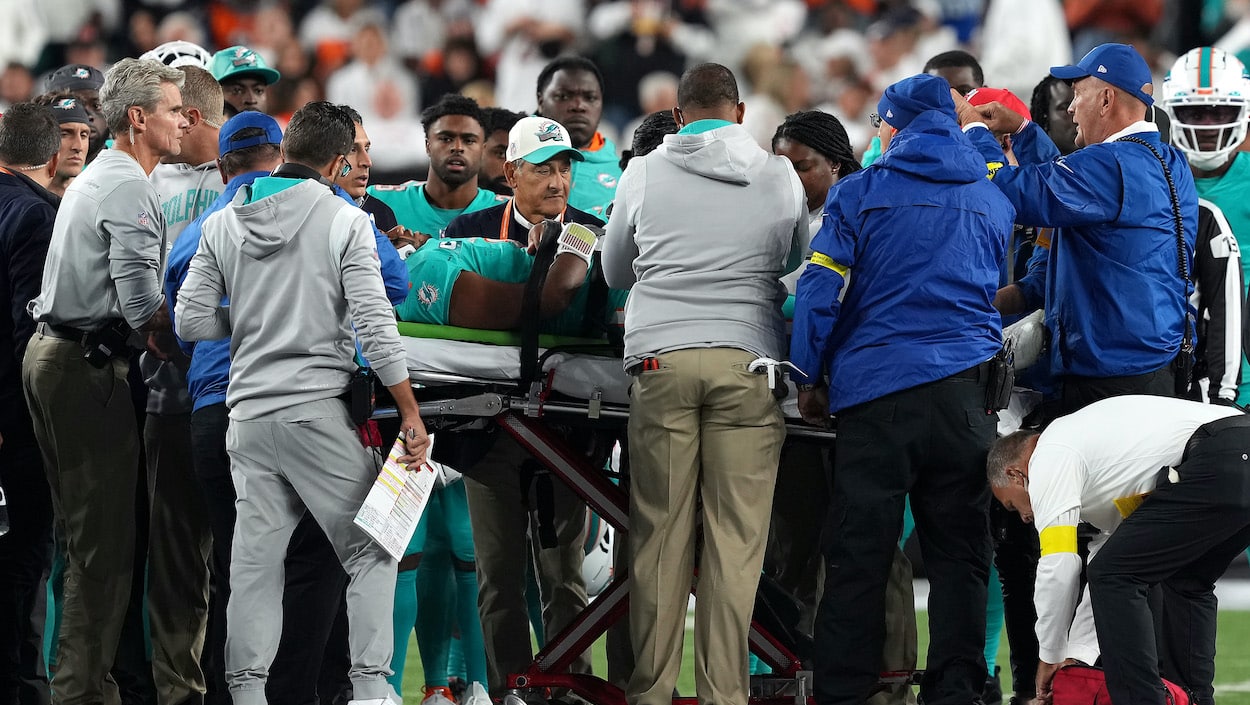 Tua Tagovailoa: NFL Players Strongly React to Dolphins QB's Terrifying Concussion
Dolphins QB Tua Tagovailoa suffered what might have been his second concussion in 5 days and lots of current and former NFL players weighed in on the situation.
Week 4's Thursday Night Football game produced one of the scariest NFL moments in recent memory. Just four days after staggering around the field with what looked like a head injury to many observers, Miami Dolphins quarterback Tua Tagovailoa suffered a concussion on a nationally broadcast game on Amazon. The traumatic injury caused the QB's fingers to lock up in a worrisome, unnatural position. Medical personnel carted him off the field, into a waiting ambulance, and to a local hospital.
Reports are that Tagovailoa is now out of the hospital and will fly back to Miami from Cincinnal with his team. As his coach, Mike McDaniel, put it (with an unfortunate and possibly irresponsible choice of words), "everything's checked out, and he didn't have anything more serious than a concussion."  
Tua Tagovailoa concussion
In Week 3, the Dolphins' medical staff and an independent neurologist concluded Tagovailoa's stumbling after hitting his head was caused by a "back injury," and the team allowed him to go back in the game vs. the Buffalo Bills.
After Thursday night's horrific events, though, many are questioning the Dolphins, the NFL, and even the NFLPA that vowed to investigate but also allowed the QB to play Thursday, just like the team and league.
There are a lot of questions to answer in the coming days, weeks, and months about what happened and how it was allowed to happen. Everyone who loves football is eager to find out if and how a seemingly catastrophic failure of the player safety protocols happened.
In real-time, the injury sparked concern and anger across social media. And, not unsurprisingly, no group was more vocal than vocal on Twitter than current and former NFL players.
The immediate reaction of many who know first-hand what it's like to play professional football was concern and well-wishes for Tua Tagovailoa. However, there also were a lot of NFL players who questioned the league and the team and expressed anger over the entire situation.
NFL players react to Dolphins QB's scary injury on 'TNF'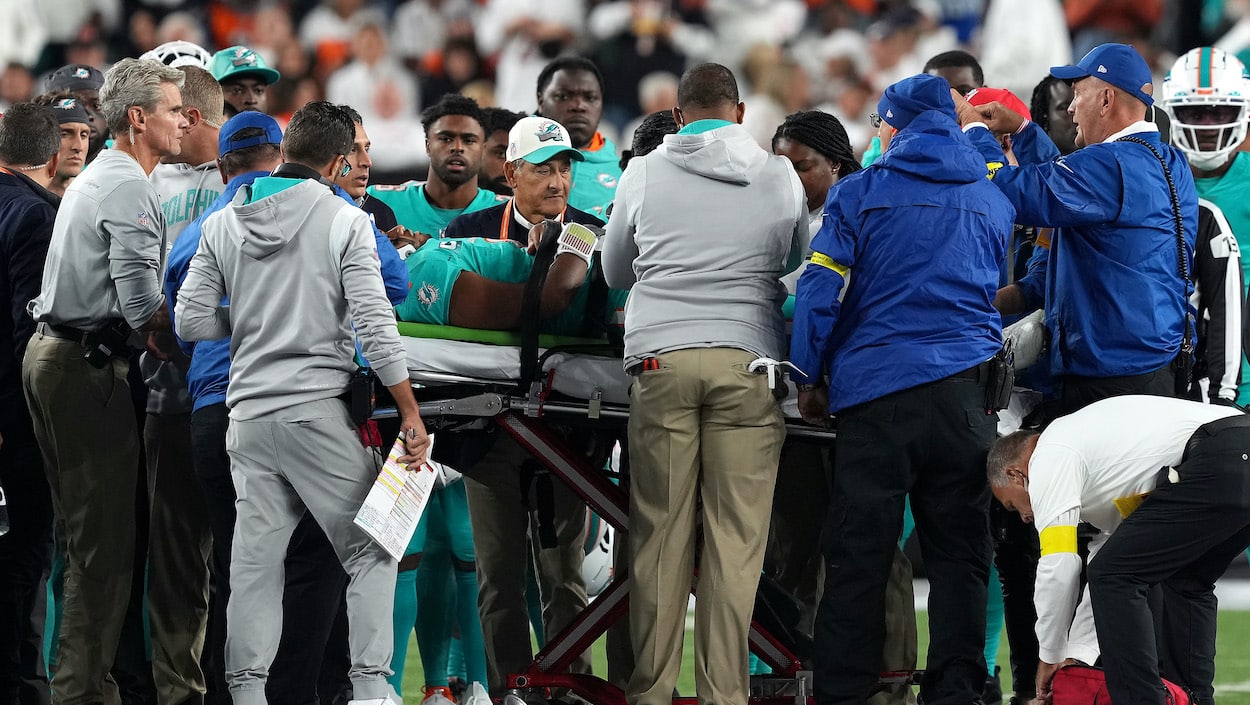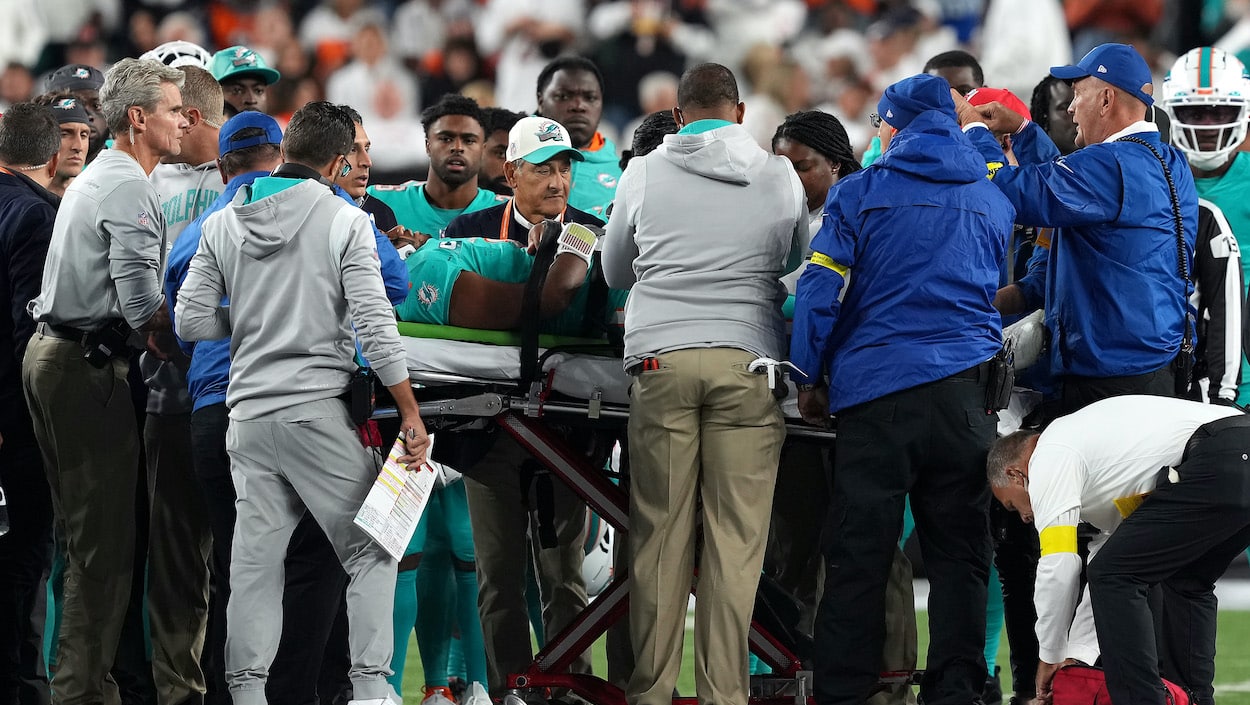 Before the game even started, Chris Nowinski, a former WWE superstar and college football player at Harvard who is now a neuroscientist and concussion advocate, tweeted that, after what he deemed as an undiagnosed concussion in Week 3, "If Tua takes the field tonight, it's a massive step back for #concussion care in the NFL."
Nowinski's words proved prophetic.
As medical staff attended to Tua, former NFL players-turned-media-analysts were among the first to start taking the league to task for allowing the QB to play on Thursday. Hall of Fame tight end Shannon Sharpe wrote, "Sometimes players need protecting from themselves. Dolphins failed Tua." In another tweet, Sharpe flat out said, "I believe the Dolphins lied about Tua's injury on Sunday and put him in this predicament."
Robert Griffin III, a quarterback himself, tweeted, "The bottom line regarding Tua is LIFE is bigger than football. Teams should always put the person before the player. Health before competitive advantage."
ESPN's Ryan Clark wasn't quite as subtle. The former Pittsburgh Steelers safety directly called out the initial "back injury" story. "I didn't buy Tua's back injury, & I'm afraid I was right, Clark wrote. "If you watch the film you know, and the film don't lie."
Former NFL wide receiver Donte Stallworth wanted fans to know that he believes the player is not to blame for trying to play. Stallworth implied that players will always try to play because of their elite competitive nature and "protocols are in place to protect players and they failed."
Another former pass-catcher, 10-year veteran Harry Douglas, didn't mince words when expressing his anger about the situation. The former Atlanta Falcons and Tennessee Titans player wrote, "I'm PISSED about TUA because you can try to [sell] people ALL YOU WANT about a back injury last week…Within a four(4) day span, this young man has hit head dangerously hard on the ground."
And some players, like former offensive lineman Rich Ohrnberger, simply shared their own experiences in contrast to how Miami handled Tagovailoa's injury. "Very thankful today for the Patriots' trainers/medical staff for the way they handled my concussion in 2011, Ohrnberger tweeted. "I was out on my feet, they took it seriously, and I spent the year on IR. They saved me from myself. I would've rushed back if they let me. They didn't."
The tweets above are just a small sampling of how players reacted to the Tua Tagovailoa injury on Thursday Night Football. And for every thoughtful, introspective, or angry tweet from a current or former player, there were dozens more that simply expressed prayers and well wishes for the young signal-caller.
And that mix sums up the sentiment that most people have in their own minds. The top concerns and hopes are that Tagovailoa is OK. Shortly after that, though, is the knowledge that there seems to have been a massive failure to protect this player, and someone or some organization needs to answer for that soon.
Like Sportscasting on Facebook. Follow us on Twitter @sportscasting19 and subscribe to our YouTube channel.