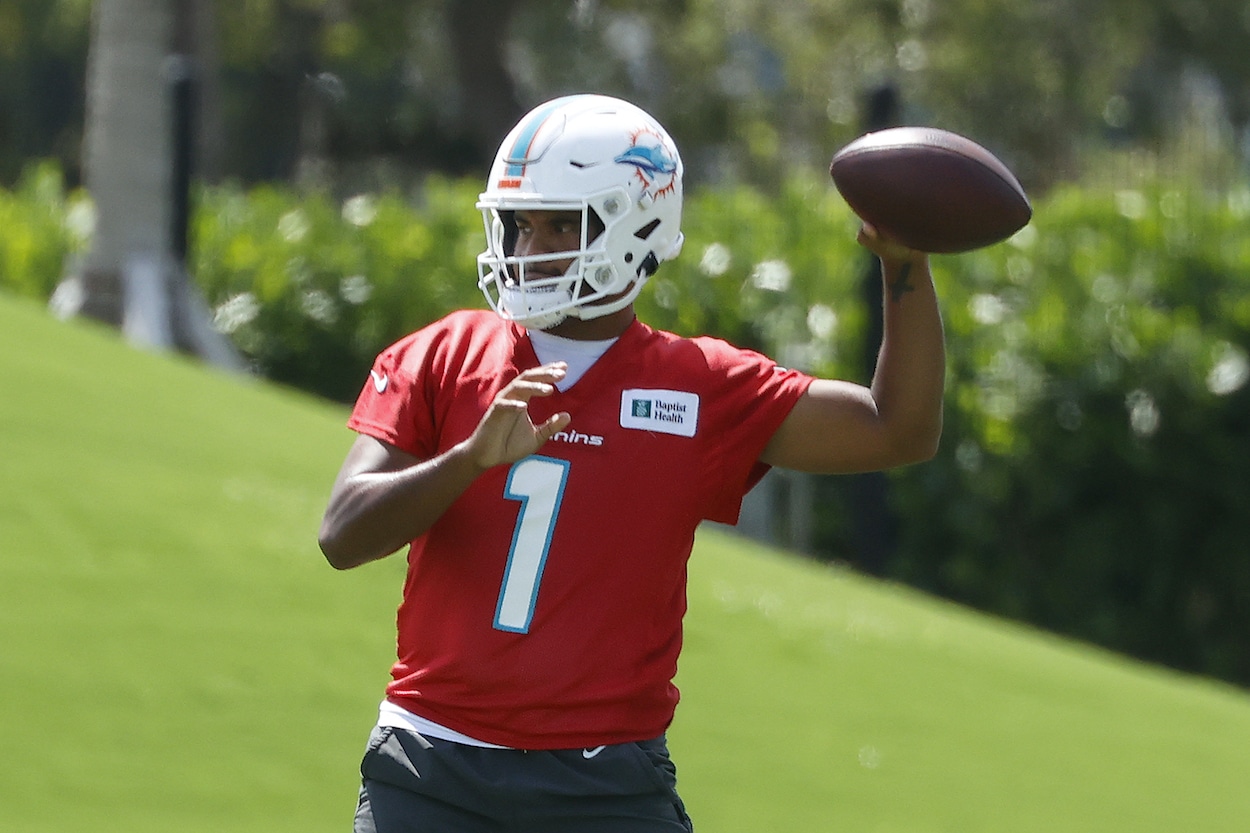 RGIII Believes in Tua Tagovailoa and Not Just Because of Tyreek Hill Addition: 'He's Been a Little Testy With the Media'
The Miami Dolphins third-year quarterback Tua Tagovailoa faces a make-or-break season but former NFL QB RGIII is optimistic about his chances.
The 2022 NFL season is a make-or-break year for Miami Dolphins third-year quarterback, Tua Tagovailoa. The 2020 No. 5 overall draft pick has struggled in his first two years. Former NFL QB and high draft pick Robert Griffin III knows what Tagovailoa is going through, and he thinks next season could be the former Alabama signal-callers breakout year. And that's not just because the Dolphins traded for All-Pro wideout Tyreek Hill.
RGIII loves the loaded Miami Dolphins offense
Every NFL fan knows that adding lightning-quick, six-time Pro Bowler Tyreek Hill will help Tua Tagovailoa in 2022. What non-Miami fans might not realize in July is just how loaded that offensive unit is for next season.
Robert Griffin III went on the Rich Eisen Show and discussed why Tagovailoa's weapons make the former Washington QB optimistic for the young passer's upcoming season.
The Dolphins not only added Hill to the wide receiving corps this offseason but Dallas Cowboys wideout Cedrick Wilson as well. Those two join rookie sensation Jaylen Waddle and tight end Mike Gesicki to make up one of the most well-balanced pass-catching units in the NFL heading into the 2022 season.
Miami traded for hybrid WR/RB Lynn Bowden Jr. last season, who Griffin says can be "Deebo Samuel light." The franchise drafted Texas Tech WR Erik Ezukanma, too, in the fourth round. At running back, the Dolphins signed Chase Edmonds, Sony Michel, and Raheem Mostert this offseason as well to go with Myles Gaskin.
Lastly, the Dolphins improved last season's 32nd-ranked offensive line by bringing in Pro Bowl tackle Terron Armstead from the New Orleans Saints and Cowboys guard/center Connor Williams.
The former NFL QB likes that Tua Tagovailoa is 'testy with the media'
In addition to the improved weapons this season, another thing that RGIII likes about Tua Tagovailoa this season is his attitude. Griffin told Rich Eisen:
Tua's going to find a way to show the grit that I've seen from him this offseason. He's been a little testy with the media, getting upset about some of the stuff that's being said, and I think that's good for him.

Robert Griffin III on Tua Tagovailoa
Tagovailoa has indeed been a little less jovial around the media than he has been in the past. In minicamp, he lashed out at the "Twitter warriors" and "keyboard warriors" who don't believe he has the arm strength to utilize Tyreek Hill and his other deep weapons properly. 
The young signal-caller will need to get serious in year three if he hopes to help the Dolphins win games and keep his job in the process.
The AFC East is loaded with QB talent heading into the 2022 season. MVP candidate Josh Allen leads the Buffalo Bills. Mac Jones, the most successful signal-caller from the QB Class of 2022, will be under center for the New England Patriots. And 2021 No. 2 overall pick Zach Wilson will take the helm for the New York Jets.
There are 'no expectations' on Tagovailoa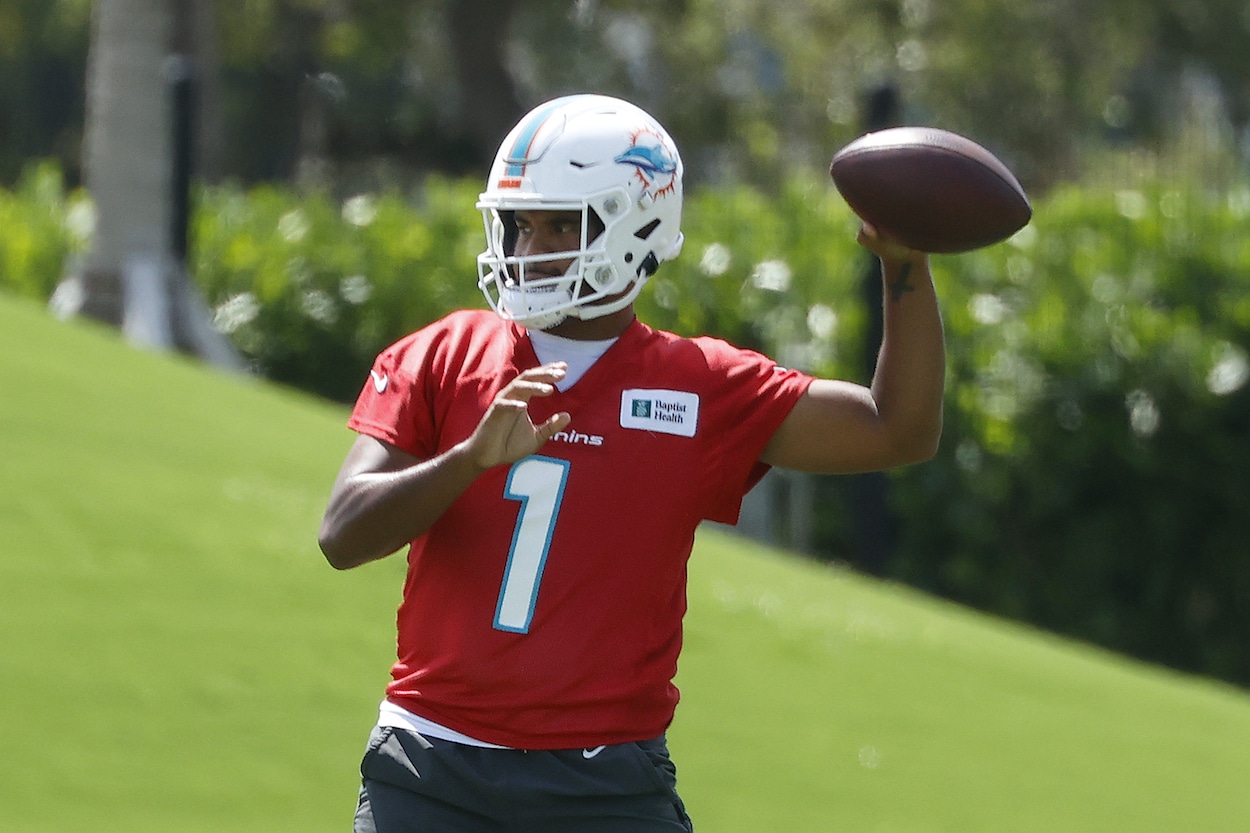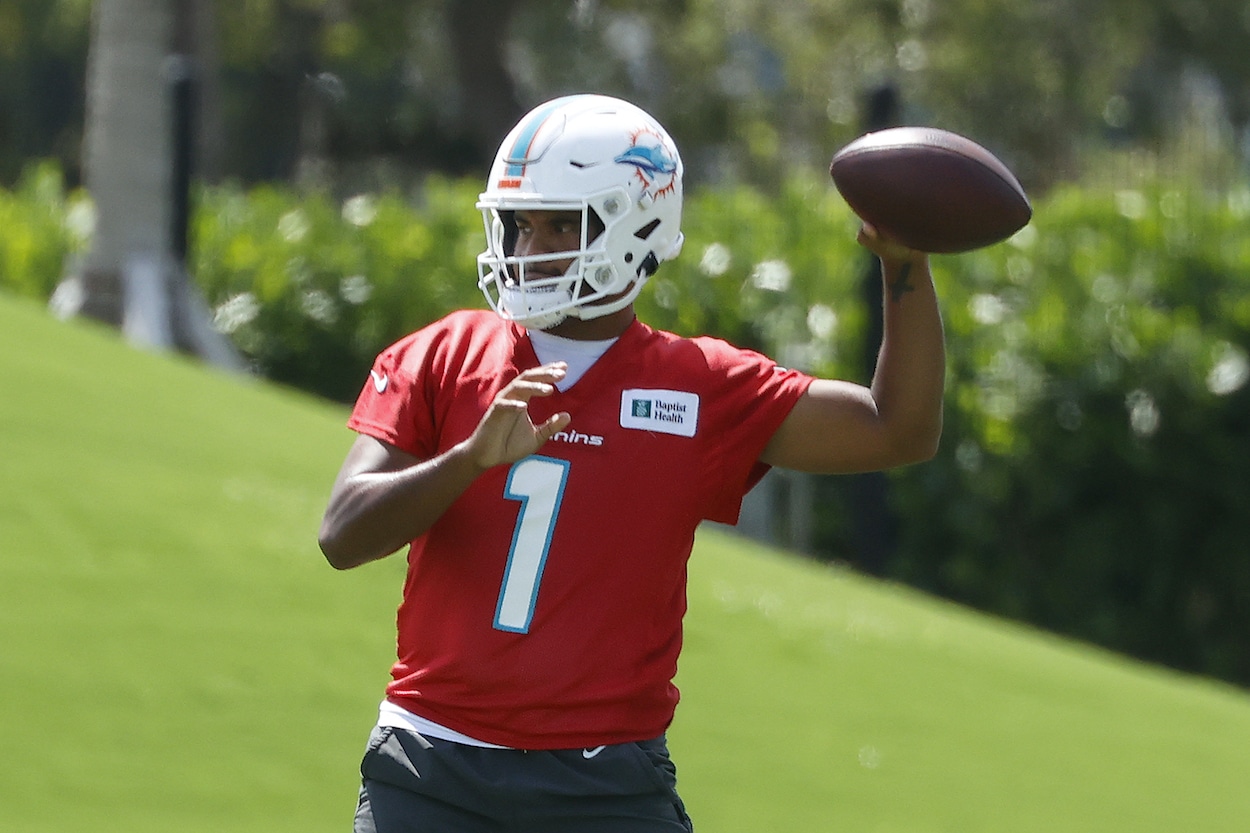 Last but not least, RGIII likes that there are no expectations for Tagovailoa this season other than to improve. Griffin says that a successful season for the QB doesn't have to be overly gaudy:  
If he goes 25 touchdowns, seven interceptions, I think that's a great year for Tua. The benefit that Tua has that a lot of other quarterbacks don't is there's no expectations for a Super Bowl this year for the Dolphins.

Robert Griffin III on Tua Tagovailoa
The low expectations for the Miami Dolphins this year are real. Despite the upgraded offense, the team is +4000 to win the Super Bowl in 2023, per DraftKings. Only seven teams have worse odds than the 2022 'Phins.
Miami is also +600 to win the AFC East. That's better than the New York Jets (+3000) but behind the New England Patriots (+330) and Buffalo Bills (-225).
No one thinks Tagovailoa will lead the Dolphins to great heights this season, and RGIII believes that's a real advantage.
Like Sportscasting on Facebook. Follow us on Twitter @sportscasting19 and subscribe to our YouTube channel.