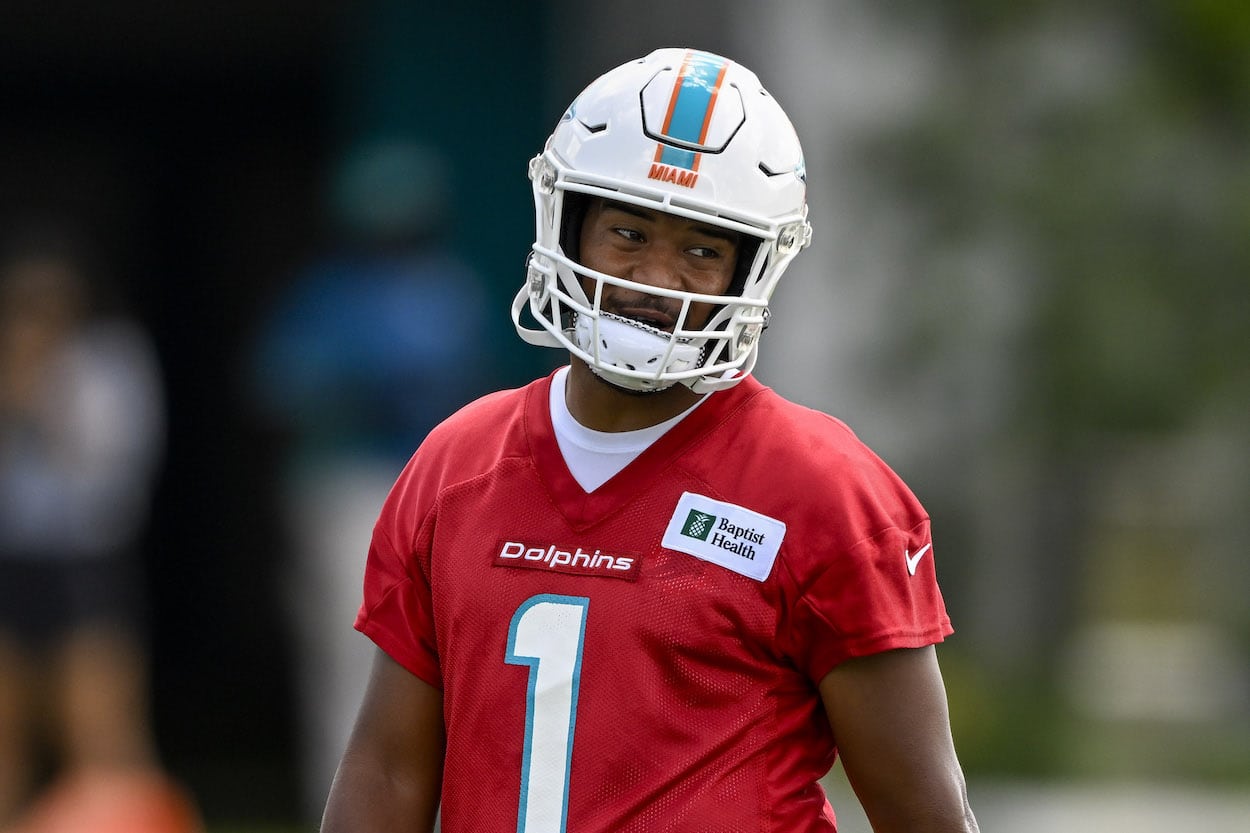 Tua Tagovailoa Trash-Talks 'Twitter Warriors' After Hitting Deep Pass to Tyreek Hill in OTAs
Miami Dolphins QB Tua Tagovailoa hit Tyreek Hill on a deep pass in OTAs and took the opportunity to lash out at critics of his arm strength.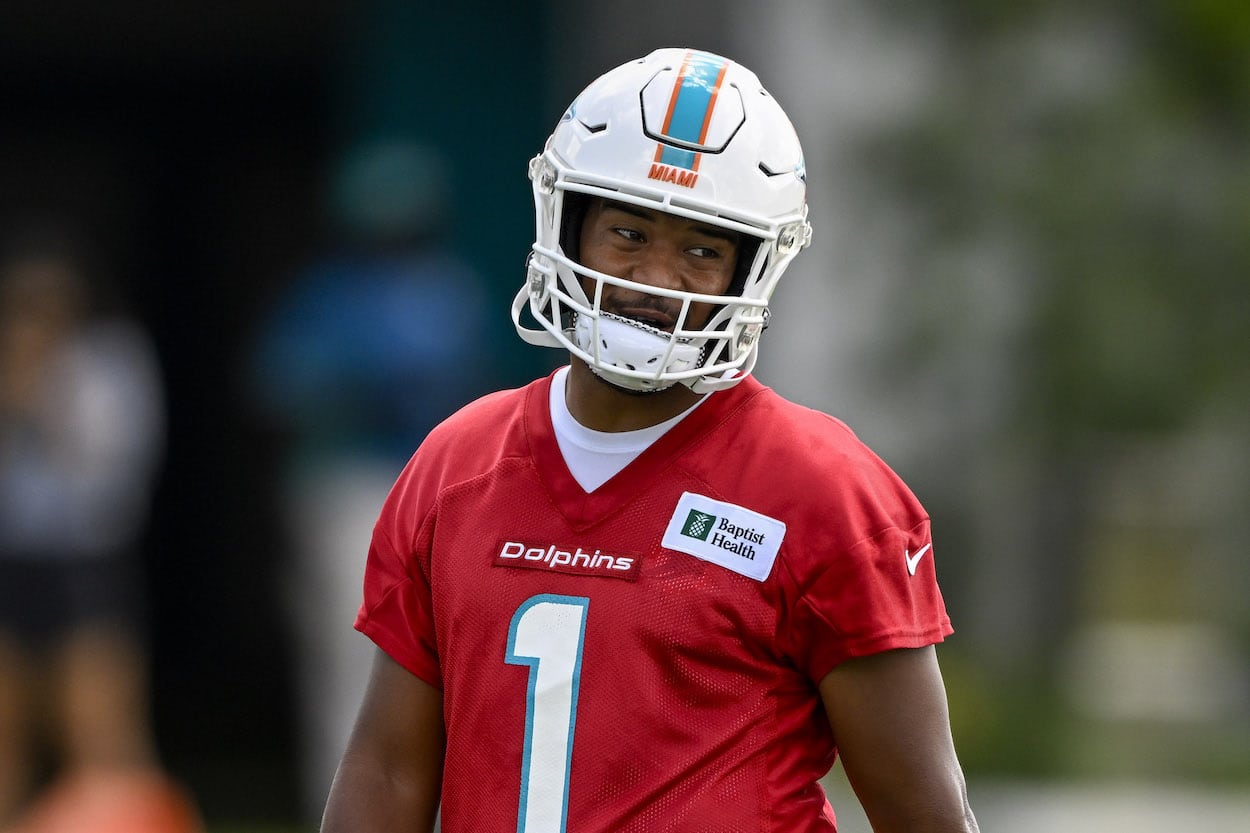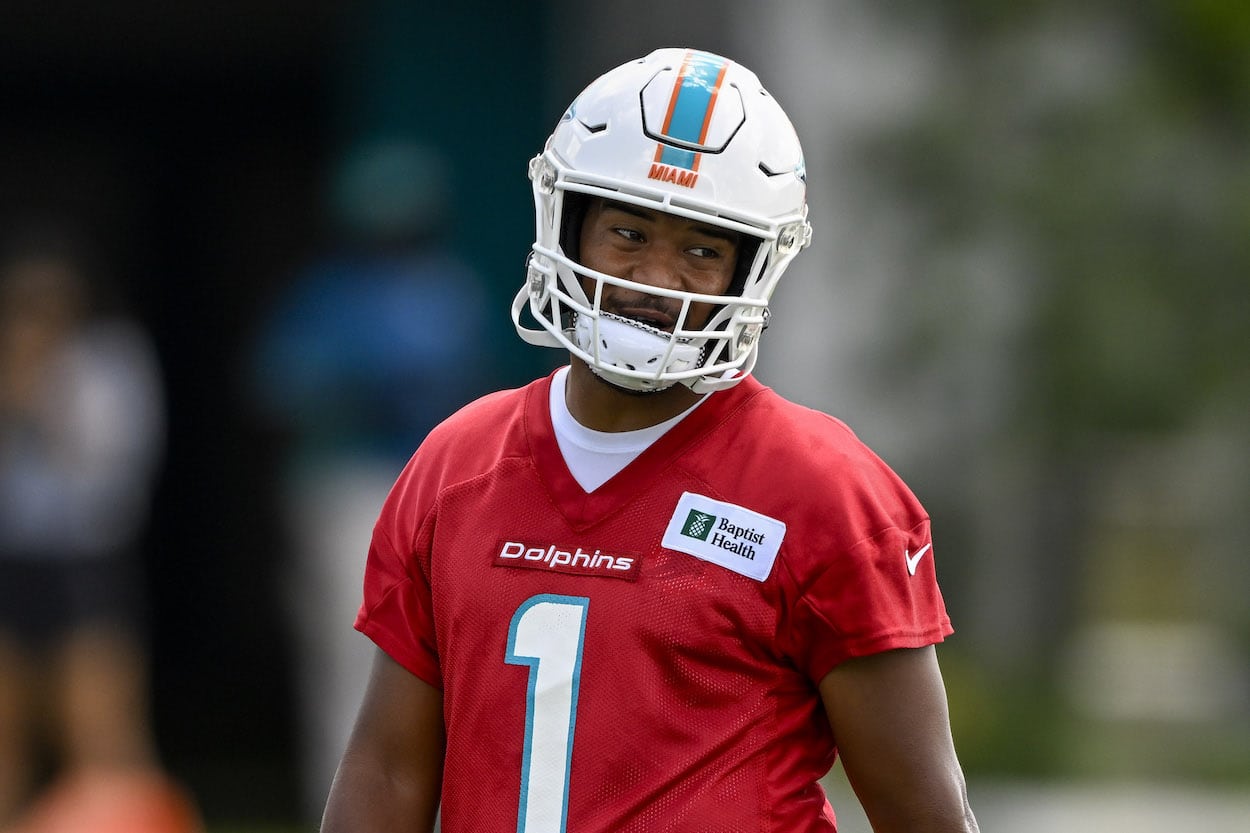 For most NFL players and teams, individual plays in offseason OTAs are relatively meaningless. However, for Miami Dolphins third-year quarterback Tua Tagovailoa, connecting with his newest wide receiver, Tyreek Hill, gave him the confidence to talk trash to all the "Twitter warriors, keyboard warriors" out there.
Miami Dolphins QB Tua Tagovailoa has struggled in his first two seasons
At Alabama, Tua Tagovailoa burst onto the scene. He came in for Jalen Hurts at halftime of the 2018 national championship game and won the title for the Crimson Tide.
The native Hawaiian had another excellent season-plus for Nick Saban. However, in 2019, he first suffered a serious ankle injury in October vs. Tennessee and a season-ending hip injury vs. Mississippi State a month later. Despite the severe injury, Tagovailoa declared for the 2020 NFL Draft.
The Miami Dolphins picked Tagovailoa No. 5 overall, one slot before Justin Herbert.
The lefty thrower's NFL career hasn't started out that well. He didn't play until Week 6, then got his first start in Week 7. For the rest of the season, he shuttled in and out with now-retired journeyman Ryan Fitzpatrick.  
Then-head coach Brian Flores infamously benched Tagovailoa in the fourth quarter of a critical Week 16 game vs. the Las Vegas Raiders. Fitzpatrick completed a miraculous 34-yard pass with 19-seconds left as a defender yanked him down by his facemask to win the game. The Dolphins lost the next game 56-26 to the Buffalo Bills, though, to miss the playoffs.
Tagovailoa finished his rookie campaign with a 6-3 record as a starter and 1,814 passing yards, 11 touchdowns, and five interceptions.
In 2021, Tagovailoa started 12 games, but backup Jacoby Brissett appeared in 11 games. During his sophomore NFL season, the 6-foot-1, 217-pound signal-caller threw for 2,653 yards with 16 TDs and 10 INTs. He also finished seventh in the league (among qualified passers) with a 67.8% completion rate.
The gaudy completion rate comes with a catch, though. Tagovailoa was 29th in the league in total air yards last season. This inability (or unwillingness) to push the ball downfield is a criticism that the Tua Haters love to point out.
Tagovailoa had a message for his critics after a particularly nice throw in OTAs
In early June, the Miami Dolphins are participating in offseason organized team activities (OTAs). These light, voluntary offseason practices are the first chance the entire organization has to get together after free agency and the draft.
The practices themselves generally have little meaning other than establishing a little chemistry within the team.
However, for Tua Tagovailoa, one play at OTAs this week meant enough to him to crow about it to the media and talk trash to his critics about it after the fact.
Tagovailoa bragged to reporters about his great long-ball at the end of practice to new Dolphins receiver Tyreek Hill. A reporter then said to the QB, "You mentioned earlier, 'the narrative about the arm strength.' What do you think about that? That every time somebody talks about you, it's 'he can't throw deep.'
The third-year signal-caller responded that he doesn't necessarily listen to the criticism, but he does hear about it from his team PR rep. Then, Tagovailoa sent a message to the haters:
Twitter warriors, keyboard warriors, whatever you want to call 'em. They're not out here practicing with us, working hard. I don't know if you guys recorded the last one to Tyreek, but — pssst [mimics catching a deep ball] — I don't know about you, but that looked like money.

Tua Tagovailoa on his deep pass to Tyreek Hill in OTAs
Tagovailoa's us against the world mentality is a good sign. But with the weapons he now has on offense and under new offensive-minded head coach Mike McDaniel, 2022 is a do-or-die season for the Dolphins QB.
The Miami Dolphins have everything an NFL offense needs, except possibly at QB
The Miami Dolphins organization is doing everything possible to help Tua Tagovailoa succeed in 2022. The franchise's first move (after the Brian Flores scandal) was to hire San Francisco 49ers offensive coordinator and Kyle Shanahan disciple Mike McDaniel as head coach.
After that, the team traded most of its 2022 draft picks for Kansas City Chiefs All-Pro wideout Tyreek Hill. General manager Chris Grier also splurged on a five-year, $87.5 million ($43.37 million guaranteed) contract for former New Orleans Saints Pro Bowl tackle Terron Armstead.
Hill now leads a skill-position group that includes WRs like last year's first-round pick Jaylen Waddle and offseason signing Cedric Wilson, running backs Chase Edmunds, Sony Michel, and Raheem Mostert, and tight end Mike Gesicki.
Last season, the Miami offensive line finished dead last in PFF's rankings. But with the addition of Armstead and former Dallas Cowboys interior offensive lineman Conner Williams, that unit should be much-improved as well.
With all this lined up for Tagovaila in 2022, if he can't navigate the team to its first playoff appearance since 2016, the team might be in the market for a new QB in the 2023 draft.
All stats courtesy of Pro Football Reference
Like Sportscasting on Facebook. Follow us on Twitter @sportscasting19 and subscribe to our YouTube channel.