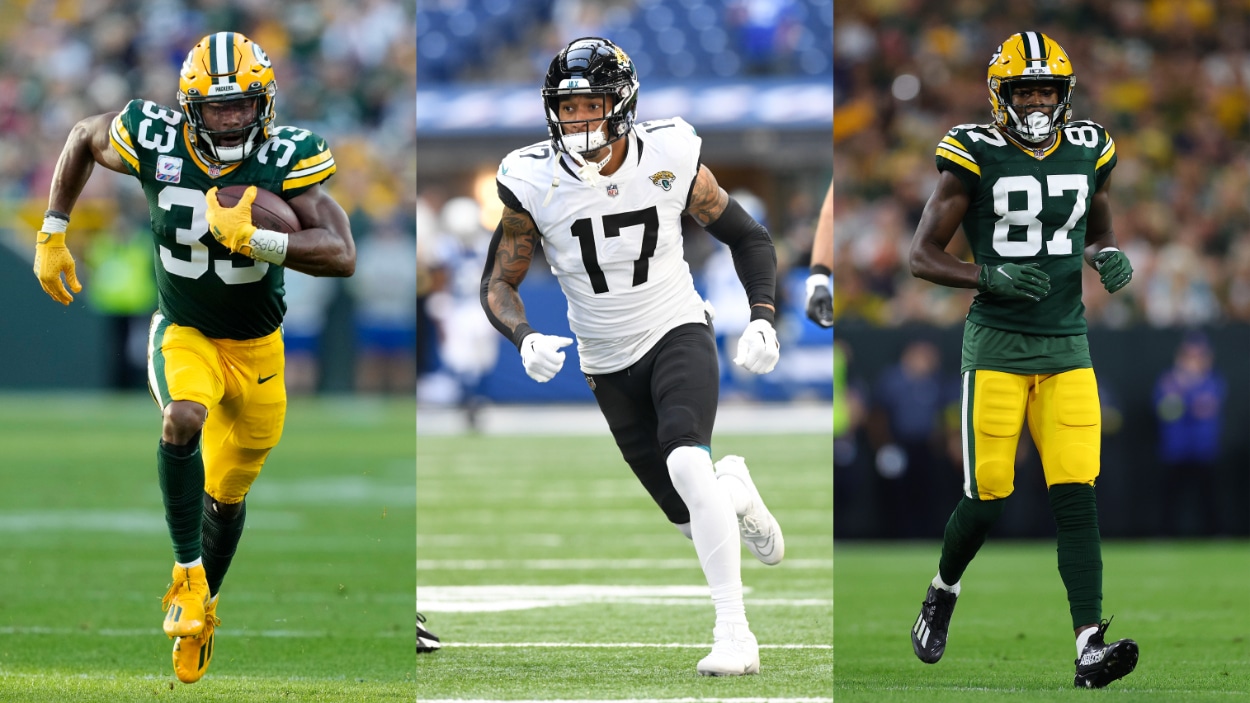 NFL Injuries: The Offensive Stars Who Went Down in Week 9, and How They Look for Week 10 and Beyond
The NFL injuries Week 9 saw weren't as copious as the previous two weeks, but they were especially bad for the Green Bay Packers.
Injuries are a terrible but inevitable part of NFL life. Every week, NFL players go down, and their teams have just six (or sometimes fewer) days to figure out a plan B. There were a host of injuries in Week 8 that carried into Week 9, and now there will be injuries from this week that affect teams in Week 10. This week was actually relatively quiet on the skill-positon injury front, but a big reason for that was six teams on their bye weeks. There are still a few to check in on, though, so here are the Week 9 injuries that will take a toll on your favorite teams and your fantasy team alike.
NFL injuries: Week 9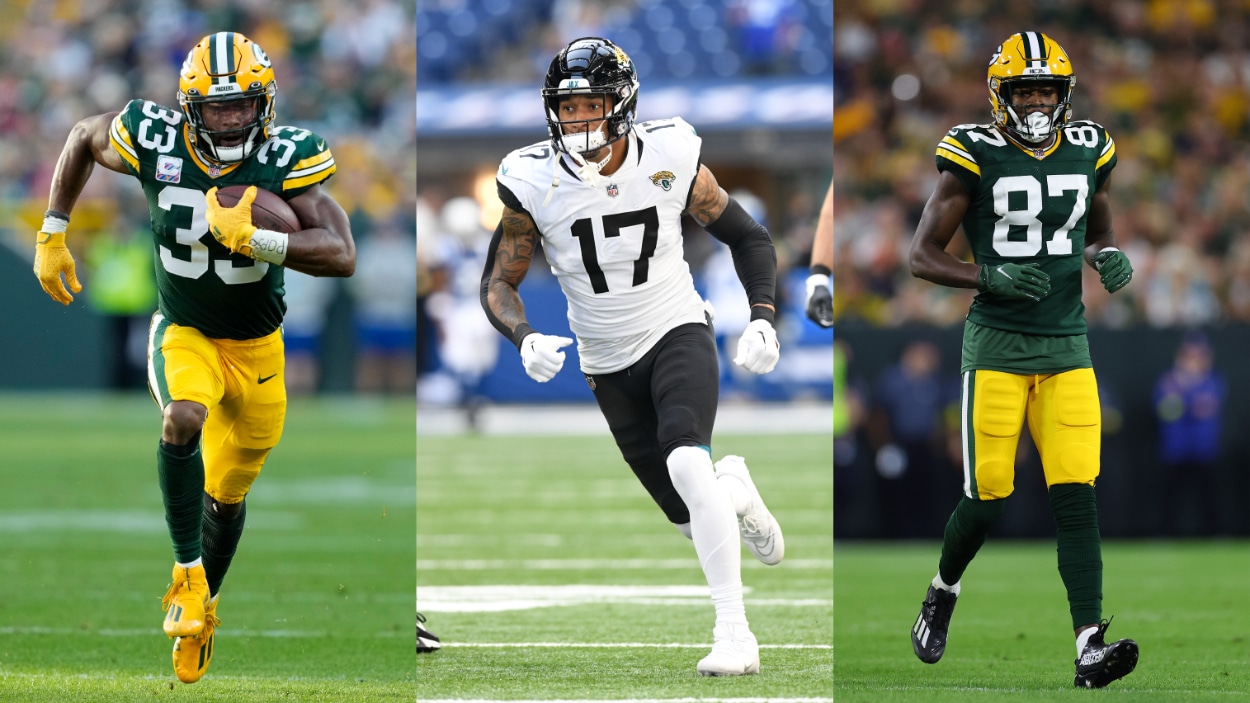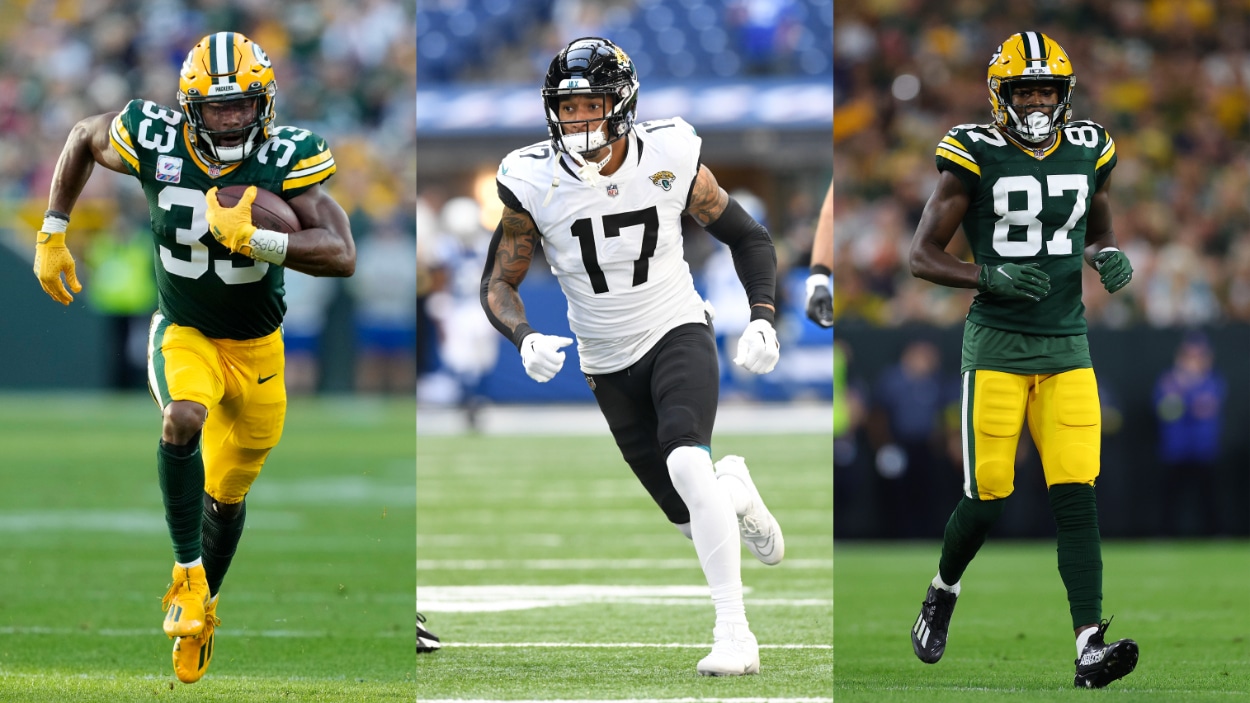 RB Aaron Jones, Green Bay Packers
The theme of this NFL injuries Week 9 report is that the Green Bay Packers offense is in trouble. The unit's best player this season, running back Aaron Jones, left the game with a left foot injury.
To that point, nothing was going right for Aaron Rodgers and the Packers, and that even included Jones' performance. The RB had nine carries for 25 yards and two catches for 20 yards when he exited the game.
After the Packers' 15-9 loss dropped them to 3-6 on the season, reports from Packers beat writers, including ESPN's Rob Demovsky on Twitter, noted that Jones left the Green Bay locker room in a walking boot.
WR Romeo Doubs, Green Bay Packers
Before Aaron Jones and a host of Packers defenders — Eric Stokes, Rashan Gary — left the game, rookie wide receiver Romeo Doubs was the first player to get a cart ride off the field in the Week 9 loss to the Lions.
Doubs made an 18-yard catch on the Packers' opening offensive play, then couldn't walk off under his own power with an ankle injury. After the game, reporters noted that Doubs was both in a walking boot and on crutches while leaving the stadium.
Losing Doubs for a significant amount of time would be a massive blow for the Packers, who would then be down to rookie Christian Watson (who was again evaluated for a concussion on Sunday), Allen Lazard (who's missed two games with injuries already), and young WRs Amari Rodgers and Samori Toure.
TE Evan Engram, Jacksonville Jaguars
The Jacksonville Jaguars had a stirring comeback win in Week 9 but may have lost an important offensive player in the process. Evan Engram has formed a nice connection with QB Trevor Lawrence this season, racking up 32 catches for 330 yards in eight games.
However, in Week 9, Engram only had one catch for eight yards before exiting with a back injury. He tried to return later in the game but jogged off after a play, pointing at his back, according to Florida Times-Union Jags beat reporter Demetrius Harvey on Twitter.
As of Sunday night, there is no update on the prognosis for Engram's back injury among the latest NFL injuries reports.
Backup running backs
RELATED: Tom Brady Sticks It to Peyton Manning 1 More Time in Week 9
Both Cincinnati Bengals RB Chris Evans and Detroit Lions RB Craig Reynolds have superstar backs in front of them in Joe Mixon and D'Andre Swift, respectively. It is worth noting for the final NFL injuries, though, that both backups went out with an injury.
Evans left with a knee injury, and Reynolds has injured ribs. Both teams are looking into further tests to learn more about Evans and Reynolds' injuries.
Have thoughts on this topic? Keep the conversation rolling in our comments section below.