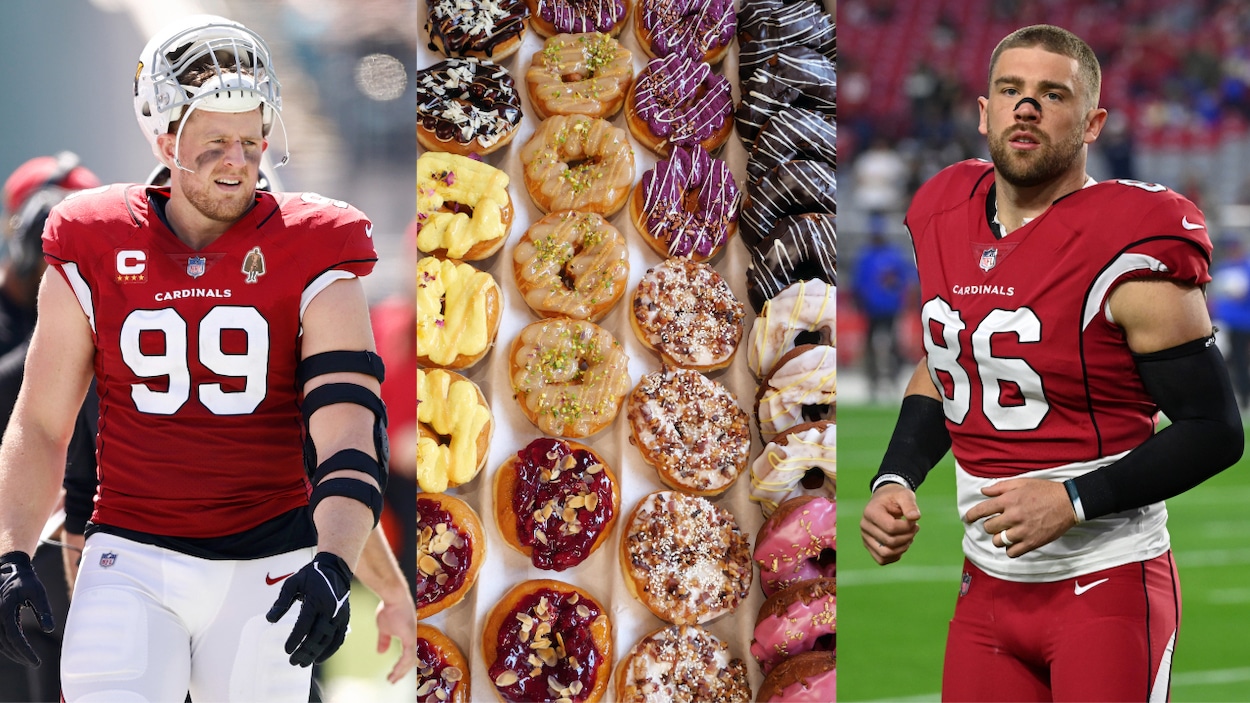 J.J. Watt Divides the Internet With His Reaction to Zach Ertz Bringing in Free Doughnuts
Zach Ertz thought he was doing something nice, bringing in doughnuts for the Arizona Cardinals, but J.J. Watt made it into a scandal.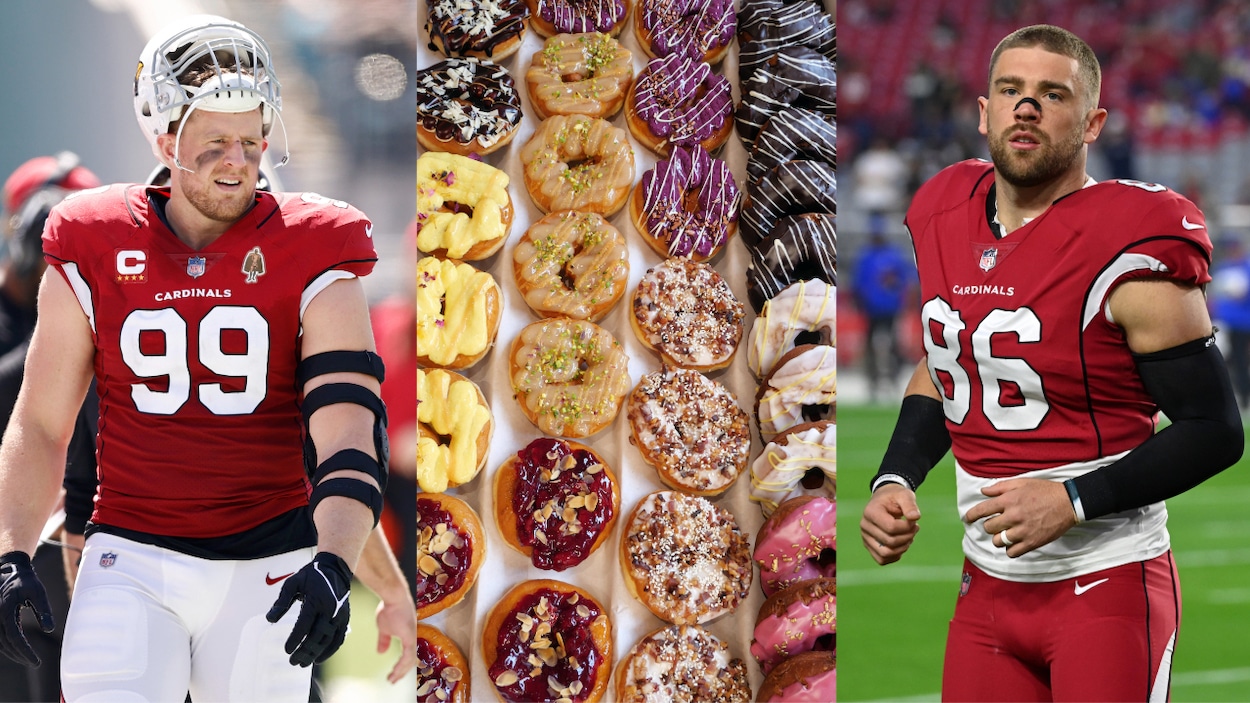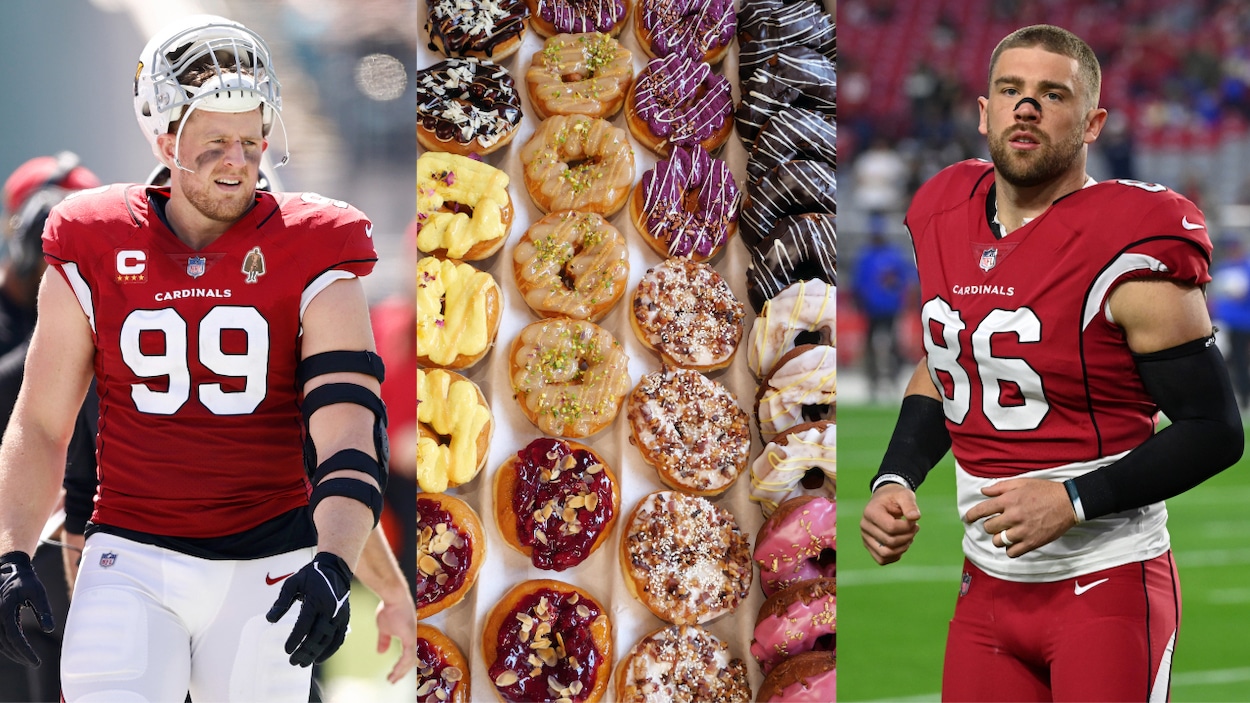 Arizona Cardinals defensive lineman J.J. Watt is generally one of the most well-liked players in the NFL by players and fans alike. However, the five-time All-Pro put that likeability on the line when he posted a video calling out his teammate, tight end Zach Ertz.
The NFL is no stranger to controversy and scandal. It's weathered Bountygate and Deflategate, and now, after Watt's polarizing video, people around the pro football world are weighing in on the newest –gate, "Donutgate."
J.J. Watt was upset when Arizona Cardinals teammate Zach Ertz didn't bring in his favorite doughnuts
On Friday, May 27, 2022, J.J. Watt took to social media with a controversial rant that started "Donutgate."
Watt knew what he was about to say would cause a stir when he hit record on his video. He even started by saying, "I know I'm pretty much wrong on this one, but that's why I'm asking the world."
Watt's issues started the prior day when teammate Zach Ertz announced he'd be bringing in doughnuts for Arizona Cardinals strength coach Buddy Morris. Then he asked Watt the pivotal question, "What kind of doughnuts do you like?"
The 2011 first-round pick told Ertz he liked pink/strawberry frosted and maple glazed.
However, the next day, when Ertz showed up with the tasty treats, there wasn't a pink/strawberry frosted or maple-glazed in the box!
"I'm extremely grateful for the free doughnuts," Watt told the internet before asking, "but do I have any grounds to stand on to be upset?"
Ertz, holding the box of doughnuts in the background, chimes in with his answer, a resounding "no!"
Watt's complaint divided the internet
After watching J.J. Watt's video, the internet's reaction was split. The 500-plus comments on Twitter basically fell into one of two camps.
Some commenters believed that Watt was out of line for being upset about not finding his favorite flavors of doughnuts in a box of free food that was a nice gesture not even meant for him. Many of these commenters pointed out that the flavors Watt requested — pink/strawberry frosted and maple glazed — are not mainstream flavors, making Watt's request itself a non-starter.
However, plenty of others did side with the future Hall of Famer. This group believes that if Ertz made it a point to ask Watt what he wanted, it was incumbent on the tight end to deliver.
Sports talk host Pat McAfee went on an epic rant (see above) supporting Watt, while his co-host, former NFL linebacker A.J. Hawk seemed embarrassed by the whole topic and didn't care at all one way or the other.
After Watt put his teammate on blast on the internet, Ertz took to Twitter to defend himself and explain the situation. The TE tweeted:
In regards to donutgate… JJs first request, "pink/strawberry", wasn't even on the online ordering menu… Therefore the rest of his order was disregarded. Let's just focus on the part of me getting a dozen donuts and not focus on the rest

Zach Ertz on 'Donutgate'
This issue will continue to divide internet commenters and maybe even the Arizona Cardinal locker room as the season approaches.
Are you team J.J. Watt? Or Team Zach Ertz? Stay tuned to Sportscating.com for more hard-hitting coverage of this developing story.
Like Sportscasting on Facebook. Follow us on Twitter @sportscasting19 and subscribe to our YouTube channel.