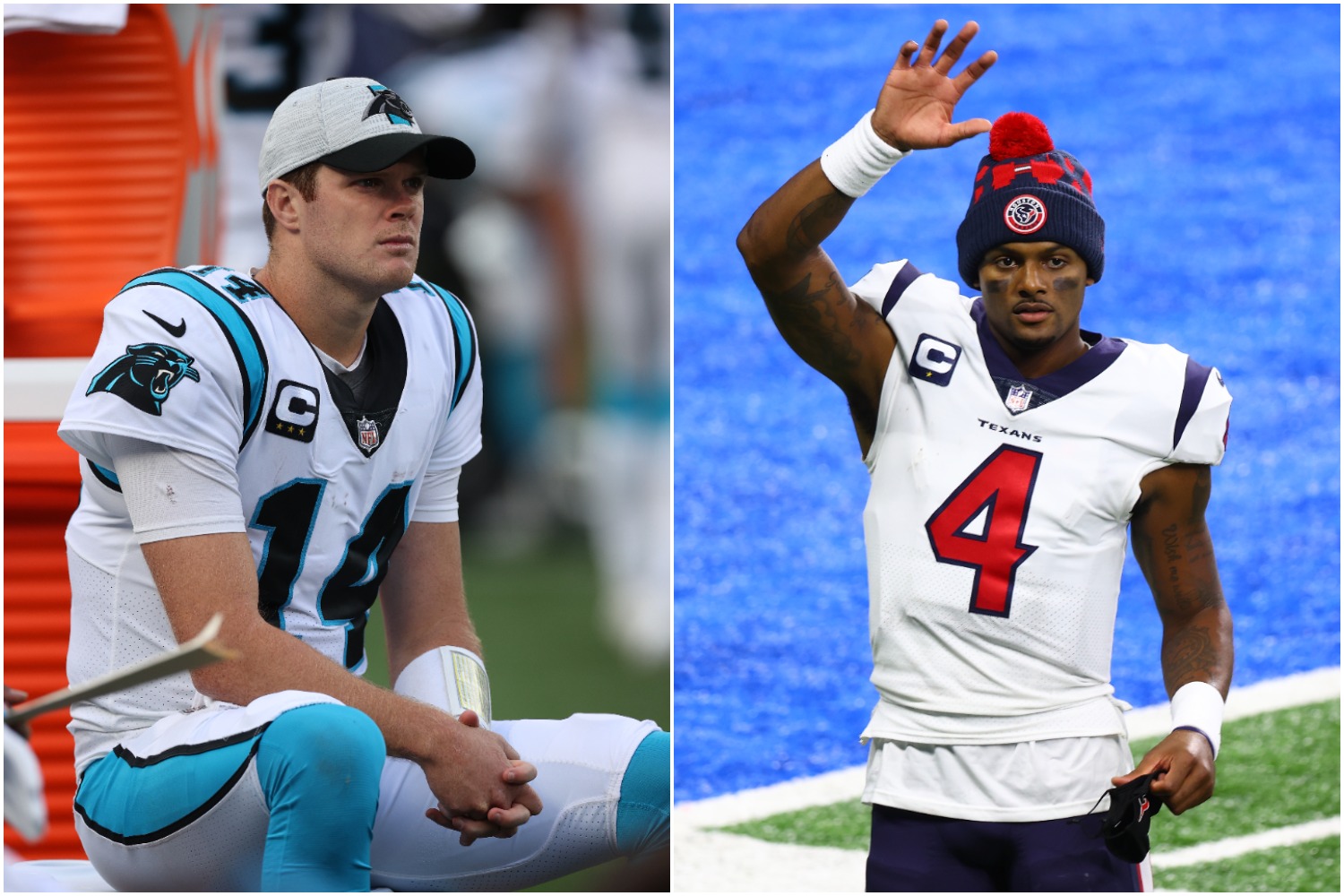 A Nightmare Scenario Has Suddenly Forced the Panthers to Change Their Minds About Bringing Deshaun Watson to Carolina
Could Deshaun Watson soon return to the Carolina area? With Sam Darnold trending in the wrong direction, the Panthers may have no choice but to swing for the fences to try to land a true franchise quarterback.
The Carolina Panthers clearly felt they could do better than Teddy Bridgewater at quarterback. At this point, though, it's fair to question their decision to swap out the steady but unspectacular veteran for a young signal-caller who failed to live up to expectations with the franchise that took him third overall in the 2018 NFL Draft.
After all, following a hot start to the season, Sam Darnold has quickly reverted back to the form that caused the lowly New York Jets to give up on him.
And with a nightmare scenario coming to life right before the eyes, the Panthers have reportedly changed their minds about acquiring a player who would bring both star power and controversy to Carolina: Deshaun Watson.
The Sam Darnold experiment has quickly gone south in Carolina
Pairing Sam Darnold with Joe Brady seemed like a recipe for success for a Panthers squad searching for its first playoff berth since 2017. But the dream of the physically gifted quarterback becoming a star under Carolina's second-year offensive coordinator no longer looks realistic.
In fact, the odds of Darnold developing into even an above-average quarterback appear lower than ever.
After showcasing intriguing potential in his first three games as the new leader of the offense, the 24-year-old has experienced a steep decline during October. With seven interceptions in his last four starts (all losses), Darnold has raised major doubts about his future in Carolina.
Although trading for the ex-Jet carried upside, the Panthers placed their faith in someone who simply hasn't shown much improvement since he entered the league. But as a team with legitimate Super Bowl aspirations, sticking by Darnold could ruin any hopes of a deep playoff run.
A nightmare scenario has forced the Panthers to pull a 180 on acquiring Deshaun Watson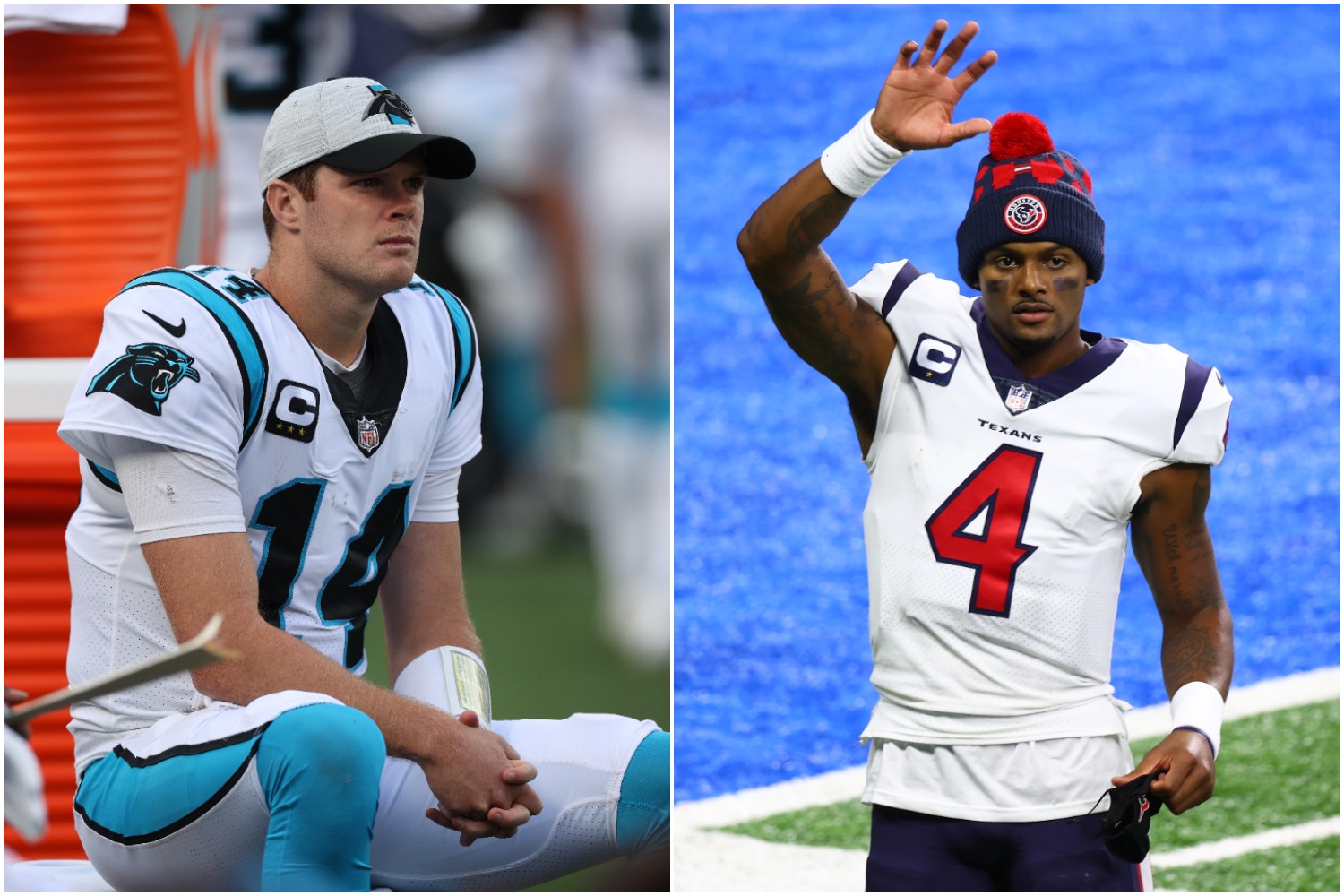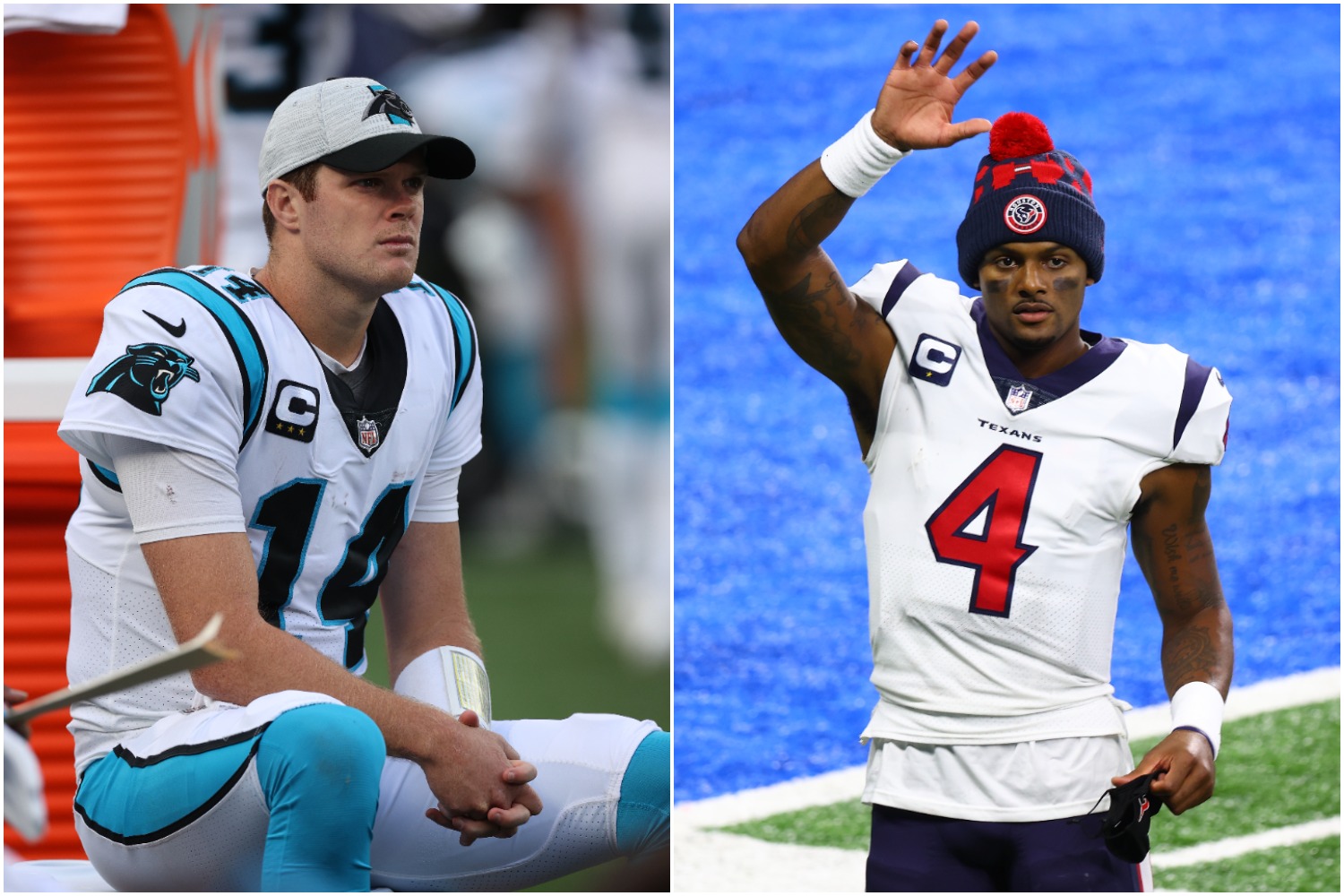 Any initial optimism about an offense built around Darnold should have faded by now. The larger the sample size, the more reason Carolina has to consider alternatives.
Yet even with their offseason gamble backfiring rather quickly, the Panthers have largely distanced from the Deshaun Watson sweepstakes.
Until now.
According to Joseph Person of The Athletic, the Panthers "are expected to be involved in trade talks for embattled Houston Texans quarterback Deshaun Watson."
What forced them to change their mind?
Darnold's latest disappointing performance, which included 111 passing yards, one interception, and a benching for former XFL standout P.J. Walker, convinced the front office it's time to consider bringing the Houston Texans quarterback to Carolina.
Watson has yet to take the field this season as he faces 22 active civil lawsuits involving sexual misconduct and assault. But with the Nov. 2 trade deadline rapidly approaching, speculation about a potential deal involving one of the NFL's most talented quarterbacks continues to swirl.
But if the Panthers plan on building around Watson, they better prepare to pay up.
Could another team sway the Texans with a compelling trade offer?
Will Carolina find a way to swap out Darnold for a three-time Pro Bowler who actually knows how to play quarterback at the pro level?
That's easier said than done.
With Houston reportedly asking for three first-round picks and two or three more assets, it's obvious first-year general manager Nick Caserio has his sights set on landing a huge return for a player who has no desire to play for the Texans again. However, the Panthers don't measure up to some of the other teams that might have designs on trading for Watson from an asset perspective.
The Miami Dolphins certainly have a better collection of picks and players to offer. Tua Tagovailoa and multiple early-round selections would give Houston a young quarterback with upside and capital to upgrade the roster.
Meanwhile, the Philadelphia Eagles could have three top-10 picks in 2022, so they have to be viewed as a strong contender to acquire Watson.
It will be fascinating to see if Miami, Philadelphia, or Carolina pulls the trigger on a trade over the coming days. After missing on Sam Darnold, the Panthers can change the course of their franchise if they're willing to pay the required asking price.
That is, of course, if another team doesn't make a deal for Deshaun Watson first.
All statistics courtesy of Pro Football Reference.