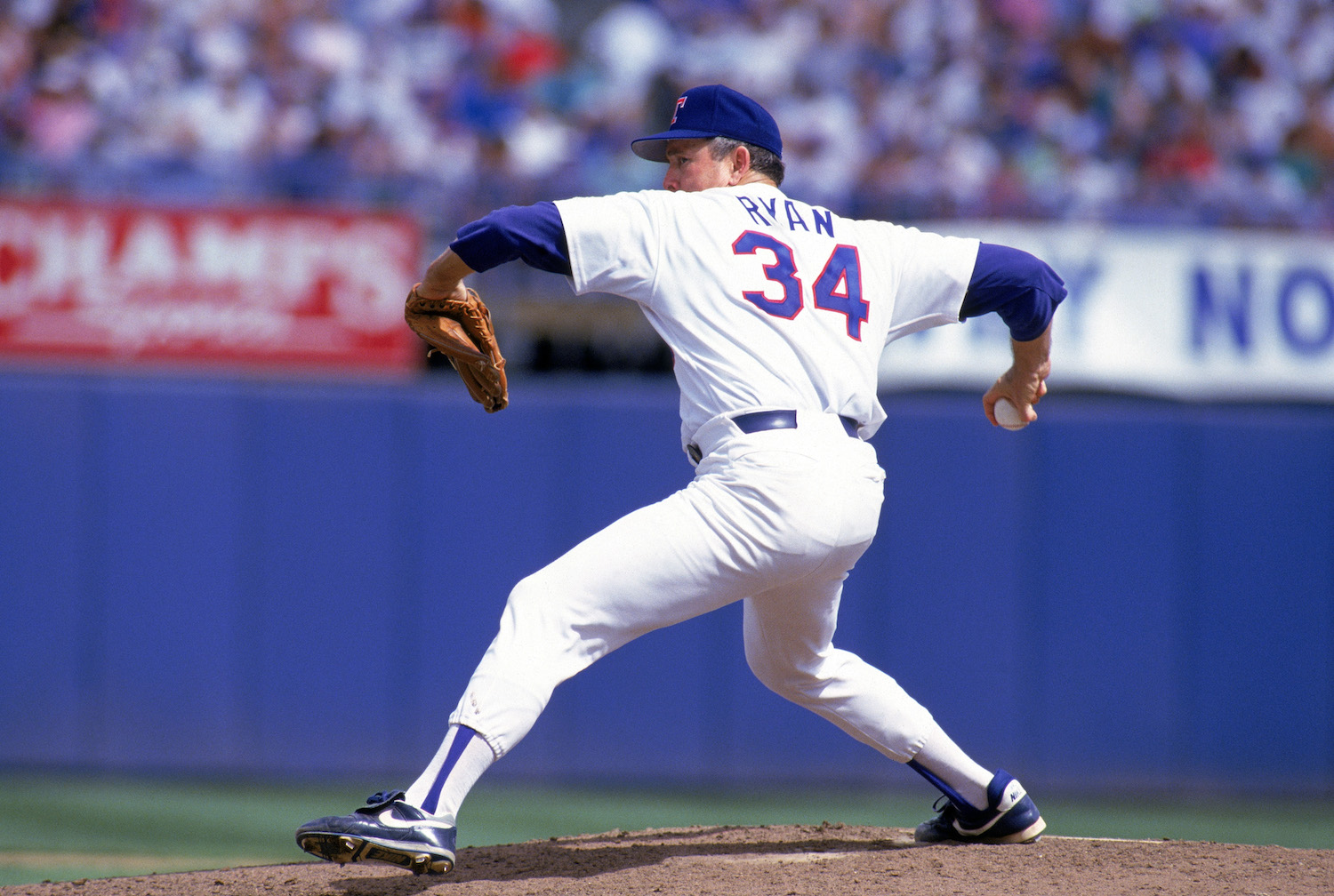 Nolan Ryan Pummeled Robin Ventura on This Day in Baseball History
August 4, 1993. It's a date remembered as one of the wildest brawls in MLB history when a 46-year-old Nolan Ryan pummeled a 26-year-old Robin Ventura.
Nolan Ryan is recognized as the greatest power pitcher in MLB history with 5,714 strikeouts and seven no-hitters. Robin Ventura played 16 MLB seasons, which included two All-Star appearances. While baseball fans remember Ryan for his numerous legendary pitching performances, most recognize Ventura for a fight he had with Ryan during the 1993 season.
Here's a look back at the background of beanings between the Chicago White Sox and Texas Rangers, Ventura's fateful decision that hot summer night, how a one-sided fight ensued, and how all these years later, that's the topic people want to discuss with Ventura more than anything else.  
Nolan Ryan and White Sox had beef for years
It all started back in Spring Training in 1990. That's when a diminutive Craig Grebeck hit a home run for the White Sox, then celebrated a little too much for the liking of those in the Texas Rangers' dugout. Later that year, Grebeck stepped up to the plate against Ryan and used every bit of his 5-foot-7 160-pound frame to hit a drive deep and over the fence for his first career home run. Again, his celebration drew the ire of the Rangers.
A week later, the Rangers and White Sox met again. During Grebeck's first plate appearance, Ryan drilled Grebeck in the middle of the back. The first warning shot had been fired. Three innings later, the White Sox pitcher plunked Rangers third baseman Steve Beuchele. 
A year later, the same two teams; same result. This time, Ryan hit Robin Ventura. Fast forward to 1993. On August 2, the beanball wars escalated. Rangers pitcher Roger Pavlik hit Chicago's Ron Karkovice. Later in that same game, Chicago pitchers hit Rangers slugger Dean Palmer twice, and Mario Diaz, once. Tensions escalated. Something had to give. 
Nolan Ryan embarrasses Robin Ventura
On August 4, 1993, the 46-year-old Nolan Ryan, who was playing in his final season, faced a 26-year-old Robin Ventura in the first inning. Ventura laced an RBI single. In the bottom half of the second inning, Chicago's Alex Fernandez hit Rangers slugger Juan Gonzalez. 
An inning later, Ventura stepped into the batter's box. On Ryan's first delivery, he went inside and drilled Ventura on the back of his right arm. The White Sox hitter took a couple of steps toward first base, then dropped his bat, took off his helmet, and charged toward Ryan, who was waiting. 
When Ventura arrived, Ryan proceeded to put him in a headlock and delivered four shots to the top of Ventura's head as the two stumbled off the back of the mound. Ryan delivered an uppercut with his final punch to Ventura's face, and then the pair disappeared into a mass of humanity as both benches cleared. A minute into it and Ryan was on the bottom of the pile struggling to breathe. His rescue came from an unlikely source on the opposing team.
"All I remember is that I couldn't breathe," Ryan said in the book, Nolan Ryan: The Making of a Pitcher. "I thought I was going to black out and die, when all of a sudden I see two big arms tossing bodies off of me. It was Bo Jackson. He had come to my rescue, and I'm awful glad he did, because I was about to pass out. I called him that night and thanked him."
Why Robin Ventura can't escape the brawl
Years later, Robin Ventura can't get away from that night in 1993. Wherever he goes, inevitably, someone asks him a question about the brawl with Ryan. 
"I think there might have been 500,000 people in the stadium when that happened because everyone says they were at that game," Ventura told CSNChicago.com. One person there was a young player in Paul Konerko, who would become a star for the White Sox years later and play for manager Robin Ventura. He said it's comical how often Ventura is asked about the incident. 
"He makes a joke out of it. Whenever he's in a public setting, they have a pool going. How long is it going to take for the Ventura-Ryan fight to get brought up? He just knows that people are always going to say, what about Nolan Ryan?" 
In 2020, Ventura has yet another reason to be reminded of the event 27 years ago. It's now included on the Topps Project 2020 Nolan Ryan card. The project, which combines iconic baseball cards with an elite group of modern artists, has a small rendering of Ryan in his Rangers jersey, leaning over and giving Ventura the business. 
Although the baseball card captures the moment from that game in 1993, baseball fans have never forgotten what many consider to be one of the most entertaining brawls in MLB history. Just ask Robin Ventura.