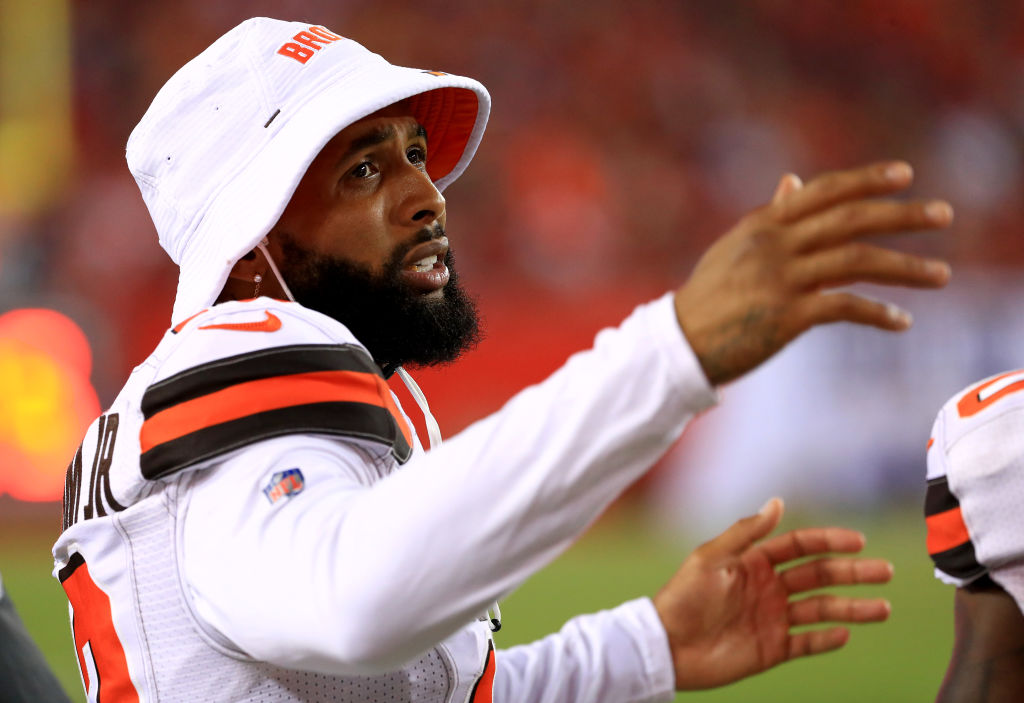 Odell Beckham Jr. Opens up About Going from New York Giants to Cleveland Browns
When he is healthy, Odell Beckham Jr. is one of the NFL's most dominant wide receivers. He quickly made an impact on the New York Giants offense as a rookie and revitalized Eli Manning's career with his skill and athleticism. It came as a huge surprise to Giants fans that the team decided to trade OBJ …
When he is healthy, Odell Beckham Jr. is one of the NFL's most dominant wide receivers. He quickly made an impact on the New York Giants offense as a rookie and revitalized Eli Manning's career with his skill and athleticism.
It came as a huge surprise to Giants fans that the team decided to trade OBJ to the Cleveland Browns. Today, we will go over his comments about being traded and what we can expect from his this season.
Odell's comments about being traded to the Browns
When Beckham sat down with Sports Illustrated to talk about the trade, he stated: "This wasn't no business move…This was personal. They thought they'd send me here to die." The Giants traded Beckham for two picks in the 2019 NFL Draft and safety Jabrill Peppers. 
When he initially learned about the trade Beckham also tweeted out: "Im not upset in ANY way about where I landed…But outta respect what they did, was crazy! And beyond disrespectful ! I wanted nothin but the best for NY. But on to a new chapter…. ITS LIFE"
We think the Giants were foolish to trade Beckham after signing him to an extension, but only time will tell if their gamble will pay off.
Odell Beckham's career in New York
During his five seasons with the G-Men, Beckham had four excellent years and was on pace to do the impossible, chase records that only Jerry Rice could touch. He had at least 90 receptions and 1,300 yards receiving in each of his first three seasons and scored 35 touchdowns over that span.
A broken ankle forced him to miss most of the 2017 season, but he came back last year and produced another Pro Bowl-caliber season even though he missed a few games.
He finished 2018 with 77 catches for 1,052 yards but only found the end zone six times. If he can be as good as advertised, the Browns got Beckham for pennies on the dollar.
How good can he be in this offense?
Fans were already excited about the Browns' offense before they traded for OBJ, with Baker Mayfield looking very comfortable in head coach Freddie Kitchens' offense. This year, along with the addition of Beckham Jr., the team also added in Kareem Hunt, who brings an extra dimension to the offense from Kansas City.
Pair Beckham Jr. with a possession receiver like Jarvis Landry, and we could see a player that can grab 85 passes for 1,200 yards and 13 touchdowns. 
Will the Browns make the playoffs?
This is the question everyone is asking around Cleveland. The Browns have the firepower on offense, a stud on the defensive line, and a dynamite shutdown corner. Can they do enough to win the AFC North or get a wild card berth? The Steelers' offense won't be as dynamic this season, with Le-Veon Bell and Antonio Brown leaving the team, but they should still be a tough team to beat.
Baltimore has Lamar Jackson, and while teams have film to study for the second-year quarterback, his ability to run the ball makes the Ravens' offense tricky to stop. When you factor in one of the best passing defenses in the NFL last season, and it won't be easy to unseat the current division champ. 
The Bengals are rebuilding, so we expect those to be two easy wins for Cleveland. Expect the Browns to push for eight wins, while just missing out on the playoffs.
What do you think about Odell Beckham's comments?
Do you think the Giants really traded him to a place to potentially kill his career? We think they were just looking for the right trade offer. For more news surrounding the best players in the league, be sure to check out our NFL section.