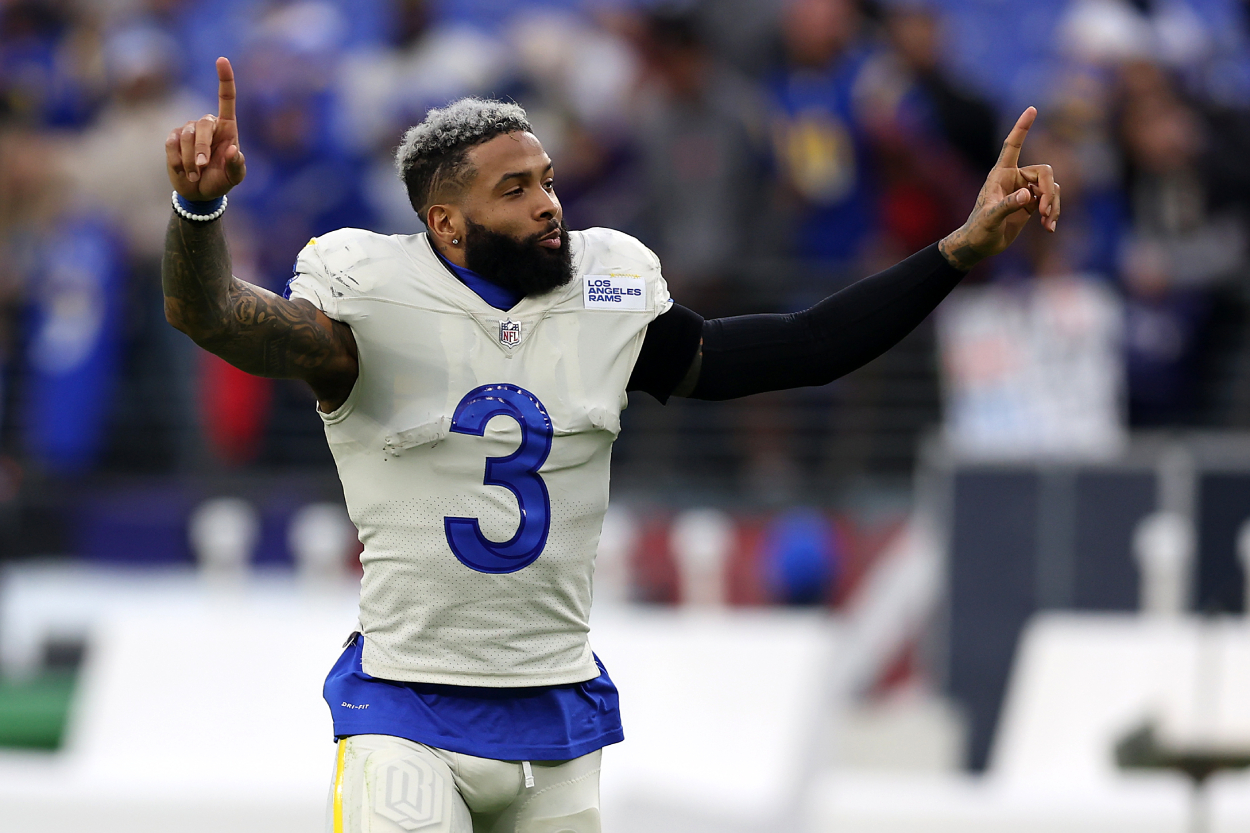 Odell Beckham Jr. Has Thrown His Reputation out the Window: 'I Came Late to the Party'
Odell Beckham Jr. is fitting in nicely as the No. 2 receiver for the Los Angeles Rams.
Wide receiver Odell Beckham Jr. is making the most of his new life with the Los Angeles Rams. He's still playing football while his two former teams are home for the postseason. Gone are those selfish days when he put himself before the team. Beckham is playing second fiddle to Cooper Kupp in the Rams' passing game, and that's suiting him just fine.
Odell Beckham Jr. has turned things around with the LA Rams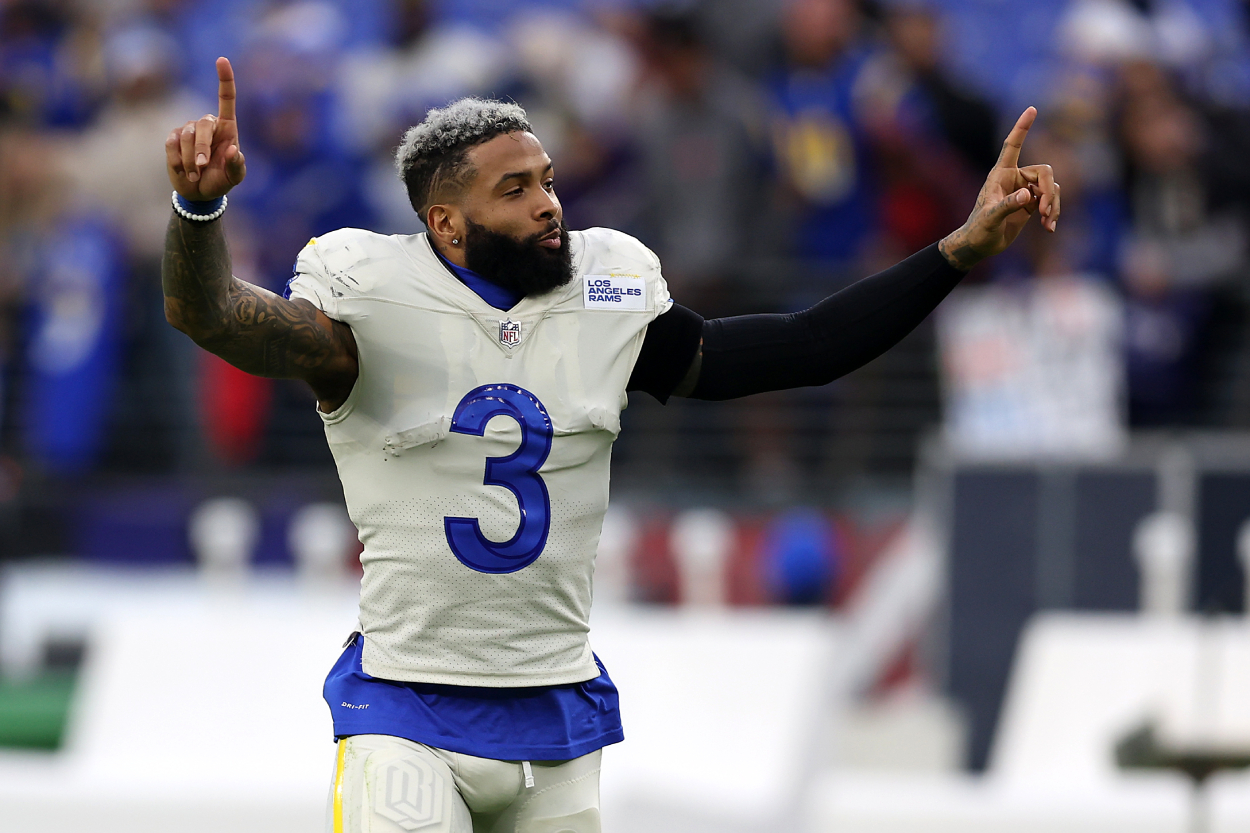 He played his way out of New York and Cleveland. Injuries played a major role but so did attitude and ego. Beckham finds himself in the thick of the playoffs. He also finds himself surrounded by teammates who love having him on the roster.
"He's a great teammate," Rams quarterback Matthew Stafford said, per The Orange County Register. "His ability to pick up what we're asking him to pick up is really impressive … He's doing a great job of getting open when he's getting his opportunities. I'm putting them in the area, he's doing a great job catching them. Got to continue to do that, continue to build our chemistry, and that just comes with time and working."
Yes, he's helping the Rams on the field. He's filled in nicely after Robert Woods went down with a season-ending injury one day after LA signed Beckham. In eight games with the Rams, he has 305 yards and five touchdowns.
More importantly, he has been just as solid off the field.
"But as far as how he is as a person and in our meeting rooms and all that kind of stuff, he's a pleasant teammate to be around," Stafford said. "The guy comes out, works hard, does everything he's supposed to do."
Odell Beckham knows he's No. 2 behind Cooper Kupp
With the New York Giants and the Cleveland Browns, there was just as much talk about Beckham's off-the-field antics as his on-the-field success. He had been labeled a me-first guy and a distraction with both teams. That hasn't been the case with the Rams so far.
Beckham disputes it was ever the case at all.
"I find it funny," Beckham said. "All the talk and everything that's ever been said about me — 'me guy' and all this — and it's like people are going to say whatever, but they just have no idea."
Beckham knew Kupp was approaching the 2,000-yard mark and was having a career year. He wasn't looking to take anything away from the Rams' top target.
"And when I chose to come here, I'm knowing that Coop's on pace to break a record," he said. "I didn't come here thinking, 'Oh, I got to get my targets.' That's just not being me. Yeah, I want the ball. I'm a competitor. But I came late to the party."
For Beckham and the Rams, the season starts now
 The Rams ended the season at 12-5 and are the No. 4 seed in the NFC. They host the fifth-seeded Arizona Cardinals on Monday. For Beckham and the Rams, the previous 17 games are a thing of the past and the new season begins now.
"Just happy to see it all finally come together," he said. "And now it's time. The season starts right now at this very moment."
Beckham has zero problems playing in the shadow of Kupp. In fact, he embraces it. Kupp led the league in receptions (145) and just missed the 2,000-yard mark with an NFL-high 1,947 receiving yards. He also had a league-best 16 touchdown receptions.
Beckham is using Kupp's season as motivation for himself.
"I told him I want him to get 2K yards so I can come and break (his) record," Beckham said.
Rams coach Sean McVay has enjoyed having Beckham. He said Beckham and Kupp have made each other better.
"He's been a real joy to be around," McVay said. "I've really enjoyed it. He brings definitely a swagger and a confidence to our team. He's really got some great experiences and great perspective. You listen to he and Cooper talk among one another, with the resumes that those guys have built, and kind of really just being able to sharpen each other."