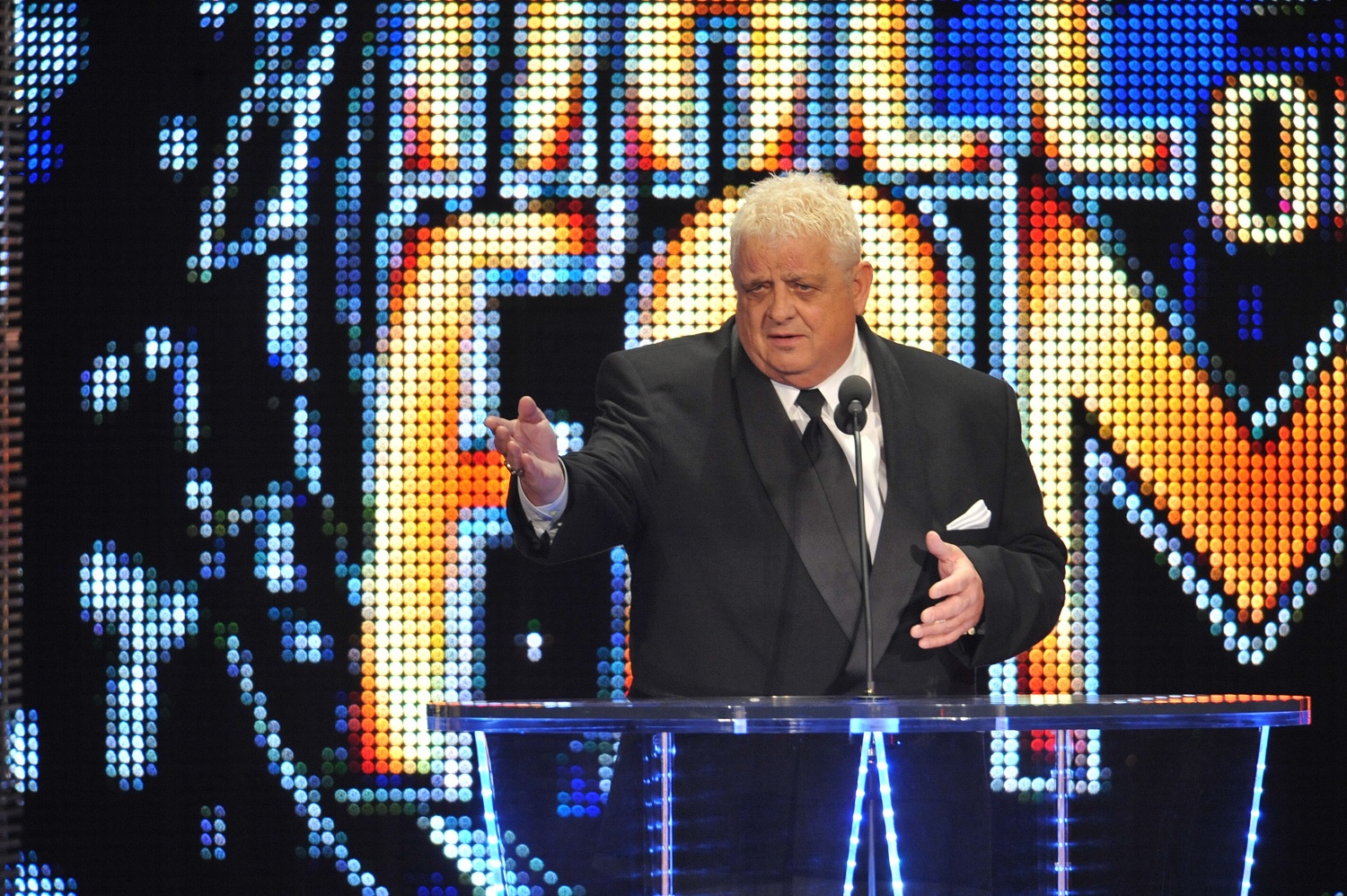 One Small College Football Program Produced Eight WWE Hall of Famers and a Number of Other Pro Wrestling Legends
A look at how one small college football program in Texas produced eight different WWE Hall of Famers, including the late, great Dusty Rhodes.
It's no secret that football is big deal in Texas. But let's not pretend that professional wrestling hasn't been a big deal in the Lone Star State over the years as well. Before Vince McMahon started poaching talent and invading territories in an attempt to make WWE a monopoly, Texas was filled with incredible promotions, including World Class Championship Wrestling, Houston Wrestling, and Southwest Championship Wrestling just to name a few.
While many big names came out of those promotions, a number of those guys first played college football at West Texas State University, which is now known as West Texas A&M, in the small town of Canyon, which is located about 20 miles south of Amarillo. In fact, the university ended up producing eight WWE Hall of Famers and a number of other pro wrestling legends. Some have even called the small school Pro Wrestling University given its past reputation for producing wrestlers.
Here's a look at the eight WWE Hall of Famers that first played football at West Texas State.
Bruiser Brody
Born Frank Goodish, Bruiser Brody was an all-state basketball and football star in Michigan and began his college football career at Iowa State but then transferred to West Texas State in the mid-1960s after bad behavior cost him a spot with the Cyclones. He was considered a pro prospect but lacked the discipline to make it in the NFL despite being 6'5″ and 300 pounds.
With his football career behind him, Bruiser Brody turned to pro wrestling and began training with the famed Von Erich family. Brody wrestled in various promotions all over the world, including a stint in WWE, and put on some of the bloodiest matches in history with Abdullah The Butcher. Brody was tragically killed in 1988 after being stabbed in a locker room by Jose Huertas Gonzalez, and was posthumously inducted into the WWE Hall of Fame in 2019.
Tully Blanchard
Tully Blanchard was born into the pro wrestling business but also played a little football as a youngster. The son of former AWA star and promoter Joe Blanchard, Tully played both quarterback and defensive end at West Texas State before turning his attention to the family business.
Blanchard had an underrated career as a singles competitor while working for Jim Crockett Promotions and is best known for being part of one of the greatest tag teams of all time alongside Arn Anderson. The duo was a part of the famed Four Horsemen stable with Ric Flair, which is how Tully Blanchard made his way into the WWE Hall of Fame in 2012.
Ted Dibiase
Ted Dibiase was a teammate of Tully Blanchard's at West Texas State but his college football career didn't last long as he quit the team to pursue a pro wrestling career as he was in need of money. Trained by the famous Funk family, Dibiase debuted in the mid-70s in Amarillo before making his way to Mid-South Wrestling to work for Bill Watts. He spent a short time in WWE in 1979 and later worked in Japan.
Dibiase truly made a name for himself when he returned to WWE in 1987 as "The Million Dollar Man," which was one of the best heel characters in WWE history. He was part of the long-running storyline that involved Hulk Hogan, Andre the Giant, and Randy Savage, and later had programs with the likes of Jake "The Snake" Roberts, The Ultimate Warrior, and Dusty Rhodes. Dibiase also spent time in WCW in the 1990s was inducted into the WWE Hall of Fame in 2010.
Terry Funk
Terry Funk is essentially the reason that West Texas State became Pro Wrestling University. Funk is the son of legendary promoter Dory Funk and competed in both amateur wrestling and football at West Texas State before truly beginning his professional wrestling career. The Funk family would often take the 20-mile trip to Canyon to scout football players, which is how this list is possible. It's often reported that Dory Funk Jr. also went to Texas State but he actually attended Indiana State before returning to Amarillo to begin his wrestling career.
Over the course of five decades, Terry Funk wrestled for just about every major promotion in the world and perhaps most of the smaller ones as well. Seriously, the guy was everywhere. He won countless titles around the globe and was inducted into the WWE Hall of Fame alongside Dory Jr. in 2009.
Stan Hansen
Stan Hansen was one of many wrestlers the Funk family personally recruited and trained from West Texas State and "The Lariat" began his pro wrestling career in 1973 while also playing for the Detroit Wheels of the World Football League. He started wrestling full-time when the league folded in 1975, at which point he began teaming with Bruiser Brody.
Hansen had two stints in WWE but the majority of his success in the wrestling business came in Japan. He wrestled for New Japan and All Japan and also spent some time in WCW and the AWA in the U.S. Hansen was inducted into the WWE Hall of Fame in 2016.
Tito Santana
Born Merced Solis, Tito Santana had the most football talent of anyone on this list. He was a tight end at West Texas State when Tully Blanchard was the quarterback of the Buffaloes and signed with the Kansas City Chiefs after graduation. However, he was cut during training camp but did end up playing one season in the Canadian Football League by the BC Lions.
Blanchard helped Santana break into the wrestling business in the mid-1970s and Santana went on to have a great career. He first joined WWE in 1979 and returned to the company in 1983 after stints in the AWA and Georgia Championship Wrestling. Santana became the first Mexican-American wrestler to win the Intercontinental Championship and held the title for 217 days before dropping it to Randy Savage. He's also one of just two wrestlers that appeared in the first nine WrestleMania events with Hulk Hogan being the other. Santana was inducted into the WWE Hall of Fame in 2004.
Dusty Rhodes
Like Tito Santana, Dusty Rhodes played a little bit of pro football following his days at West Texas State. After leaving the Buffaloes, Rhodes tried out for the AFL's Boston Patriots, the team now known as the six-time Super Bowl champion New England Patriots, but didn't make it. He played for the Hartford Charter Oaks of the Continental Football League for a time before embarking on his pro wrestling career.
As he was friends with the Funk family, he used that to his advantage to get a job with a wrestling promotion in Boston before heading back to Texas to work with the Von Erichs. Rhodes would go on to become one of the greatest and most popular professional wrestlers in history and also had success as a booker, producer, and trainer. Dusty's two sons, Dustin and Cody, have had great careers of their own. Dusty was inducted into the WWE Hall of Fame in 2007 and passed away in 2015 at the age of 69.
Barry Windham
Like so many others in the pro wrestling business, including Tully Blanchard, Barry Windham was born into the industry and was trained by his father, Blackjack Mulligan, following his football days at West Texas State. He debuted in 1979 at the age of 19 and found success as both a singles competitor and a tag team wrestler.
Windham teamed with his real-life brother-in-law, Mike Rotunda, during his first run in WWE and won the tag titles on two occasions. What some may not know is that team was actually the first to use the theme song, "Real American," which was later used by Hulk Hogan and became one of the most famous entrance songs of all time. Windham later began working for Jim Crockett Promotions and became part of The Four Horsemen, which, like Blanchard, is how he was inducted into the WWE Hall of Fame in 2012.
While not members of the WWE Hall of Fame, Bobby Duncum Sr.and Manny Fernandez are a couple of other notable names that attended West Texas State. Many believe that Dick Murdoch attended the university when, in fact, he never officially attended the school. But he was friends with so many of the players and around the team so much that he was made an honorary member of the squad and later played in alumni games.