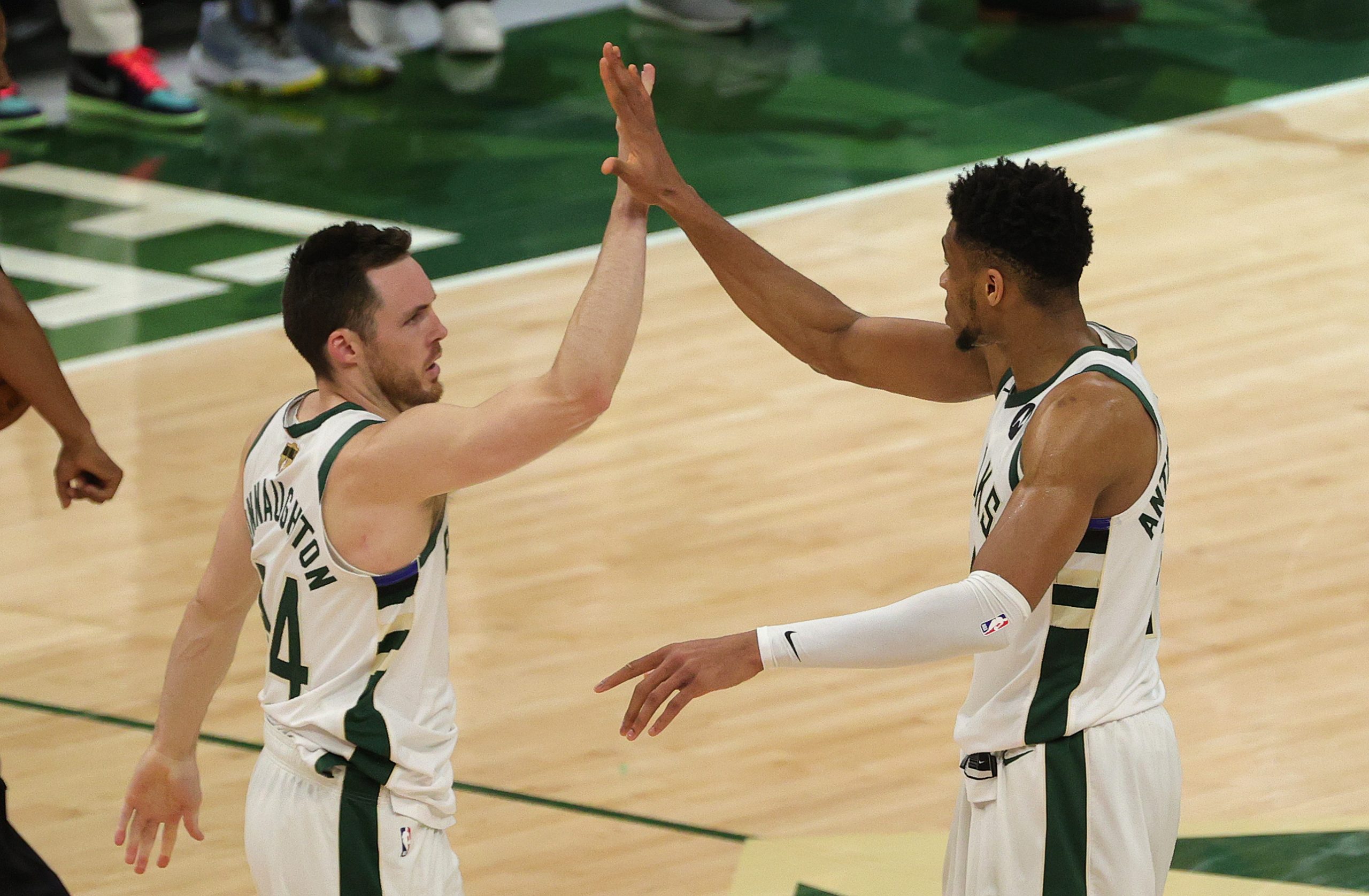 Pat Connaughton Has Shown the Milwaukee Bucks are More Than Giannis Antetokounmpo and Khris Middleton
The Milwaukee Bucks wouldn't be where they are without Pat Connaughton.
Khris Middleton scored 40 points, and Giannis Antetokounmpo was two assists shy of a triple-double in Game 4. Without Pat Connaughton, however, the Milwaukee Bucks would be staring at an elimination game in Game 5 of the NBA Finals on Saturday.
Middleton and Antetokounmpo get most of the well-deserved credit, but Connaughton showed there's more to the Bucks than that dynamic duo.
Pat Connaughton is a vastly underrated member of the Milwaukee Bucks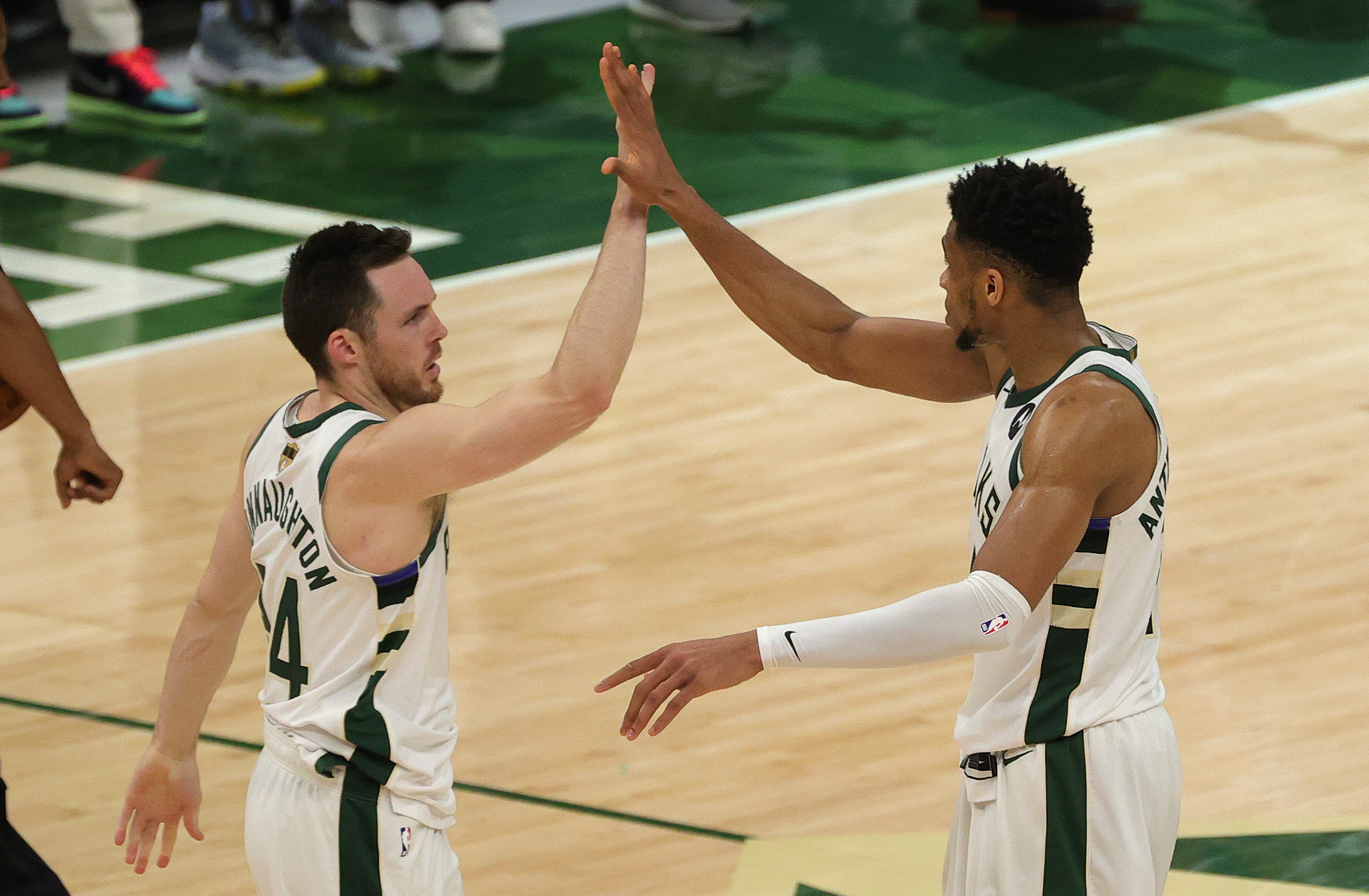 He's never in the headlines, but the Bucks wouldn't be where they are without Connaughton, a 6-foot-5 shooting guard from Notre Dame. He enters the game with little fanfare but does all those little things that go unnoticed. Connaughton has no problem guarding guys much bigger players or diving for that loose ball.
While the little things might go unnoticed to the average fan, Bucks coach Mike Budenholzer knows what he has in his sixth man.
"He's helping us in lots of different ways, and sometimes it is a made three or a couple made threes or the score around the basket or an offensive rebound putback and assists," Budenholzer said about Connaughton before Game 4, according to AZCentral.com. "And then he just sometimes just does things that I think his teammates, coaches appreciate that don't show up, so he's important."
For the series, Connaughton is averaging 10.3 points, 5.3 rebounds, 1.5 assists, and 0.3 steals per game.
Without Pat Connaughton, the Milwaukee Bucks would likely be down 3-1 in the series
Connaughton certainly isn't the Bucks' most important player. He might not even be top five. But without him, Milwaukee might be starting at a 3-1 deficit heading into Game 5.
While the Bucks were down 2-1 in the series, they also found themselves trailing by nine points in the fourth quarter of Game 4. Connaughton hit a huge 3-pointer with 3:08 left to put the Bucks in front.
He scored eight of his 11 points in the fourth quarter. He also added nine rebounds and never turned the ball over. Connaughton was Milwaukee's best in the plus-minus department at 21.
Besides the points and the rebounds, Connaughton did those little things to win games. He came in to guard a red-hot Devin Booker. With the game tied, Booker attempted one of his lean-into-the-defender moves after a pump fake. Connaughton didn't bite. Booker missed the shot and Jrue Holiday got the rebound. Middleton scored to put the Bucks up by two.
Connaughton's athleticism is right up there with Antetokounmpo's
He's not quite the Greek Freak, but Connaughton's athleticism is off the charts. At the NBA draft combine back in 2015, he recorded a 44-inch vertical leap, finishing 1.5 inches short of the all-time mark.
In high school at St. John's Prep in Danvers, Mass, he was a three-sport star. It appeared he might pursue a career in professional baseball as he dominated as a pitcher. He received numerous college offers before he settled on Notre Dame.
At Notre Dame, Connaughton played both basketball and baseball. In 2014, the Baltimore Orioles selected him in the fourth round of the draft, but he decided to continue his career with the Irish. As a senior captain on the basketball team, he led the Irish to a berth in the Elite Eight of the NCAA tourney.
He may no longer be the big man on campus, but without Connaughton, the Bucks wouldn't be where they are now.