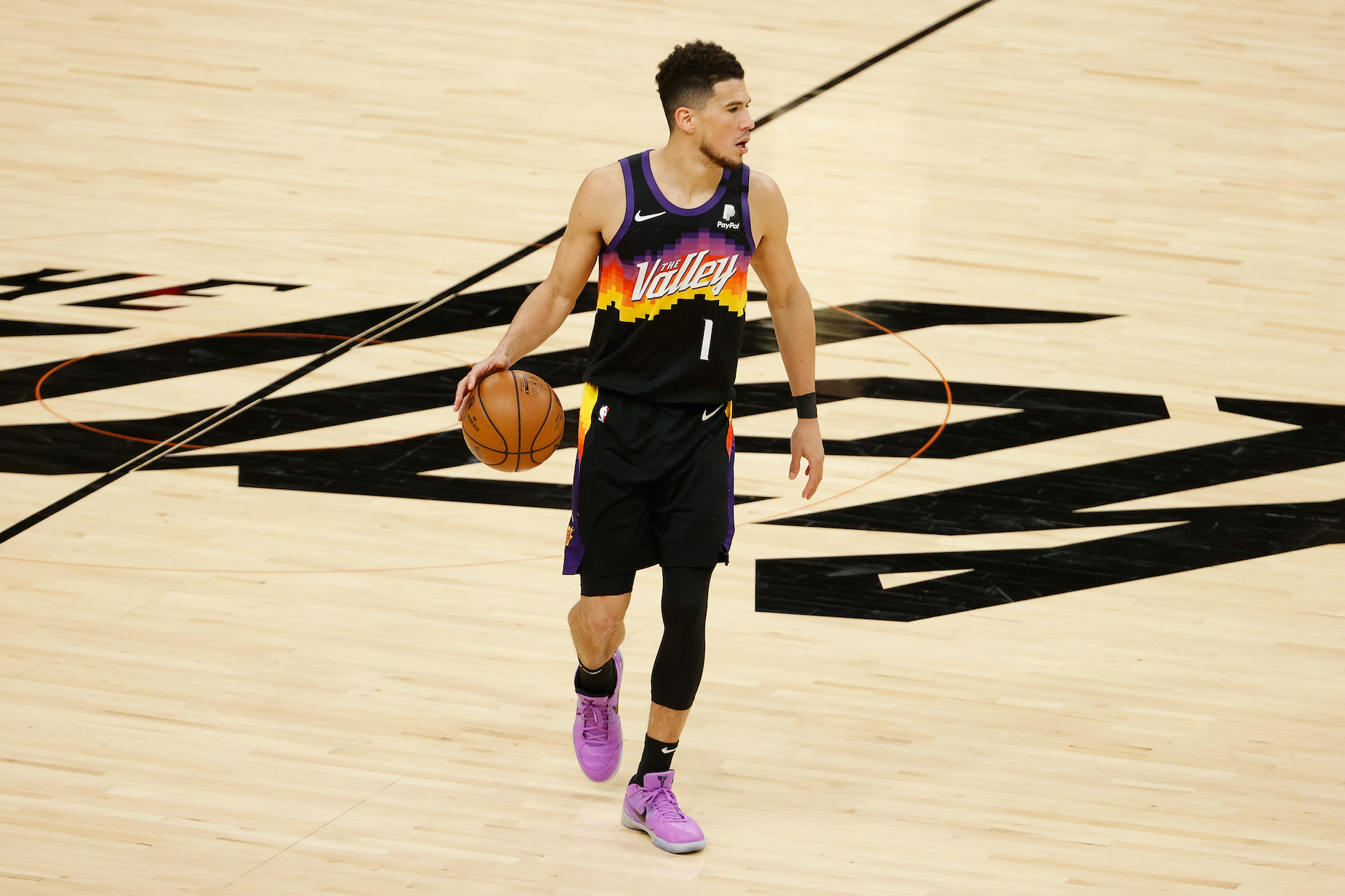 Devin Booker Once Said That His 'Favorite Accomplishment' Was a $2.5 Million Commitment Rather Than Anything He'd Done on the Basketball Court
Phoenix Suns guard Devin Booker is capable of making a major impact, both on and off the basketball court.
With all due respect to the Phoenix Suns, it's usually tough for them to make national headlines. During the 2021 NBA Playoffs, though, they've had no problem stepping into the spotlight thanks, at least in part, to Devin Booker. During his first foray into the postseason, he hasn't missed a beat while stuffing the box score.
For all of his on-court success, though, Booker once said that his "favorite accomplishment" wasn't something he'd done on the hardwood. Instead, he highlighted a $2.5 million commitment to better his community.
Devin Booker has proven himself to be a legitimate scorer during his NBA career
While the cliche might insist that defense wins championships, no NBA team will turn down the chance to get a capable scorer on the court. Thankfully for the Suns, Devin Booker fits that role to a tee.
The guard played his college ball at the University of Kentucky, but, thanks to the Wildcats' stacked roster, he spent most of the year as the sixth man. He averaged 10 points per outing but still earned plenty of attention and, after one season on campus, entered into the 2015 NBA draft.
The Suns snagged the shooting guard as the 13th overall pick and slotted him right into their rotation. He averaged a shade under 14 points per appearance, earning both a place on the All-Rookie First Team and plenty of plaudits. Since then, his stock has only increased.
In the subsequent seasons, Booker continued to take his offensive game further and further. He earned his first two All-Star nods in 2020 and 2021 and, as of the conclusion of the 2021 regular season, has raised his career averages to 23 points, 4.6 assists, and 3.7 rebounds per game. He's also made headlines during his first postseason appearance, but we'll discuss that a bit further later.
Highlighting a $2.5 million donation as his 'favorite accomplishment'
While he might not have reached the heights of someone like LeBron James or Steph Curry, Booker has produced plenty of stand-out individual performances during his time on the hardwood. With that being said, though, he once picked an off-court action as his top accomplishment.
In the early days of 2019, Booker announced that he was pledging $2.5 million over the next five years, with the money going to help children and families in Arizona.
"The game has done so much for me," he explained in a video shared on the Suns' Twitter account. "It's changed my life in so many ways that I couldn't even fathom. But I think the most important thing it did to me is teach me values in my life. The most important ones: commitment, discipline, integrity, and, like [Suns owner Robert Sarver] spoke on, leadership. And, as a leader, I feel like it's my duty and my responsibility to give back to the community that we represent."
Booker then echoed those sentiments on social media. He quote-tweeted the Suns' video, adding, "My favorite accomplishment of my career thus far!! Blessed to be in the position to be able to give back and make an impact here on the community in Phoenix!"
Devin Booker could add another major achievement to his NBA resume this summer
It goes without saying that a charitable donation is more important than anything that happens on the basketball court. With that disclaimer set aside, though, Booker could achieve another impressive feat this year: winning an NBA championship.
While every pro athlete wants to take home the title, Booker has spoken about his desire to lift the Larry O'Brien Trophy. As documented on NBA.com, he once pointed to the San Antonio Spurs' championship banners and said, "I care more about getting some of these." He expressed a similar sentiment after the Suns eliminated the Los Angeles Lakers from the 2021 playoffs.
"I've been working my whole life for this moment," the guard explained following his 47-point performance. "It wasn't the time to shy away from it."
The Suns aren't exactly favorites to win this year's title — as of June 9, 538 gives them the third-best chance to lift the Larry O'Brien Trophy at 12% — Booker will be at the center of everything they do. The guard has been stuffing the score sheet during the playoffs and has averaged 28.4 points, 5.4 assists, and 5.9 rebounds across the first seven playoff games of his professional career. While Chris Paul, Deandre Ayton, and the rest of Phoenix's supporting cast all have valuable roles to play, Booker has become the team's talisman.
As far as achievements go, donating $2.5 million to charity is nothing to sneeze at. If Booker can add an NBA championship to that resume, he'll have quite a one-two punch in terms of on and off-court contributions.
Stats courtesy of Basketball-Reference and Sports-Reference