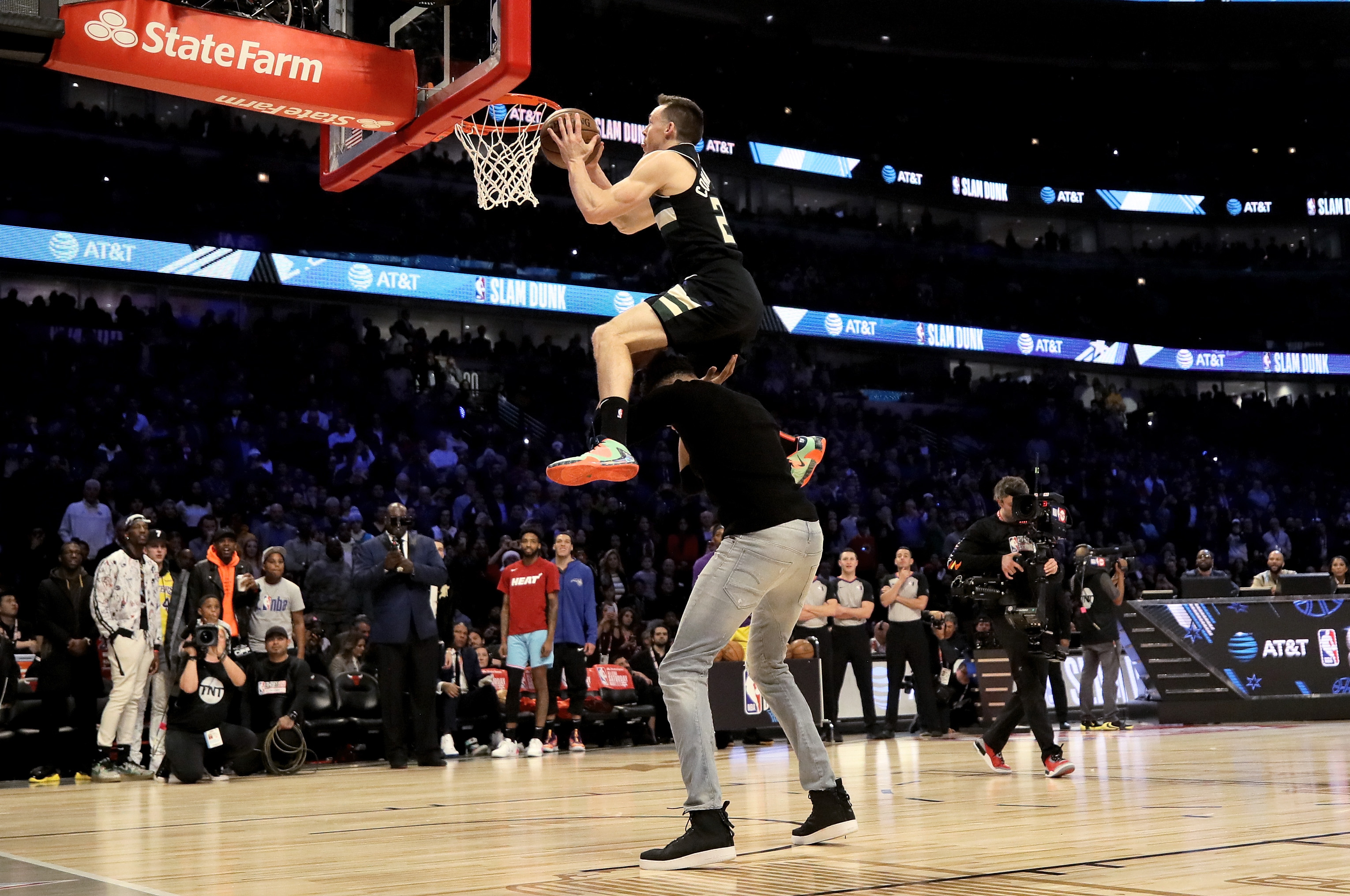 Pat Connaughton's Athleticism Gives Buck Teammate Giannis Antetokounmpo a Run for His Money
Pat Connaughton is just as much an athletic freak as teammate Giannis Antetokounmpo.
At 6-foot-11 with a 7-foot-3 wingspan and athleticism that enables him to play any position on the court, Giannis Antentokounmpo of the Milwaukee Bucks is appropriately nicknamed the Greek Freak. The reigning MVP of the NBA is having yet another stellar season, averaging 29.9 points and 13.6 rebounds per game, guiding the Bucks to an NBA-best 50-8 record.
Farther down the Bucks bench is another freakish athlete who doesn't come with nearly the hype of Antetokounmpo.  His name is Pat Connaughton.
Slam dunk competition
Connaughton may not be a household name in the NBA, but might just be the most athletic player on the Bucks. Connaughton showed off some of his skills during the NBA's All-Star weekend when he took part in the slam dunk contest.
Connaughton, a second-round draft pick by the Brooklyn Nets in 2015 NBA draft, displayed his athletic ability on All-Star Weekend by jumping over Antetokounmpo and scoring a perfect 50 on his second dunk of the night.

White men can't jump?
Dressed as Woody Harrelson's character Billy Hoyle from the movie White Men Can't Jump, Connaughton opened the dunk contest with a strong slam by jumping over Milwaukee Brewers outfielder Christian Yelich. It wasn't the first time Connaughton, a 6-foot-5 guard, has impressed with his leaping ability. At the NBA draft combine back in 2015, Connaughton registered a 44-inch vertical leap, coming up 1.5 inches short of the record.

Unfortunately for Connaughton, he was given a 45 by the judges on his first dunk and was eliminated after Aaron Gordon and Derrick Jones Jr. advanced. Jones Jr. defeated Gordon in a controversial final round to come away with the title.
Pat Connaughton was a three-sport star
Pat Connaughton, a three-sport athlete in high school who attended St. John's Prep in Danvers, Mass. before playing both basketball and baseball at the University of Notre Dame, was also drafted in the fourth round of the 2014 MLB Draft by the Baltimore Orioles as a right-handed pitcher. 

A quarterback in high school, Connaughton, in 2016, also showed off his unique athleticism by tweeting a video of himself throwing a football 80 yards in the air.
Connaughton played three seasons with the Portland Trail Blazers before becoming a key member of Milwaukee's Bench Mob.
Connaughton's best season
The Milwaukee Bucks are arguably the deepest team in the NBA and Connaughton has been a key member of their second unit for two years. A year ago, Connaughton had his best season in the NBA as he averaged 6.9 points per game in 61 games. This season, Connaughton has been played in 54 games and is averaging 4.8 points and 4.2 rebounds per game this season for the Bucks. He might not share the spotlight or have the name recognition of Giannis Antetokounmpo, but, athletically speaking, he might be just as freaky as the Greek Freak himself.