Pat McAfee's UFO Experience Involved Elon Musk and a 'Homeless-Looking Person'
Over the years, multiple NFL players have come out and have said that they have had experiences with UFOs and, potentially, aliens. Cleveland Browns quarterback Baker Mayfield has been one of the latest to do so. Because of this, former Indianapolis Colts punter Pat McAfee has since joined in on the conversation, too, as he recently revealed his UFO story. It was not quite like Mayfield's, though, as his experience involved Elon Musk and a "homeless-looking person."
Baker Mayfield and Aaron Rodgers have discussed UFO experiences
RELATED: Baker Mayfield May Have Just Received a Little Clarity About His Future With the Browns
Browns quarterback Baker Mayfield made headlines recently when he tweeted his confidence about he and his wife, Emily Wilkinson, seeing a UFO.
"Almost 100%, Em and I just saw a UFO drop straight out of the sky on our way home from dinner," he tweeted. "We stopped and looked at each other and asked if either of us saw it… Very bright ball of light going straight down out of the sky towards Lake Travis. Anybody else witness this?"
His wife also discussed the incident on her Instagram story.
"It was a big light, and it was going straight from the sky, down to the ground," she said, according to CBS Sports. "We're not massive believers in this, we're not nay-sayers, but we've never seen it for our own eyes, so we're just a little confused."
Baker Mayfield is not the first NFL quarterback to claim that he has seen a UFO.
"I was in New Jersey with a teammate of mine," Aaron Rodgers said on the Sept. 29 episode of The Pat McAfee Show. "… It was him and his brother at their house in Jersey, and we saw a crazy thing in the sky that filled up most of the vantage point that we had. … It was orange, and moving in the clouds from left to right. The bizarre part that was attached to it was that after it went out of sight and we were frozen, looking at each other, wondering what the hell just happened, about 30 seconds after that, we heard fighter jets. … There were three of them that seemed to be chasing whatever this was."
Pat McAfee's UFO experience involved Elon Musk and a 'homeless-looking person'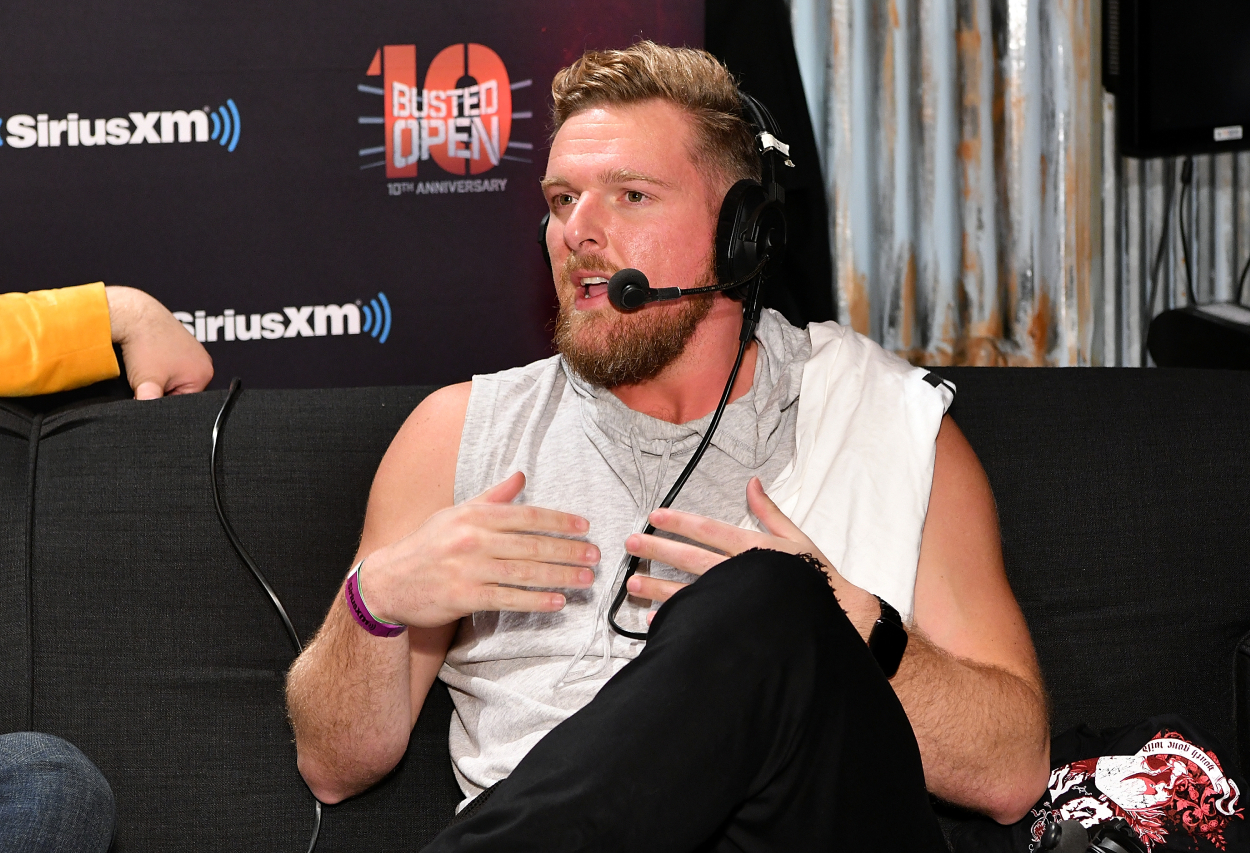 RELATED: Former Heisman Winner Ricky Williams First Began Smoking Weed Because of a Heartbreak He Suffered at the Hands of His Ex-Girlfriend
After Mayfield and his wife posted about their experience, Pat McAfee shared his UFO encounter on the March 4 episode of The Pat McAfee Show.
"I have been close to thinking that I saw a UFO," McAfee said. "When I was in California, my wife and I were, I believe, in Santa Monica, just walking around. … I look up in the sky, and there's just this massive globe flying around, and I go live on Periscope, by the way, because this is how pumped I was. I was like, 'I finally, I f****** found it. I've got a UFO. I have been waiting for this my entire life.'"
He continued: "Nobody around me was paying attention to it. So, I ask everybody; one homeless-looking person goes, 'No, it's Elon Musk's SpaceX, dude.'"
OK, so maybe it wasn't an actual extraterrestrial experience, but it's still a funny story.
Now, McAfee wants to know more about Tom Brady's potential alien encounter.
Pat McAfee wants to know more about Tom Brady's potential alien encounter
RELATED: Former NFL Linebacker Napoleon Harris Went From First-Round Pick to Fighting off Multiple Alleged Murderers at Once
After Baker Mayfield posted about his UFO experience, known Baker Mayfield hater, FOX Sports analyst Colin Cowherd, immediately became critical of Mayfield.
"Joe Montana, Troy Aikman, Terry Bradshaw, Tom Brady have never seen aliens. I would prefer my guys don't talk about it," he said on The Herd, per USA Today.
Brady, though, came back and tweeted: "How do you know I've never seen aliens Colin?"
Now, McAfee wants to know more.
"I do like the thought that Tom Brady has definitely seen an alien," McAfee said on the March 5 episode of The Pat McAfee Show. "At the level he's at, right, the world that he lives in, I'm assuming he knows the people (who know about aliens). I assume he's sat down next to them. … I assume Tom Brady can have those conversations every single night if he wants."
So, will Tom Brady be the one to actually give us the truth about aliens? Probably not, but I think fans want to know more about his potential encounter.
Like Sportscasting on Facebook. Follow us on Twitter @sportscasting19.