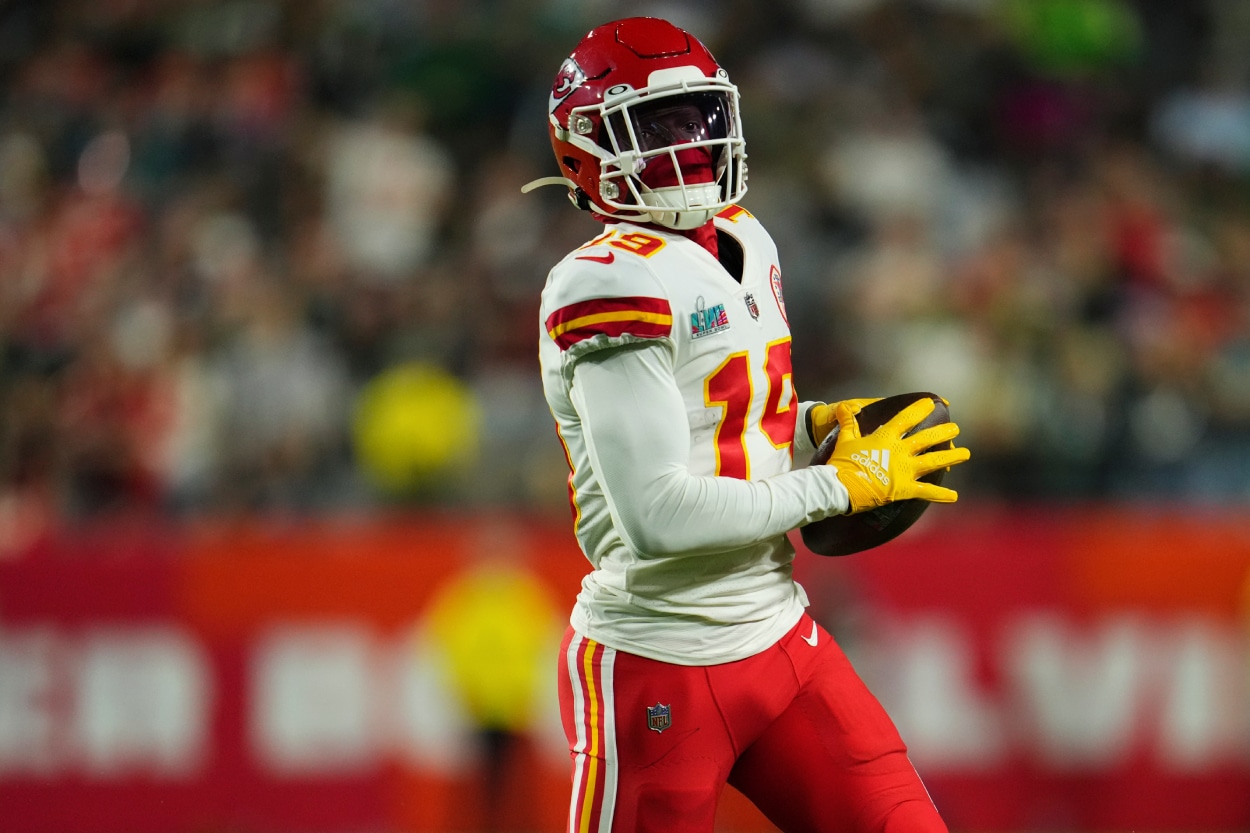 Patrick Mahomes Got His Kadarius Toney Wish, and It Backfired
Kansas City Chiefs wide receiver Kadarius Toney had a night to forget.
With All-Pro tight end Travis Kelce sidelined for Thursday night's NFL opener against the Detroit Lions, the Kansas City Chiefs needed someone to step up. Wide receiver Kadarius Toney was a question mark heading into the game after a knee injury kept him out of the preseason.
Chiefs quarterback Patrick Mahomes said he hoped Toney could play in the season opener, and he got his wish. The former New York Giants receiver suited up in Week 1, and it proved costly to the Mahomes and the Chiefs.
Patrick Mahomes said Kadarius Toney's presence would be a 'huge positive'
With Kelce out with a hyperextended knee, the Chiefs needed someone in the passing game to step up. Nobody did.
Before Thursday night's game with the Lions, Mahomes hoped Kadarius Toney would be able to go to give the young Chiefs receivers a boost in the passing game.
"Obviously, it would be a positive," Mahomes said, per NFL.com. "The talent that he had and competitor that he is. To be able to go out there and have that weapon would be a huge positive. He's done a great job in the practices that he's been in so far."
Mahomes' wish turned out to be Kansas City's downfall.
Kadarius Toney had multiple key drops in the Chiefs loss
Although the betting line dropped with the news that Kelce was out for the game, the Kansas City Chiefs opened the season as the favorite against the up-and-coming Lions. In an ugly opener, the visiting Lions pulled off a 21-20 victory.
The Chiefs certainly had their chances. Toney dropped several balls, one that resulted in a pick-six that tied the game and another that would've put the Chiefs in prime position for a potential go-ahead field goal on Kansas City's final drive. On that final drop, Toney was wide open but failed to hang onto the ball.
After the drop, a chorus of boos aimed at Toney rained down in the stadium. Toney unofficially had three drops. He finished with one catch for one yard.
Toney took a pounding on social media during and after the game.
"Kadarius Toney gotta catch his own flight to Jacksonville next week," one X (formerly Twitter) member posted.
It's only one week, but Chiefs fans should be concerned with their wide receiving corps, especially if Kelce is out for any length of time.