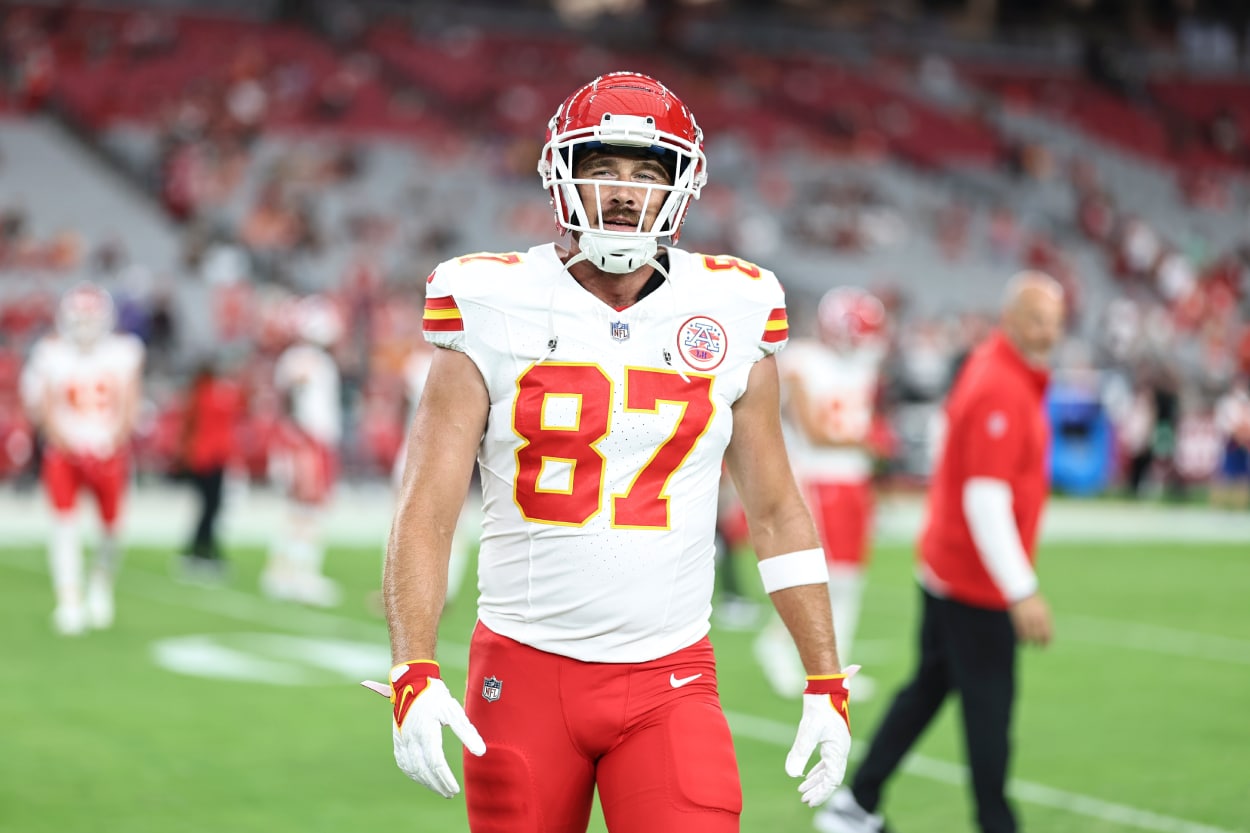 Who Is Travis Kelce's Backup TE With the Kansas City Chiefs?
If Travis Kelce can't go for the Kansas City Chiefs on Thursday, who fills in for him?
Two days before the NFL kicks off its 104th season, the Kansas City Chiefs got some tough news. All-Pro tight end Travis Kelce went down with a knee injury in practice, and his status for Thursday's opener against the Detroit Lions is unknown. After quarterback Patrick Mahomes, Kelce is the biggest part of Kansas City's explosive offense. If Kelce is a no-go, who steps in for him?
Who is Travis Kelce's backup?
It's a question Kansas City Chiefs fans don't want to hear. It's also one that most fans don't even know. Who is Travis Kelce's backup?
If Kelce is unable to go Thursday night, expect to see plenty of Noah Gray. Gray is in his third NFL season after the Chiefs drafted him in the fifth round in 2021. Gray is listed as the No. 2 on the Chiefs' depth chart. Blake Bell is listed as the team's third tight end.
Gray, a 6-foot-4, 240-pounder, played collegiately at Duke. He played quarterback as a junior at Leominster High School in Massachusetts.
In his two NFL seasons, Gray hasn't had a whole lot of experience with Kelce in the lineup. As a rookie, Gray had seven catches for 36 yards and a touchdown. Last season, he hauled in 28 passes for 299 yards and a touchdown.
Kelce's status is unknown for Week 1
Kelce has been the definition of durable in his NFL career. He hasn't missed a game due to injury since 2013. On Tuesday, Chiefs head coach Andy Reid said Kelce hyperextended his knee during practice. Now the Chiefs play the waiting game.
"So we'll see how he does going forward," Reid said Tuesday, per NFL.com. "They're looking at it now. We'll just see how it goes."
Without Kelce, the Chiefs are a different team. Kelce is the game's best at his position and might be the best ever to play tight end in the NFL. He's had seven straight 1,000-yard receiving seasons and three seasons where he had 100-plus catches.
A year ago, Kelce had a career-high 12 touchdowns and hauled in 110 passes for 1,338 yards. While he's always the focus of defensive coordinators in Kansas City's passing game, Kelce always has a knack for being wide open in the middle of the field.
Gray doesn't have nearly the separation Kelce does, so if Kelce is unable to go, it will be a huge blow to the Chiefs.