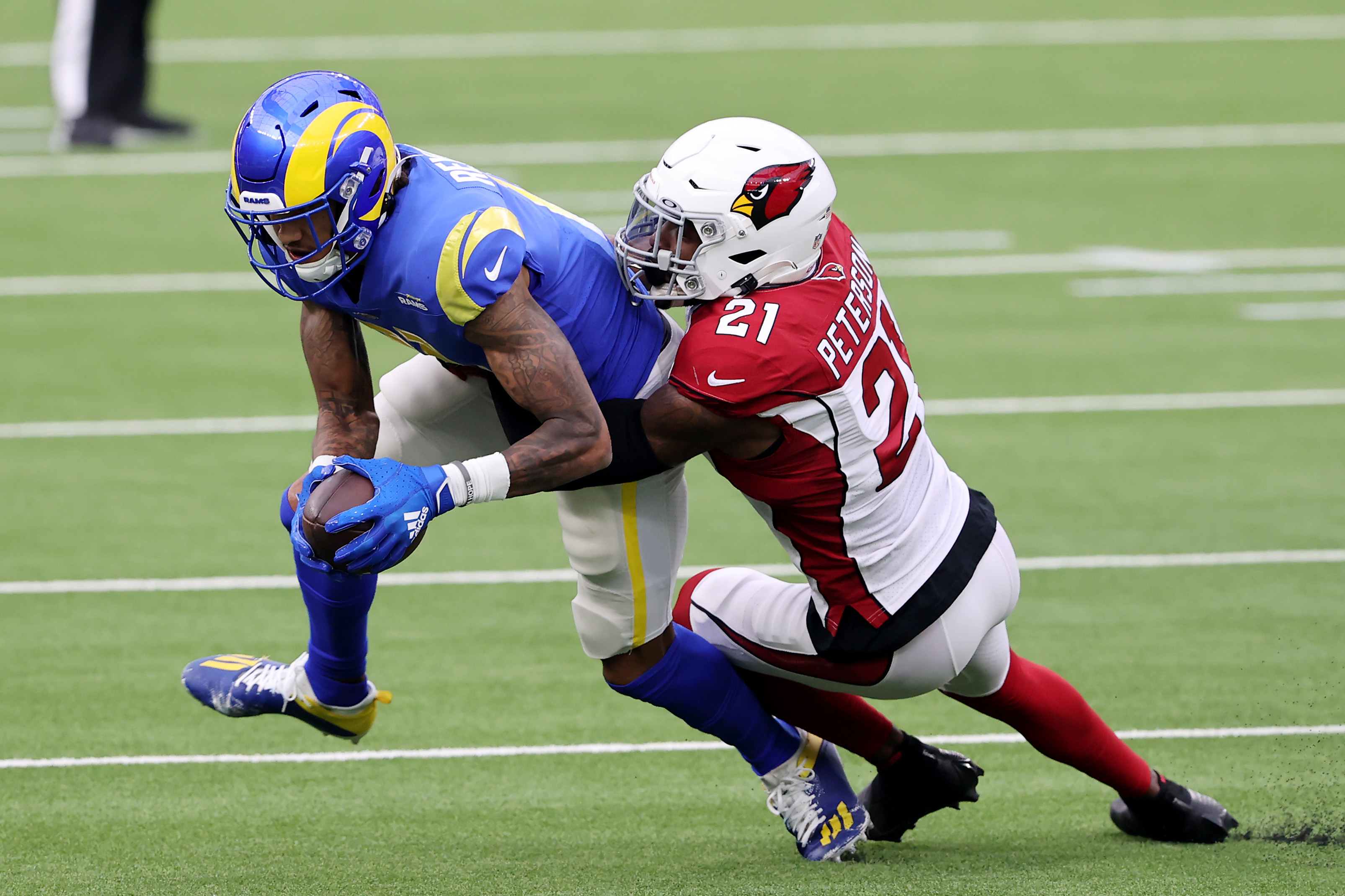 Patrick Peterson Blasts 'Dirty Rumor' Regarding His NFL Future
Eight-time Pro-Bowl cornerback Patrick Peterson blasts the "dirty rumor" that's going on regarding his future in Arizona.
Patrick Peterson may be seeing his 10-year career with the Arizona Cardinals come to an end. Peterson, an eight-time Pro Bowl cornerback, is about to become a free agent when his contract runs out in March. The speculation is Peterson may not be returning to the only team he's known in the NFL. Peterson recently blasted the potential reason for him not coming back to Arizona, calling it nothing but a "dirty rumor."
Patrick Peterson's football career
Patrick Peterson played his college football at LSU. He spent three seasons with the Tigers, racking up seven interceptions in 39 career games. Peterson, a 6-foot-1, 203-pound defensive back, was selected in the first round of the 2011 NFL draft. The Arizona Cardinals took him with the fifth overall pick.
Peterson wasted no time in making a name for himself in the NFL. In his first season in the league, Peterson became an All-Pro cornerback. He started all 16 games in which he played and was one of the league's best cover men. He finished his rookie year with two interceptions, a pair of fumble recoveries, and had 59 solo tackles.
Peterson was named All-Pro three times, also getting the honors in 2013 and 2015. He was named to the Pro Bowl eight times. Statistically, Peterson has his best season in 2012 with a career-high seven interceptions and five fumble recoveries. In his 10 years in the NFL, Peterson has collected 28 interceptions.
Report: Peterson not expected to return to the Cardinals
According to a report by Matt Verderame, an NFL reporter for Fansided, Patrick Peterson and the Arizona Cardinals aren't expected to reunite for an 11th season. Peterson will become an unrestricted free agent when his contract expires in March and it's likely the Cardinals will let him test the waters without making an offer.
On Monday, Verderame tweeted, "Per source, the Arizona Cardinals and former All-Pro cornerback Patrick Peterson are parting ways barring a significant change in stances." Peterson is 30 years old and saw his play slip during the 2020 season.
Peterson isn't considered an elite cornerback like he once was. It's unknown if there will be a market for him. There's a chance he could return to the Cardinals on a team-friendly deal or maybe he would play on a one-year, prove-it deal.
Peterson blasts latest report as 'dirty rumor'
During his All Things Covered podcast, Patrick Peterson addressed the situation regarding his impending free agency. Peterson, who co-hosts the podcast with former teammate Bryant McFadden, wasn't too happy with Fansided reporter Matt Verderame. Verderame reported Peterson and the Cardinals were parting ways "barring a significant change in stances" over a contract.
"There is no real update," Peterson said on his All Things Covered podcast with former teammate Bryant McFadden, according to the team's website. "It is just what you said it was: A dirty rumor. … Me and the team haven't talked about contracts, we haven't talked about parting ways.
"That's just what it is, a dirty rumor. I don't know where (Verderame) got his insight from, but that was a dirty rumor."