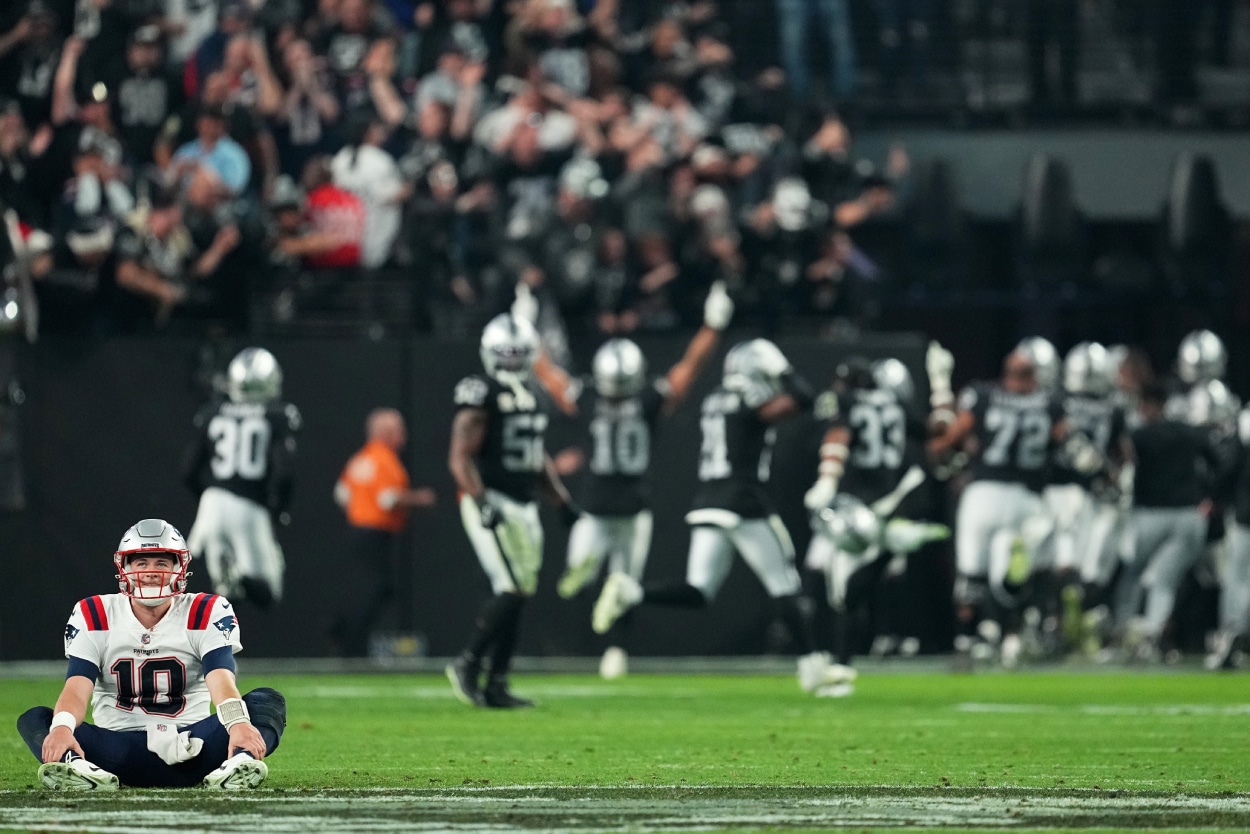 Patriots Playoff Hopes Take Major Hit After the Biggest Bonehead Play of the Century
The New England Patriots saw their playoff hopes take a hit after they pulled off one of the biggest bonehead plays in NFL history.
The New England Patriots at least had overtime. They had a shot of improving to 8-6 and inching closer to a postseason berth. The Las Vegas Raiders, under the direction of former Patriots offensive coordinator Josh McDaniels, just marched down the field for a game-tying score with 32 seconds left to play, but New England still had a chance.
On the final play of the game, running back Rhamondre Stevenson broke free with no time left on the clock. He got to the Vegas 31-yard line, and then those Pats playoff hopes took a significant hit in gut-wrenching fashion.
The Patriots playoff hopes were derailed after one of the most foolish plays in NFL history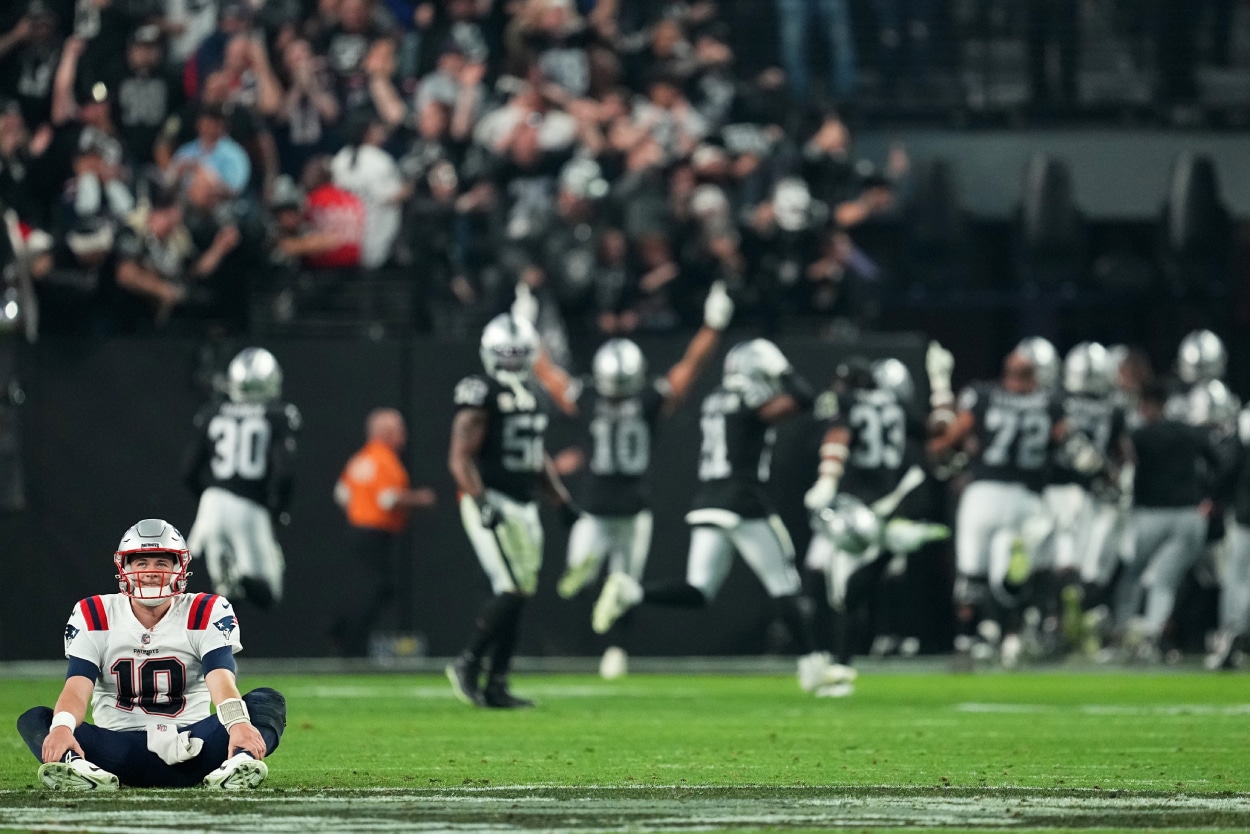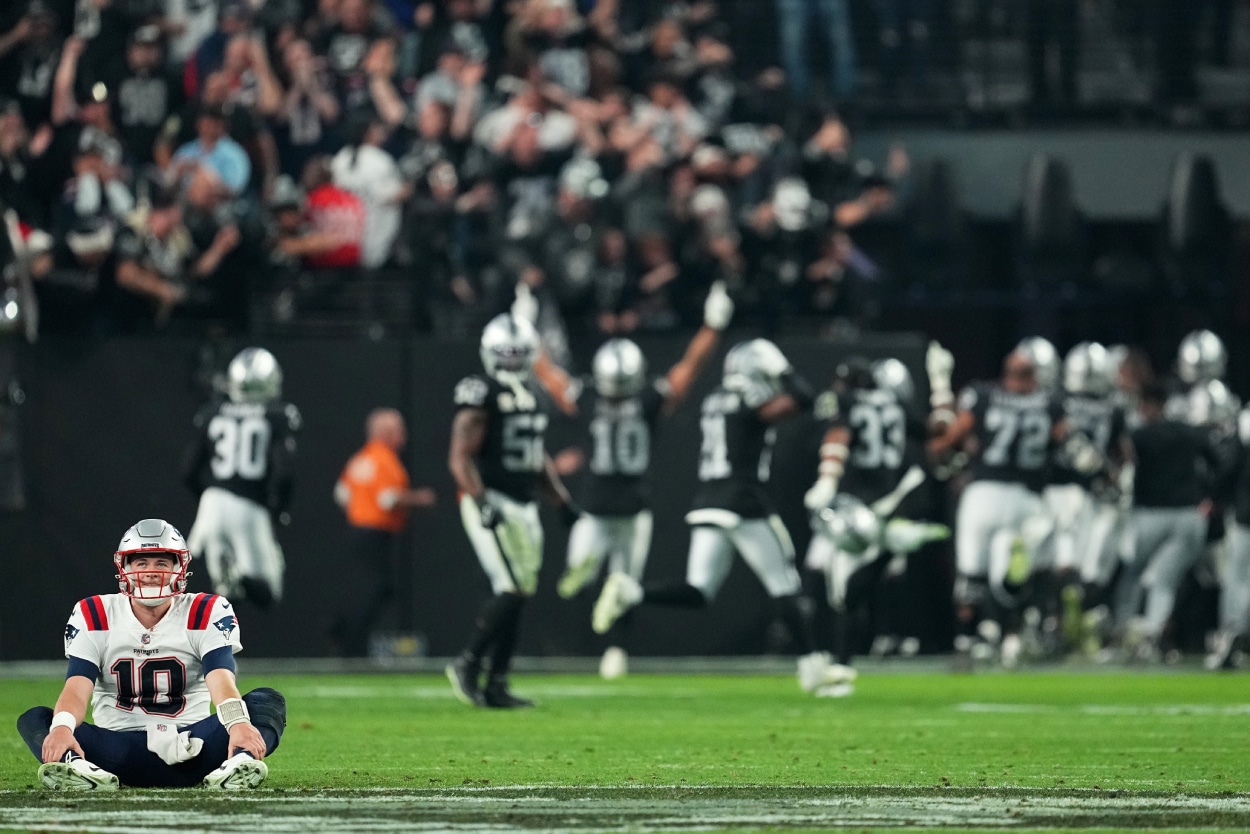 The Patriots defense just allowed the Raiders to march down the field for a game-tying score with 32 seconds remaining. What came next was the heartbreak beyond heartbreaks.
It might be the most painful way to lose a game in New England history. The Patriots had 32 seconds to kill, and the game would go into overtime. Instead, they decided to make one of the worst decisions ever seen in the NFL.
On the final play of the game, Stevenson busted free into the Vegas secondary but had no legitimate chance of reaching the end zone. As he hit the Vegas 31-yard line, he lateraled the ball to wide receiver Jakobi Meyers. That was only the beginning of the end.
Meyers then made the biggest bonehead play of the century when he lofted a backward pass intended for quarterback Mac Jones, who was still near midfield. Meyers' 15-yard pass hung in the air long enough for former Patriot Chandler Jones to pick it off and run 48 yards for the game-winning touchdown.
The crushing loss is damaging to New England's playoff hopes
While the loss will take forever to recover from, it also is damaging to New England's playoff hopes. The Patriots entered the week as the seventh seed, which would give them the final AFC playoff spot. Now, they're 7-7 and have fallen into the in-the-hunt category.
They have three games remaining. All three will pose a significant challenge to the Pats. They host the Cincinnati Bengals, Miami Dolphins and then travel to face the Buffalo Bills. They needed the Vegas game, and they let it get away — in embarrassing fashion.
Stevenson's lateral can be chalked up to a player trying to make a play. Meyers' backward heave is just plain foolish.
Many are calling it the dumbest play they've ever seen. Bill Simmons was one of them.
"Dumbest most indefensible last second Patriots loss of my lifetime," Simmons tweeted. "And I'm old enough to remember the Joe Ferguson Hail Mary."