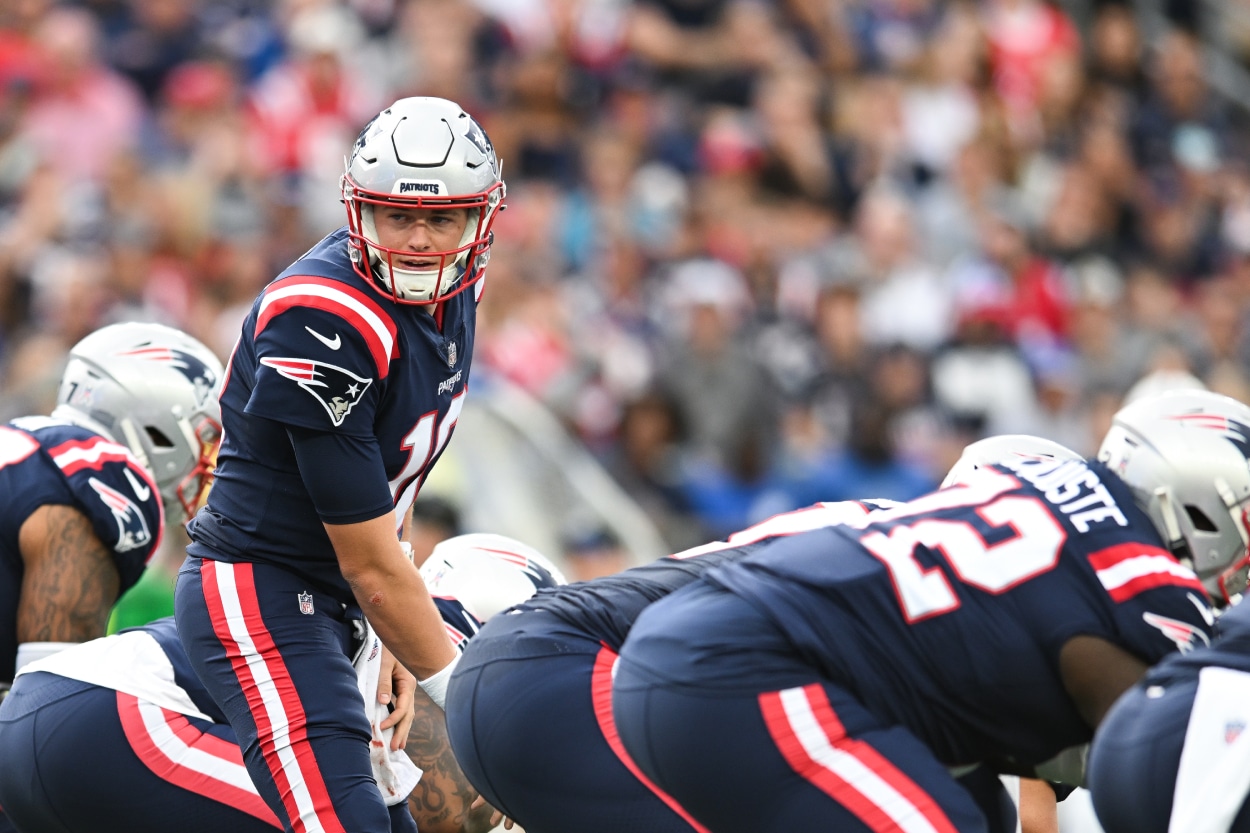 Mac Jones Isn't to Blame for Mac Jones' Woes, Says HOFer Michael Irvin
Can Mac Jones and the New England Patriots offense get on track against the New York Jets?
The New England Patriots find themselves in a pressing situation. Sunday's game against the rival New York Jets could be a make-or-break one for both teams as far as playoff aspirations are concerned. The Patriots have beaten the Jets 13 straight times, but quarterback Mac Jones and the New England offense have sputtered throughout the season.
Unless you consider the Jets a good team, the 5-4 Patriots haven't beaten one all season. The biggest reason for that has been their offense. After a solid rookie season, Jones has regressed, but according to Hall of Famer Michael Irvin, it's not his fault.
Mac Jones isn't the problem for the Patriots, according to Michael Irvin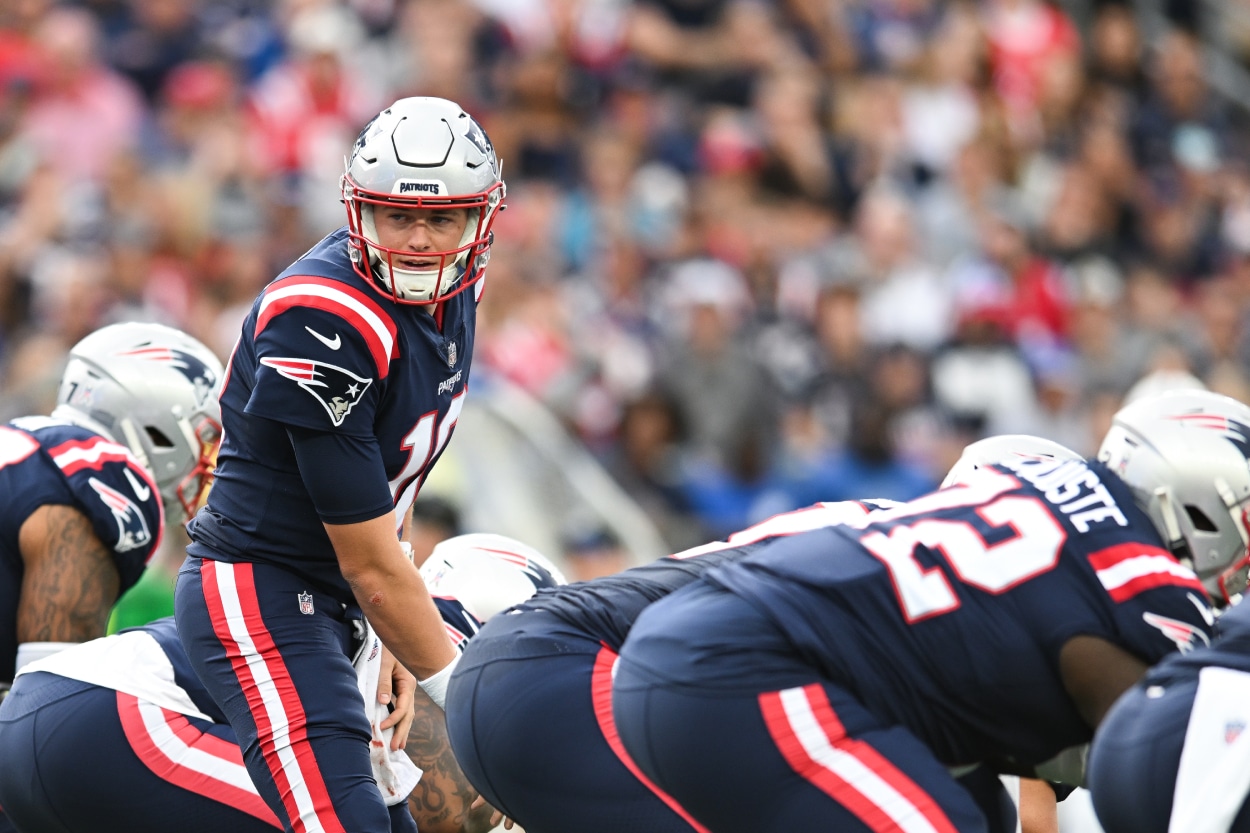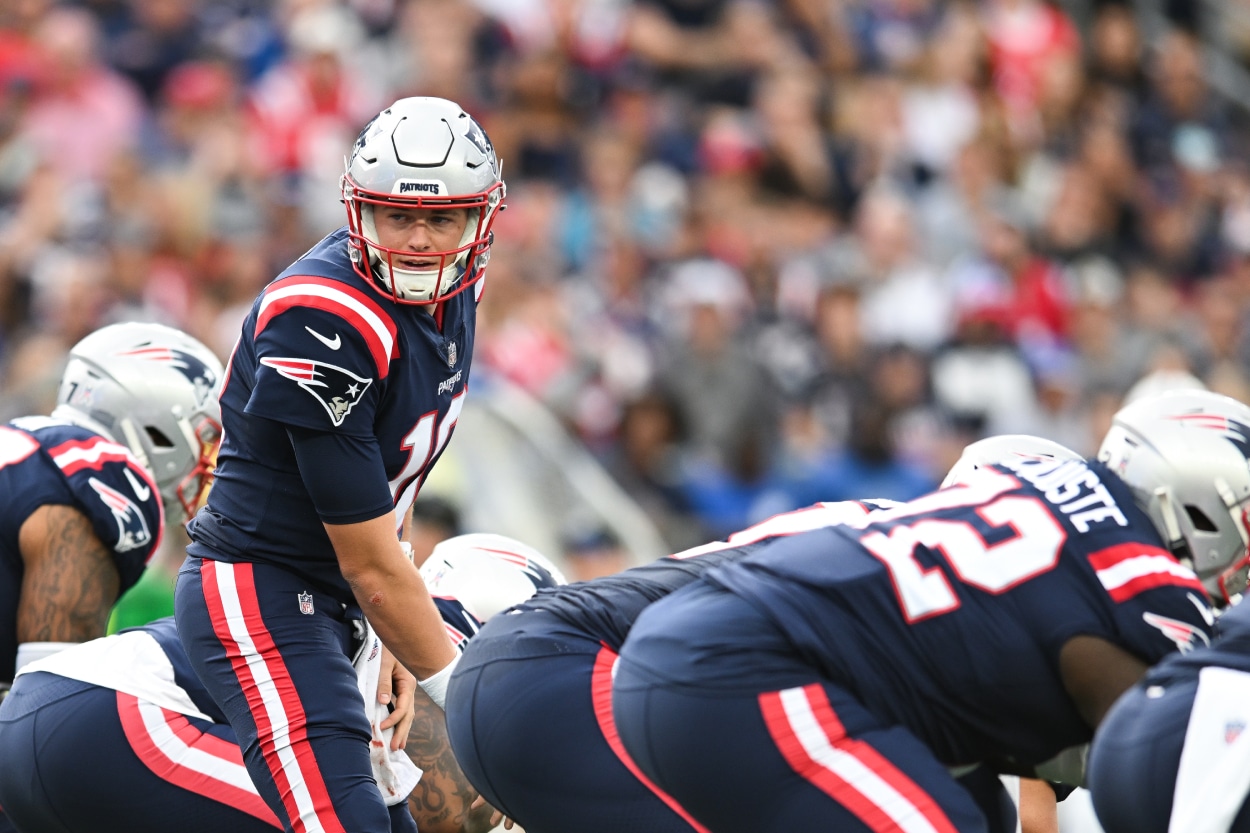 After appearing in the Pro Bowl as a rookie, Jones hasn't taken that next step. He was hampered by a high ankle sprain during a Week 3 loss to the Baltimore Ravens and hasn't been the same since.
In Week 4, rookie Bailey Zappe took over after backup quarterback Brian Hoyer went down with a concussion. He played well and then earned high praise in wins over the Detroit Lions and Cleveland Browns. Jones returned for a Monday Night Football game at home against the Chicago Bears and struggled before being pulled in favor of Zappe.
Jones has thrown four touchdowns and seven interceptions in six games this year. He's 3-3 as a starter, but Irvin believes Jones' struggles are not his fault. Although he didn't specifically place the blame on someone, Irvin hinted that new Patriots play-caller Matt Patricia might be at fault.
ESPN analyst and former NFL quarterback Dan Orlovsky broke down some film of Jones, bringing up several flaws with the system, not Jones' play. Irvin agreed when he made his weekly appearance on WEEI's Gresh and Keefe show.
"You know how they say basics is 101? This is before the 101," Irvin said. "This is not English 101, math 101. Timing up routes with depth of routes and depth of drops, that's even before 101. It's that basic. And to see (Orlovsky) call that out on some plays, where he had a three-step drop, he hitched one time, and nobody is ready to come out of a route. There is no timing. That blows my mind, man. T
"That doesn't look like anything that Bill Belichick has let go on. That's not on Mac Jones. When you talk about Mac Jones' regression, that's not on Mac Jones. You see what I'm saying? You're seeing the results, and it looks like a regression. That is impossible. That's on somebody else in there, whoever is designing those things."
Irvin said he has no idea how New England has five wins with what he's seen from the offense
It's no secret New England's offense has stumbled after Josh McDaniels left to take the head coaching job of the Las Vegas Raiders. Jones seems out of rhythm under Patricia, who was once the defensive coordinator for the Patriots. Patricia's move to the offensive side of the ball is head-scratching to many, including Irvin.
"I said I've never questioned anything Bill Belichick has done. This is the first time that I said, 'Oh my God. Oh my God, man. What is that?'" Irvin said, as transcribed by WEEI.com. "Ooof. It's impossible. It's not…this ship…how did you even win the games you won with what I'm seeing now and what (Orlovsky) just pointed out? That's the question."
If the Patriots have any playoff aspirations, they have to make it 14 straight wins over the Jets. Already in last place in the division, a loss would drop them to .500 with a tough schedule in front of them.
After the Jets, the Pats have a short week, playing at the 8-1 Minnesota Vikings on Thanksgiving night. They still have to play the Buffalo Bills twice, the Miami Dolphins, and the Cincinnati Bengals. They also have consecutive road games at the Arizona Cardinals and the Raiders.
It's a tough road ahead for New Englan, but it's also one step at a time for Mac Jones & Co.