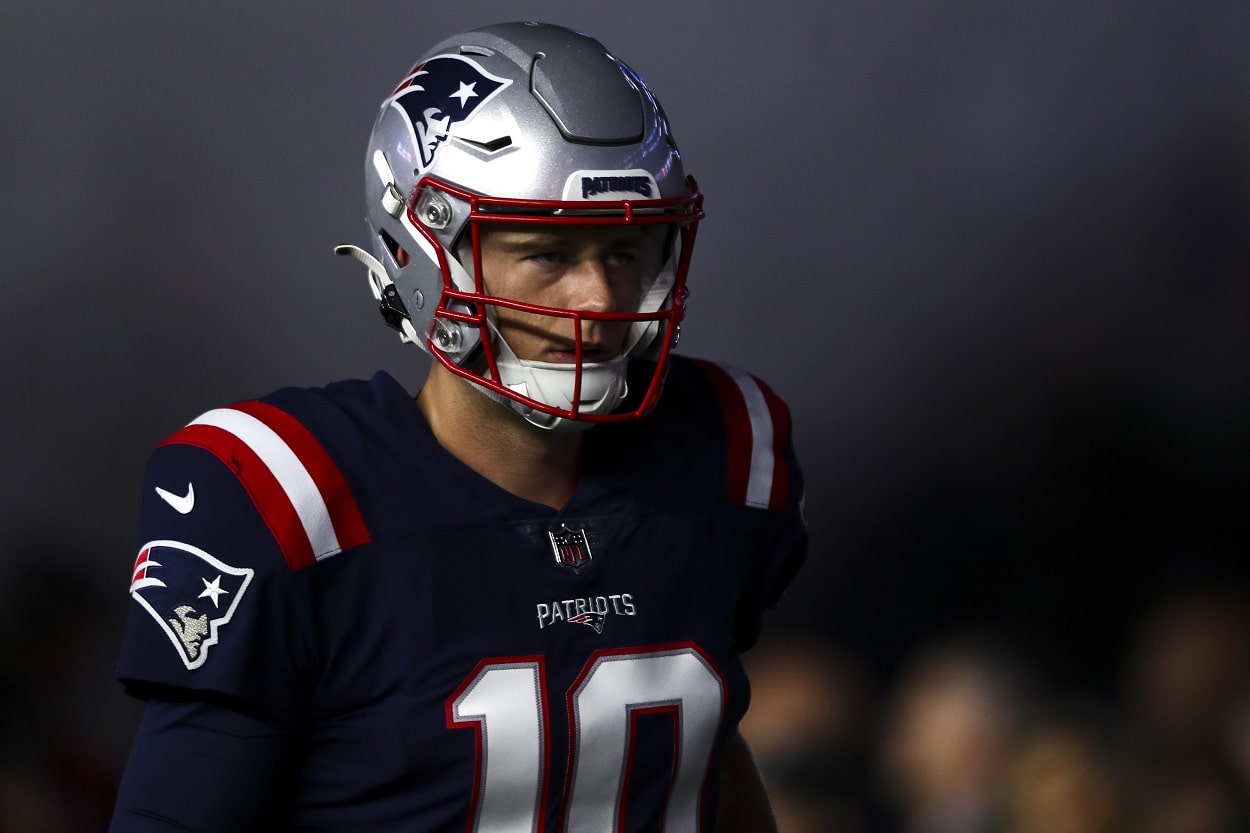 Goodbye, Patriots: Why Mac Jones Should Demand a Trade From Bill Belichick Immediately
Patriots quarterback Mac Jones should immediately demand a trade from Bill Belichick.
If Mac Jones wants to live up to his potential, he needs to walk into Bill Belichick's office this week and make one thing clear: I want out. 
What's best for the second-year quarterback isn't to spend the next few years dealing with drama and barriers to success in Foxborough. Unlike the previous two decades, the current version of the New England Patriots doesn't have the necessary pieces on the sidelines or on the field to compete for a Super Bowl title. 
In fact, after watching Belichick's team suffer its largest home loss in nearly two decades at the hands of the Chicago Bears, it wouldn't be a surprise if New England misses the playoffs for the second time in three seasons. 
Of course, the storyline of Jones' return and subsequent benching stole some of the spotlight away from how poorly the Patriots performed in Monday's 33-14 defeat at Gillette Stadium.
The quarterback controversy involving the 2021 first-round pick and rookie fourth-rounder Bailey Zappe started almost as soon as Jones injured his ankle, with Belichick failing to say anything definitive about the status of the position for the long term. 
But the same coach who boldly replaced Drew Bledsoe with an unproven Tom Brady created a firestorm by keeping Jones on the sidelines permanently after three unproductive series that included an ugly interception. While Zappe promptly led the offense on two touchdown drives, the Patriots failed to score a single point the rest of the way. 
Ultimately, Belichick's odd strategy of starting Jones only to take him out after committing a turnover didn't measure up, considering some members of the team didn't even know Zappe would play in the game. 
Needless to say, the situation in New England doesn't look good. And that's without focusing on the fact that a defense led by Belichick's son made Justin Fields look like a star. 
And with the NFL trade deadline rapidly approaching, it's time for Mac Jones to tell his boss to find him a new employer. 
November 1 marks the final day that teams can execute trades, and there are several potential suitors that could allow the talented signal-caller to showcase his skill set and be the leader he's capable of being. As much as it seemed like the Patriots had landed a worthy heir to Brady by the end of the 2021 season, it's quickly become apparent that Belichick isn't completely sold on the team's top draft pick from a year ago. 
After all, how can anyone look at the way Monday played out and not come away thinking that Jones could be on the verge of getting permanently replaced? 
Instead of toiling in purgatory with the Belichick-led Patriots, the former Alabama standout should seek a fresh start with a franchise that actually wants to set its most important player up for success. 
Clearly, that's not the case in New England. 
Coming off an impressive rookie campaign in which he led the Patriots to the playoffs (something Cam Newton couldn't accomplish in 2020), Jones looked poised to make a significant jump. 
Yet that hasn't happened. 
And when you look at all the factors involved, it's fair to put a majority of the blame on everyone else but the team's supposed franchise QB.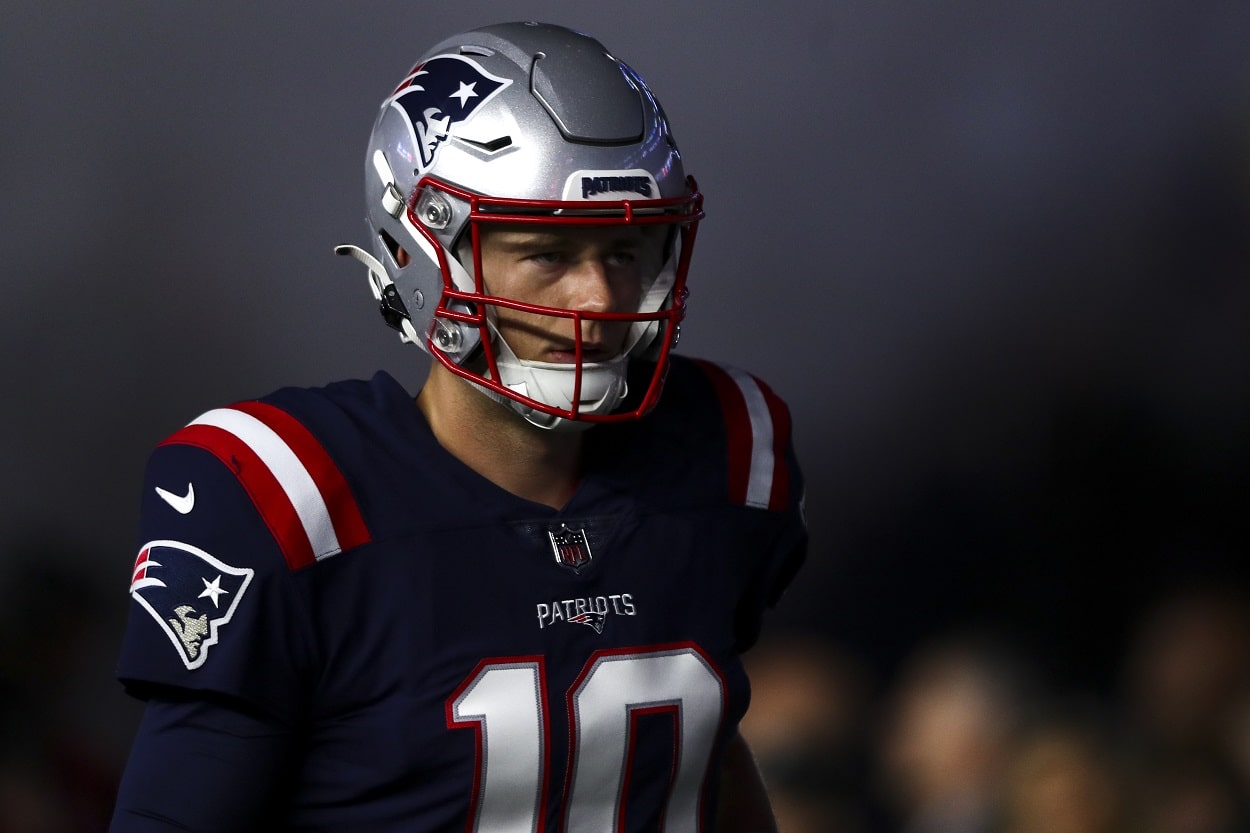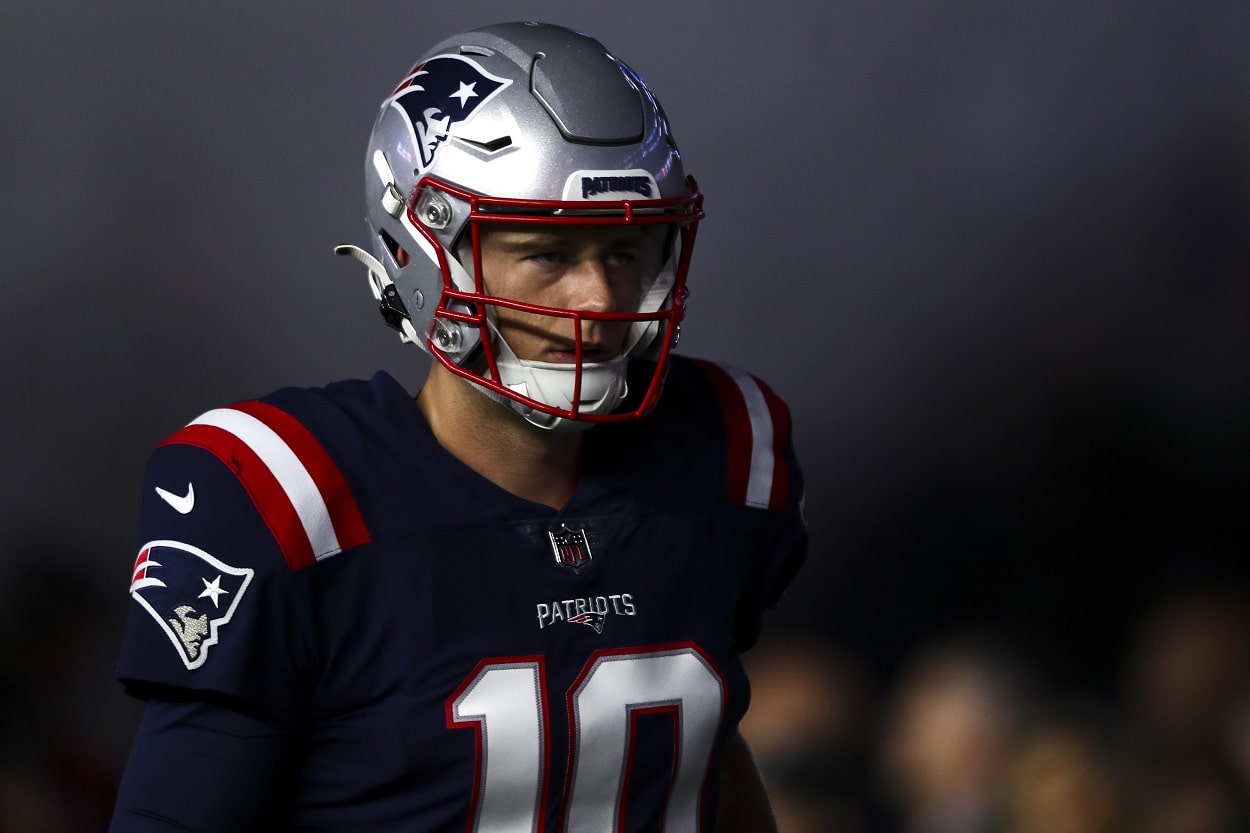 First, Belichick deserves criticism for foolishly thinking the overmatched tandem of Matt Patricia and Joe Judge could step in seamlessly for Josh McDaniels. Both of his disciples failed miserably in stints with the Detroit Lions and New York Giants, and neither had spent significant time coaching offense before being entrusted to run the show on that side of the ball this season. 
Somehow, though, the Patriots went from having one of the best play-callers in the league to a rocket scientist whose unit ranks 16th in scoring. 
However, Patricia's shortcomings are just part of the reason Jones should want out. 
Remember when Brady made a fuss about not having a say in personnel? Maybe he didn't need to get involved directly, but it's obvious Belichick has needed help in identifying the right pieces to construct a championship-caliber roster for several years. 
Unfortunately for the six-time Super Bowl-winning coach, he's made several blunders as general manager that are impossible to ignore. From choosing Sony Michel over Nick Chubb and N'Keal Harry over Deebo Samuel, DK Metcalf, and A.J. Brown to trading Shaq Mason for a fifth-round pick to signing Jonnu Smith to a $50 million contract, Belichick has simply made too many mistakes.
Plus, the offense features two incredibly unreliable starting tackles in Trent Brown and 2018 first-round pick Isaiah Wynn, an overpaid, unproductive wide receiver with a $9 million salary in Nelson Agholor, and a talented, impactful one (at half the cost) who's inexplicably played just 29% of the snaps in Kendrick Bourne. 
How exactly do decisions like that set Jones up to move the chains, put points on the board, and win games? 
Meanwhile, he received praise from Belichick this offseason for making strides across the board, which certainly seemed to signal the coach's confidence level in his incumbent starter. Jones also received a sign of respect from his teammates by being voted a captain. 
Yet after a shaky start to the season that included lousy play calling, inconsistent pass protection, too many turnovers, and a painful high ankle sprain, Jones has gone from being the face of the franchise to facing boos and chants for his backup to enter the game from Patriots fans. 
All that occurred while teammates praised his toughness and dedication to work his way back from an injury that could have been treated with surgery. But it sure didn't take long for Belichick to pull the plug on the only quarterback he ever drafted in the first round and put a mid-round rookie in charge of the offense. 
Now, Jones needs to pull the plug on putting his efforts into being the best player he can be for the Patriots and invest his energy into doing the same for a coach who values him. 
The New Orleans Saints surely could use a smart, accurate passer in the post-Drew Brees era. Adding Jones to a group that includes Alvin Kamara, Chris Olave, and Michael Thomas would make Dennis Allen's team a playoff threat.  
Or, how about the Tampa Bay Buccaneers? After all, it sure doesn't look like TB12 will be playing football much longer at this rate. 
Perhaps the Detroit Lions would consider Jones a worthwhile upgrade over Jared Goff. Dan Campbell's squad has plenty of talent at the skill positions, so a rock-solid game manager could take the offense to the next level. 
Ultimately, the next step Mac Jones should take isn't onto the practice field preparing for the Patriots' upcoming game against the better-than-expected New York Jets. 
It should be straight into Bill Belichick's office. 
And by the time he comes out, he should be assured that his future will be in another coach's hands before the 4 p.m. trade deadline passes.
Have thoughts on this topic? Keep the conversation rolling in our comments section below.