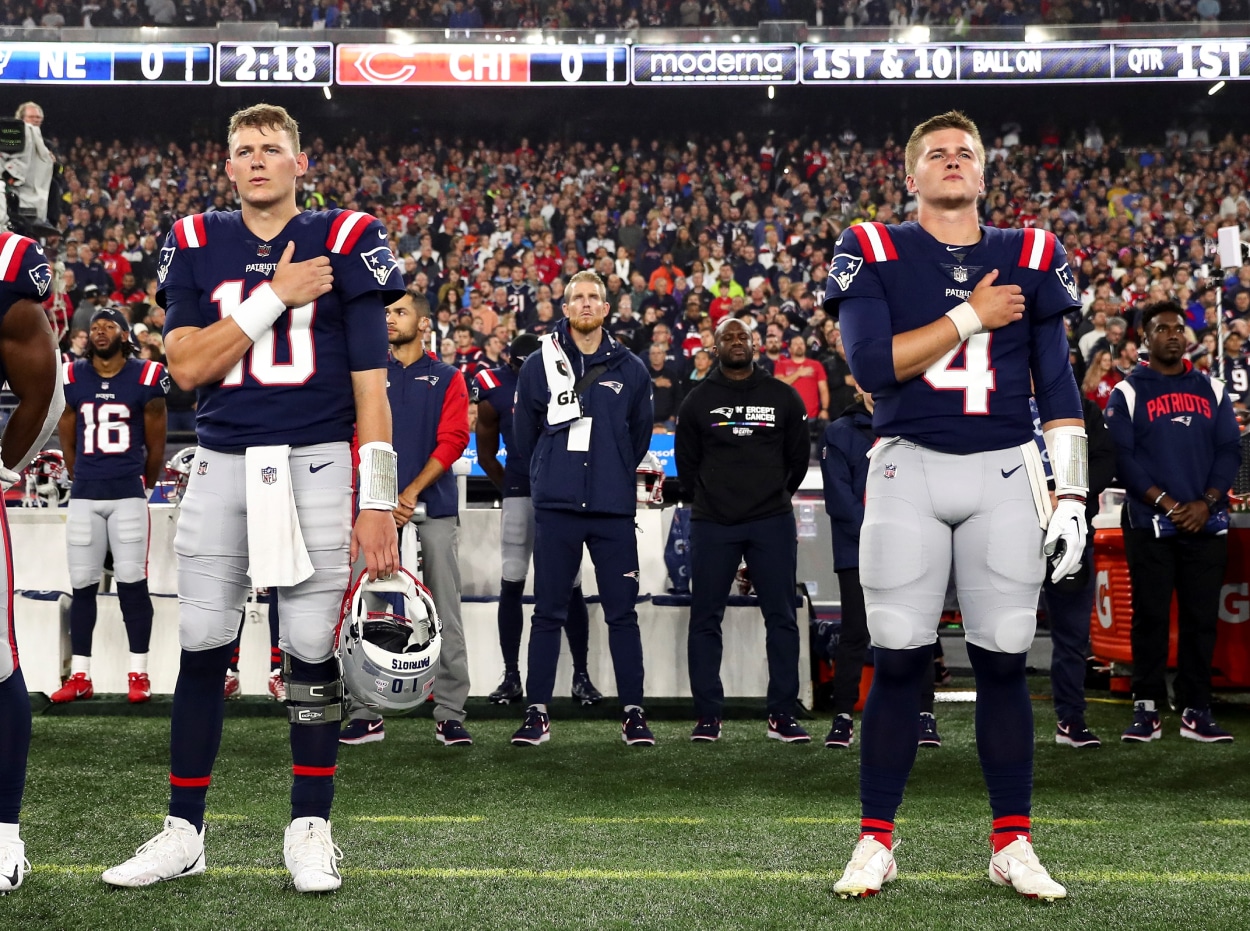 Bill Belichick Ruined 2 Quarterbacks in 1 Night
Bill Belichick's decision to yank Mac Jones after three series wasn't one of his brightest moves.
Like the old saying goes: if you have two quarterbacks, you don't have any. Head coach Bill Belichick certainly didn't clear up the New England Patriots quarterback situation in Monday night's embarrassing 33-14 home loss to the Chicago Bears.
Mac Jones or Bailey Zappe? That was the big question entering the game. The question remains the same entering Week 8, but Belichick and the Patriots head into Sunday's game against the surging New York Jets with a pair of defeated quarterbacks.
Bill Belichick botched New England's QB situation Monday night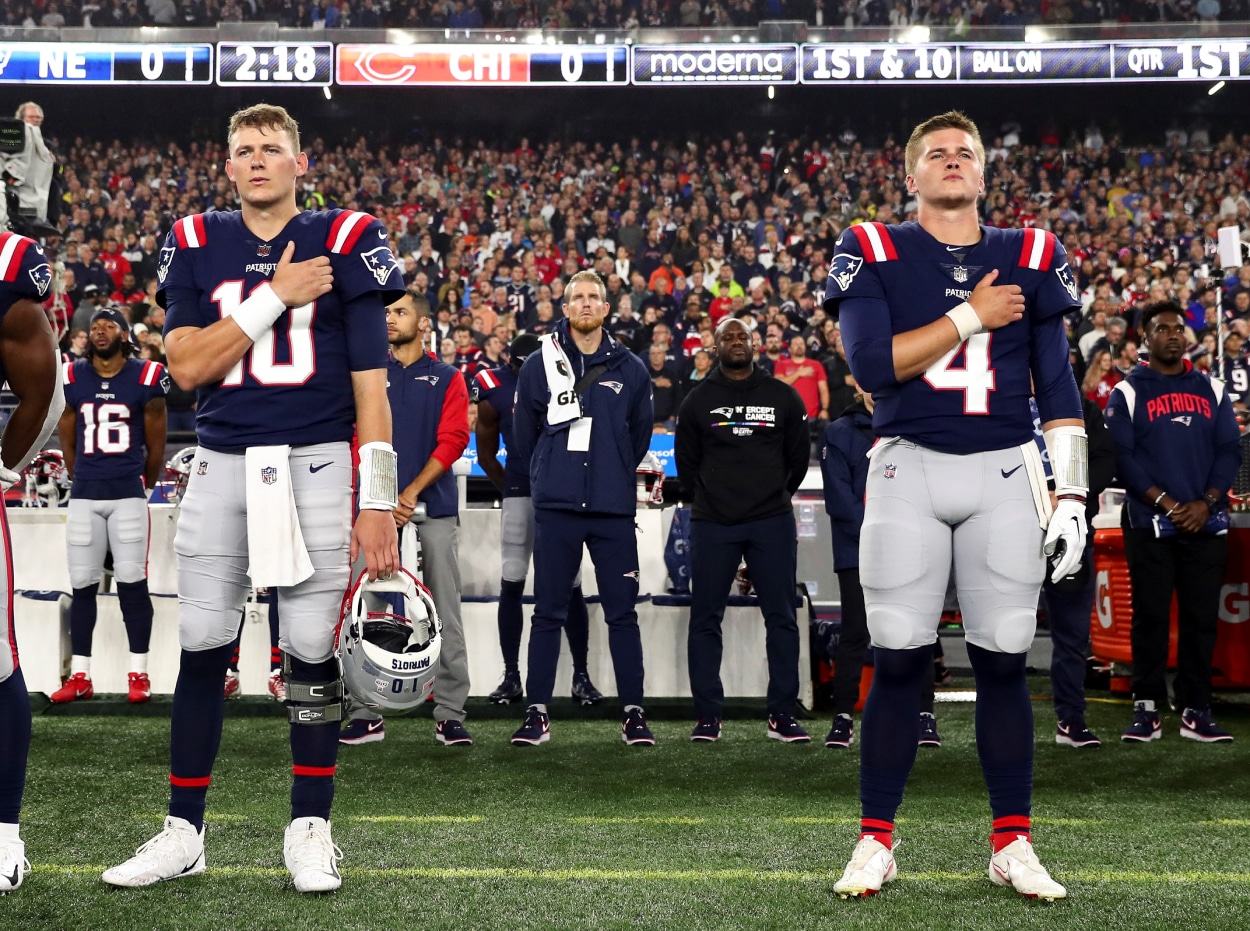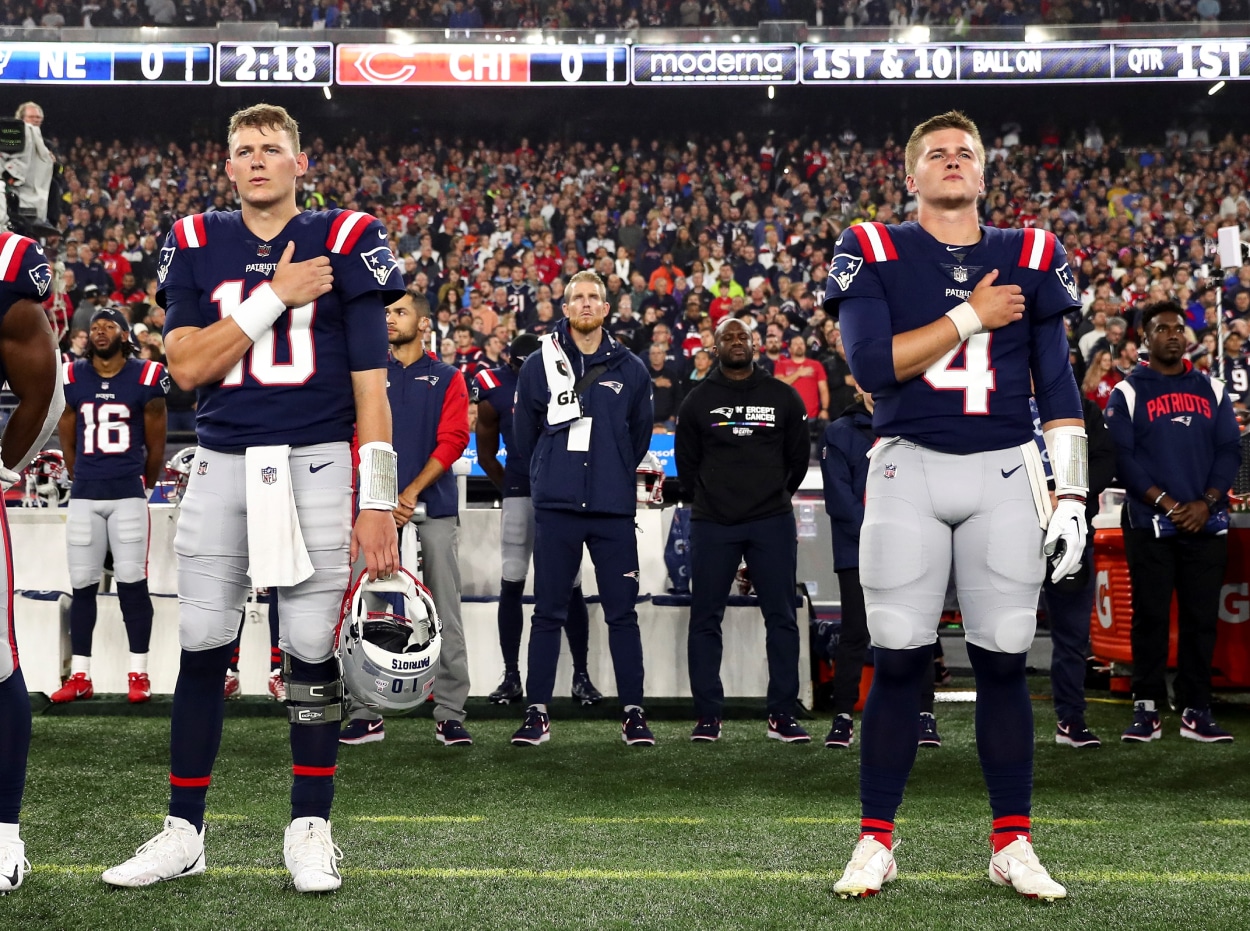 Belichick made it a guessing game when it came to announcing his team's starting quarterback Monday night. He was stubborn on the topic, making the decision shortly before kickoff. Even Zappe had no idea what was going on until game time.
He was asked when he found out Jones was going to start the game.
"About the same time y'all did," Zappe said, per NESN's Zack Cox.
Jones, who hadn't played since he was injured on the final series of a Week 3 loss to the Baltimore Ravens, returned as the starter. The Pats were fresh off two straight victories with Zappe starting under center. They were an 8.5-point favorite against the Bears at kickoff.
Belichick pulled Jones after three series. His final throw of the game was an interception. The Bears held a 10-0 lead before Zappe replaced Jones. Zappe led the Patriots to two scoring drives in a span of 3:39, earning a loud round of from the Patriots fans.
The Patriots never scored again. The Bears scored the final 10 points of the quarter and the last 23 points of the game to cruise to victory. Zappe threw a pair of interceptions as the Patriots fell to 3-4 and find themselves in sole possession of last place in the AFC East.
Belichick ruined two quarterbacks Monday night
Belichick said the plan was to play both quarterbacks Monday. Apparently, not everyone got that memo.
"No. We weren't aware," running back Rhamondre Stevenson said, per Mass Live, of playing two quarterbacks.
To put it mildly, Jones got a raw deal. Three series aren't enough for anyone to prove himself. Jones got yanked after an interception, and he heard all the cheers when Zappe came onto the field. That's enough to ruin any young quarterback's psyche.
Sure, it looked like a great move when Zappe quickly gave the Patriots the lead. Belichick played hero for 15 minutes. In the long run, the move to yank Jones is costly.
While Jones' confidence is crushed, Zappe went from shining star to someone who couldn't do anything in the second half against the lowly Bears. While Zappe, a rookie out of Western Kentucky, was due to have a down-to-earth game, it was Belichick's quick yank of Jones that ruined both quarterbacks that night.
The move was not only a blow to Jones, but his teammates were also stunned by Belichick's quick trigger.
"It's tough as a man to see somebody who works so hard get that kind of treatment," wide receiver Jakobi Meyers said of Jones.
"Those decisions are beyond me," said Hunter Henry. "You have to ask coach about that one."
Not only did Belichick ruin two quarterbacks, but there's a chance he lost the locker room as well.
Have thoughts on this topic? Keep the conversation rolling in our comments section below.