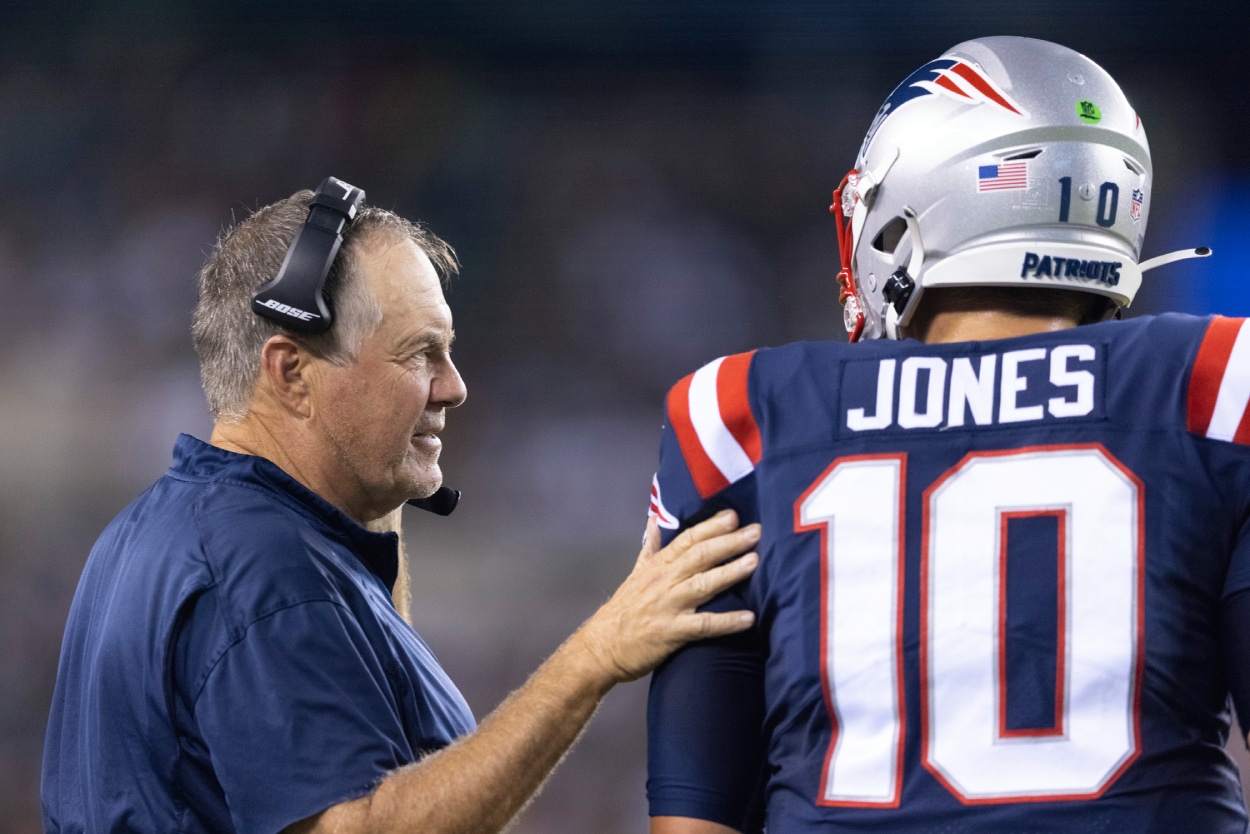 Bill Belichick Raises Eyebrows With His Excessive Early Assessment of Mac Jones
New England Patriots head coach Bill Belichick had some serious praise for quarterback Mac Jones before camp even started.
Was that really Bill Belichick talking about his quarterback right before training camp? New England Patriots players reported to camp Tuesday, and work officially began Wednesday.
All eyes will be on second-year quarterback Mac Jones, who is coming off a successful rookie season and is looking to take on more of a leadership role in Year 2. All ears were on Belichick, who raised a few eyebrows when speaking about his young QB.
Bill Belichick seemed to go overboard with his praise for Mac Jones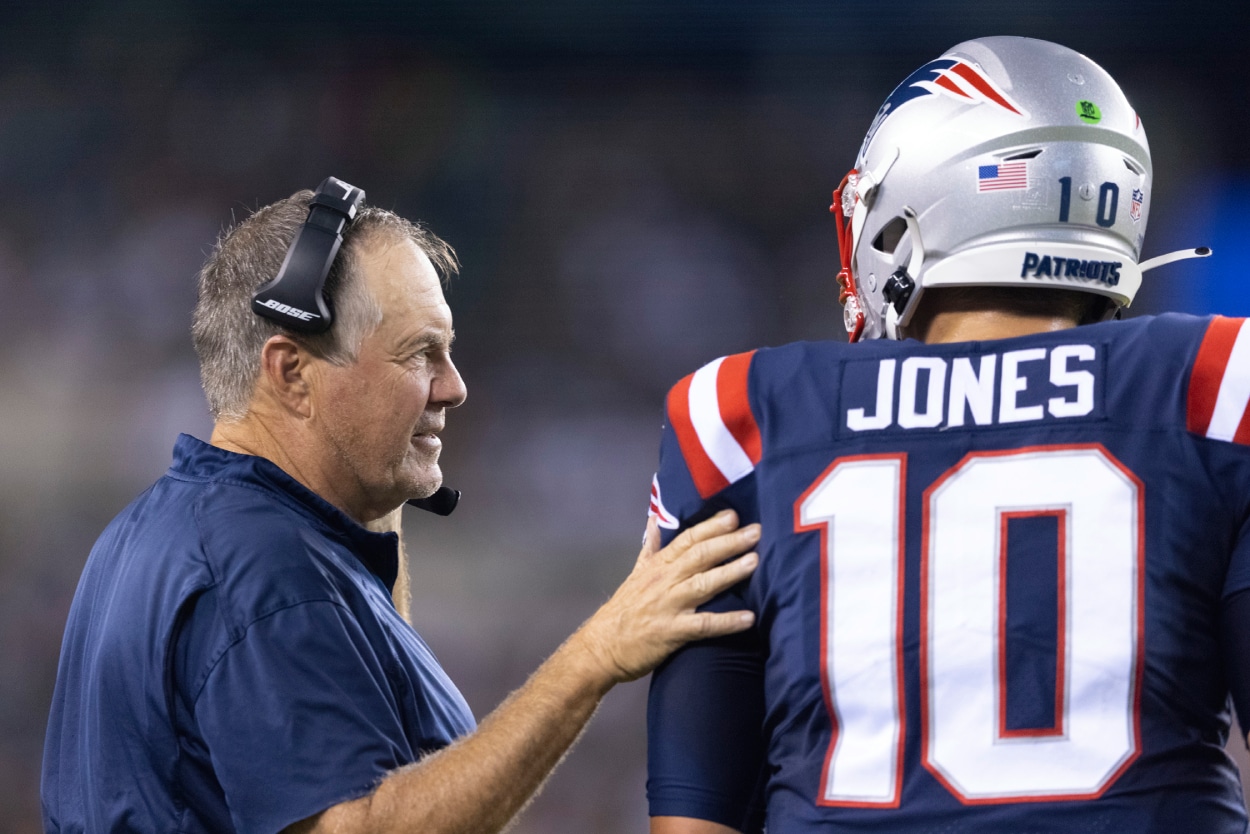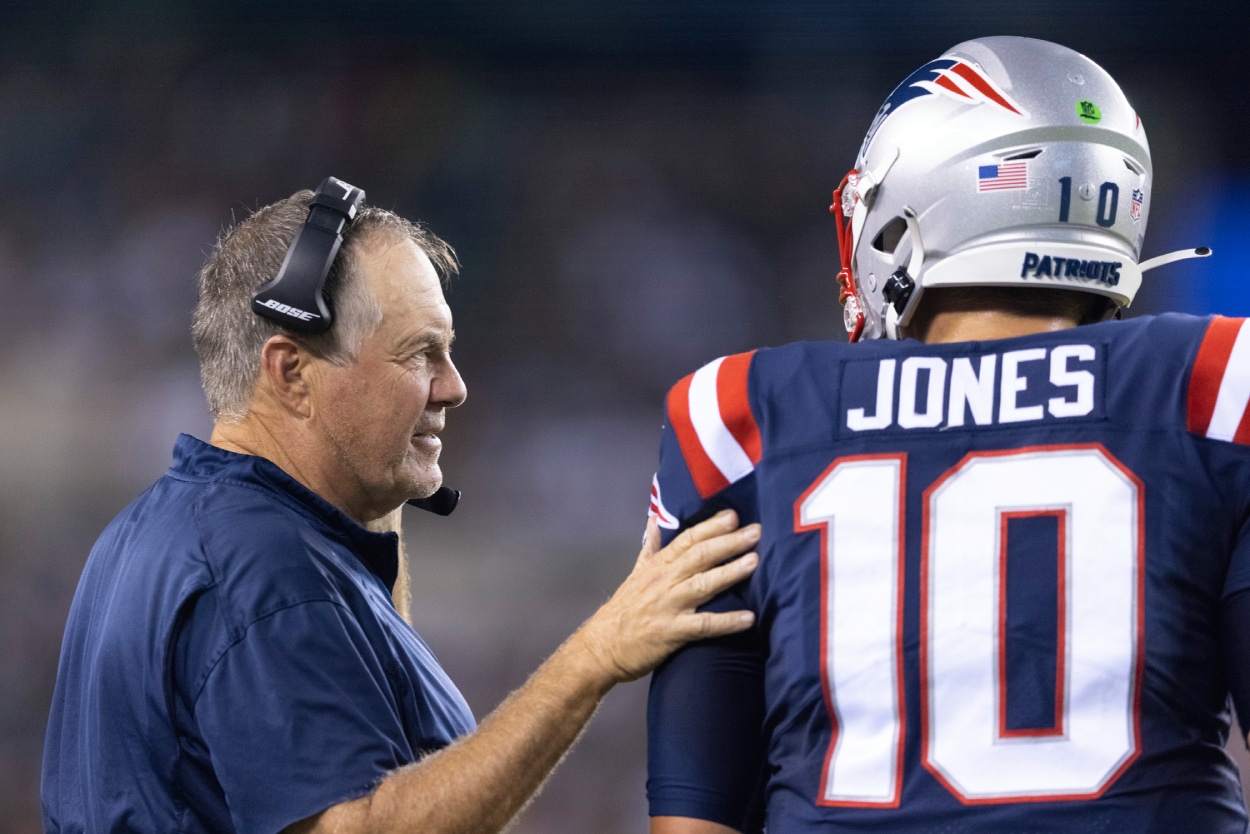 While Jones is technically replacing Cam Newton as the Patriots quarterback, he's really taking over for the legendary Tom Brady. It's a tough chore, but Jones put together a strong first year that saw him take part in the Pro Bowl. After a nightmare 2020 season that saw the Patriots finish below .500 for the first time in more than two decades, Jones got them back on track.
The rookie threw for 3,801 yards and 22 touchdown passes as the Pats returned to the postseason. He completed better than 67% of his passes and is ready to build on that as his second NFL year begins. Belichick uncharacteristically gushed over Jones before the beginning of camp.
"Yeah, I think Mac's done a great job," Belichick told reporters when speaking about the quarterback's offseason. "He's worked extremely hard. He's got a great work ethic in all areas."
That's the typical Belichick response when asked about any player, but the coach continued.
"I think there's a dramatic improvement. His physical work and conditioning, working on his mechanics, working on his footwork, working on his understanding of our offense, of opponent defenses, of all these things. We've talked about these things in varying degrees, some more emphasis than others, and maybe some other things that'll come along later on. Can't do it all at once."

Bill Belichick on Mac Jones
"But, yeah, he's worked hard. He's made tremendous strides, and, you know, he did a great job last year. He's starting from a much, much higher point this year than where he started last year."
He wasn't done.
"His offseason work has been significant," he continued. "I think everyone recognizes how well he prepares and how much further along he was than he was a year ago."
Belichick's high praise generates plenty of comments
That's a whole year's worth of comments from Belichick. The usually-mundane head coach gushed over Jones, drawing some pretty interesting comments from media members.
During Tom Curran's Patriots Talk Podcast, Curran asked Patriots reporter Phil Perry why he thought Belichick was so effusive about his quarterback?
"It was odd," Perry said. "You and I have covered enough of this team to know that he generally doesn't like going that deeply into praise of any player. Today was ratcheted up like several levels. That's what was surprising to me. I think there is a reason for why he usually doesn't tell us much.
"It might be as simple as it would be nice for the team to start getting a little bit better press. I don't know.
Curran fired off a couple of theories why he thought Belichick made those comments.
"Number one, he felt like it, and he likes the kid," Curran said. "Number two, perhaps, he knows an awful lot is going to be on Mac this year." Curran said Belichick's high praise might serve as an appreciation for all of Jones' hard work.
Former NFL player turned podcaster/journalist Ross Tucker had a classic tweet about Belichick's high praise.
"Bill Belichick said more good things about Mac Jones today than he did about Tom Brady in two years," Tucker wrote.
Maybe Belichick's a changed man. We'll know more for sure over the next few weeks.
Like Sportscasting on Facebook. Follow us on Twitter @sportscasting19 and subscribe to our YouTube channel.