Tom Brady Explains Why He'd Go Back to 1981 if He Had a Time Machine
If Tom Brady had a time machine, where would he go? The topic was briefly discussed this week on the latest episode of the Let's Go podcast with Jim Gray. Brady, winner of seven Super Bowls, certainly has plenty of options. He told Gray he decided he would go all the way back to 1981 before revealing why he'd head back to his days as a 4-year-old.
Tom Brady showing no signs of slowing down at age 44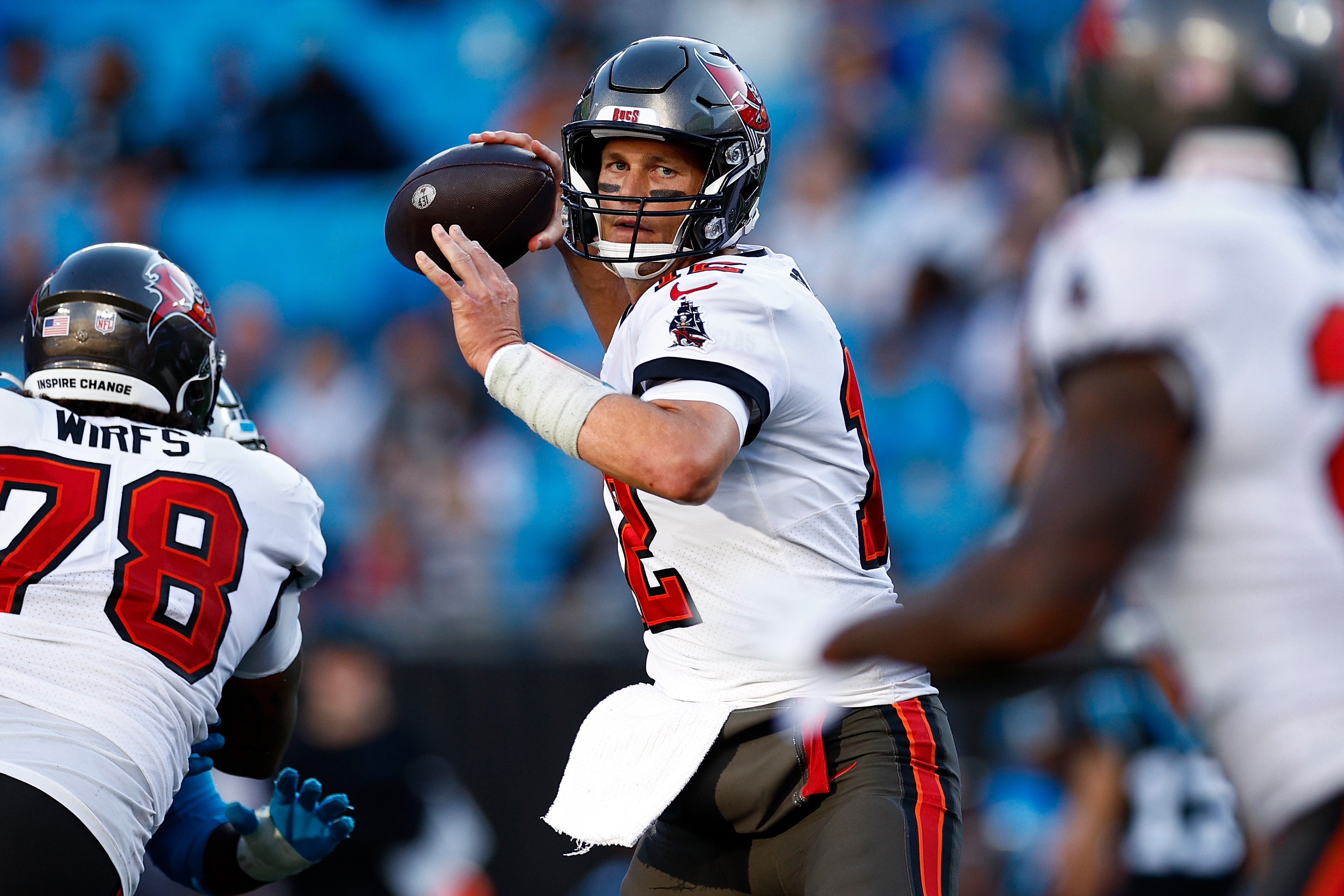 Time has seemingly stood still for Brady. At age 44, he's playing as if he's still in his prime. With two weeks to go in the regular season, Brady is in the thick of the MVP race, and his Buccaneers have already secured the NFC South with an 11-4 record.
Brady leads the NFL with 4,580 passing yards. He's also tops in the league in completions (422), attempts (632) and touchdown passes (37).
Last week, Brady threw for 232 yards and a touchdown as the Bucs clinched the division with a 32-6 victory over the Carolina Panthers. Brady completed 18 of 30 passes despite missing his top two wide receivers in Chris Godwin and Mike Evans. Brady found a connection with Antonio Brown, who finished with 10 catches for 101 yards.
"Different guys who haven't had as many opportunities made a lot of great plays," Brady said, according to ESPN. "AB (Brown) played great just like he always does. We needed it with Mike out, Chris out. Our line played great. Our backs played really well. We've got to keep finding ways to win."
Tom Brady explains why he would want to go back to 1981
On the latest episode of Let's Go, Brady and Gray discussed a number of topics, ranging from last week's victory to Brady's New Year's resolution.
Gray then turned the subject to traveling and brought up Brady building a time machine.
"Tom, you told me several years ago when we were at another place at another time that you were kinda thinking about building a time machine," Gray said. "Have you been working on that over the years?"
After a quick subject change, the talk went back to Tom's time machine, and the quarterback revealed he wanted to go back to 1981.
"If I would travel back in time, maybe I do take that time machine and travel back to 1981 and make sure Eli Manning's not born," Brady said. "How about that?"
"Then you would be up to nine Super Bowls," Gray said.
Brady couldn't beat Eli Manning in two Super Bowls
Brady's done just about everything in the NFL except beat Manning and the New York Giants in a Super Bowl. He's had two cracks at it — in 2007 and 2011 — and came up short both times.
The most painful one is the one in 2007 when the Patriots had a chance to run the table and finish with a perfect season. David Tyree's famous helmet catch after Manning avoided a sack kept a drive alive that allowed the Giants to pull off the 17-14 upset victory.
Brady is still haunted by the Super Bowl losses, especially that first one.
"I've been around Tom numerous times, and I've never brought up a Super Bowl or our games versus them," Manning said to The New York Post last January. "He actually brings it up. It still bothers him a little bit, especially the '07 one when they had the chance to go down as the greatest team of all time."
It's been 10 years since Brady lost to the Giants for the second time and it's still eating away at him. It just might be time to get that time machine in the works.