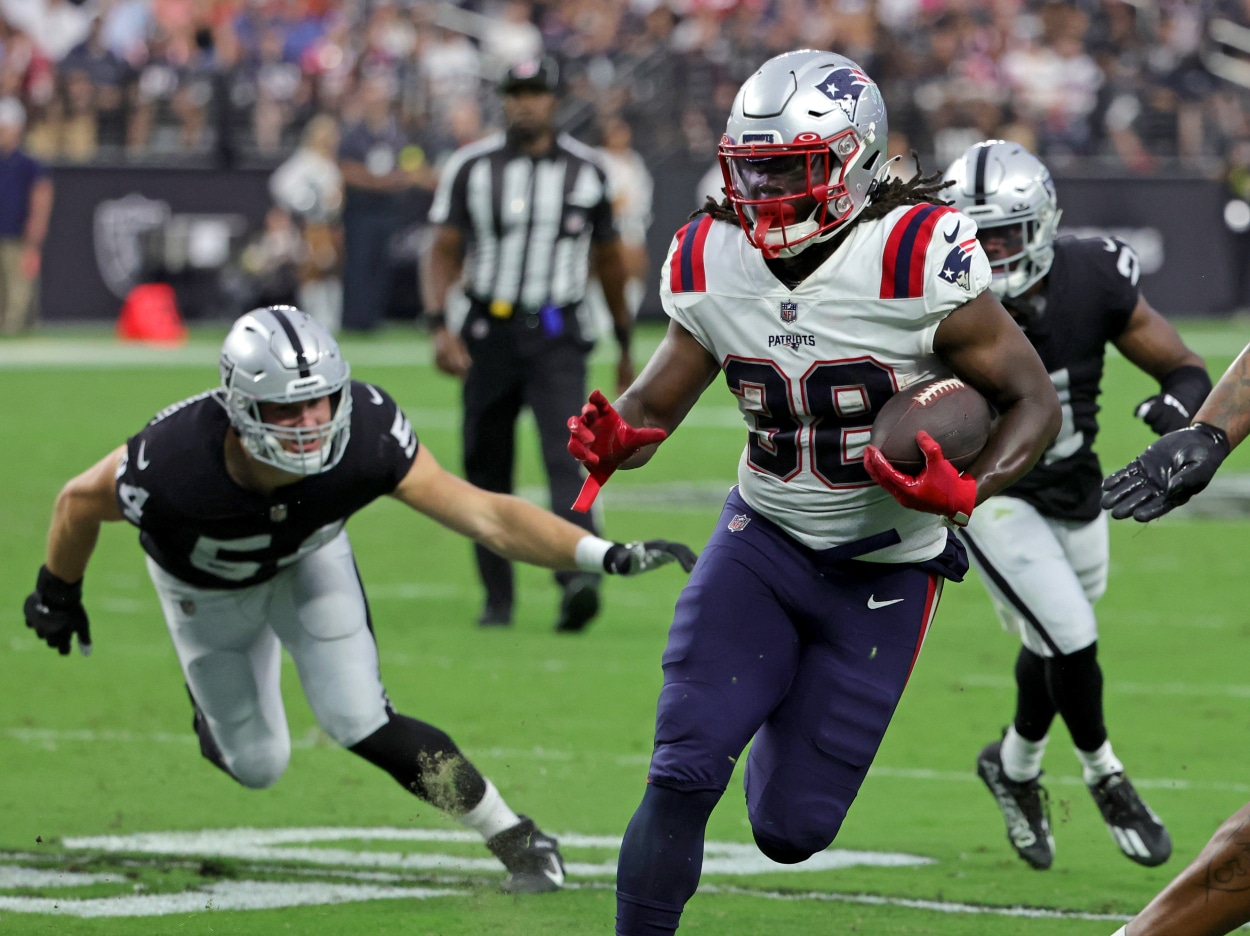 Rhamondre Stevenson Ready to Break Out for the New England Patriots In a Much Different Way
Look for Rhamondre Stevenson to add to his arsenal this season for the New England Patriots.
Bill Belichick has been overly complimentary before the start of the 2022 NFL season. The New England Patriots head coach praised second-year quarterback Mac Jones like never before just as camp began. He recently offered the same type of admiration for running back Rhamondre Stevenson.
Like Jones, Stevenson enters his second season with the Patriots. He teamed with Damien Harris to form a solid one-two punch in New England's ground game. Belichick's praise hinted Stevenson might become a much different back this season.
Rhamondre Stevenson expected to add a little more to his arsenal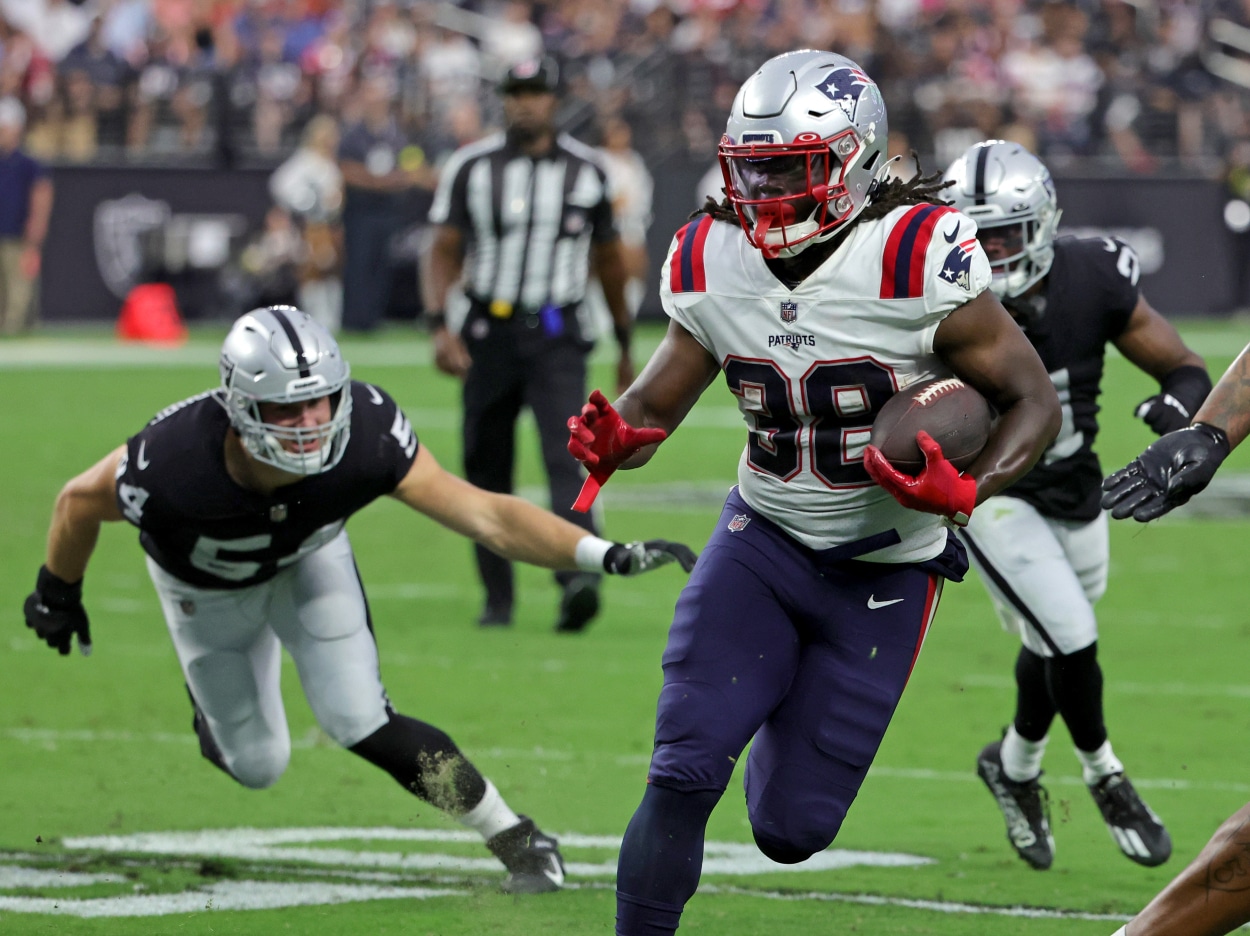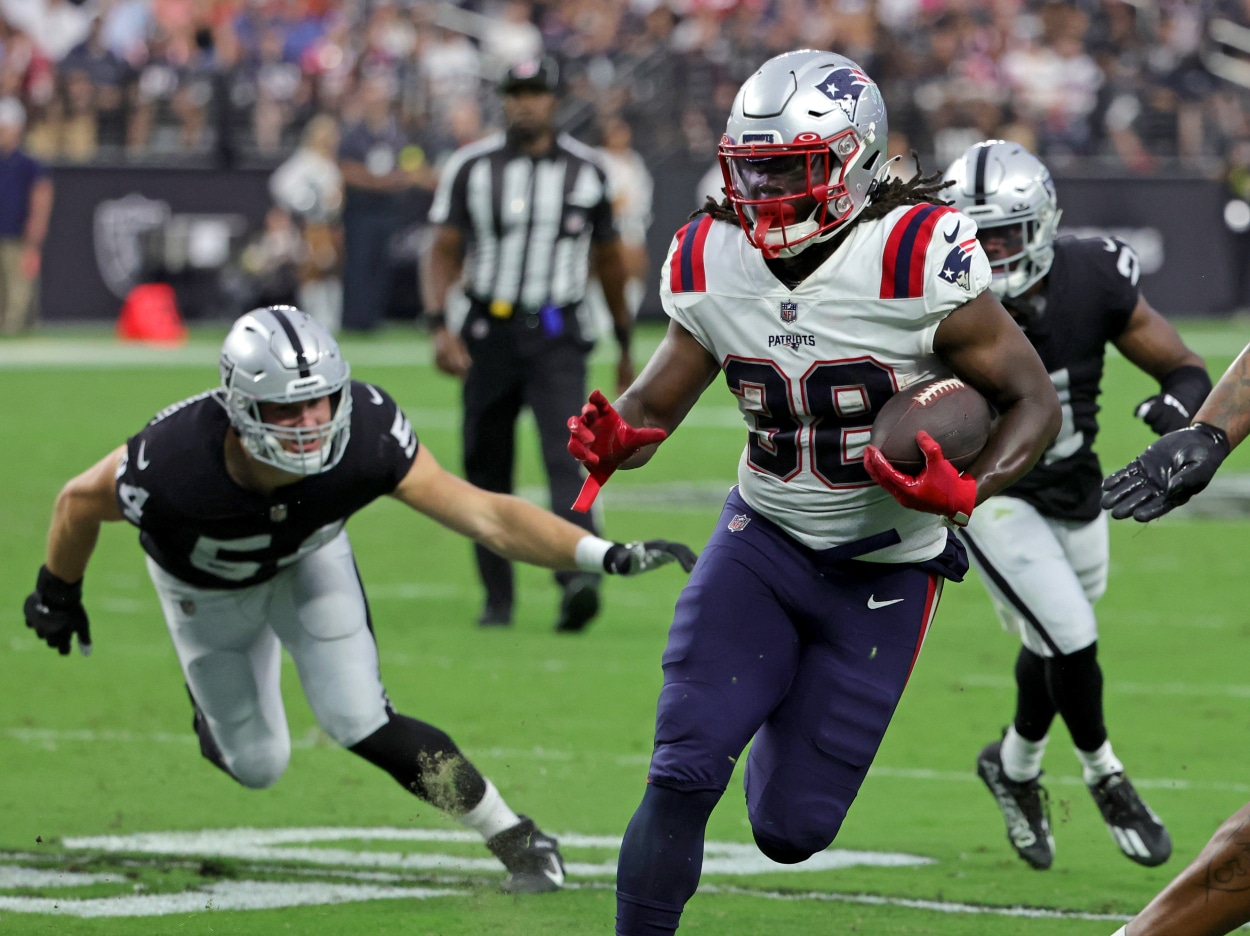 Stevenson, a 6-foot, 227-pound running back out of Oklahoma, earned his money last year as a bruising back who gained the tough yardage. He rushed 133 times for 606 yards and five touchdowns in 12 games. Stevenson added 14 receptions for 123 yards.
With eight-year veteran James White, primarily a third-down back, retiring, Stevenson will be asked to take on a more significant role. Look for those 14 catches in 12 games to take a significant jump as he's been working hard on his pass-catching game.
Belichick took notice.
"All players, no matter how good they are — and we have a lot of good players — have the obvious strengths and that's what carries them to this level in the National Football League and to the opportunity to be productive on this team," Belichick told reporters Sunday.
"But we all have weaknesses, and it's good for every player to identify what he needs to work on, and then address it, and try to improve that so it doesn't continue to be a weakness. It's something that he now has shown that he can do, or it might even become a strength. So, I really admire Mondre for doing that and for the effort that he's put into it."
Don't expect Stevenson to be labeled a third-down back
With White out of the picture, don't expect the Patriots to run out and find a third-down back as a replacement. New England is in great shape with Stevenson and Harris, and Belichick sees both as playing all three downs.
"When you play players on every down, then you're looking at a different type of player, and a different set of responsibilities," Belichick said last week, per CBS Sports. "Some of those are advantages for us. Some of them may not be advantages. Those guys have all improved. But it's a lot. They're looking at all three downs, not really just third down. And so we have to plan accordingly on that."
In order for that to happen for Stevenson, he needs to become a more complete back. It's what he's been working on, although his pass-catching numbers haven't been there in the preseason.
"We haven't had a lot of live blitz situations come up," Belichick said. "But we'll get some I'm sure, especially from Miami, and same thing in the passing game. A lot of our passes the last couple of weeks have gone to players who are right now on the practice squad, like Kevin (Harris) and J.J. (Taylor), people like that. So, he hasn't had a lot of chances to do that in games. But he's done it well in the past at times.
"I think his attention to the details of his route running and passing game have certainly shown up in practice. Hopefully, they'll show up in the games now."
Stevenson's playing time is sure to increase significantly this year, especially if he becomes the versatile running back the Patriots want him to be.
Like Sportscasting on Facebook. Follow us on Twitter @sportscasting19 and subscribe to our YouTube channel.