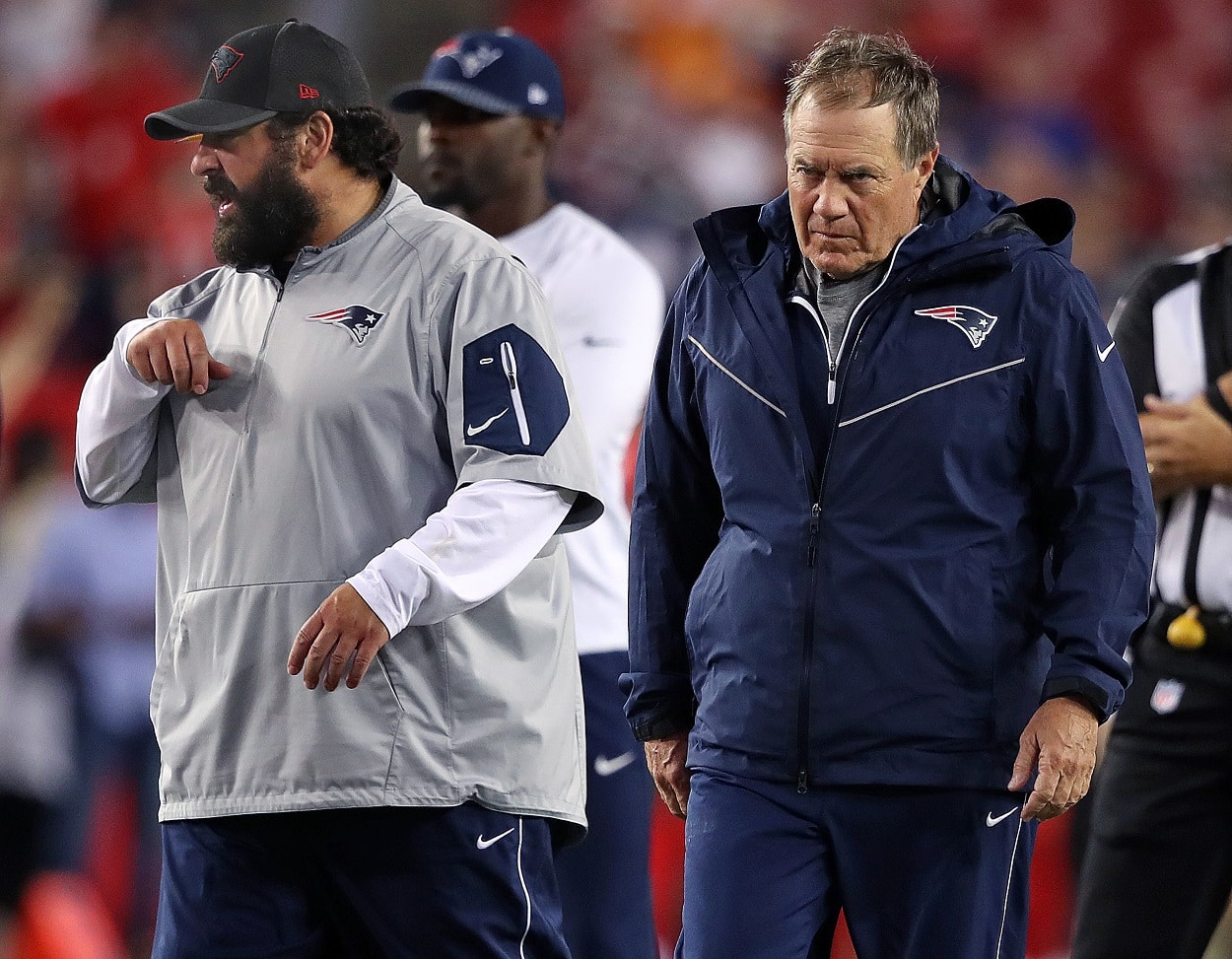 Bill Belichick's Undying Allegiance to Matt Patricia Is a Major Threat to Rising Sophomore Patriots QB Mac Jones
Bill Belichick's inexplicable and undying allegiance to Matt Patricia is bad news for Mac Jones.
Does Bill Belichick actually want Mac Jones to become an elite NFL quarterback? Based on the rising sophomore's suspect supporting cast, it's fair to question whether his head coach knows how to construct an offense that can succeed in the modern era. But what should trouble New England Patriots fans far more than the absence of a true No. 1 receiver is that the fate of the franchise largely rests in the hands of Matt Patricia, who has no business working with the team's talented 23-year-old signal-caller. 
After all, with Patricia seemingly set to have a major role on the offensive side of the ball in 2022, it's clear Belichick's loyalty to his former defensive coordinator runs incredibly deep. While that's great news for Patricia's resume and bank account, his increased presence doesn't bode well for the Patriots' most pivotal player. In fact, the ex-Detroit Lions head coach should be viewed as a major threat to Jones' short- and long-term development. 
Obviously, Belichick views the situation through a different lens. 
Matt Patricia doesn't exactly have a resume filled with success away from Bill Belichick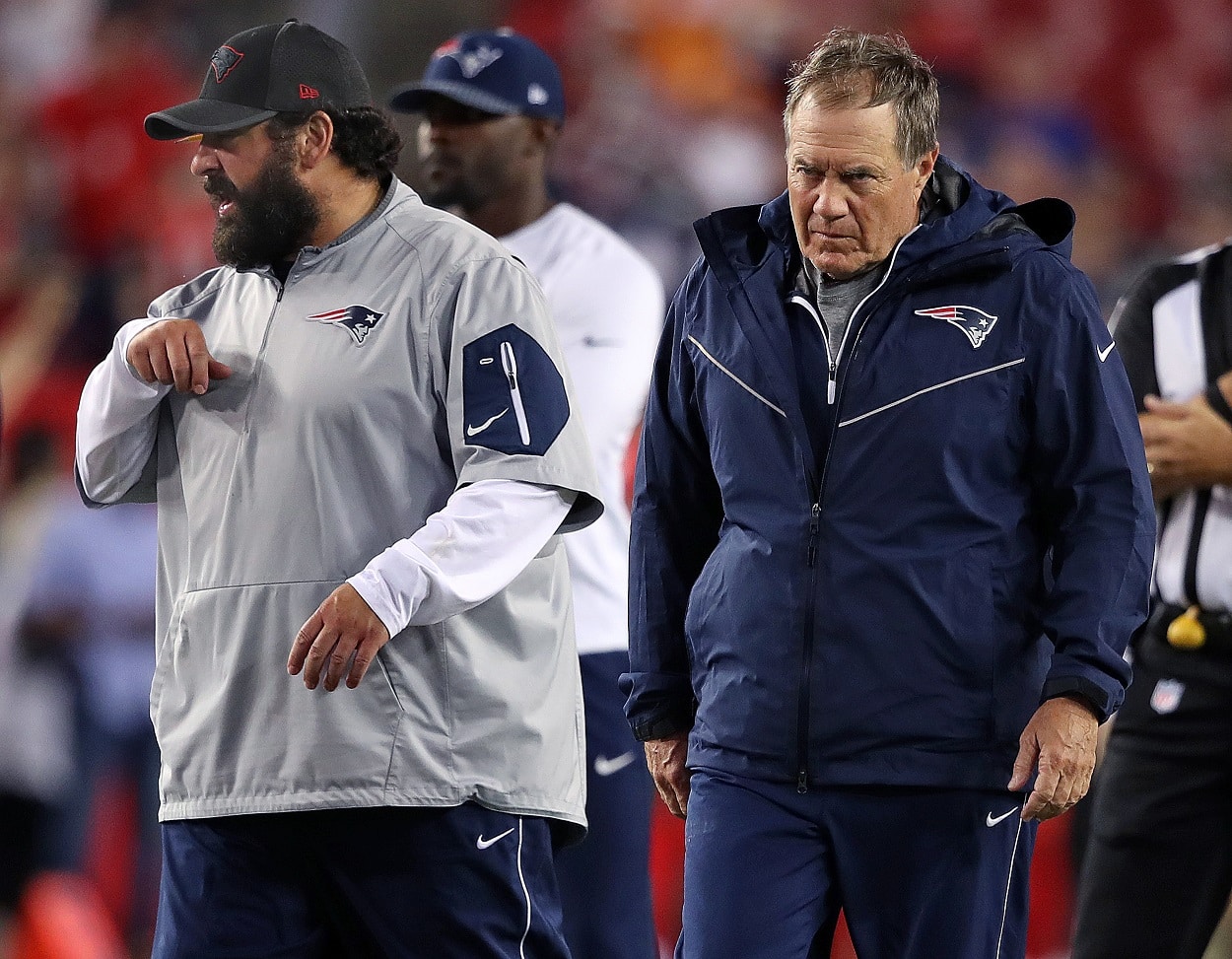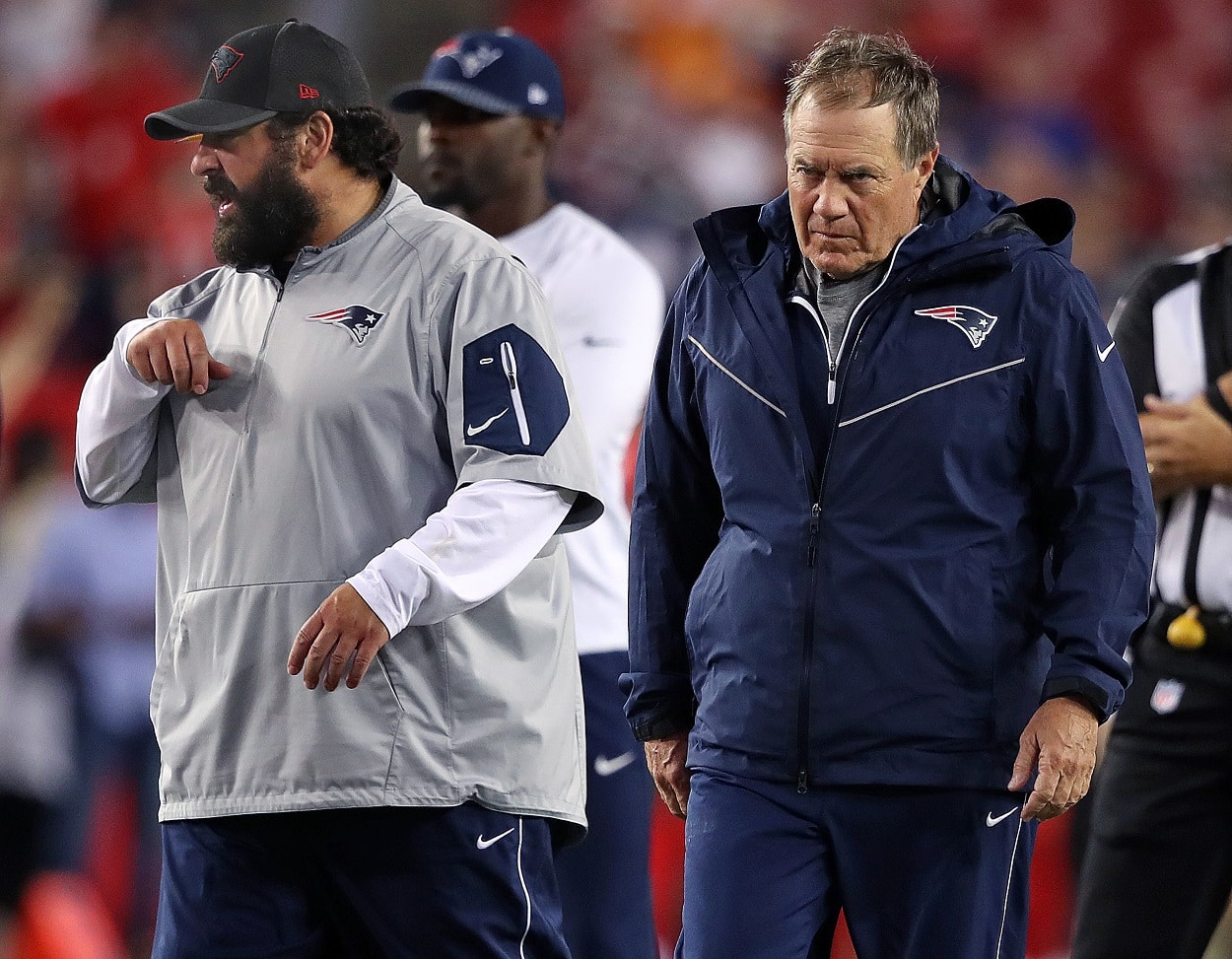 Despite Patricia's tumultuous run in Detroit (he went 13-29-1 before getting fired midway through the 2020 season), New England's longtime head coach brought his sidekick back to be a "senior football advisor" for the 2021 season.
Of course, Patricia left Foxborough for the Motor City right after his defense got absolutely eviscerated by Super Bowl 52 MVP Nick Foles. Somehow, though, the Rensselaer Polytechnic Institute grad who insists on carrying a pencil behind his ear went from getting embarrassed on the biggest stage to quickly falling out of favor in Detroit to landing a new gig courtesy of his old boss. 
What's even more confusing is why Belichick believes Patricia, who served as the Patriots' defensive coordinator from 2012 to 2017, has the knowledge, experience, or ability to take the team's promising second-year quarterback to the next level. The 47-year-old's coaching resume includes just two seasons as an offensive assistant. Oh, and that "seasoning" took place in 2004-05. 
In other words: Patricia hasn't worked on the offensive side of the ball since Tom Brady only had three Super Bowl rings to his name.
Meanwhile, what exactly did he do in Detroit to warrant a move to offense in New England? During Patricia's embarrassing tenure, the Lions finished 25th, 18th, and 20th in scoring with 2009 No. 1 overall pick Matthew Stafford under center. Needless to say, the NFC North franchise didn't pose much of a threat to opposing defenses during the Patricia era. 
Yet after losing longtime offensive coordinator Josh McDaniels this offseason, Belichick's response wasn't to bring in a replacement with even a halfway-decent resume. He didn't try to hire the next McDaniels or promote an assistant to the OC role. Instead, he brought back another flameout who seems ill-fitted for his role (Joe Judge) to work with Patricia. And based on early reports, the greatest coach in NFL history will entrust his proteges with getting the most out of Jones and Co. 
That spells trouble for Patriots fans hoping to see No. 10 develop into a superstar. 
Mac Jones is entering a crucial season and isn't being set up for success with Patricia and Belichick
Coming off a rookie season in which he showed tremendous poise, leadership, and toughness, Jones faces the most pivotal point of his career. He has the opportunity to go from being a top-20 player at his position to a true franchise quarterback. 
But how does having an unqualified coach like Patricia (plus Judge) help him make the all-important second-year leap? What does a coach who's spent essentially his entire professional career on defense offer to a player who has the potential to fill the void left behind by TB12?
How can Jones become the guy if he's surrounded by coaches who failed miserably at being the guy in their last stops? 
These are reasonable questions Patriots fans should be asking. Unfortunately, the most important person in New England cares much about public perception. Belichick zigs when the rest of the league zags with no regard for how it'll be interpreted or criticized. Luckily for the future Pro Football Hall of Famer, he's been able to build an unparalleled resume by doing things his way. 
But this time, it's hard to envision his plan working out favorably for all those involved. 
Jones, who has athletic limitations that make him a true pocket passer, already has to deal with a less-than-stellar set of weapons and an offensive line that will feature two new starting guards. Why make his job more difficult by choosing Patricia over someone who's actually a proven commodity on offense? 
Ultimately, everything is in Belichick's control, as it has been for the past two decades. Only time will tell whether his unconventional thinking will lead to success. Then again, he went rogue by ignoring his scouts to take N'Keal Harry over Deebo Samuel, and he hasn't exactly shown the ability to put together an offense that can keep pace with the elite teams in the league. 
Perhaps he'll prove us wrong as Patricia rises to the challenge and helps Jones make the jump from good to great in 2022. Stranger things have happened in the NFL, and Belichick has certainly earned the benefit of the doubt by winning six Super Bowl rings with the Patriots. 
But his undying allegiance to a coach who quickly wore out his welcome at his last job is downright mystifying. And if Matt Patricia fails to succeed in his second stint in New England, the person who will suffer the most will be the one who has the most expectations on his shoulders: Mac Jones. 
Stats courtesy of Pro Football Reference
Like Sportscasting on Facebook. Follow us on Twitter @sportscasting19 and subscribe to our YouTube channel.