Mac Jones Needs Work On 1 Part of His Game That Has Nothing To Do With His Football Skills, Says Kyle Van Noy
For the most part, rookie quarterback Mac Jones had a successful season for the New England Patriots. After a rough go that saw them get off to a 2-4 start, Jones guided the Patriots to seven straight wins. The Pats made the playoffs, but the Buffalo Bills trounced them at home, 47-17.
As a rookie, Jones showed poise all year long under Bill Belichick. Former Patriots linebacker Kyle Van Noy played with Jones and didn't have a whole lot of criticism for the young QB from Alabama. During a recent appearance on The Pat McAfee Show, Van Noy did say Jones needs to improve one part of his game.
Mac Jones had more ups than downs as a rookie with the New England Patriots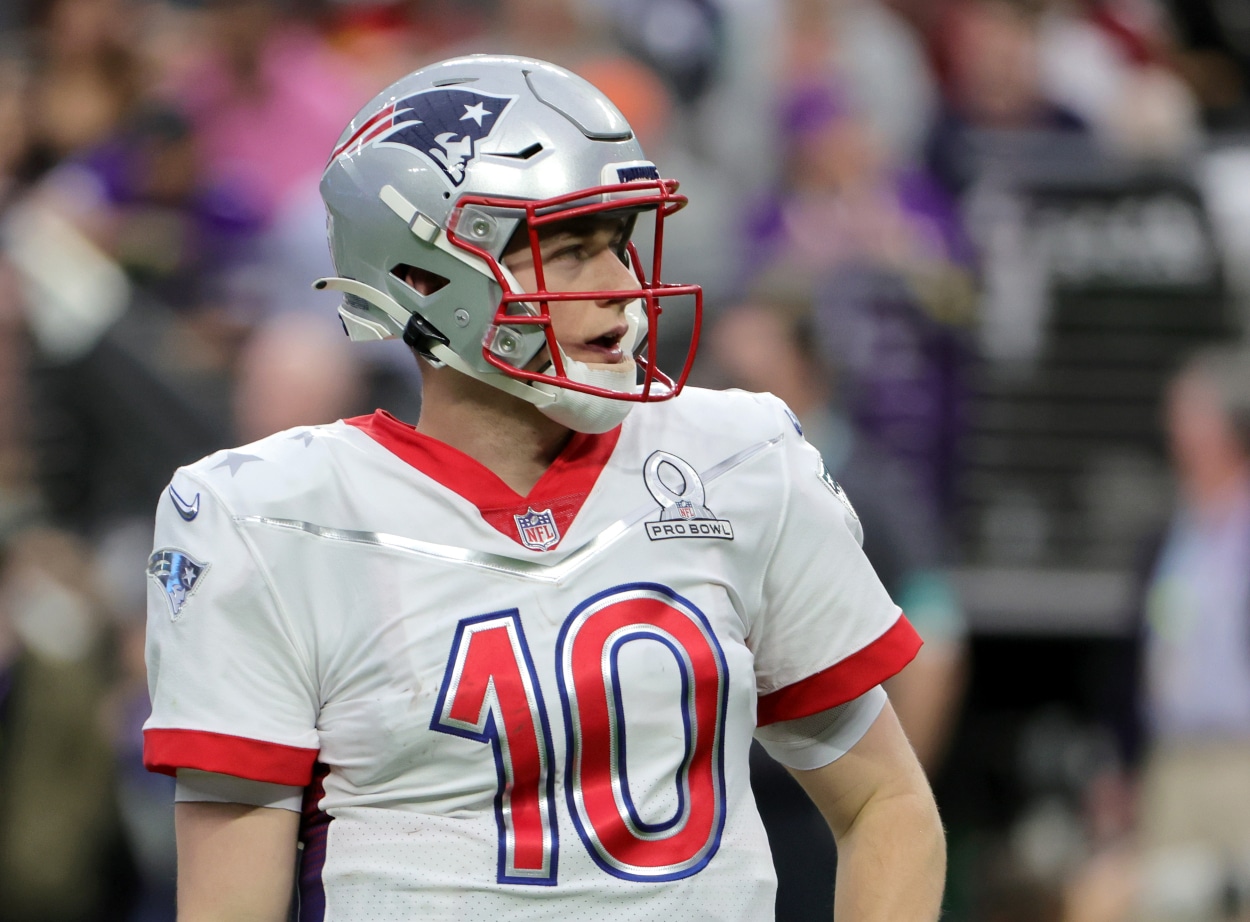 One year after Tom Brady left the Patriots for the Tampa Bay Buccaneers, the New England offense sputtered. With veteran Cam Newton running the show, the Patriots missed the playoffs for the first time in 20 years.
They drafted Jones with the 15th overall pick in the 2021 NFL Draft, and he became the first rookie quarterback to start in New England in more than two decades. He went 10-7 as a starter, throwing 22 touchdown passes against 13 interceptions. He completed 67.6% of his passes. Jones even enjoyed some action at the Pro Bowl after some of the quarterbacks voted in opted out of the game.
Before taking part in the Pro Bowl, Jones reflected on his rookie season. He's happy to get that first year under his belt, but he also knows there's a long way to go.
"I think this offseason will be a big part of it, just getting stronger and cleaning up on my diet and all that," said Jones, per Patriots.com. "There's a lot that's going to go into it before next season even starts, so that's the important part: attacking that, and then hopefully a lot of big changes will come, whether it's mechanics or the playbook.
"I have a lot of time now to kind of digest everything and kind of take it over how I want to do it."
Mac Jones needs to work on his trash-talking game
Van Noy returned to play for the Patriots last season, teaming up with the rookie quarterback. During Friday's appearance on The Pat McAfee Show, he spoke about how much of a fan he was of Jones.
McAfee said he heard Jones was a bit of a trash-talker and asked Van Noy what he thought of the rookie's trash-talk game.
"It's good. It needs some work," Van Noy said through laughter. "He's got a couple dad jokes in there. I know he's not a dad, but there's the dad joke flavors in there. But he is pretty good. I like how witty he is. It catches you off guard."
Van Noy went on to say how much he loves Jones and how he believes the quarterback is the right fit for the Patriots.
"I love Mac. I actually believe in Mac," Van Noy said. "Sent him a nice message the other day about (how) I appreciate him, who he is as a person. I really believe in him and I think he's gonna be great. I hope he has the supporting cast to support him, that's for sure, because he needs it."
McAfee said the dad jokes made sense coming from a guy like Jones
McAfee did some quick analyzing and made sense of the dad jokes coming from Jones. The former Indianapolis Colts punter said he played like a seasoned veteran this year. He said he looked mature beyond his years on the field.
Yeah, he's going to be a player," McAfee said. "It feels like was a 60-year-old man, so I think that's why the dad jokes make sense to all of us.
"None of it made sense of how calm he was in all these situations. It's like this guy is like 90. We weren't even talking about him like he was a rookie quarterback toward the end of the year."
Big things are expected from Jones in Year 2. During the season, Belichick said there's usually a big jump from a player's rookie season to his second year.
"I think all the first and second-year players as we've talked about before, it's always a big jump for them from year one to year two," he said, per Patriots.com. "They come to camp and have a much better understanding of our system, understanding of the National Football League, and understanding of the expectations and routine is. After you've been through it once, it's a lot easier to prepare and go through it the second time."