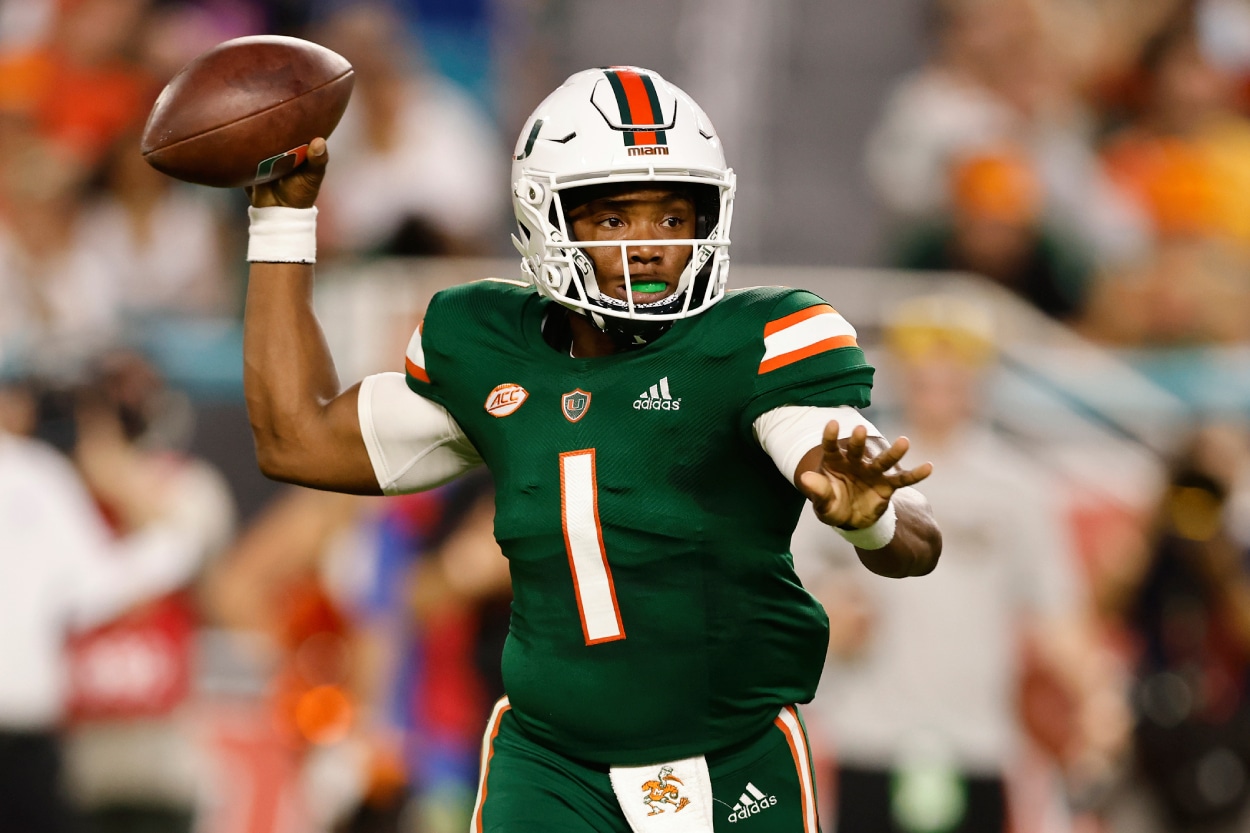 New England Patriots Signee D'Eriq King Eager to Become the Next Julian Edelman
Former quarterback D'Eriq King will need to master a position change with the New England Patriots.
Former University of Miami quarterback D'Eriq King had quite an interesting college football career. The New England Patriots seem ready to spice up his NFL life as well.
King, a college football quarterback who played for Houston and Miami, didn't hear his name called in the 2022 NFL Draft. The Patriots are bringing in King as an undrafted free agent and hope to capitalize on his versatility. Although he may longer be the one throwing the ball under Bill Belichick, he hopes his athleticism can turn him into the next Julian Edelman.
New England Patriots signed D'Eriq King, who is out to prove his worth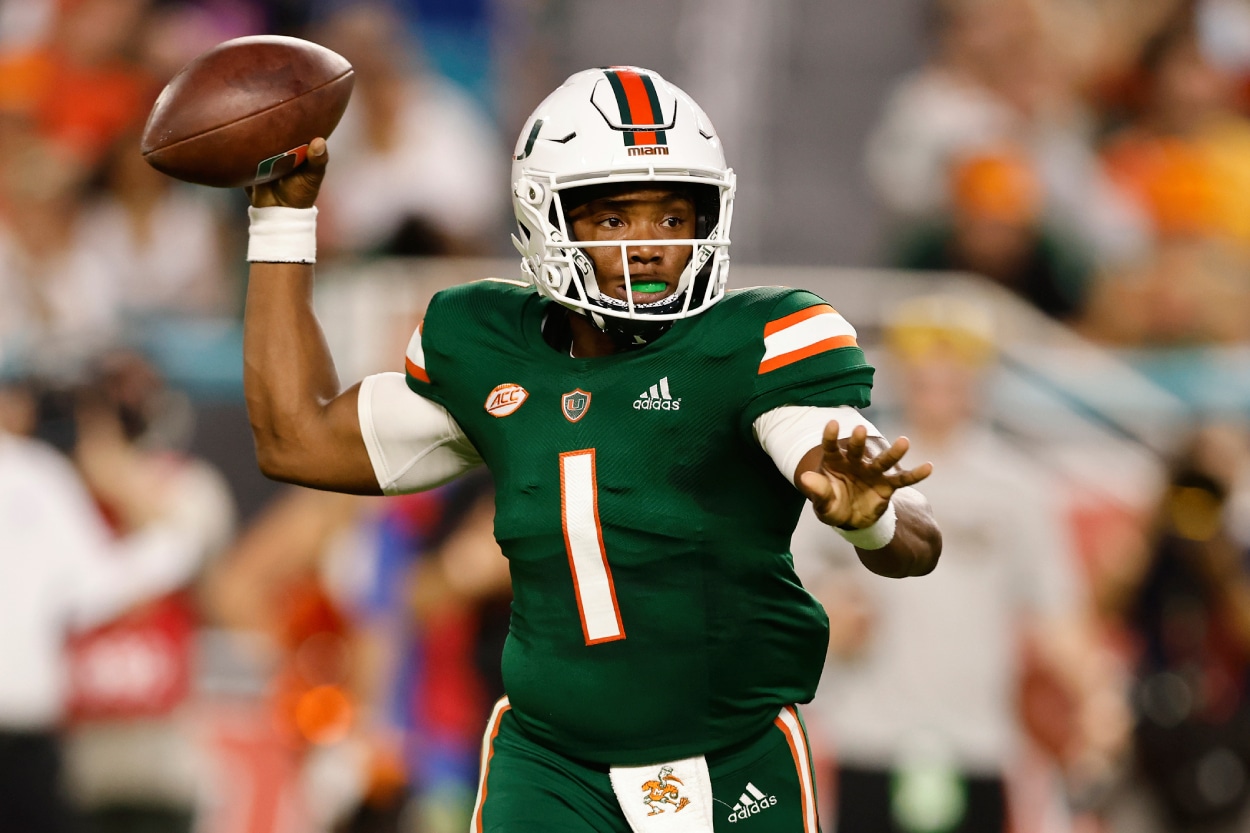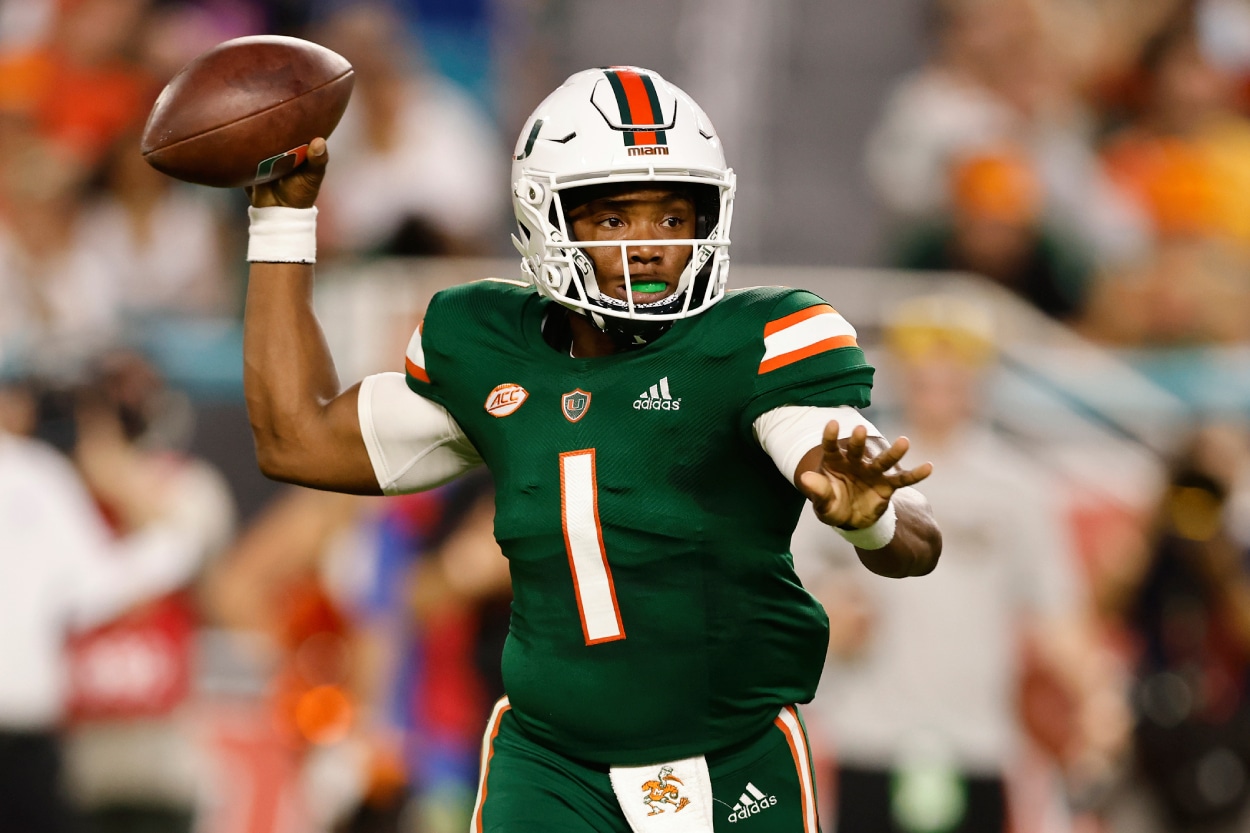 According to Pro Football Network, King fielded offers from multiple NFL teams after the draft. The 5-foot-9 athlete wanted to play for Belichick and the Patriots. The Pats have been known to get the most of a player's versatility and athleticism, and King figured that might be his best chance of making a career in the league.
Matt Groh, New England's director of player personnel told King the options for King would be unlimited with an athlete of his caliber.
"I was a little nervous because of the unknown, but I was blessed enough to sign with a team like the Patriots. I'm thankful for the opportunity. It was an exciting time. I talked to Matt Groh, and he was excited. I'm thankful for the opportunity. He told me I'll do a little bit of everything — receiver, quarterback, running back — whatever I can do to stick.
"Absolutely, definitely motivated to prove my worth. I'm just excited to play football, period. I'm definitely motivated, and you have a chip on your shoulder, whether you get drafted or not. I've played quarterback my whole life, but I think I can be a pretty good receiver as well."
Can D'Eriq King be the next Julian Edelman for the New England Patriots?
Belichick and the Patriots are always looking find the next diamond in the rough. With King, they have the perfect opportunity.
He can line up at any skill position, but with his experience as a wide receiver, he may end up as a future target for quarterback Mac Jones. In his first two years at Houston, King had 58 catches for 492 yards before becoming their quarterback in 2020.
Belichick and the Patriots turned another college quarterback into a wide receiver, who had himself quite an NFL career. The Patriots selected Edelman in the seventh round of the 2009 NFL Draft as a quarterback out of Kent State. It took him a few years to establish himself as top target during New England's Super Bowl years.
In his fifth year in the NFL, Edelman had the first of his the 1,000-yard seasons.
King is excited to get things going in his new role and his new environment. He's eager to play for Belichick.
"It's going to be good," King said. "I talked to some old teammates who have played for the Patriots. Coach Belichick is the best coach of all time."
A shoulder injury hampered King in his final college season
King drew interest from several NFL teams, including the Miami Dolphins, Buffalo Bills, Dallas Cowboys, and Seattle Seahawks. He was invited to the NFL Combine but was rehabbing his injured shoulder. Still, he showed enough to NFL scouts with his athleticism on the field.
"I didn't have a good season. It got cut short because of injuries," King said. "Still, there was that little feeling when the draft is going that something might happen and this team might draft me in this round. I was prepared for this moment."
Although his name wasn't called, his goal remains the same — to have a careerplaying the game he loves. His goals are simple but the first one is quite important.
"Definitely make the team, but I want to make plays as well," King said. "I want to do what I can to be seen and have the opportunity to make the team. I'm going to try to get on special teams, too."