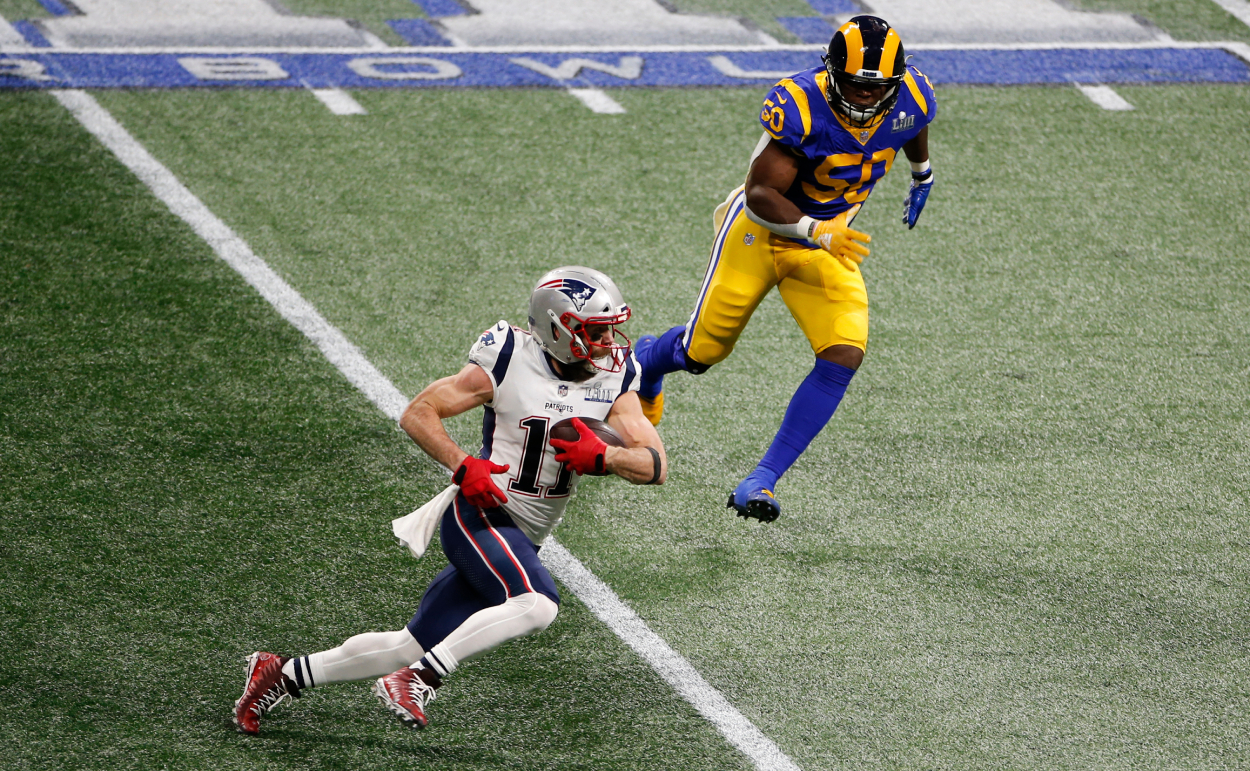 Julian Edelman Hilariously Turns the Tables on the Hall of Fame Debate
Julian Edelman has some fun turning the tables on the debate about whether he belongs in the Hall of Fame.
The statistics show Julian Edelman isn't a fit for the Pro Football Hall of Fame. But are statistics the ultimate measuring stick for the Hall?
Edelman was a force in the postseason as only Jerry Rice has more postseason catches than the recently retired New England Patriots star. He's also come up with some clutch playoff catches. Will his postseason play be enough to warrant HOF consideration?
Edelman spoke about the Hall of Fame, turning the tables on those interviewing him.
Edelman defied all odds in the NFL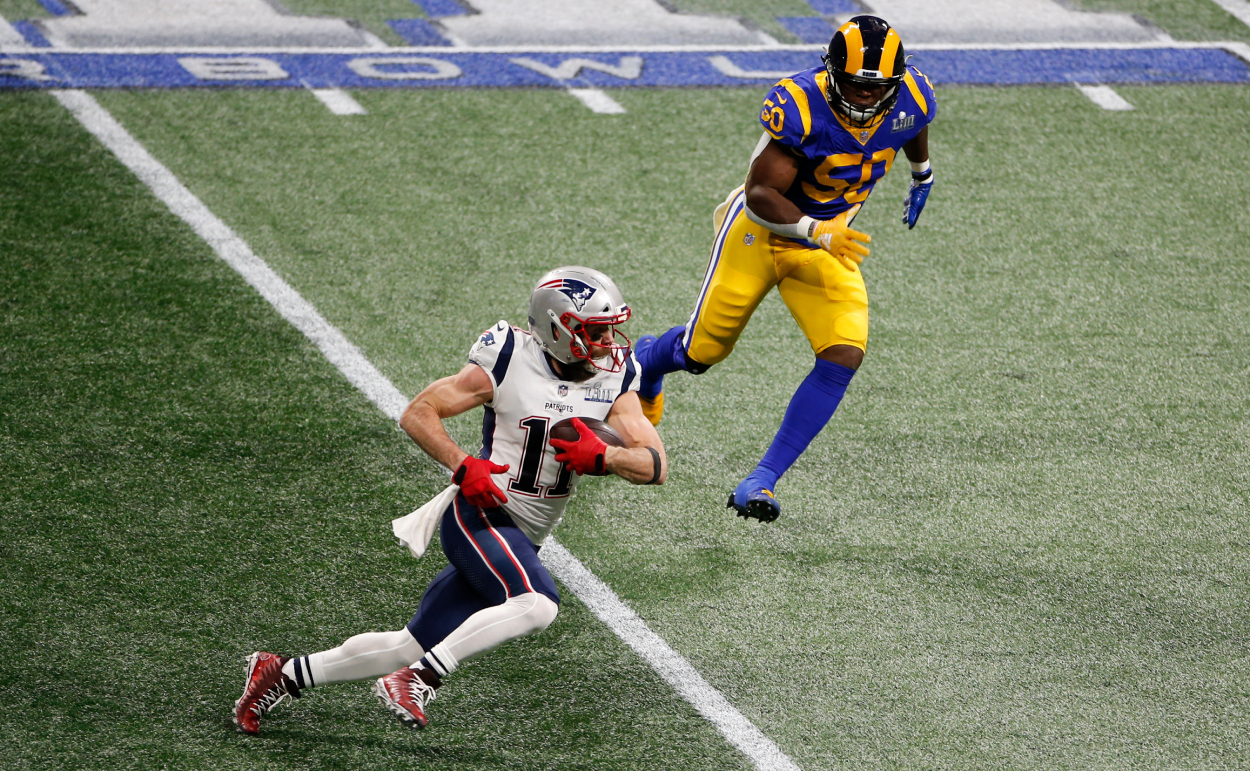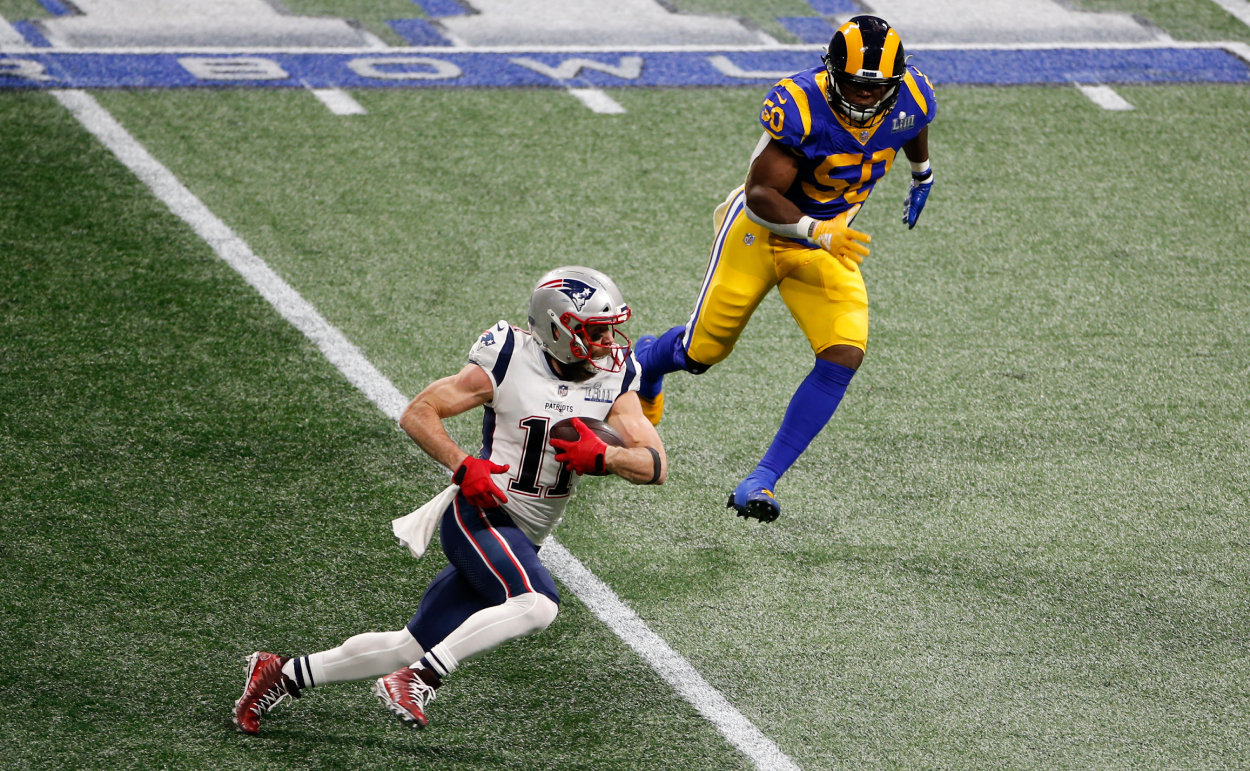 Julian Edelman wasn't supposed to last 11 seasons in the NFL. He was a quarterback at Kent State drafted in the seventh round by a team that had Tom Brady. The New England Patriots selected the 5-foot-10 Edelman after 231 other players came off the board in the 2009 NFL draft.
Edelman made the transition to wide receiver and became a focal point in a potent offense. It took him five years to surpass 360 receiving yards in a season, but from then on, he was one of Brady's favorite targets. He reached the 1,000-yard receiving mark in 2013 with 1,056 yards and six touchdowns.
Edelman finished his career with three 1,000-yard seasons. He also collected three Super Bowl rings. His tough, over-the-middle catches helped make him a fan favorite in New England. He was limited to six games in 2020, and injuries forced him into retirement after the season.
Is Julian Edelman a Hall of Famer?
The short answer to whether Julian Edelman belongs in the Hall of Fame is no. The numbers aren't there. He will likely be a lock for the New England Patriots Hall of Fame, but you probably won't be seeing a bust of him in Canton.
In his 11 seasons, Edelman played all 16 games just three times. The first four years of his career were a transitional process as he switched from quarterback to wide receiver. In those four years, he had a combined 69 catches and four touchdowns. For his career, he had just 36 touchdowns and averaged 620 receiving yards per season.
By comparison, Jordy Nelson played one fewer year and racked up 72 touchdowns and 1,765 more career yards. Nelson is never mentioned as a HOF candidate.
Edelman's postseason heroics likely won't be enough to sway voters. He's a great story and a great receiver. He's not a Hall of Famer.
Edelman turns the tables on the HOF debate
During a recent appearance on the Pardon My Take podcast, Julian Edelman was asked if he saw all the Hall of Fame talk regarding his career. "You see it out there," he said. "You definitely see it, but it is what it is.
"Are you guys going to make the podcasting Hall of Fame? Are you guys systematic podcasters? I don't know. These are all questions I have. I think you guys are Hall of Fame podcasters. When the moments are the toughest, I've always heard the best takes come from you. When you needed a take, in an absolute moment. … Your stats aren't there. You're not Howard Stern, but the takes are there."
Although Edelman was having fun with the HOF talk, he did get serious.
"I'm a guy that when I go to do something, I just go to win," he said. "I didn't grow up thinking about the Hall of Fame. I grew up thinking about hoisting the Lombardi Trophy."