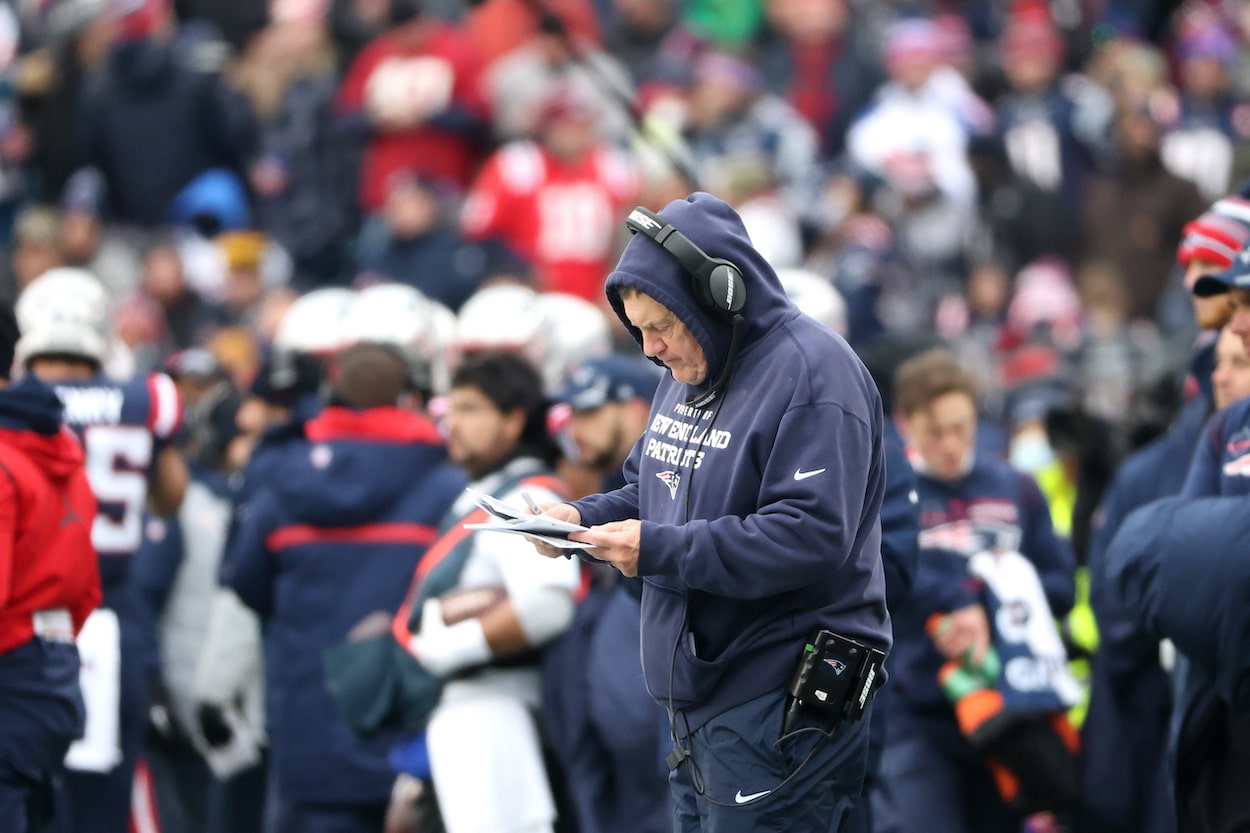 NFL Insider Albert Breer Reveals the New Patriots Offensive Coordinator Could Be Bill Belichick: 'That's the End Result of the Coaching Shuffle'
Who is the new Patriots offensive coordinator for next season? It could be Joe Judge or Matt Patricia, but Bill Belichick is an option, too.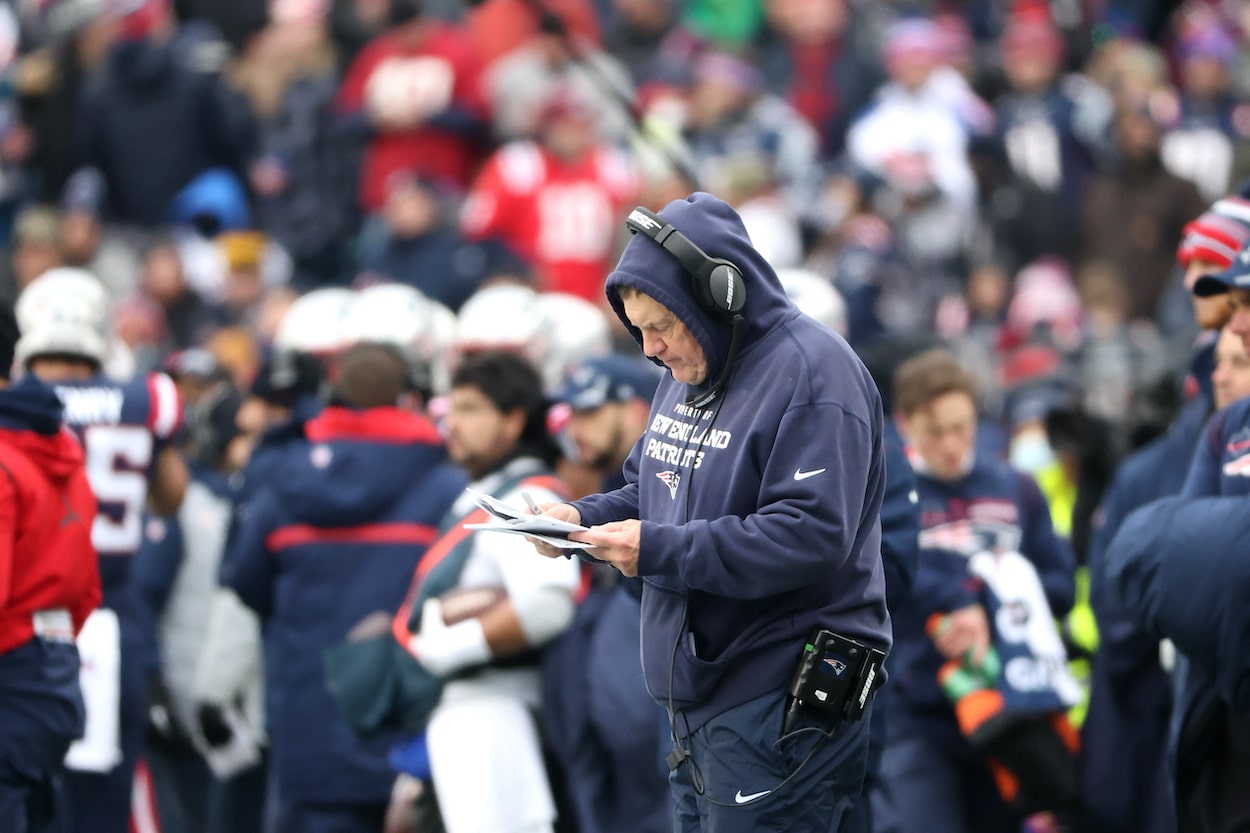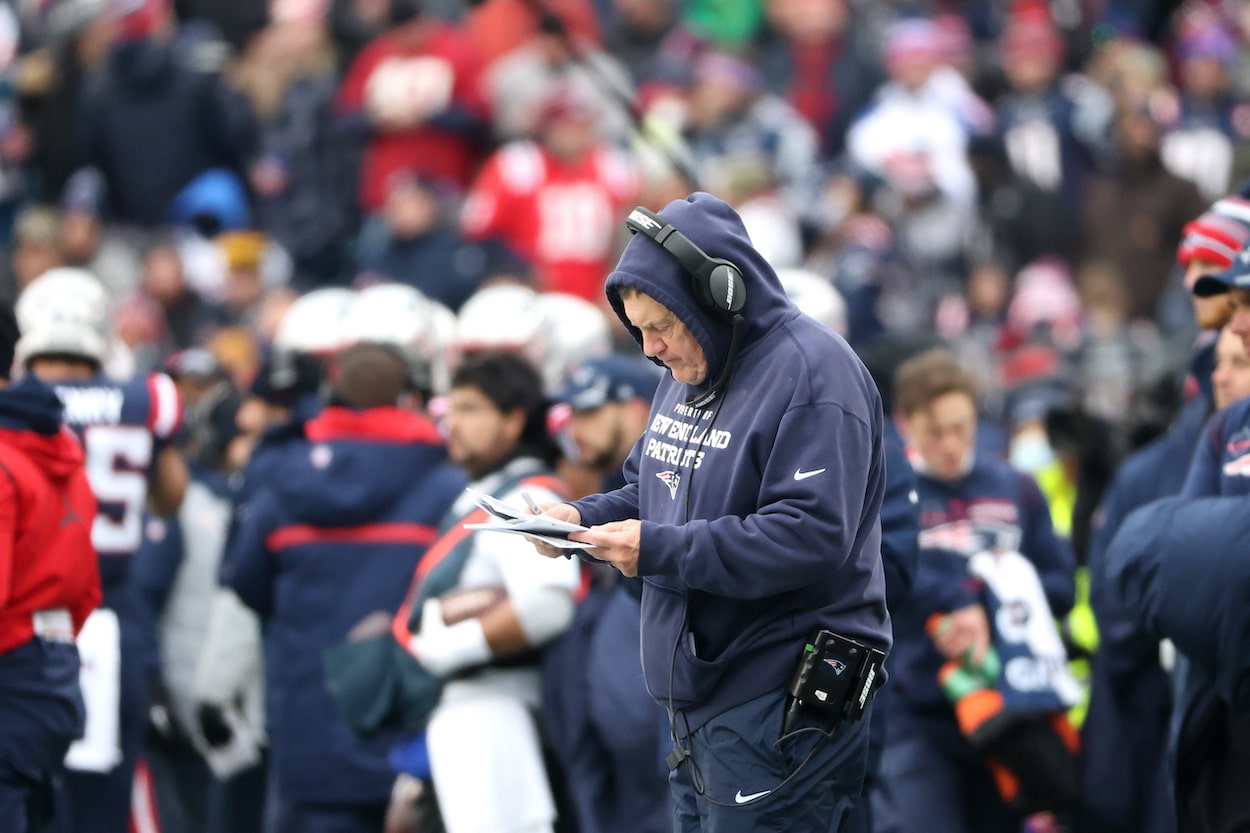 One of the underrated pieces of the New England Patriots dynasty over the past 20 years is the consistency at offensive coordinator. Charlie Weis, Bill O'Brien, and Josh McDaniels have called the plays on that side of the ball for the last two decades. Now, with all those coaches gone and no traditional OC to replace them, who is the new Patriots offensive coordinator? Well, it could be a very familiar face: Bill Belichick.
The 2022 New England Patriots don't have "offensive coordinators" on-staff
A quick perusal of the 2022 New England Patriots coaching staff on the team's website shows that, on the offensive side of the ball, the Patriots employ six (or possibly seven) coaches, none of whom have the title offensive coordinator.
There are two running backs coaches (Ivan Fears, Vinny Sunseri), a wide receivers/kick returners coach (Troy Brown), a tight ends/fullbacks coach (Nick Caley), an assistant offensive line coach (Billy Yates), and an "offensive assistant" (Joe Judge). There is also Matt Patricia, who holds the vague "Senior Football Advisor" title.
Fears and Yates are all long-time position specialists. Brown is a returning Patriots great who's been in the media before returning to coach in 2019. Caley and Sunseri are both young assistants who come with more defensive than offensive experience.
That leaves Judge and Patricia as the two other primary options for offensive coordinator. Both are former Patriots assistants who got head coaching jobs, didn't have much success, and are back in New England.  
However, neither Patricia nor Judge left the organization with a huge offensive background.
Patricia did join the Patriots as an offensive assistant and assistant offensive line coach in 2004-05 but quickly transitioned to coach linebackers, then safeties, then coordinating the defense before leaving for the Detroit Lions head coaching gig in 2018.
Judge has even less experience on that side of the ball. He coached special teams at Alabama before doing the same with the Patriots, working his way up to special teams coordinator. As head coach of the New York Giants last year, though, it did seem like he at least had a role in play-calling after firing OC Jason Garrett.
Who is the new Patriots offensive coordinator?
Josh McDaniels held the title of New England Patriots OC for 13 of the last 16 seasons (there was a three-year sabbatical as he was head coach of the Denver Broncos and OC of the St. Louis Rams).
Now that McDaniels is the new head coach of the Las Vegas Raiders, the biggest question of the Pats' offseason is, who is the new Patriots offensive coordinator?
Albert Breer of the MMQB has an idea of who it might be. The NFL insider thinks it could be head coach Bill Belichick. He wrote on SI.com:
The sense I get is the [Patriots] coaches who spoke last week were being forthright in saying that pieces of their roles still need to be hammered out. … And who calls plays (Judge? Patricia? Caley? Could it be Belichick?) is obviously a big component of it.

Albert Breer on the Patriots offensive coordinator
Breer followed that up on Twitter, writing, "the possibility Bill Belichick could be the offensive playcaller in New England. I think it's possible that's the end result of the coaching shuffle."
No matter what the final decision is — and it does seem like there isn't one made yet — the options aren't great. Belichick is already the head coach, de facto general manager, and sometimes defensive coordinator. Taking on play-calling responsibilities, too, seems like a recipe for disaster. Or at least mediocrity.
And it's not just die-hard Patriots fans who are concerned either. It sounds like Patriots players are worried about the whole situation as well.
Patriots insider Greg Bedard says he's hearing Patriots players are 'alarmed'
Whether Bill Belichick runs the New England Patriots offense this coming season, or it's a brain trust of Matt Patricia and Joe Judge, the whole situation sounds like a bit of a mess. And if you agree with that, you're not alone.
NBC Sports Boston spoke with Boston Sports Journal founder Greg Bedard after a few days of Patriots offseason workouts, and the Pats insider says he's not hearing great things:
I don't want to make a huge deal out of this yet because, let's keep in mind, this is a completely new regime on the offensive side of the ball. … But so far, I have countless people who have either been with the Patriots or are hearing from players on the team – they are alarmed to this point. And they've barely done anything so far. And so, they are really worried about the direction of the offense – where this is going. A lot of people around the NFL listened to what Joe Judge said the other day, and almost all of them were like, 'What? What is he talking about?' There is a high level of concern about what's going on with the Patriots.

Greg Bedard on the Patriots offense
In a vacuum, having this level of uncertainty within an NFL offense 15 weeks out from a new season isn't great. When the team's success greatly depends on the development of a young, second-year quarterback (like it does with the Patriots and Mac Jones), it is deeply concerning.
That said, there is one caveat everyone has to take into consideration. No one has made money in the last 20 years betting against Bill Belichick figuring things out. Although the offensive situation seems bad now, if anyone can make lemonade out of these lemons, it's (arguably) the greatest football coach of all time.
Like Sportscasting on Facebook. Follow us on Twitter @sportscasting19 and subscribe to our YouTube channel.