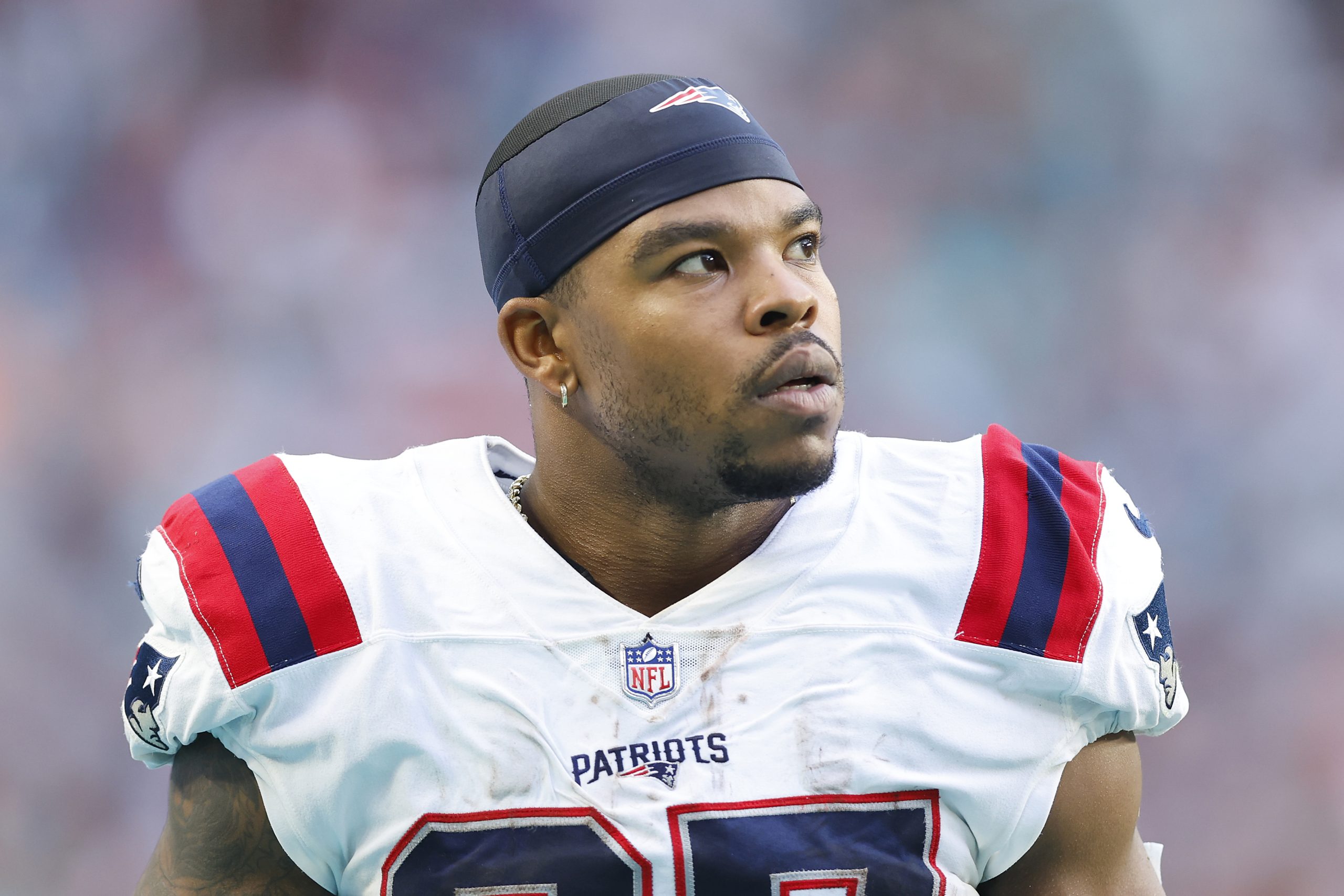 Patriots RB Damien Harris Shocked After False Notification the Falcons Signed Him
Damien Harris is still with the New England Patriots despite one since-deleted report.
The NFL offseason can sometimes appear just as exciting as the regular season. There are always surprises as players find new teams via free agency or through trade. New England Patriots running back Damien Harris was a victim of surprise Thursday.
Harris completed his third season with the Patriots and has emerged as New England's top running back. One can only imagine how Harris felt when a major media outlet reported he'll play next year with the Atlanta Falcons.
Damien Harris has become one of the NFL's most dependable backs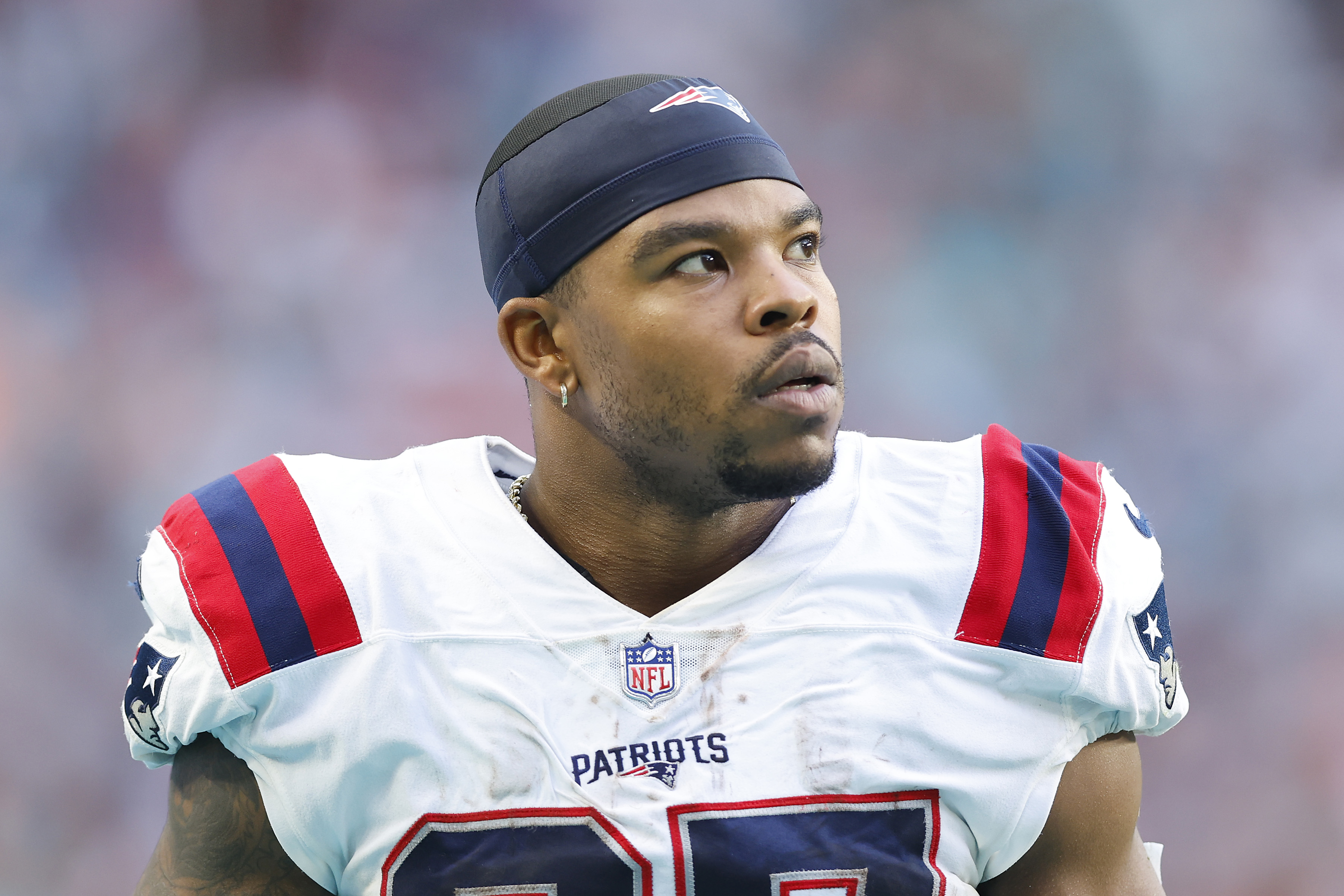 In the last two years with the Patriots, Harris has played in 25 regular-season games and started all of them. He's become New England's go-to guy on the ground.
Despite missing two games in 2021, Harris racked up five 100-yard rushing games and finished the season with 929 yards on the ground and 15 touchdowns. He was also involved in the passing game a bit more, catching 18 balls for 132 yards.
Harris was the lone bright spot in New England's 33-21 loss to the Buffalo Bills late in the season, scoring all three of his team's touchdowns. He ran for 103 yards on 18 carries.
Prior to the 2021 season, Pats coach Bill Belichick had nothing but high praise for Harris, who lived up to his lofty expectations.
"Damien works extremely hard," Belichick said, per Sports Illustrated. "Works at all phases, all aspects of his game, certainly his conditioning and training, running game, passing game, protection, route running, catching the ball. He's a hard-working kid that just tries to do whatever he can to help the team and he's got a lot of skill and can contribute in a variety of ways and he's looking to improve and upgrade where he is in every area.
"So, Ivan (Fears) and Vinnie (Sunseri) have worked hard with Damien. He's responded well, and I think he's off to a really good start in preparation for the season."
Damien Harris was confused with Damien Williams
With NFL free agency in full swing, there has recently been a lot of movement within the league. Some players have jumped ship and moved to other teams. Others, like former Green Bay Packers wide receiver Davante Adams, have been traded. It's the time of year when many NFLers find new homes.
Harris had no expectations of leaving the Patriots, and nobody else did, either. You can imagine Harris' reaction when Fox Sports: NFL put out a report saying Harris signed a one-year deal with the Falcons.
"The #Falcons are signing RB Damien Harris to a one-year deal, per his agent @iangreengross," the media outlet reported in a since-deleted tweet. The report also showed a photo of the Patriots running back in action. The Falcons actually signed running back Damien Williams.
The Twitter account of Gresh & Keefe, two Boston sports talk-show hosts on WEEI, tagged Harris and congratulated him, making him aware of the blunder.
Harris responded two hours later, writing, "Man y'all made my heart drop," adding smiley-face emojis.
Harris' agent responded to the incorrect tweet
Ian Greengross, the agent representing Damien Williams, was quick to respond to NFL on Fox as soon as the incorrect report was put out on social media. Greengross was alerted of the post after being tagged in it.
"Um, yeah, my client is Damien WILLIAMS," Greengross wrote. "You know, the one who ran to "immortality" on your network during Super Bowl LIV."
Williams shined in Super Bowl 54 when the Kansas City Chiefs rallied to defeat the San Francisco 49ers. The running back rushed 17 times for 104 yards and a touchdown. He also added a touchdown reception.
The Chiefs scored 21 straight points in the final 6:13 to post a 31-20 victory. Williams' 5-yard TD reception with 2:44 left gave the Chiefs a 24-20 lead. He then broke free for a 38-yard touchdown run to seal the deal.
Last season, he played sparingly for the Chicago Bears, carrying the ball 40 times for 164 yards and two touchdowns. He'll suit up for the Falcons in 2022 after inking his one-year deal.