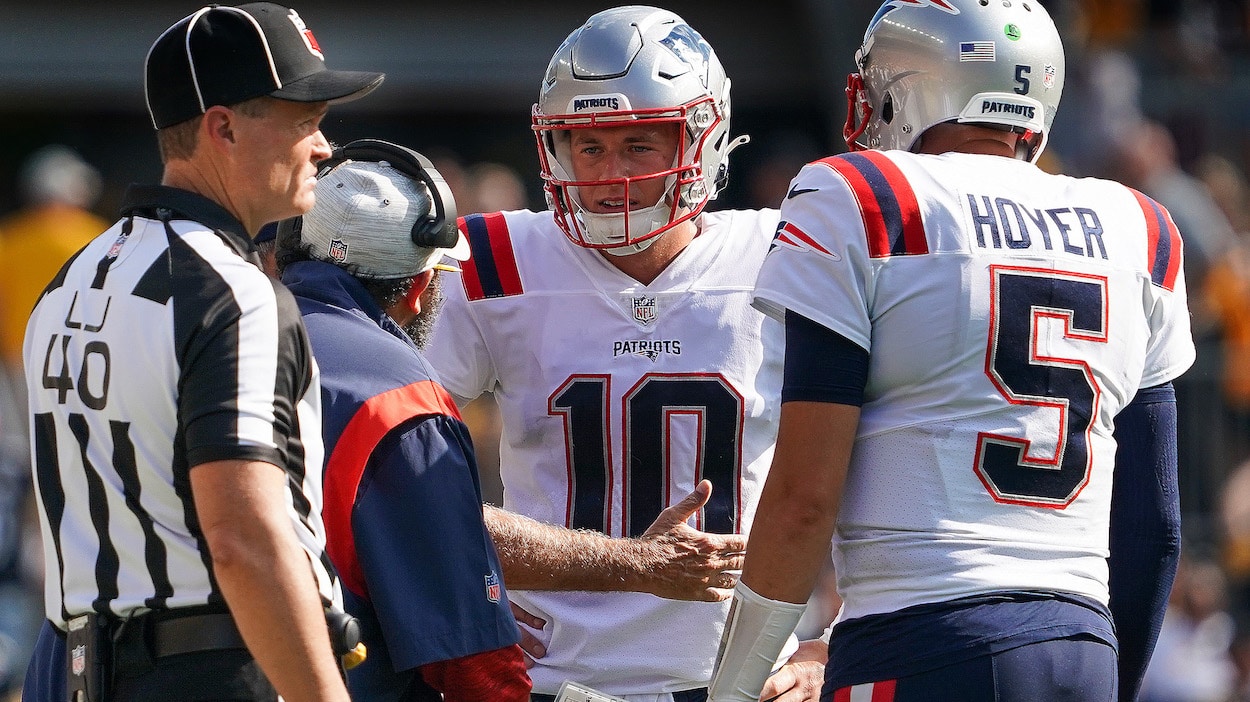 Patriots Week 2 Win Was in Spite of Mac Jones, Not Because of Him, According to NFL Insider Albert Breer
The Patriots got their first win of the season in Week 2, but one NFL insider says it wasn't because of what Mac Jones did vs. the Steelers.
The New England Patriots got their first win of the 2022 NFL season with a 17-14 victory over the Pittsburgh Steelers. Second-year quarterback Mac Jones didn't have a great game for the second week in a row. Still, his team came away with the W. And while no fan can get upset with a win in the NFL, Jones' performance might have Pats supporters worried, especially after NFL insider Albert Breer shared that he believes Bill Belichick and the Patriots won this week in spite of their QB, not because of him.
Albert Breer blamed Mac Jones for the Patriots' close game in Week 2 
The Patriots methodically built their lead against the Steelers on Sunday but never pulled away. After slowly but surely going up 17-6, Mitchell Trubisky got his team within a field goal at the start of the fourth quarter.
The Steelers couldn't put together another scoring drive (and neither could the Patriots), and the game ended 17-14.
On NBC Sports Boston after the game, host Mike Felger asked NFL insider and Sports Illustrated writer Albert Breer, "was Mac Jones the reason [the Patriots] won this or almost lost it?"
After trying to hedge and say it was a little bit of both, Breer revealed his actual feelings.
"Alright, I think he almost lost it for you. You had the dropped pick — and everyone remembers the Gunner Olszewski play — the play before, Mac Jones should have been picked off by Cam Sutton," Breer said. "You can argue the touchdown pass to Nelson Agholor should have been picked off by [Ahkello] Witherspoon. That would have been three picks, and that's where you lose the game. 
And Breer is right. Down the stretch on Sunday, it felt, at times, like Mac Jones and Mitchell Trubisky were engaged in a battle to see who could give the game away. Lucky for Jones, Trubisky is much more experienced and successful in doing so.  
It's not all the young QB's fault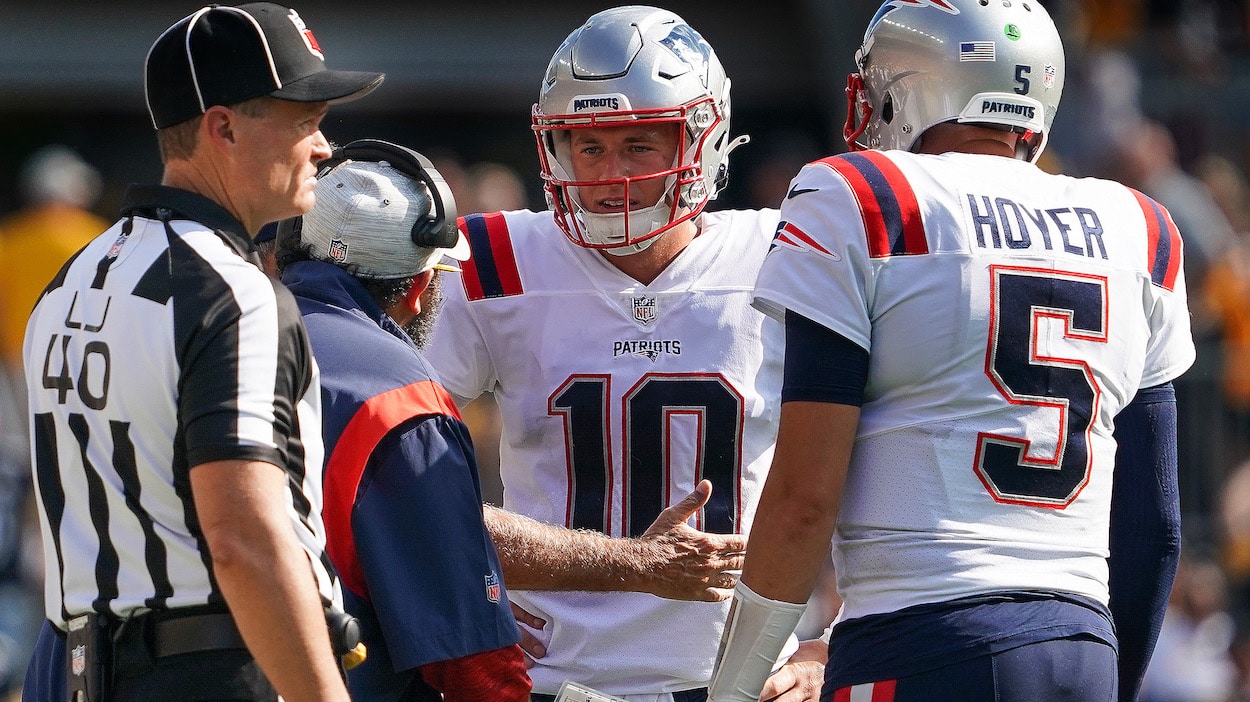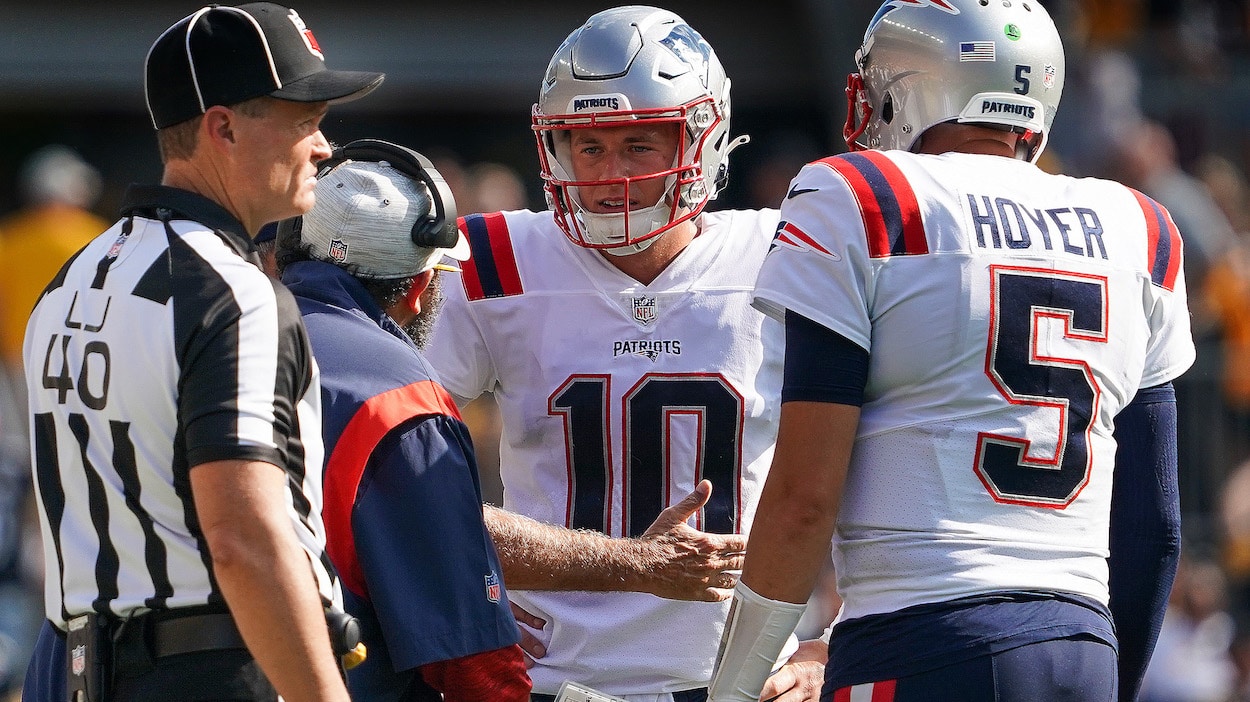 Mac Jones certainly didn't cover himself in glory despite winning the game Sunday. That said, you can't pin all the rough play from the Patriots offense on the young quarterback.
The Patriots are a mess in several ways in 2022, and if Jones doesn't play like Tom Brady every Sunday, these issues will be nearly impossible to overcome.
One problem is that Jones isn't surrounded by a ton of talent on offense.
His offensive line is just OK, his running backs are decent, and his pass-catchers are kind of a mess. Pass-catching running backs James White and Brandon Bolden are gone from last season.
And at wideout, last year's No. 2, Kendrick Bourne (55 catches, 800 yards, five touchdowns in 2021), has only played 26 offensive snaps in two games. Plus, Jones and offseason free-agent acquisition Devante Parker aren't yet on the same page. The WR has just one catch for nine yards after Week 2.
You can see these problems on the field and in the box score. The biggest problem, though, is a little harder to put your finger on. The fact that the Patriots don't have an offensive coordinator this season is an issue.
You can see some of this when the team has some head-scratching play calls on offense. However, some of it is more esoteric. What is the effect on Mac Jones when he has former defensive coordinator Matt Patricia in his ear vs. an experienced OC? If the Patriots called better plays or had an OC who could coach Jones up better, would the results be better?
The answer is yes, and that's not Mac Jones' fault. It's Bill Belichick's.
All stats courtesy of Pro Football Reference