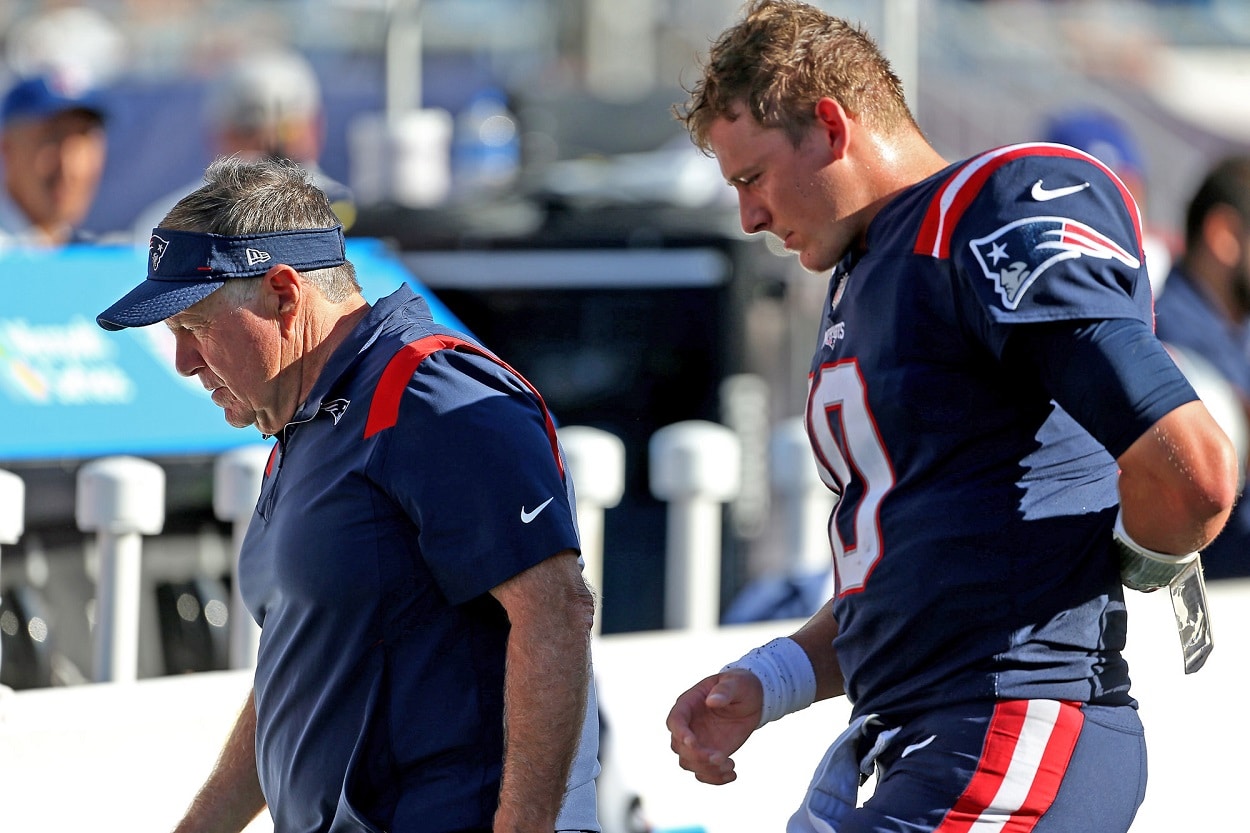 Bill Belichick Needs to Bring Back Another Familiar Face Before Mac Jones and the Patriots Fall Apart
Bill Belichick needs to bring back an old friend to help Mac Jones and the Patriots before it's too late.
Bill Belichick raised eyebrows (and major questions) by bringing back Matt Patricia and Joe Judge this offseason. Both men failed miserably at leading their own NFL franchises, with the former quickly falling out of favor in Detroit and the latter lasting just two seasons with the New York Giants.
Somehow, though, the greatest coach of all time decided to entrust his two longtime sidekicks with developing promising second-year quarterback Mac Jones. 
And while one game may be a small sample size, the way the New England Patriots looked on offense in their Week 1 loss to the Miami Dolphins suggests Belichick massively underestimated just how difficult it would be for an ex-defensive coordinator and former special teams coordinator to run an NFL offense.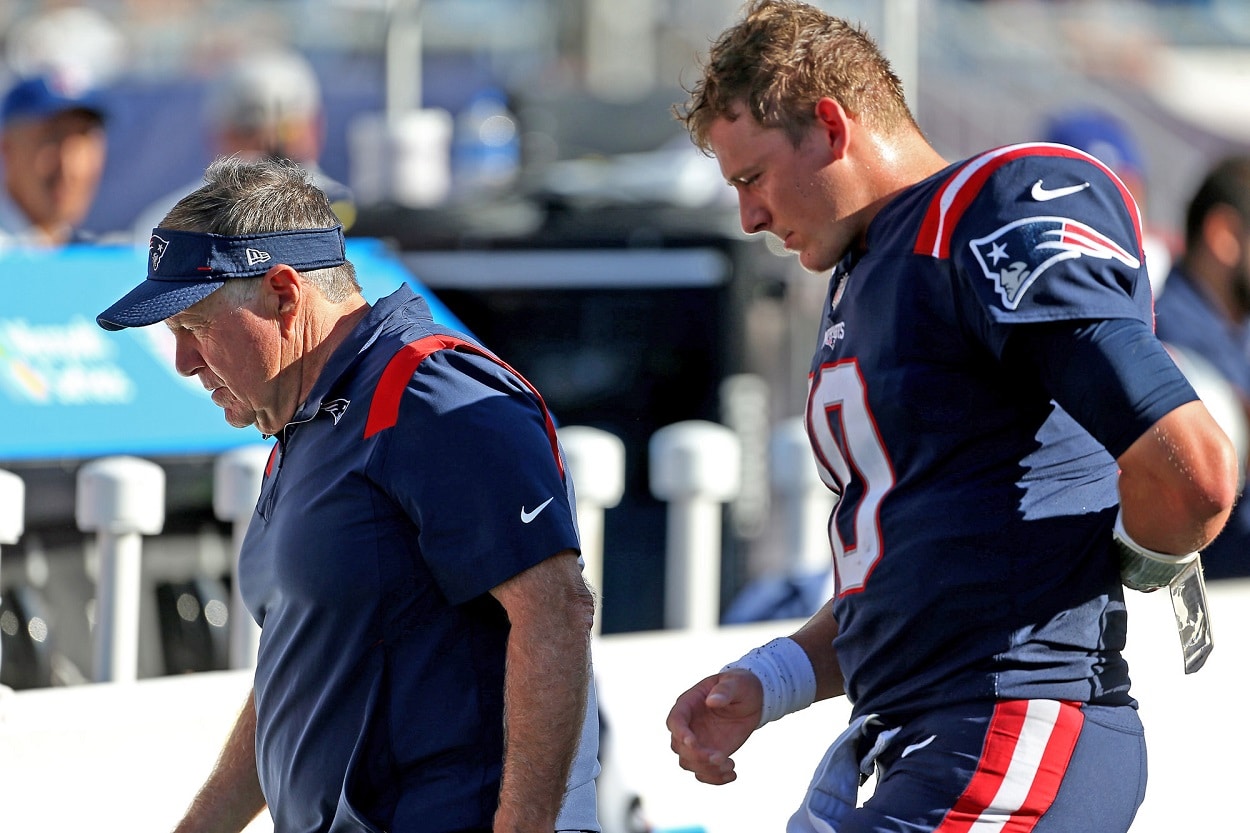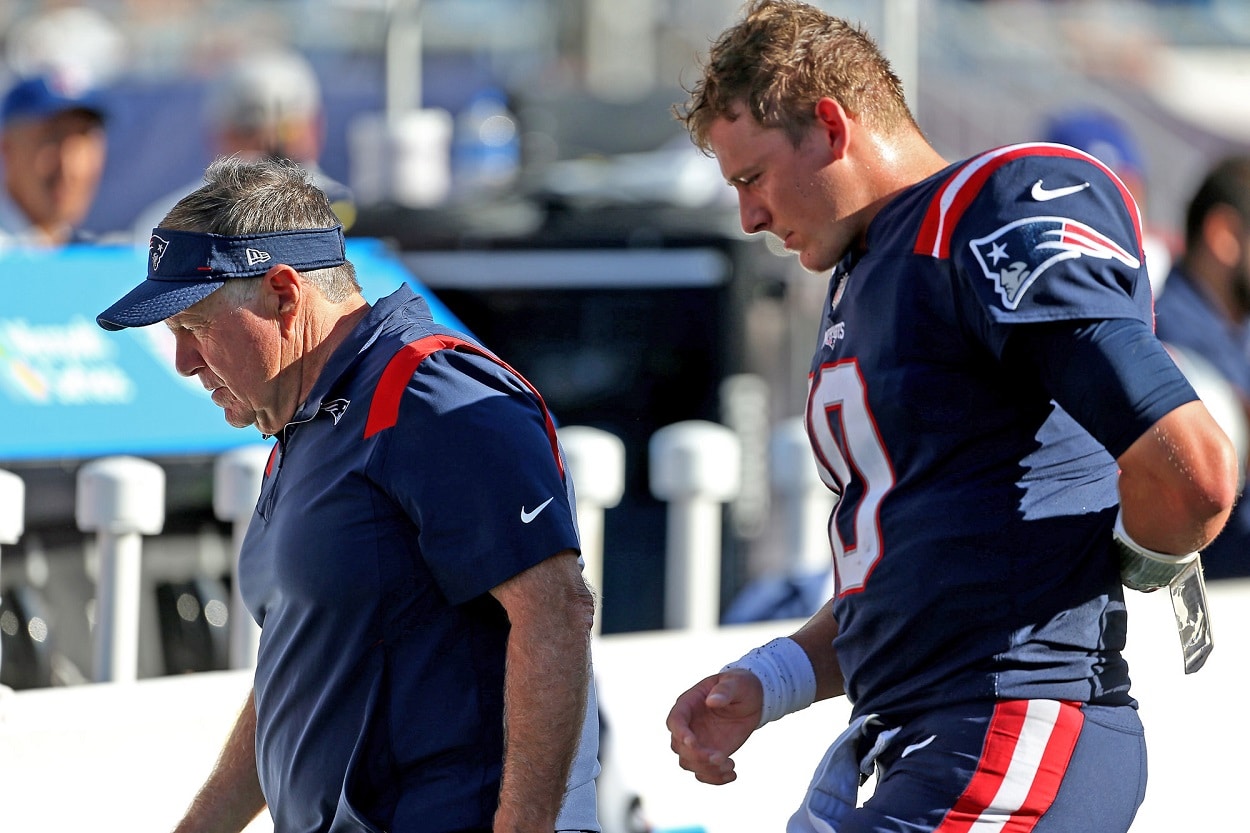 Plus, when you combine their dismal season-opening performance with a summer full of poor training camp practices and pitiful preseason showings, it's hard to view the Patricia-Judge tandem as capable of leading Jones to new heights. 
Ironically, that's exactly why Belichick needs to bring another familiar face back to Foxborough before it's too late. 
This time, though, the coach who would be returning would undoubtedly deserve his job title. And from a player's perspective, re-hiring Dante Scarnecchia would represent a considerable morale boost on multiple levels. 
So, why should Patriots fans be clamoring for Belichick to convince a 74-year-old to come back to work? Although Scarnecchia does play the grandfather role quite well, he became a household name in New England thanks to his ability to develop offensive linemen. And boy, could the 2022 version of the Patriots use someone who actually knows what he's doing with that position group. 
Unlike Patricia, who became a head coaching candidate by calling plays on defense, Scarnecchia boasts a wealth of experience working with arguably the most important unit on the team. From Matt Light to Logan Mankins to Nate Solder to David Andrews, early-round picks to undrafted free agents became key linchpins up front for the six-time Super Bowl champions.
Of course, the players possessed natural skills, but every successful lineman Scarnecchia coached can attest to his brilliance and impact on their career. 
For Belichick, who bizarrely entered the season with no official offensive or defensive coordinator, having a battle-tested coach on his staff with such a deep knowledge of the game would be a big boon for an offense that doesn't necessarily lack talent. 
Sure, the Patriots still need a true No. 1 receiver. And even at their best, neither Hunter Henry nor Jonnu Smith project as top-five tight ends. But between the two-headed running back tandem of Damien Harris and Rhamondre Stevenson, a solid collection of wideouts that includes Devante Parker, Jakobi Meyers, and Nelson Agholor, and the two tight ends, there's still enough firepower at the skill positions to inflict damage on Sundays. 
However, if Jones doesn't have time to throw and the running backs don't have room to run, how can Belichick expect to compete against average teams, let alone the elite ones in the AFC? 
As much faith as the Hoodie may have in his current offensive line coach/senior football advisor, it's hard to believe Patricia is the right man for the job. And if the Patriots don't want to fall out of the hunt by mid-October, they can't afford to let losses pile up (or for Jones to continue to take brutal hits). 
Putting Scarnecchia back in charge of the offensive line would allow Patricia to focus on the game-planning and play-calling aspects of his duties. It would undoubtedly light a fire under the tenuous tackle tandem of Trent Brown and Isaiah Wynn. And it would definitely benefit first-round guard Cole Strange with his transition from playing at Tennessee-Chattanooga to playing in the NFL. 
Ultimately, though, bringing back Scarnecchia would give the team's most important player the best chance to succeed. Mac Jones is a pure pocket passer who excels at making reads and delivering the ball accurately. (Sounds a lot like the guy who played quarterback from 2001-19, right?)
But with the offensive line struggling to perform under Patricia's watch, the second-year signal-caller hasn't looked nearly as poised or comfortable as he did as a rookie. 
Bill Belichick bet big on Nick Saban's hand-picked replacement for Tua Tagovailoa. And he clearly bet big on Matt Patricia and Joe Judge. Yet it's hard to envision Mac Jones making it through the season healthy with how things have gone since the 2021 season ended. 
It's time for Robert Kraft's highest-paid employee to truly do what's best for the team and admit he made a mistake. He still has time to fix it, and there's a clear-cut candidate who can take on the challenge of turning the offensive line from a weakness into a strength. 
Only time will tell if Dante Scarnecchia finds his way back on the sidelines before it's too late.
Stats courtesy of Pro Football Reference
Like Sportscasting on Facebook. Follow us on Twitter @sportscasting19 and subscribe to our YouTube channel.