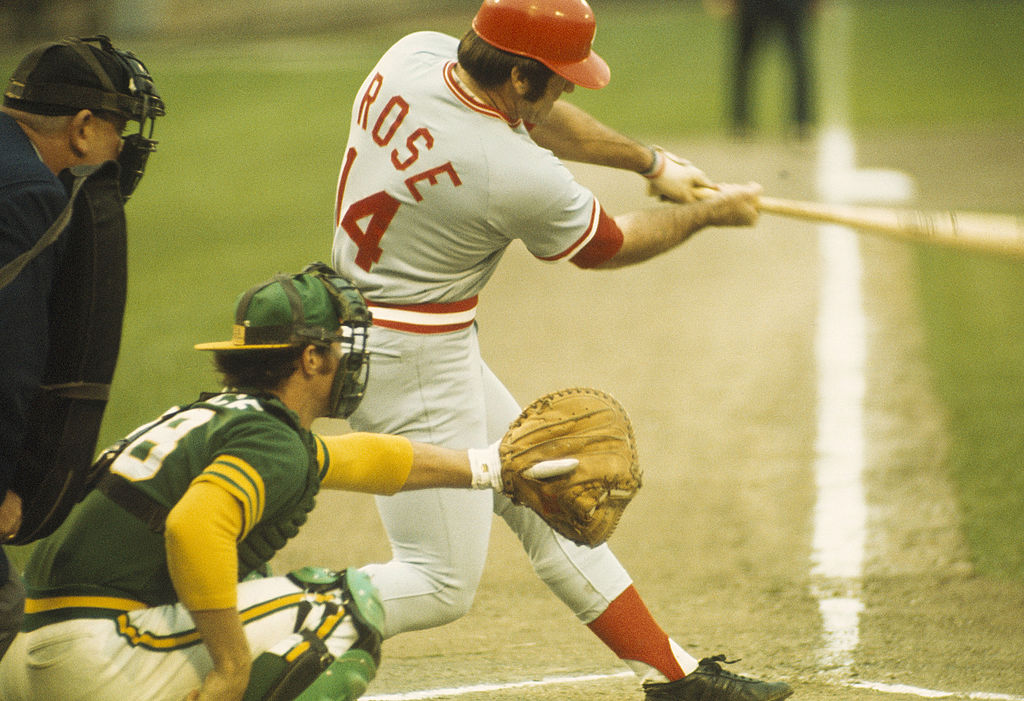 Pete Rose Deserves Ban From Hall of Fame for Cheating, Not Gambling
If the latest allegations that Pete Rose used corked bats are true, it should erase any doubt the all-time hits king deserves permanent banishment from the Hall of Fame.
Pete Rose has had a long-time courtship with controversy. He has made headlines since his early playing days for all the wrong reasons, from plowing over Ray Fosse in the All-Star Game, to his gambling on baseball as manager of the Cincinnati Reds. The latter earned him a lifetime ban from Cooperstown and the Baseball Hall of Fame. 
For years, the all-time hits leader has requested reinstatement to the game on numerous occasions. Most recently, when MLB caught the Houston Astros stealing the opposing teams' signs using technology, Rose seized on the opportunity to speak with any news outlet that would listen, suggesting what he did broke the rules, but at least it wasn't cheating. If the latest allegations that Rose used corked bats for years are true, a lifetime banishment would be appropriate and should remove any doubt of Rose's final place in baseball history. Here's how we got here. 
Pete Rose put up Hall of Fame-worthy numbers
In Pete Rose's 24 years of service in MLB, the numbers are impressive. The 24-year career is a remarkable statistic in and of itself. That lengthy time period allowed Rose to become the all-time leader in games played, plate appearances, at-bats, and his most talked-about record, hits, at 4,256.
Playing for three teams—Cincinnati (twice), Philadelphia, and Montreal—Rose collected numerous awards along the way, including his first season in 1963, when he won Rookie of the Year honors. Rose was nominated to 17 All-Star games, his most well-known in 1970, when Charlie Hustle plowed over catcher Ray Fosse in a violent collision at home plate. Many criticized Rose for over-aggressive play in an exhibition game. 
Rose won NL MVP honors in the 1973 season when he led the league in total hits at 230 and a .338 average. He finished with a lifetime .303 batting average. 
Individual accolades aside, Rose was part of the "Big Red Machine" in Cincinnati that featured Johnny Bench, Tony Perez, and Joe Morgan and won a pair of World Series titles in 1975 and 1976. Rose departed for Philadelphia in 1979, and earned his third Series title in 1980. Rose retired following the 1986 season.
Gambling charges and banishment
Upon his retirement from playing, he remained with the Reds as manager through August 24, 1989. Under his guidance, the Reds had a record of 426–388 and finished with four second-place finishes in the NL West division. 
In February 1989, MLB accused Rose of betting on baseball while managing the Cincinnati Reds. He vehemently denied the initial allegations. 
After months of investigation, in August, Rose accepted a permanent place on baseball's ineligible list. He recognized there was a factual reason for the ban, but MLB declined to make a formal finding that is was because of his gambling. 
Since that finding, Rose has applied for reinstatement four different times with each new MLB commissioner. He last applied for reinstatement in February 2020 during the middle of the Astros' cheating scandal. Each time he has been denied. 
Pete Rose faces multiple allegations of corking bats
According to multiple sources, Rose's gambling on baseball could be the least of his problems. Two former members of the Montreal Expos organization, including Joe Jammer, a groundskeeper who worked for the Expos for 11 seasons, said Rose corked his bats during his time in Montreal as he pursued Ty Cobb's all-time hits record. 
Jammer said he personally saw the machine in the visitors' clubhouse that Rose used to cork his bats. "The guy (Greenberg) was saying Rose had been corking his bat for 20 years…nobody checks him because he's a singles hitter."
Those accusations are congruent with charges levied in a 2001 Vanity Fair article where Rose's former associate Tommy Gioiosa said Pete Rose used corked bats. As Rose did initially with the gambling charges, he vehemently dismissed the allegations. 
In 2010, the corked bat allegations gained traction a second time when Deadspin wrote a story that included x-rays of multiple Pete Rose game-used bats, each of which revealed cork inside the bats. 
Rose's representatives had no comment on the most recent accusations from Montreal. It follows a similar pattern of deny-deny-deny, only to admit guilt later. In this case, Rose doesn't need to admit guilt. There is physical evidence in x-rays that corroborates what numerous sources have said all along—Pete Rose used corked bats when he played baseball. He cheated.
Pete Rose, now 79, is no different than players in the past who used steroids or the Astros, which he so readily denounced. In each example, one party tried to illegally obtain an advantage over the opponent. All of them acted in bad faith. As a result, none of them should ever be allowed into the Baseball Hall of Fame, including Pete Rose.