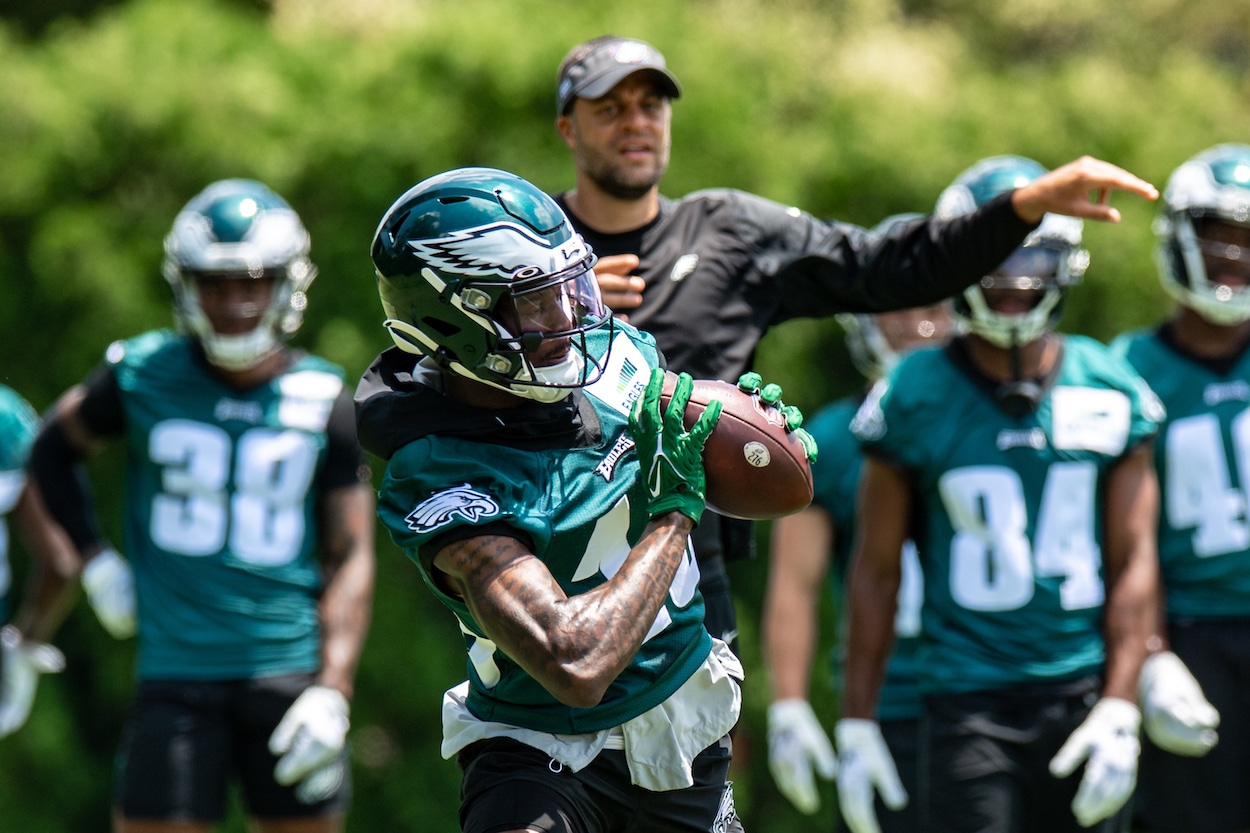 Philadelphia Eagles Training Camp: 3 Position Battles to Watch in 2022
As the Philadelphia Eagles training camp opens ahead of the 2022 NFL season, here are three camp battles to keep a close eye on.
The Philadelphia Eagles squeaked past .500 (9-8) in head coach Nick Sirianni's first season. Now, in year two, the franchise is hoping for big things. The team traded for wide receiver A.J. Brown and is hoping for big things from quarterback Jalen Hurts in year three. In addition to these two crucial players, several camp competitions could help the Eagles step up and take the mediocre NFC East this season. As Philadelphia Eagles training camp gets underway, here are three positional battles to watch closely.
Philadelphia Eagles Training Camp Info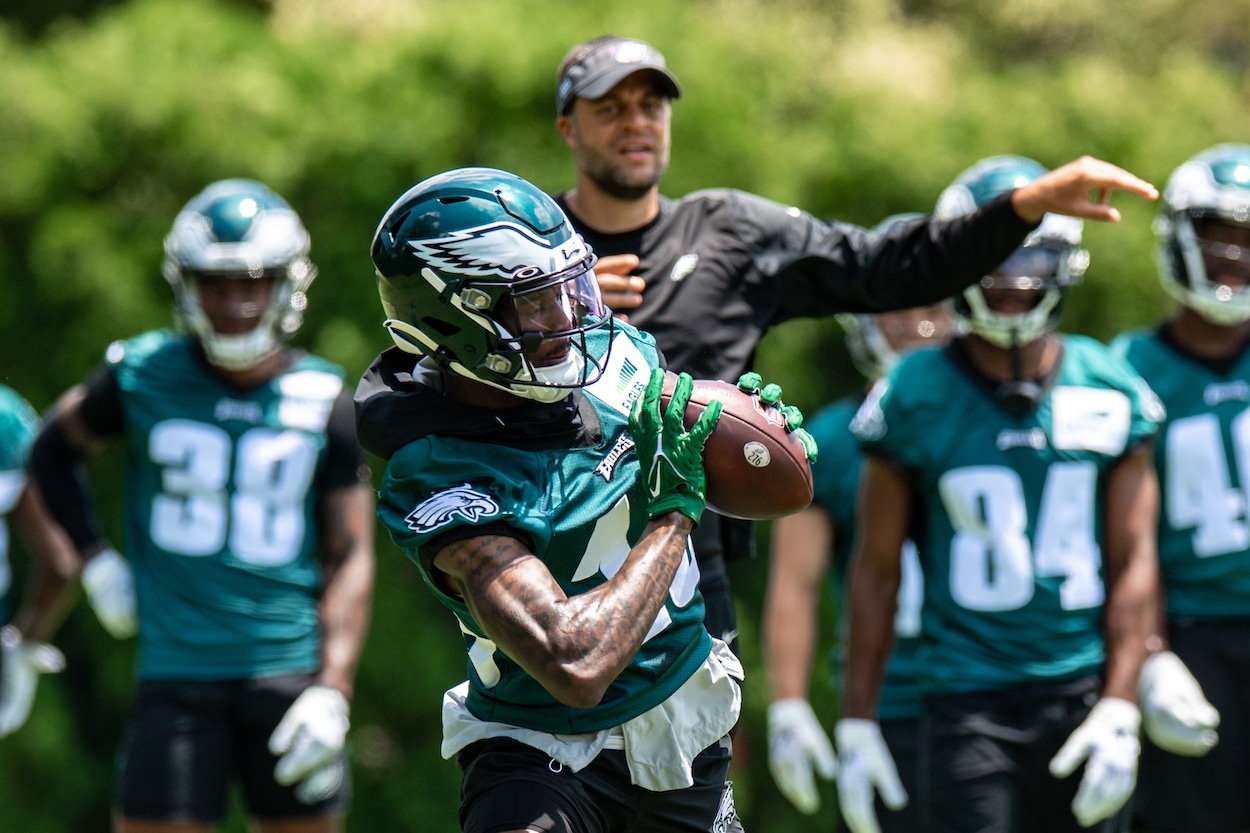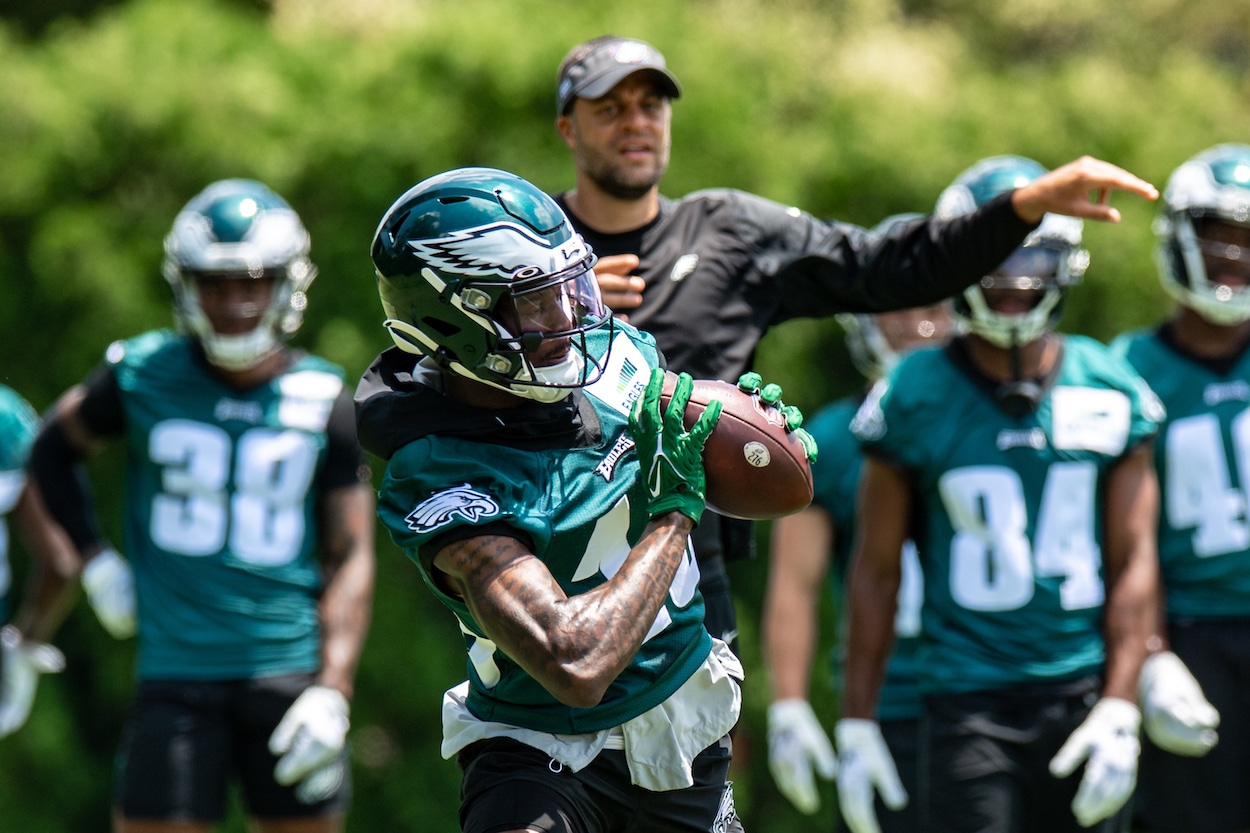 Location: NovaCare Complex, Philadelphia, Pennsylvania
Rookies report: Tuesday, July 26, 2022
Veterans report: Tuesday, July 26, 2022
First game: at Detroit Lions, Sunday, September 11, 1:00 p.m. EST
Battle No. 1: WR3 — Quez Watkins vs. Zach Pascal vs. Jalen Reagor vs. Devon Allen
There is no doubt that the Nos. 1 and 2 Eagles WRs are A.J. Brown and Devonta Smith. After that, it gets dicey. 
The competition for the No. 3 slot will likely come down to Quez Watkins and Zach Pascal. Watkins is the favorite to win the role. He's improved in his first two years in the league, going from seven catches for 106 yards to 43 grabs for 647 yards in 2021. As a third-year WR, it's possible he has a massive breakout year. 
Pascal came over from the Indianapolis Colts, where he's been good for around 40 catches and 400-600 yards each season. He'll make a high-end No. 4 for Jalen Hurts and the Eagles. 
Challenging for those two spots will be Jalen Reagor and Devon Allen. Reagor has disappointed since the franchise picked him No. 21 overall in 2020. However, he is a third-year wideout, too, so his time could finally be here. 
Undrafted free agent rookie Devon Allen could push Reagor not only out of playing time but off the roster as well. Allen played for Oregon from 2014-16 but has focused on the 110-meter hurdles in track and field since. At 27, he's giving football one more shot. 
Reagor should beat out Allen, but the sprinter has speed you just can't teach. If Reagor can't pull it together, he'll soon join the ranks of major draft busts.  
Battle No. 2: MLB — Nakobe Dean vs. T.J. Edwards 
Somehow, standout Georgia linebacker Nakobe Dean lasted until the third round of the 2022 NFL draft. The shoulder injury that caused his draft day slide seems to be 100%, so now the sideline-to-sideline defender is setting his sights on winning the off-ball linebacker spot in Philadelphia Eagles training camp. 
Despite Dean's immense talent, it won't be easy for him to take the job for Week 1. Offseason free-agent signings Hassan Riddick and Kyzir will man the OLB spots, so Dean will compete with incumbent starter T.J. Edwards.  
Edwards had an excellent season in 2021. His 130 tackles were second on the team, and he also added a pick, a fumble recovery, and a sack. 
This Philadelphia Eagles training camp battle will be fierce, but Dean is a first-round talent and should win the job in the end. 
Battle No. 3: RB2 ­— Kenny Gainwell vs. Boston Scott
Miles Sanders led Philly running backs last season with 912 all-purpose yards but had zero TDs. With No. 2 back Jordan Howard gone, the Philadelphia Eagles training camp battle for the second runner is between Kenny Gainwell and Boston Scott. 
Sanders got 53% of the Eagles' offensive snaps last year, so Gainwell and Scott are likely fighting for the other 47% this season. 
Gainwell had a nice rookie season, putting up almost as many receiving yards (253) as rushing (291). He also scored six TDs playing just 29% of the offensive snaps. 
Scott is more of a short-yardage back who scored seven touchdowns out of 87 carries last year. 
Both Scott and Gainwell will have a role, but if you're looking at the competition from a fantasy football perspective, Scott will be the touchdown vulture while Gainwell will be the back with upside but could frustrate with a smaller role if Sanders stays healthy and productive. 
All stats courtesy of Pro Football Reference