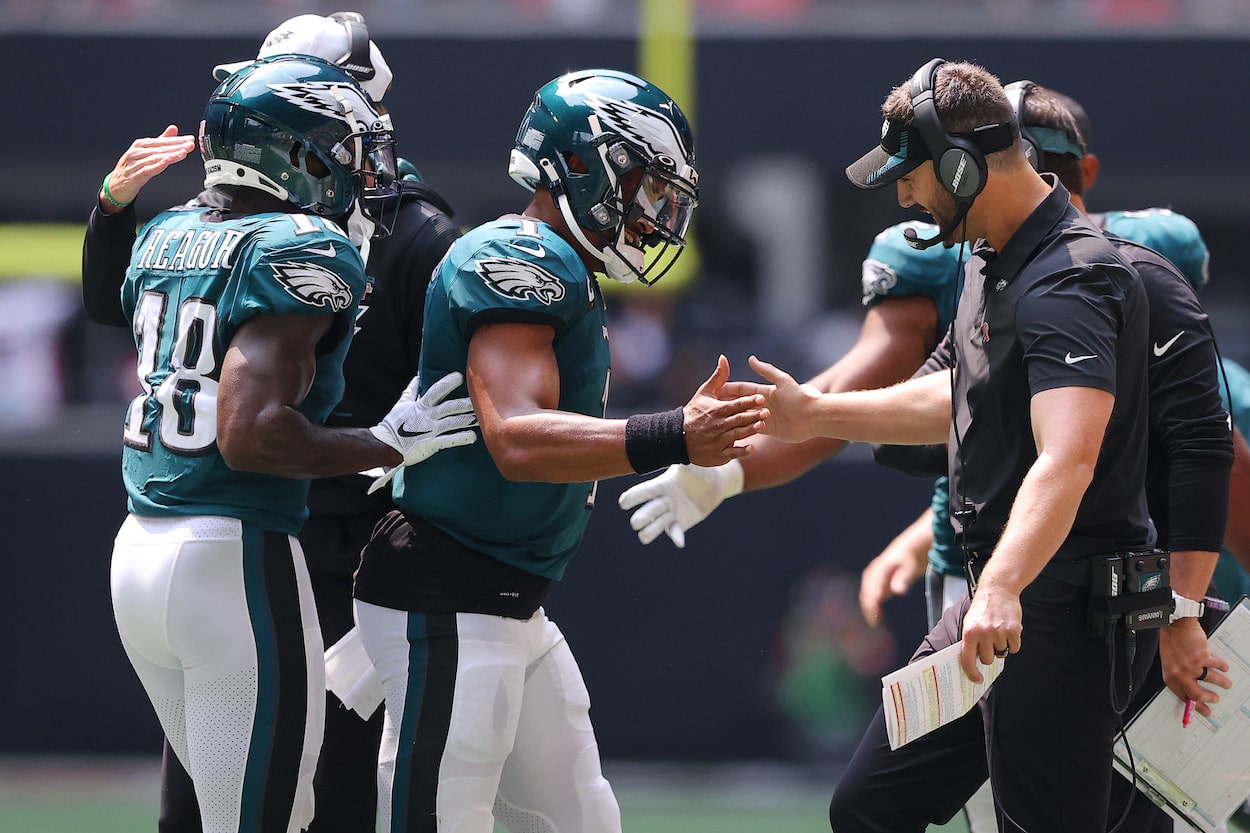 Nick Sirianni Has Noticed a 'Big Difference' in Jalen Hurts That Could Open the Floodgates to a Breakout Eagles Season
Nick Sirianni can already tell Jalen Hurts has improved as a passer over the last few months.
The Philadelphia Eagles have reloaded on both sides of the ball this offseason. On offense, they finally nabbed a No. 1 wide receiver by trading for Pro Bowler A.J. Brown on draft night. And on the other side of the ball, they loaded up by adding Jordan Davis, Nakobe Dean, Haason Reddick, and Kyzir White to the front seven and James Bradberry to the secondary.
Philly now figures to be a outside contender for the NFC crown with its upgraded roster, but one glaring question still remains: Can Jalen Hurts make a leap as a passer and use his arm to lead this team to its sky-high ceiling?
Eagles head coach Nick Sirianni thinks he can do just that.
Nick Sirianni has been impressed with Jalen Hurts the passer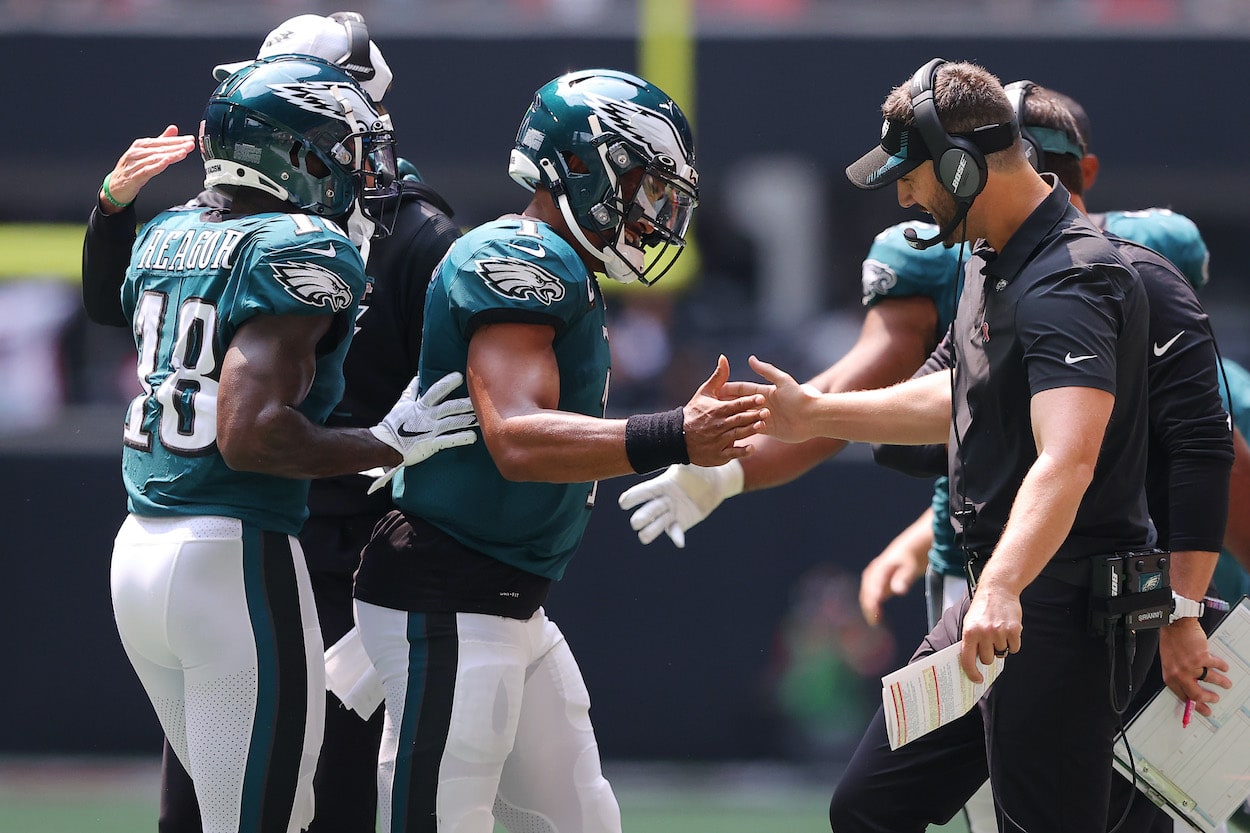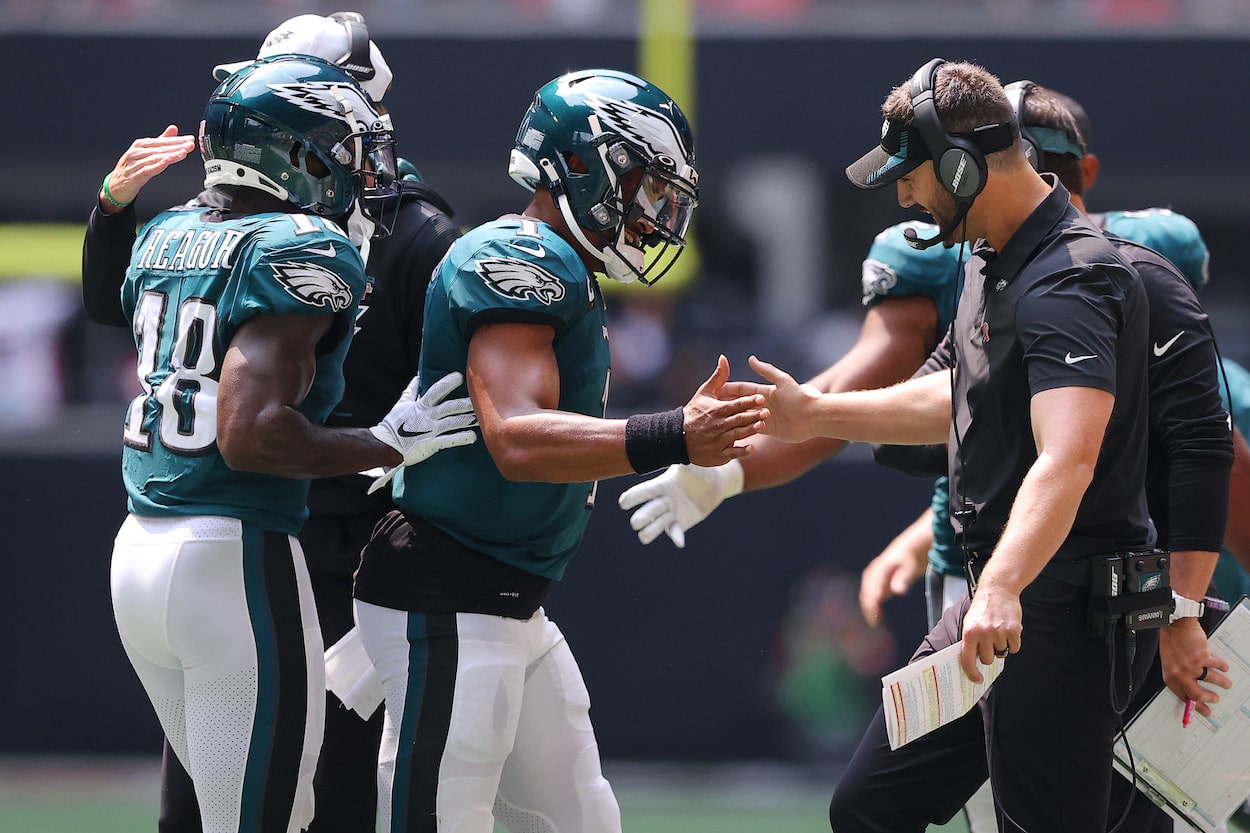 Hurts is already one of the most dangerous dual-threat quarterbacks in the NFL at 23 years of age. His ability to escape pressure and pick up first downs on broken plays was integral to the success of Philadelphia's offense last season.
But you can only get so far as a QB in this league with your legs alone. We saw it in the playoffs just last season. The Tampa Bay Buccaneers sat back in coverage all game and dared Hurts to beat them with his arm, and he wasn't able to do so. He completed just 23 of his 43 pass attempts in the wild-card game and threw two interceptions in a 31-15 loss.
Hurts knows he has to improve as a pocket passer if the Eagles are going to be able to reach their full potential this season, so he's been working hard on his arm strength and accuracy over the last few months. Apparently, the hard work is already paying off.
"I'm noticing a big difference," Sirianni told Sal Paolantonio of ESPN this week. "What I see is a crisper ball. The accuracy I've been very pleased with. You can just see him taking strides every single day with his accuracy because of the fundamentals he has with his feet and his upper body."
Sirianni has been forthright with the media ever since taking the Philadelphia job last January, so he wouldn't make those comments if he didn't truly believe them.
The Eagles will only go as far as Hurts can take them
Hurts exceeded expectations in his first full season as a starting quarterback in the NFL. He led all QBs in rushing yards with 784, threw just nine interceptions in 15 starts, and led the Eagles to the playoffs one year after a 4-11-1 season.
It's fair, though, to say Hurts must improve as a pocket passer. The signal-caller ranked 21st in the league in passing yards (3,144), 23rd in passing touchdowns (16), and 27th in completion percentage (61.3%). There were multiple instances of off-target throws that derailed promising drives, and the Buccaneers provided the blueprint for how to slow down Philly's run-heavy offense.
If Hurts comes back this season as a more accurate, more confident passer than he was in 2021, the Eagles could be a force to be reckoned with in the NFC.
Like Sportscasting on Facebook. Follow us on Twitter @sportscasting19.