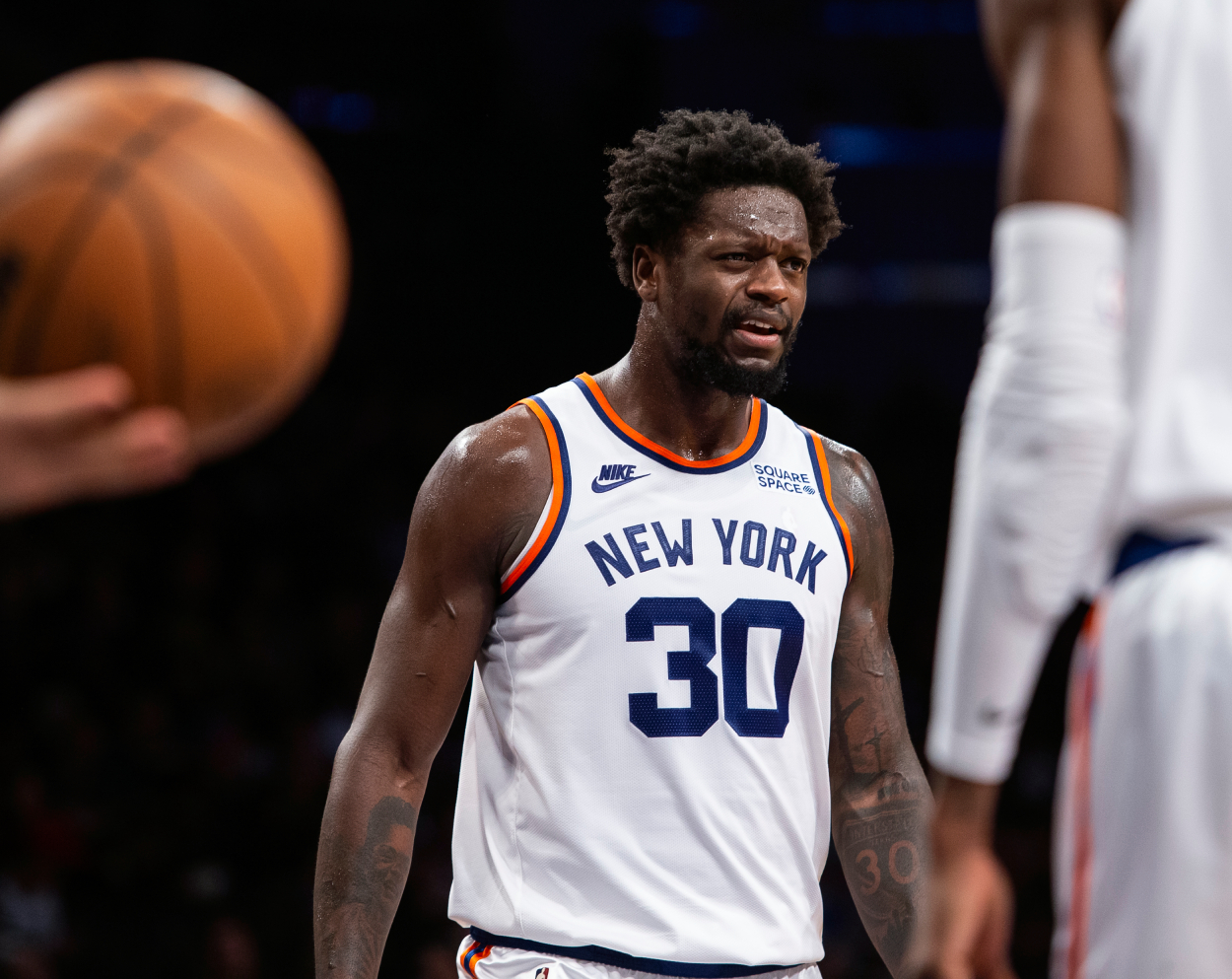 'Pissed' Julius Randle Gets Some Simple Advice from Shaquille O'Neal: 'Nobody Roots for Goliath'
Shaquille O'Neal gave a fuming Julius Randle some simple advice after losing to the Brooklyn Nets.
New York Knicks power forward Julius Randle wasn't a happy camper after Tuesday's loss to the Brooklyn Nets. It wasn't just the two-point defeat that had him fuming, but his anger was mostly directed at the officiating crew. Randle went on a rant after the game about the refereeing, saying he's treated differently because he is stronger than most players. Fellow big-man Shaquille O'Neal, who knows a thing or two about being stronger than most, jumped in with a simple message.
Julius Randle and Knicks coach Tom Thibodeau weren't happy after losing to the Nets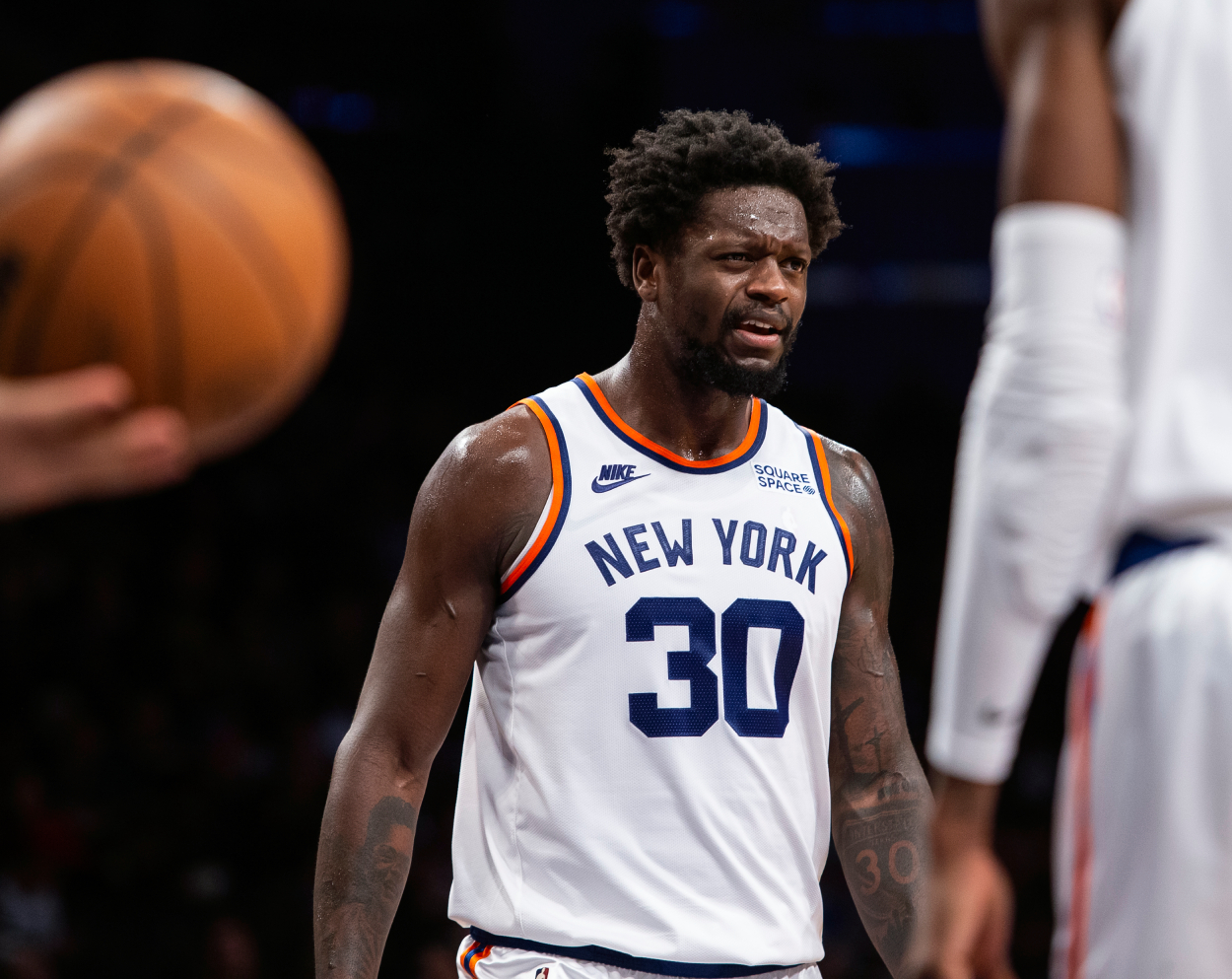 Randle had to be restrained as the buzzer sounded in Tuesday night's 112-110 Nets victory. He had himself a game with 24 points, nine rebounds, and eight assists but felt as if the referees may have had too much of an effect on the outcome. He wasn't alone. Knicks coach Tom Thibodeau felt the same after the Nets attempted 25 free throws to the Knicks' 12.
The coach ended his press conference early, saying he's "pissed'' and "something's wrong'' on the topic of fouls called in the game, per The New York Post.
Randle dug a little deeper.
"You saw what happened. Everyone saw what happened,'' he said. "No need for me to talk about it. Everybody saw what was going on.
"I'm not going to talk about them. I'm going to talk about the game and what the players are doing and I'm not going to talk about those guys. They clearly don't understand the game.''
When notified about the discrepancy in free throws, Randle said, "I shot two, right? Yeah.''
Julius Randle got even more fired up after speaking with the referees, then Shaquille O'Neal offered simple advice
Randle, who was assessed a technical foul during a late timeout, said he spoke with officials after the game to get a read on what was going on. That conversation only fueled his fire.
"I don't know what they're watching or seeing,'' Randle said. "I'm aggressive attacking the paint. I can't be penalized for just being stronger than people. That's the answer I got today.
"They said certain contact doesn't affect me like it affects other players because I'm stronger, so they missed the calls. It pissed me off even more, to be honest. It's not how you officiate the game.
"You know when smaller players guarding bigger players, they get away with a lot more. But certain things are more blatant. If you just slap a guy, I don't care who it is, it's going to affect him."
During Tuesday's Inside the NBA broadcast, Shaq had some simple advice for his fellow big man.
"Listen, Mr. Julius," Shaq said. "Nobody roots for Goliath. Play through it big man. You are correct. You are strong. You're not going to get all the calls. They're not going to slow the game down for us."
Randle was right on his take, and Shaq told him how to deal with the non-calls
If what Randle said about referees letting some calls go because certain contact doesn't affect him like it does smaller players, then he has every right to be upset. A slap on the arm is a foul whether you're 6-foot-1 or 6-foot-10.
Thibodeau said he doesn't care if officials call a tight game or let them play. He just asks for consistency both ways.
"I don't care how the game is called,'' he said, per The New York Post. "I really don't. You call it tight, call it loose. But it's got to be the same."
O'Neal offered a little more advice to Randle on what to do if there's contact, but he's not getting the calls.
"So, what you gotta do, big dog, is make them call a foul," O'Neal said. "When you come down the block, punish them. Somebody reaching? Just take this (elbow) right here and just lift it up three to four inches. You just gotta keep playing. Remember, nobody roots for Goliath.
"Nobody cares. The little guys don't care. They don't care about us big guys. But you can do it. Other big guys did it. Stop whining and stop complaining. They don't care. Just play through it big dog."