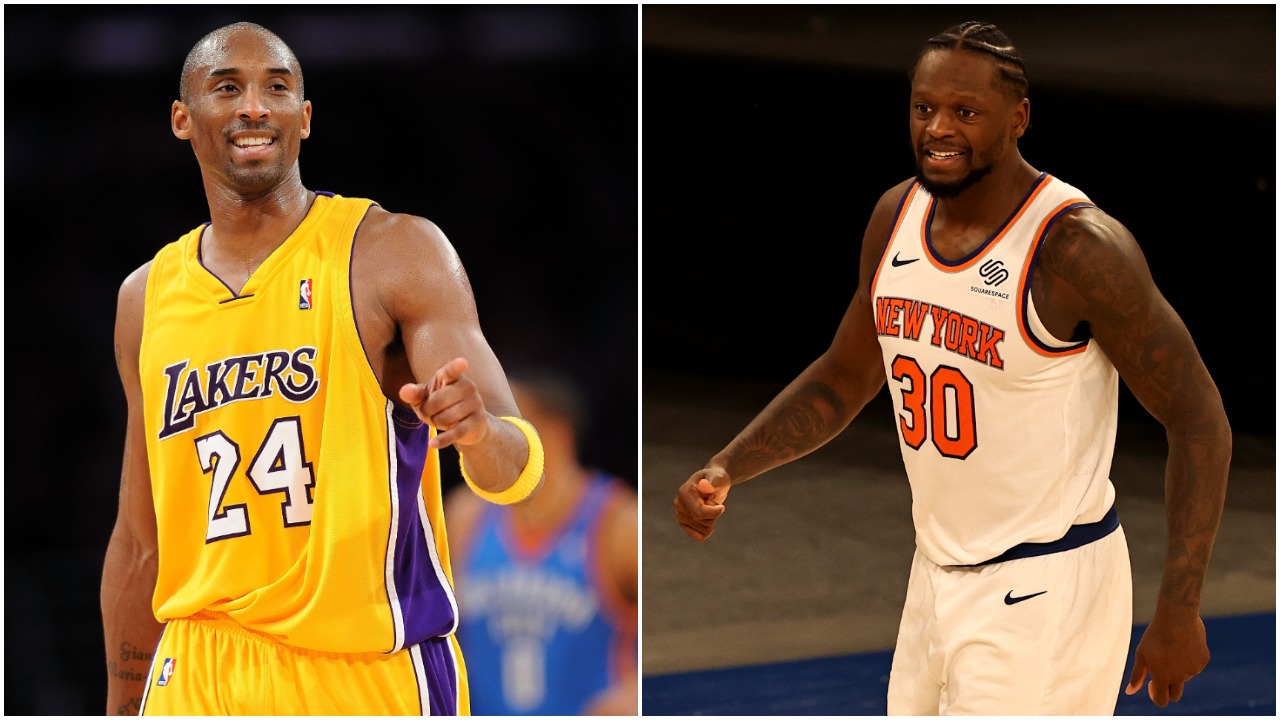 The Julius Randle-Kobe Bryant Story Told During the Knicks-Lakers Matchup Is Chilling in the Most Incredible Way
The story of how Kobe Bryant is still inspiring his former Lakers teammate, Julius Randle, who has the Knicks in the playoff hunt, is incredible.
Famously known for his work ethic, among many other things, the late, great Kobe Bryant served as an inspiration for a number of today's young NBA stars. That includes former LA Lakers teammate Julius Randle, who is having a breakout year in his second season in the Big Apple and has the New York Knicks right in the thick of the playoff race in the Eastern Conference.
Randle, who played four seasons in LA — well, really only three as he played just 14 minutes that first year — squared off against his former team at Madison Square Garden on Monday night. As he was leading the Knicks to a 15-point victory, an incredible story was told during the broadcast that proves just how much of an inspiration Bryant was to him.
Julius Randle's first full season with the Lakers was Kobe Bryant's last
Taken with the seventh overall pick in the 2014 NBA draft, Julius Randle was seen as one of the key players of the future for the LA Lakers as Kobe Bryant's career was winding down. However, after logging just 14 minutes in the Lakers' season opener against the Houston Rockets, he broke his right tibia and was lost for the year.
He returned for the 2015-16 season, which was Kobe Bryant's 20th and final year in the league, and played about as solidly as anyone could have expected, averaging 11.3 points and 10.2 rebounds in 81 appearances, including 60 starts. He became a full-time starter in 2016-17 but began the following season on the bench. Randle still started 49 of 82 games, but he'd clearly lost favor with the front office and was renounced in early July 2018.
He signed with the New Orleans Pelicans ahead of the 2018-19 season and joined Anthony Davis and Jrue Holiday as one of three players to average 20 or more points. Again wanting to test the market — and perhaps realizing his role in the offense would be diminished as the Pelicans were set to draft Zion Williamson — Randle declined his player option and signed a three-year, $62.1 million deal with the New York Knicks.
He was recently named an NBA All-Star for the first time and is having the best all-around season of his career
Now in his seventh NBA season, his second with the Knicks, Julius Randle has become the player many thought he'd be when the Lakers drafted him. It's not as if he was ever a bad player; it's just that everyone knew he was capable of so much more, and he's certainly proving what he can do this season.
Recently named an All-Star for the first time, Randle is leading the Knicks in points (23.0), rebounds (10.7), and assists per game (6.0). He's also fourth in steals, which is encouraging since defense has always been his biggest weakness. Following Monday night's 111-96 victory over the Lakers, a game he dominated with 34 points, 10 rebounds, four assists, two steals, and a block (we'll forget about the seven turnovers for now), New York is on a three-game winning streak and has moved back above .500 at 28-27.
The Knicks currently sit in the eighth spot in the Eastern Conference, which would put them in the play-in tournament, but they are just 1.5 games back of the No. 4 spot held by the 29-25 Atlanta Hawks. They haven't been to the postseason since 2013 but are right in the thick of things and have Julius Randle — and Kobe Bryant — to thank for that.
The incredible story of how Kobe Bryant still inspires Julius Randle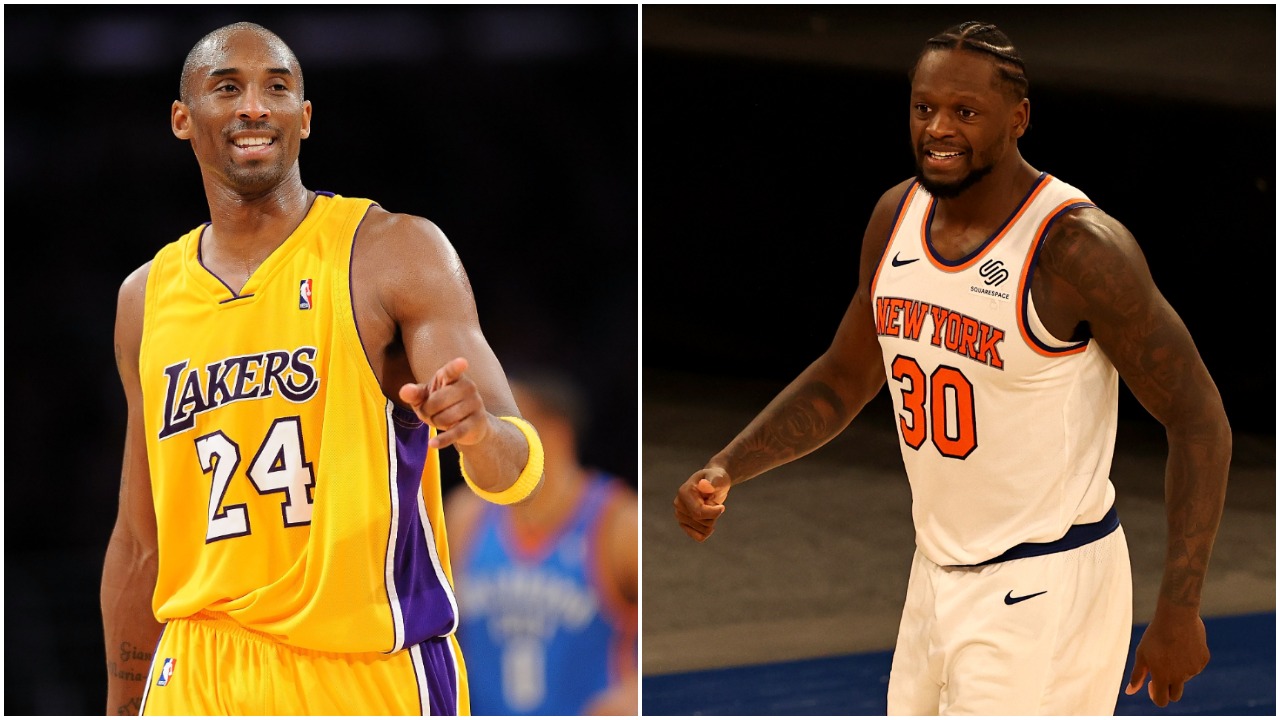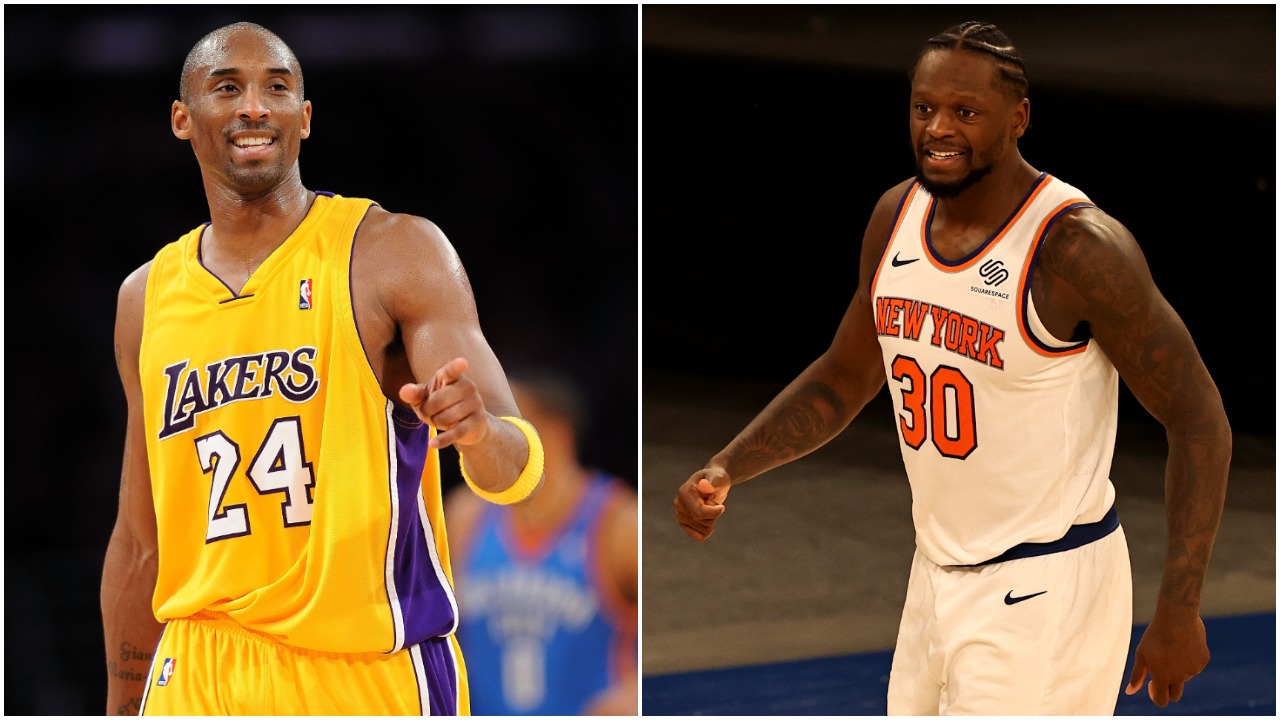 During the broadcast of Monday night's Knicks-Lakers matchup, the incredible story of how Kobe Bryant inspired Julius Randle to put in extra work each time he arrived in a new city was told.
Soon after Randle was drafted, Bryant told him that as soon as the Lakers' plane would land in a new city, no matter how late it was, he would find a gym where he could put in some extra work. That's just pure "Mamba Mentality," right?
Randle has been doing this for quite some time and also has some of his Knicks teammates joining him these days. But that's not the end of the story.
On a road trip to Detroit, Randle found a high school gym willing to stay open so he could get some work in. When he arrived, the school's athletic director told him that he was thrilled to see him there as nobody had made such a request in quite some time. Randle was then told that the last person to show up and work like that was none other than Bryant himself, a moment he said "gave him chills." Here's the full clip:
Trust me, Julius. You're not the only one who got chills.
Stats courtesy of Basketball Reference