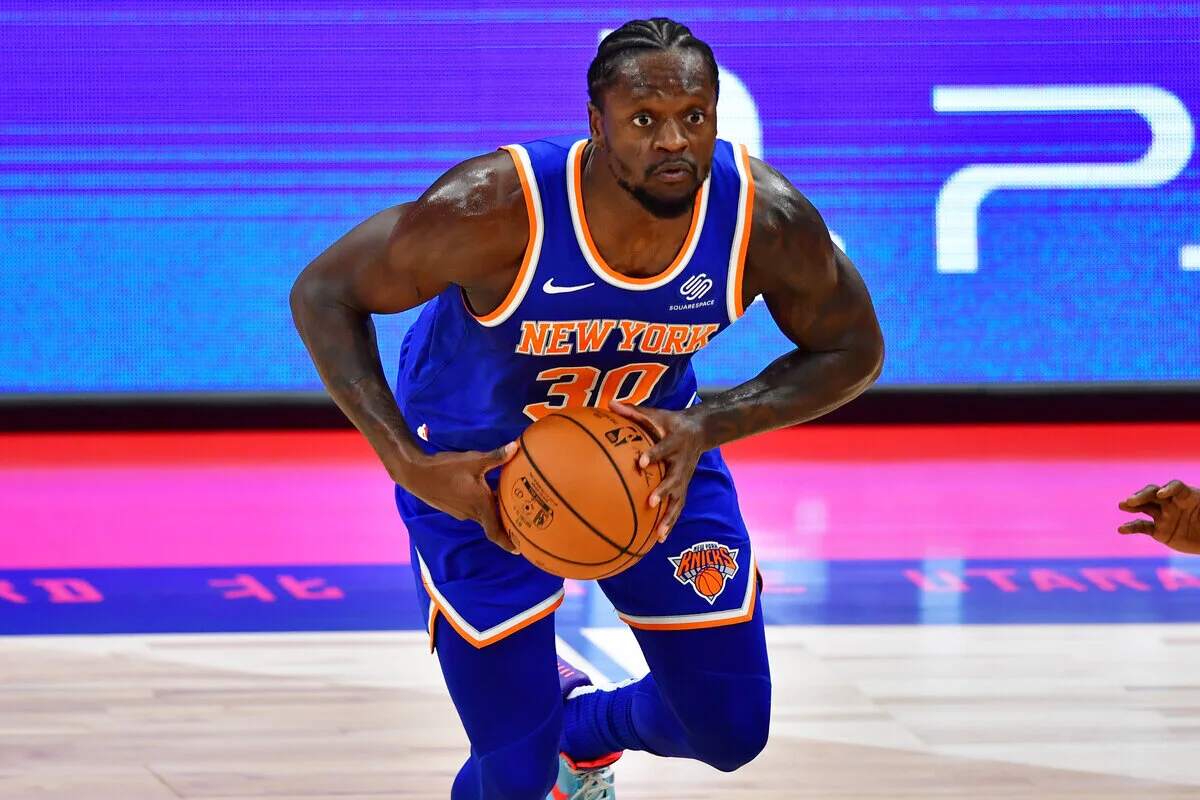 Julius Randle Enjoyed Private Jets and 5-Star Hotels Before He Even Played a High School Game
Veteran big man Julius Randle has found a home with the New York Knicks. Randle has come a long way since he lived the high life playing AAU ball.
Julius Randle found a home with the New York Knicks in 2019. With the veteran big man in the mix, the Knicks have become a potentially dangerous team to watch in the Eastern Conference.
Randle became an All-Star in 2021, joined the All-NBA Second Team, and was named the league's Most Improved Player. The now-28-year-old became an All-Star again in 2023 and joined the All-NBA Third Team that year.
Randle has come a long way in his basketball life, going from the luxurious life in AAU ball to being a leader on the New York Knicks.
Julius Randle has had a solid NBA career
Julius Randle has completed his ninth NBA season, which serves as yet another reminder of the NBA's strange flow of time. The Los Angeles Lakers used the seventh overall selection on Randle in the 2014 NBA Draft, not long before Kobe Bryant began his penultimate season.
A broken leg cost Randle all but one game of his rookie season. Since then, though, Randle has played in at least 64 games each season. That comes with a caveat because of the coronavirus pandemic, which limited the Knicks to only 66 games in the 2019-20 campaign.
For the 2022-23 season, Randle averaged 25.1 points, 10.0 rebounds, 4.1 assists, and 0.7 steals per night.
Randle lived the high life on his childhood AAU team
Julius Randle grew up living the high life in Texas, at least when it came to basketball.
An 11-year-old Randle played for a Dallas AAU team funded by Kenny Troutt, a Texas billionaire. Troutt made his money after founding Excel Communications, a telecommunications company, and selling it to Teleglobe for $3.5 billion, according to Forbes.
Forbes valued Troutt's net worth at $1.5 billion as of July 2023.
As The Undefeated reports, Troutt took his AAU team to road games on private jets. The team stayed in five-star hotels, and Randle recalled watching the Mavericks play during the Dirk Nowitzki era. Randle witnessed Kobe Bryant and the Lakers play Nowitzki's Mavericks. Of course, Randle went on to play with Bryant for two seasons.
Julius Randle has found a happy home with the New York Knicks
As the New York Knicks return to relevance, they're lucky to have Julius Randle. The veteran big man is also hitting 45.9% of his shots from the field.
Randle is currently amidst a 4-year, $117,089,280 contract with $106,444,800 guaranteed. In 2022-23, his base salary was $23,760,000. For the 2023-24 season, he'll earn a base salary of $25,660,800.
The Knicks achieved things they haven't in decades when they won the first round of the NBA Playoffs last season, against the Cleveland Cavaliers, 4-1. They lost the Eastern Conference semifinals against the Miami Heat, 4-1.
Stats courtesy of Basketball Reference and Spotrac
Like Sportscasting on Facebook. Follow us on Twitter @sportscasting19.