USA Basketball CEO Shares Why Julius Randle Didn't Make Olympic Cut
After a breakout season leading the New York Knicks back to relevance, Julius Randle was named the NBA's Most Improved Player and made the All-NBA Second Team. But he won't be an Olympian. Randle didn't make a squad that includes nine first-time Olympians after a career year (24.1 points, 10.2 rebounds, and 6.0 assists per game). He also improved his 3-point shooting from 27.7% to 41.1% on greater volume.
It's a nearly unprecedented leap for a player in his seventh NBA season. The irony is that one of the players who made the USA Basketball roster for Tokyo made the same type of leap.
So why didn't Julius Randle make the cut?
Did Julius Randle's decision to withdraw from the USA Basketball camp in 2019 play a role?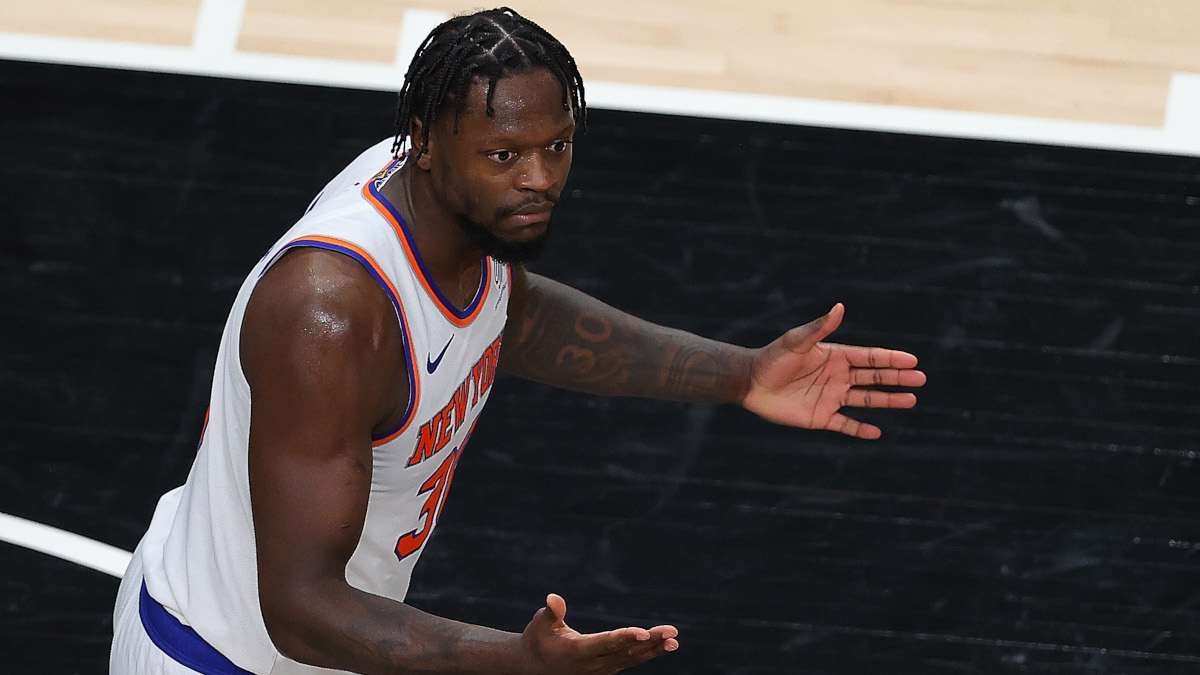 In the summer of 2019, Julius Randle signed a three-year, $62.1 million contract with the New York Knicks. He bet on himself with a one-year prove-it deal with the New Orleans Pelicans in 2018–19. It paid off handsomely, as Randle averaged a career-high 21.4 points per game.
Randle also received a late invitation to USA Basketball's training camp for the 2019 FIBA Basketball World Cup. Team USA had difficulty getting commitments from top-tier players for the non-Olympic event, and Randle was a welcome addition.
In men's football (or soccer as we call it in the U.S.), the FIFA World Cup is the tournament in international play. The Olympics are an afterthought, reserved chiefly for under-23 players. In basketball, the exact opposite is true. It's all about the Olympics. The FIBA Basketball World Cup wasn't even a thing until 2019. Before that, it was simply the FIBA World Championship.
Randle arrived at camp but departed early. He cited a "family matter," according to a USA Basketball press release. If the selection process for the Tokyo roster was as close as officials say it was, Randle probably did not get the benefit of the doubt.
Was it Randle's lack of international experience that cost him?
One of the most controversial selections for Tokyo was veteran big man Kevin Love. He was limited to just 25 games this season for the Cleveland Cavaliers and has missed at least 22 games four times in the last five seasons. In 2020–21, Love averaged a career-low of 24.9 minutes per game. His 7.4 rebounds a night was also the worst mark of his career, and his 12.2 points per game marked his lowest average since his rookie year in 2008–09.
USA Basketball CEO Jerry Colangelo told the New York Post that Love's international experience played a significant role in his selection. Julius Randle has never played for the senior men's national team. Per RealGM, Randle's only appearance on a national team roster was with the under-18 team at the Americas Championship in 2012. Randle's playoff fade (29.8% shooting in a five-game first-round loss) may have also played a role.
Love was with the gold-medal winning squad in London in 2012 and was a USA Basketball team member at the 2010 FIBA World Championship. The U.S. also won that tournament.
"Regardless of who you select, there's always a few names that come up regarding why they aren't there. Randle was right there. He was one of our considerations. Especially when some of the injuries took place, and we lost a few players."

Jerry Colangelo
Colangelo also said he wanted to fill out the roster with role players. Another No. 1 option on the team would have been less than ideal.
The irony of Julius Randle's omission from Team USA
Julius Randle ran away with the Most Improved Player award this season, receiving 98 of the 100 first-place votes. But the other two first-place votes went to Detroit Pistons forward Jerami Grant, who arguably had a more significant breakout, albeit on a much smaller stage.
Grant averaged 22.3 points per game for the Pistons, who signed him to a three-year, $60 million free-agent deal in November 2020. Though he missed 18 games with a knee injury (mostly late in the season as the Pistons might have been tanking giving the younger players minutes), Grant excelled in his first opportunity as a go-to scorer.
Grant's previous career-high was 13.6 points per game with the Oklahoma City Thunder in 2018–19. That was also the only season he averaged more than 10 shots a game until putting up 17.3 a night this season. So he more readily ticks the "role player" box.
Julius Randle had the resume for an Olympic spot. But in the end, USA Basketball went with the old (Kevin Love) and the even newer (Jerami Grant).
Statistics courtesy of Basketball Reference.