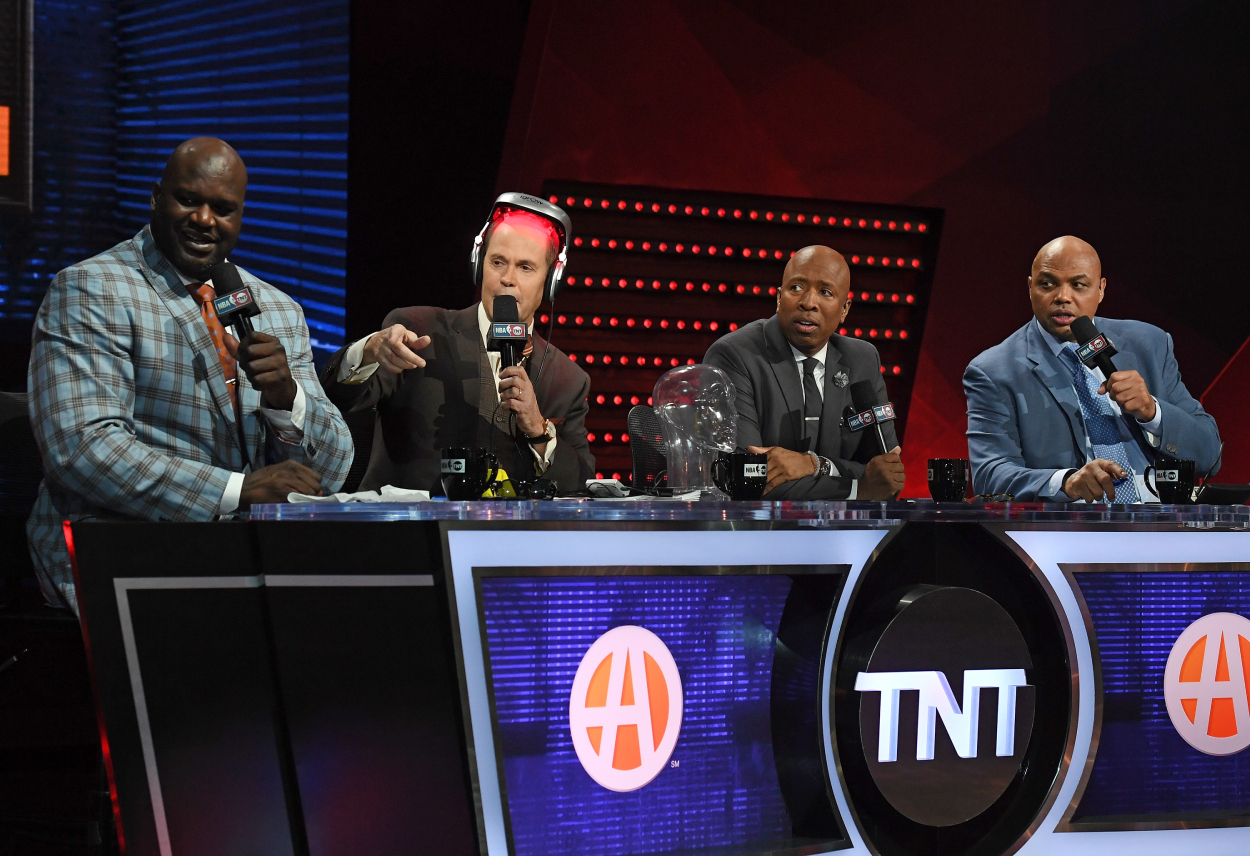 Shaquille O'Neal Gives Strong Arguments for Why TNT's 'Inside the NBA' Has Edge Over Other Similar Shows: 'People Know That We Know What We're Talking About'
Basketball legend Shaquille O'Neal has become a successful commentator on TNT's 'Inside the NBA,' as he, Kenny Smith, Charles Barkley, and Ernie Johnson have become the voice of the NBA. Ahead of the new 2021-22 season, Shaq revealed what gives the hit TNT show an edge over other similar programs.
The best part about a new NBA season tipping off is, of course, the season itself. But it also means the Inside the NBA crew is back on TNT.
Shaquille O'Neal, Charles Barkley, Kenny "The Jet" Smith, and Ernie Johnson have talked basketball on the hit show for years. However, they have also entertained hoops fans everywhere by using their engaging personalities to make the program even more enjoyable.
Obviously, there are many reasons why Inside the NBA has become so successful, but in a recent interview with Sportscasting, O'Neal revealed the certain aspects that give it an edge.
The stars of TNT's 'Inside the NBA' have become the voice of the league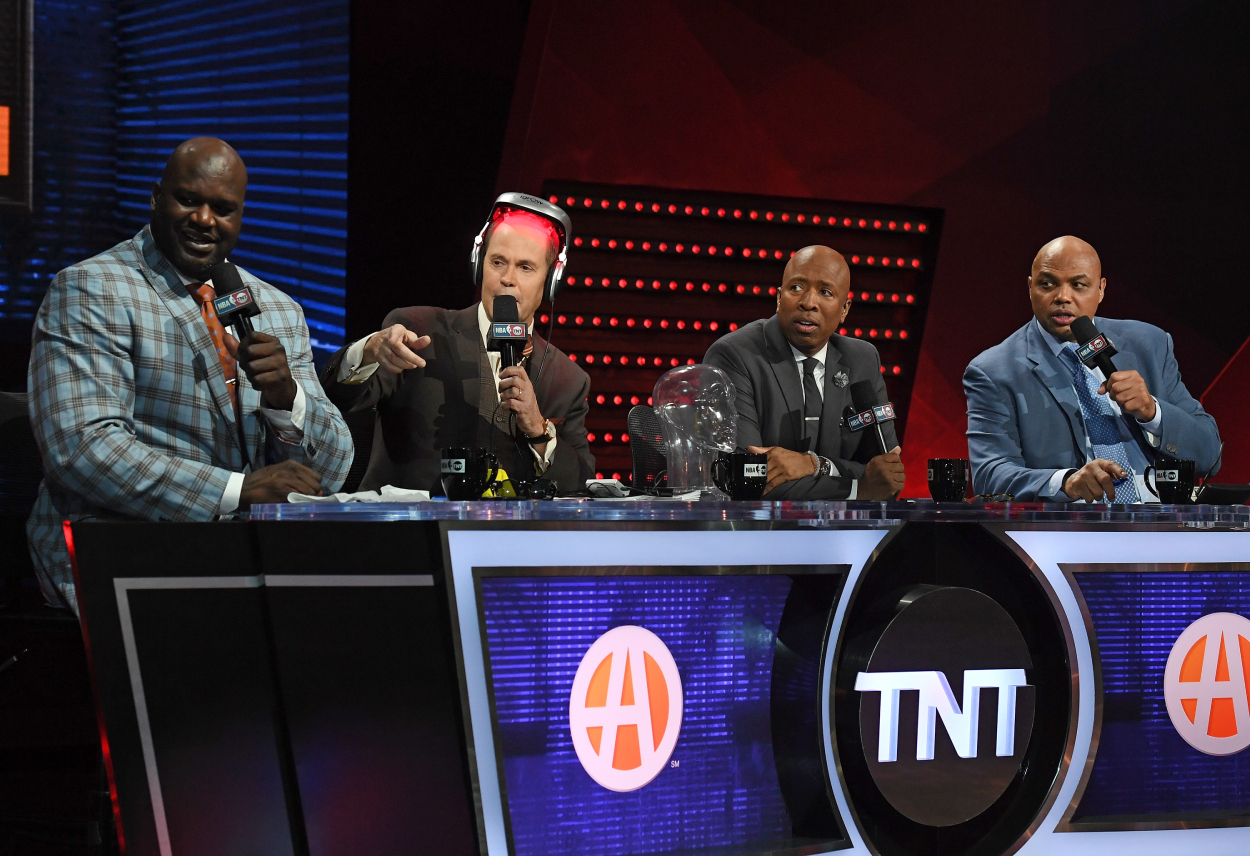 Although the NBA landscape changes drastically every season, there has been one constant throughout the past several years: TNT's Inside the NBA crew.
Ernie Johnson, a five-time Sports Emmy winner, hosts a cast of three iconic former hoops stars in two-time NBA champ Kenny "The Jet" Smith, former league MVP Charles Barkley, and one of the most dominant players of all time in Shaquille O'Neal. The combination of their hilarious personalities and vast basketball knowledge creates an Emmy Award-winning program that Smith believes has made them the voice of the league.
"No disrespect to every other show that goes out, but we're the voice of the NBA," Smith said to Sportscasting in June. "It starts with us nine out of 10 times because we're not investigating. Anyone can investigate … but very few people can look at the game and say, 'No, you're not going to win a championship doing that. No, you're not,' and be on it."
So, why does Shaq believe his hit TNT show has an edge over other similar programs?
Shaq reveals why TNT's 'Inside the NBA' has an edge over other shows
O'Neal is entering his 11th season on Inside the NBA, and he recently discussed what has made the show so successful over the years.
"I think when it comes to experience and resumes, you of the people know that: Charles was a Hall of Famer, Shaq's a Hall of Famer, Kenny has two championships, and Ernie's great at what he does," he recently said to Sportscasting while discussing his latest work with The General Insurance for Black Entrepreneurs Day. "So, I think that people know that we know what we're talking about, right? So, I think that's what gives us the edge. The other thing is, we're funny, and it's very organically funny. It's not staged. The stuff that we do, it just comes up. I think people see that, and I think people understand that."
O'Neal also said he thinks his show is different because fans will turn on a boring game just to see what he and his colleagues are saying and doing.
"We don't look in the camera and give you stats all the time; we tell you how we feel, we tell what we think should be done, and we give our prediction on who's going to do what," he added. "Sometimes we're right; sometimes we're wrong."
From crashing into Christmas trees to taking shots at each other's NBA shortcomings, Shaq and his friends have had some unforgettable moments. But as the former Los Angeles Lakers star said above, part of the reason fans trust their opinions so much is that each of them logged a ton of valuable minutes in the league themselves.
Shaq and his TNT co-stars have legendary resumes
It's hard to find a cast of characters, especially on a talk show, as accomplished as the Inside the NBA crew. Take a look at Smith, Barkley, and O'Neal's basketball resumes below.
Kenny Smith
1987-88 All-Rookie honoree
Two-time NBA champion
Played in the NBA for 10 years and averaged 12.8 points and 5.5 assists
Charles Barkley
Hall of Famer
11-time All-Star
11-time All-NBA honoree
1992-93 NBA MVP
Played in the NBA for 16 years and averaged 22.1 points and 11.7 rebounds
Shaquille O'Neal
Hall of Famer
15-time All-Star
14-time All-NBA honoree
1992-93 Rookie of the Year
1999-2000 NBA MVP
Four-time NBA champion
Three-time Finals MVP
Eighth in NBA history in total points with 28,596
Played in the NBA for 19 years and averaged 23.7 points and 10.9 rebounds
The three former hoops stars may give some hot takes from time to time, but their opinions typically come from a logical place, as few commentators who as much experience as they do.
No matter what makes the show so successful, though, it's now time for basketball fans to get their bags of popcorn ready. A new NBA season begins Oct. 19, meaning it's time for another year of Shaq and company's shenanigans on TNT's Inside the NBA.
Stats courtesy of Basketball Reference