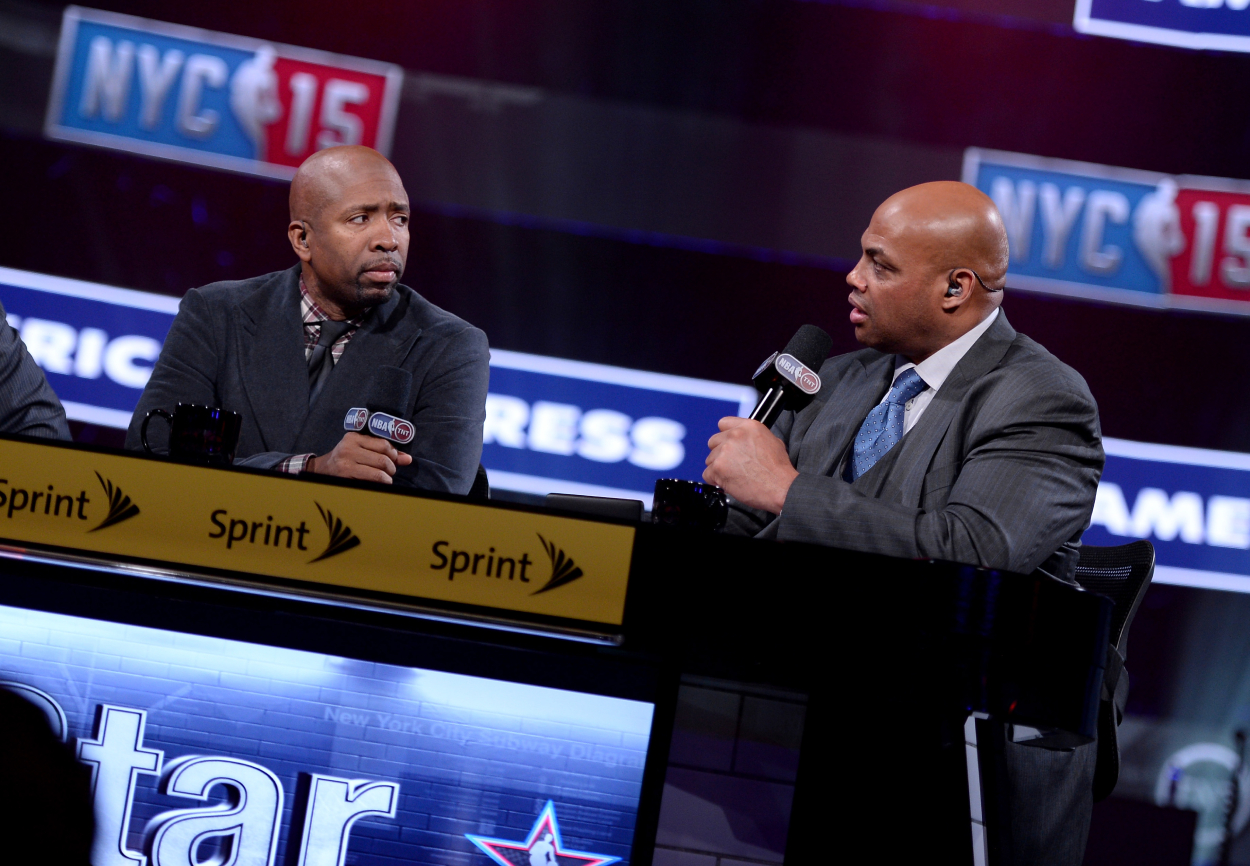 Kenny 'The Jet' Smith Enjoys 'Inside the NBA' for a Reason Much More Important Than 'Running Into Christmas Trees' and 'Racing to the Big Board'
Kenny "The Jet" Smith is known for talking basketball on "Inside the NBA." He has become one of the prominent voices around the sport, along with his co-stars Shaquille O'Neal and Charles Barkley. However, Smith talks about much more than basketball, and has moments more meaningful than when he races to the big board.
"Shut up and dribble" is something NBA players have heard for years, but many of them have chosen not to listen, and they have done so for good reason. While basketball may be their expertise, hoops stars have massive platforms that can help create real change in America, whether through different social justice initiatives or simply discussing an important issue in front of a large audience. Among those stars who haven't been afraid to stand up for what's right is Kenny "The Jet" Smith.
Smith may no longer play basketball and has been a commentator on TNT's Inside the NBA for over two decades, but he refuses to just shut up and talk hoops. Yes, he enjoys the humorous aspects of his show that also features Shaquille O'Neal, Charles Barkley, and host Ernie Johnson, but he also takes great pride in being a part of important conversations.
Kenny 'The Jet' Smith has starred on TNT's 'Inside the NBA' for over two decades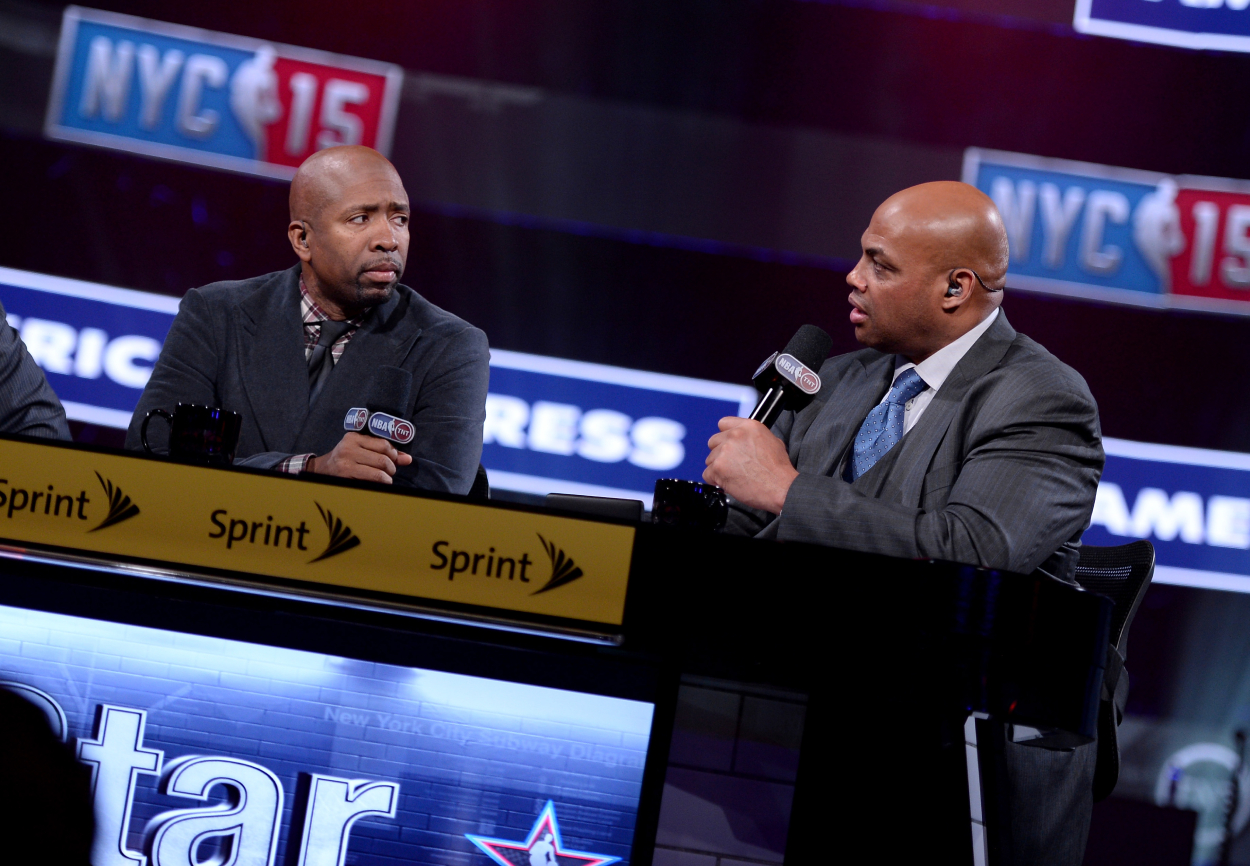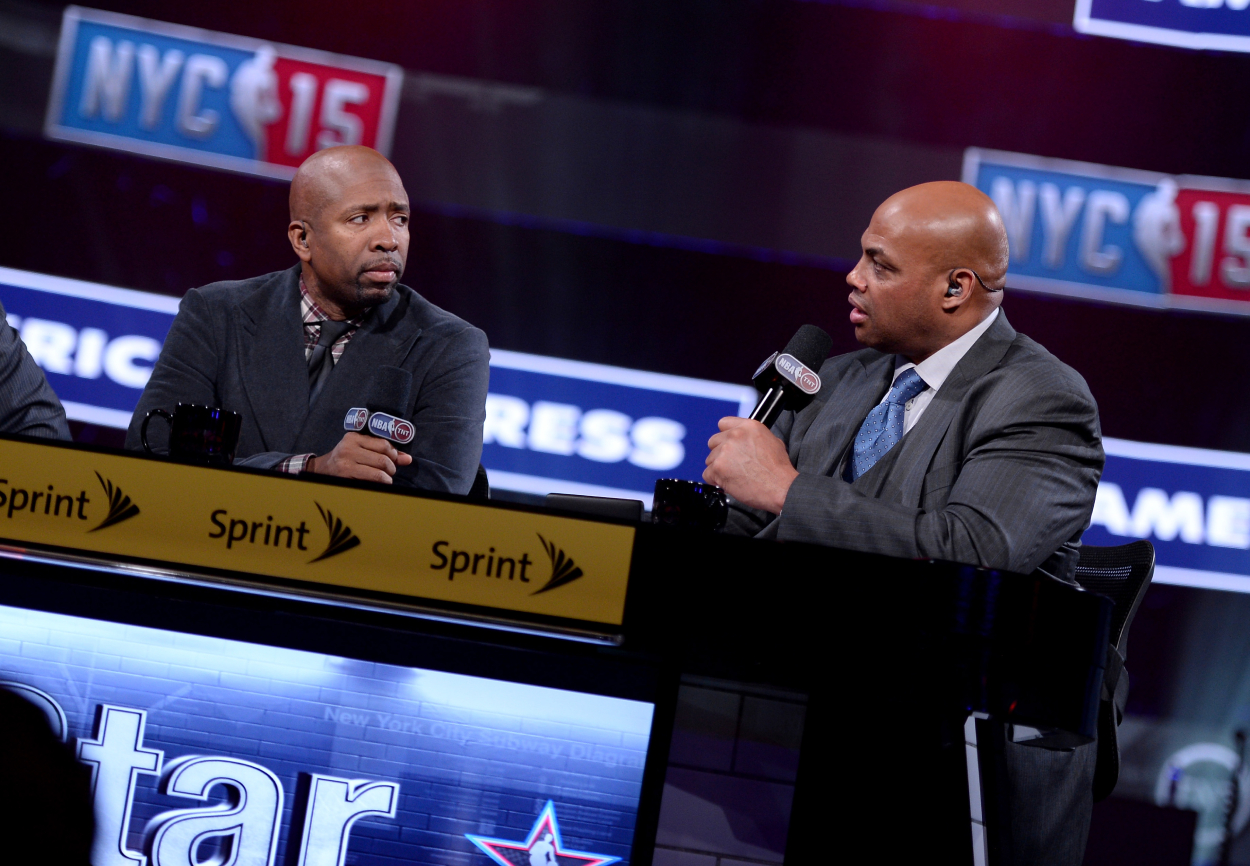 Smith had a pretty successful basketball career that saw him win two NBA championships with the Houston Rockets. However, after last playing in 1996-97, he has become a commentator on TNT, where he has been one of the leading voices of the NBA. 
Whenever a topic is trending around the league, he and his co-stars help drive the narrative. They are arguably the most successful panel of personalities — in terms of their achievements on the court — who talk about the game today, and they all give viewers incredible insight.
"There's nothing that's going to happen on a basketball floor that the three of us haven't seen, heard, or been part of," Smith said in an exclusive interview with Sportscasting while discussing his work with the live video conversation platform, Bright. "There's absolutely nothing. I don't know if any other show can say that."
While it certainly takes up a good portion of their time, basketball isn't the only thing the show's stars talk about.
Kenny 'The Jet' Smith has become an impactful social justice activist
Smith, O'Neal, Barkley, and Johnson have created one of the most entertaining shows in basketball, and because of that, they have had a plethora of hilarious moments.
"From running into Christmas trees and falling, and racing to the big board," Smith said to Sportscasting.
However, they have also had many important conversations.
"But then the social justice and social issues that we attack as well on our show," Smith said. "Having the King family, doing the show from the King Center one time, and having John Carlos on our show, from social standpoints."
In 2020, Smith discussed how streets named after Martin Luther King Jr. aren't being "reinvested back into," with many of them located in their city's "poorest neighborhood."
"Which is kind of a slap in the face to what he has done," Smith said on a January 2020 episode of Inside the NBA. "I think that's an important message, but at the same time … now what are we going to do, and how are we going to change that?"
He also stood in solidarity with players who — in protest of the August 2020 police shooting of Jacob Blake, a 29-year-old Black man in Kenosha, Wisconsin — chose to initiate a wildcat strike during the 2020 NBA playoffs. In doing so, Smith ultimately conducted a protest of his own by walking off the Inside the NBA set.
"As a Black man, as a former player, I think it's best for me to support the players and just not be here tonight," Smith said during a powerful August 2020 episode.
Smith may no longer be playing, but he is among the growing number of current and former players who refuse to just "shut up and dribble."
The NBA has launched many social justice initiatives
Smith and his Inside the NBA crew aren't the only ones throughout the league who have stood up against social injustices.
Many players have used their platforms to create change, most notably LeBron James, who has not only been an outspoken advocate but also helped make voting more accessible in Black communities during this past election by creating his More Than a Vote initiative.
The NBA and National Basketball Players Association also formed the National Basketball Social Justice Coalition that plans to focus on multiple areas, including "criminal justice system reform at the national, state, and local level," per NBA.com.
This is in addition to the league creating the Kareem Abdul-Jabbar Social Justice Champion Award and announcing its inaugural finalists this year: Carmelo Anthony, Jrue Holiday, Tobias Harris, Harrison Barnes, and Juan Toscano-Anderson, according to NBA.com.
The NBA has many impactful voices, and Kenny "The Jet" Smith has proved a prominent one. His job on TNT is about much more than the game of basketball.