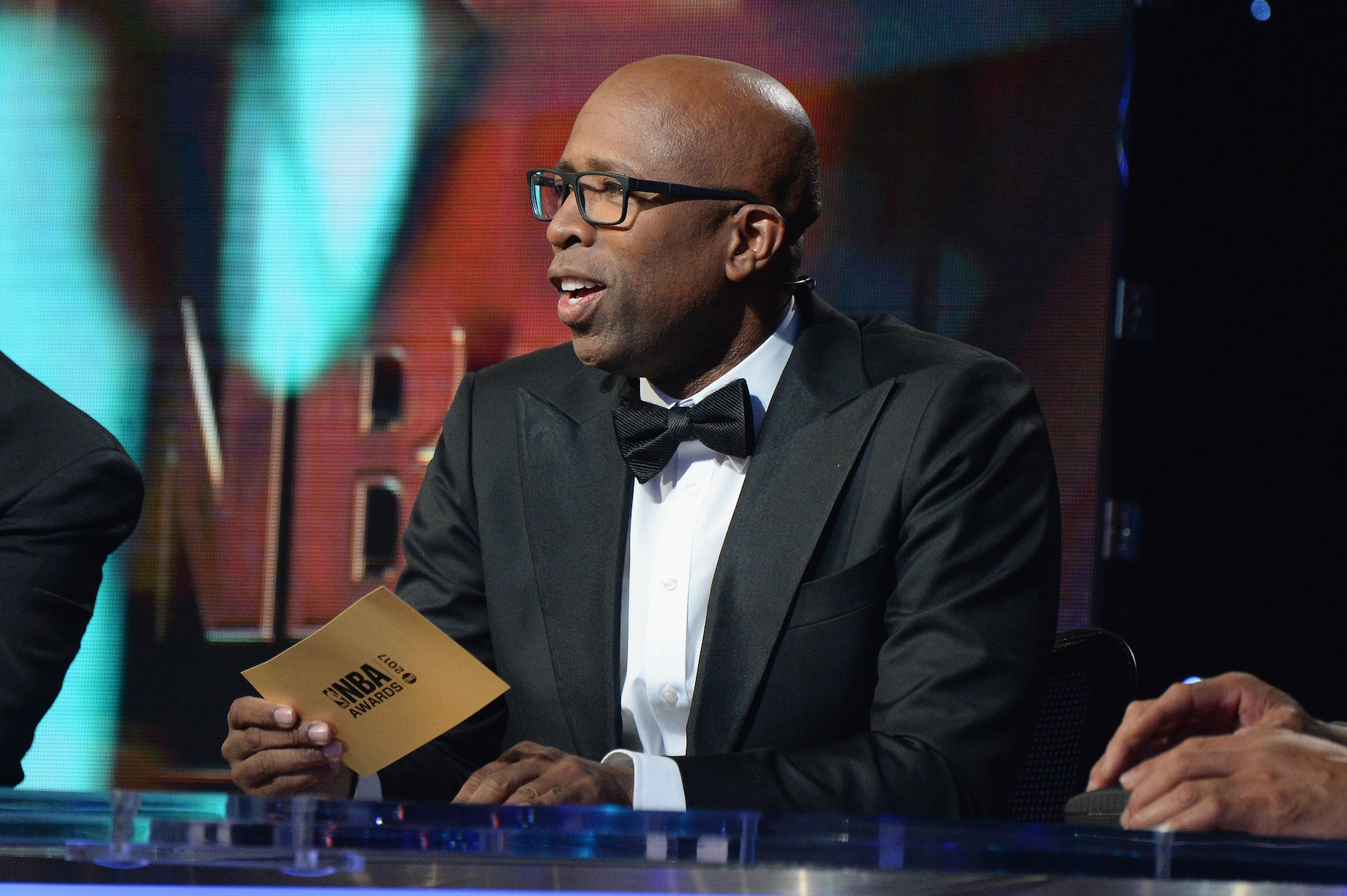 What Is Former NBA Player and Current TNT Analyst Kenny Smith's Net Worth?
Kenny 'the Jet' Smith spent 10 seasons in the NBA before joining TNT's basketball broadcast. What is the former guard's net worth?
In a world full of bland studio shows and bumbling broadcasters, TNT's NBA coverage stands out a breath of fresh air. While the games are still the main draw, Inside the NBA is a pretty entertaining program. Shaquille O'Neal and Charles Barkley may grab most of the headlines, but Kenny 'the Jet' Smith is a key contributor to the team.
In a way, Smith's on-air performances parallel his playing career; while he was never a truly dominant star, he still was a solid performer every time he hit the hardwood. While he might not always steal the spotlight, the former guard and current analyst has used that success to build up a solid net worth.
Kenny Smith's basketball career
While virtually every sport is played somewhere in New York City, basketball has a special place in Big Apple culture. That reality helped players like Kenny Smith develop the skills they needed to go pro.
Smith grew up in Queens and played his high school ball at Archbishop Molloy High School before taking his talents to the University of North Carolina. Over his four seasons with the Tar Heels, the young guard took his game to the next level; he averaged 9.1 points and five assists per outing as a freshman and improved to the point of dropping 16.9 points and dishing out 6.1 assists per game as a senior.
After graduation, Smith entered the 1987 NBA draft and joined the Sacramento Kings as the sixth overall pick. In California, the Jet immediately averaged 13.8 points and 7.1 assists per game, earning a place on the league's All-Rookie First Team.
Despite that success, the Kings eventually traded Smith to the Atlanta Hawks; after half a season, they flipped him to the Houston Rockets. Smith spent six seasons in Texas, winning two NBA championships alongside Hakeem Olajuwon. He then went on to spend brief spells with the Detroit Pistons, Orlando Magic, and Denver Nuggets before retiring after the 1996-97 campaign.
Making the transition to broadcasting
While Kenny Smith was a solid NBA player, the guard never became a superstar. In retirement, however, he's found plenty of fame as part of TNT's NBA broadcast.
As Sopan Deb explained for the New York Times, Smith first appeared on Inside the NBA as a guest shortly after retiring from the association. While the Jet initially joined a more traditional studio show, the broadcast has taken a turn in recent years. With personalities like Charles Barkley and Shaquille O'Neal joining the team, the broadcast's scope has expanded; now, you quite literally never know what you're going to see.
Basketball is still at the core of everything—Smith, Barkley, and O'Neal obviously know an incredible amount about the game—but there's plenty of material that goes beyond the court. Some segments are humorous, thanks, intentionally or not, to Sir Charles; others, like when Smith walked off the set in solidarity with the NBA players refusing to take the court in Orlando, touch on social issues that other sports shows wouldn't touch.
What is Kenny Smith's net worth?
With 10 years of NBA service and an even longer media career, Kenny Smith has built up a solid fortune.
Based on Basketball-Reference's numbers, the Jet earned just over $13 million during his time in the association. CelebrityNetWorth reports that he takes home a $4 million salary from his work on Inside the NBA; those two careers have helped him build up an estimated net worth of $20 million.
During most TNT broadcasts, Charles Barkley and Shaquille O'Neal steal the spotlight. Kenny Smith, however, is a key part of the team's success, and, based on CelebrityNetWorth's numbers, he's well compensated for that role.
Stats courtesy of Sports-Reference and Basketball-Reference