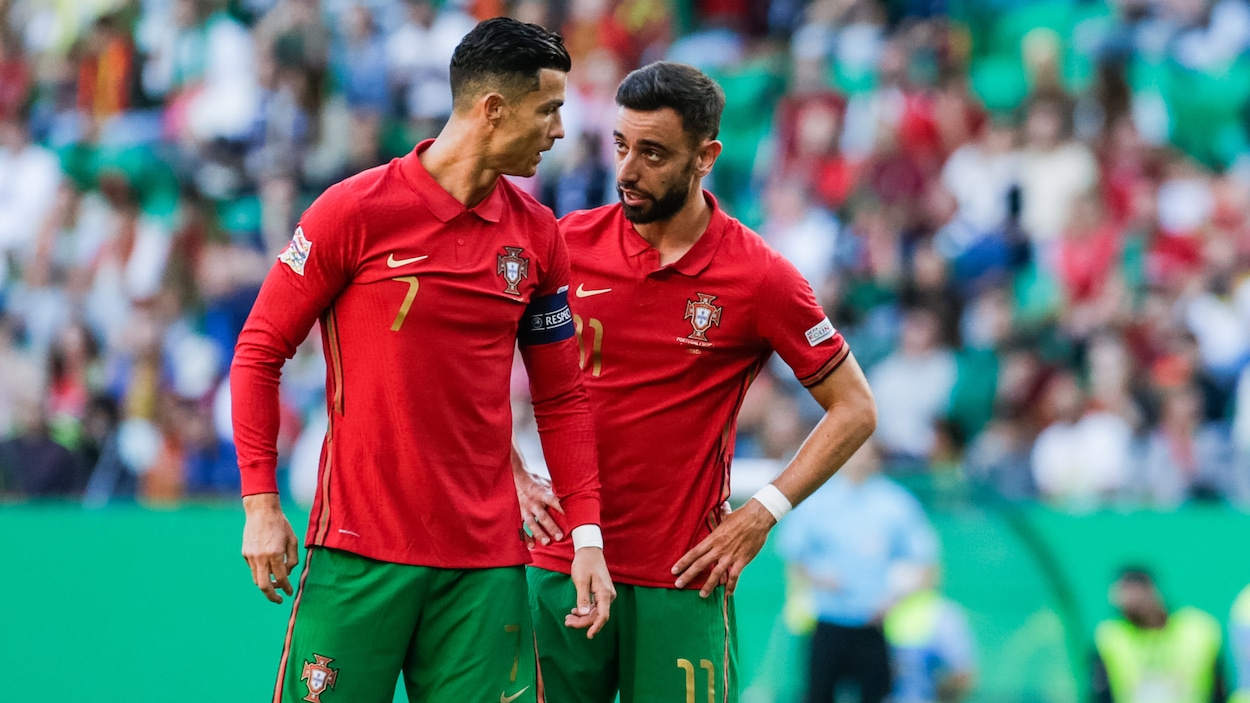 Portugal Drama: Bruno Fernandes Snubs Cristiano Ronaldo After Brutal Manchester United Interview
Cristiano Ronaldo taking aim at Manchester United ahead of the 2022 World Cup could have an adverse affect on the Portugal National Team.
Having the 2022 World Cup in the middle of the professional season presents several challenges soccer fans have never seen before. In addition to the fitness, form, and injury issues, there is also a level of club drama that comes with an in-season vs. an offseason tournament. Case in point, the Cristiano Ronaldo interview with Piers Morgan, where the superstar absolutely destroyed Manchester United, seems like it's stirring up trouble in the Portugal camp between Ronaldo and his United teammate, Bruno Fernandes. And there's video to prove it.
Bruno Fernandes doesn't seem happy with Portugal teammate Cristiano Ronaldo 
As Portugal gets ready to kick off their Group H matches in the 2022 World Cup vs. Ghana on November 24, tensions seem to be running high in the Portugal locker room. And shockingly, it's not between the slew of Manchester City and Manchester United on the roster.
It's between two United players.
Ahead of the World Cup, aging Portugal star Cristiano Ronaldo gave a blistering interview with Piers Morgan (read the most explosive comments below) where he ripped his current club.
While heading into a month-long break seems like a perfect time to trash your club — if you're so inclined — the problem is Ronaldo will take the field for Portugal with several United teammates, including United and Portugal star midfielder Bruno Fernandes.
And judging from a video filmed from the Portugal dressing room as the team arrived in Qatar, Fernandes isn't happy with Ronaldo's scathing assessment of their club.
CNN Portugal caught the tense exchange between the two stars.
As Fernandes arrives in the locker room, he taps Ronaldo on the arm and breezes past him to his locker, which looks to be next to his United teammate's. Ronaldo then extends his hand for a shake.
Fernandes ultimately does grasp Ronaldo's hand, but he leaves him hanging for a bit, and when they do shake, it looks like Fernandes has a terse comment for Ronaldo. He quickly turns and walks away as Ronaldo stands by his locker with a shocked-looking expression.
The CNN banner (in Portuguese) on the screen while this is happening roughly translates to "CR7 interview in total break with Man United."
Now Portugal's all-time leading scorer, playing in his final World Cup, has to find a way to get back on the good side of Fernandes, who, at 28, is in his prime and is one of the best and most important members of the current national team squad. 
What Ronaldo said about Manchester United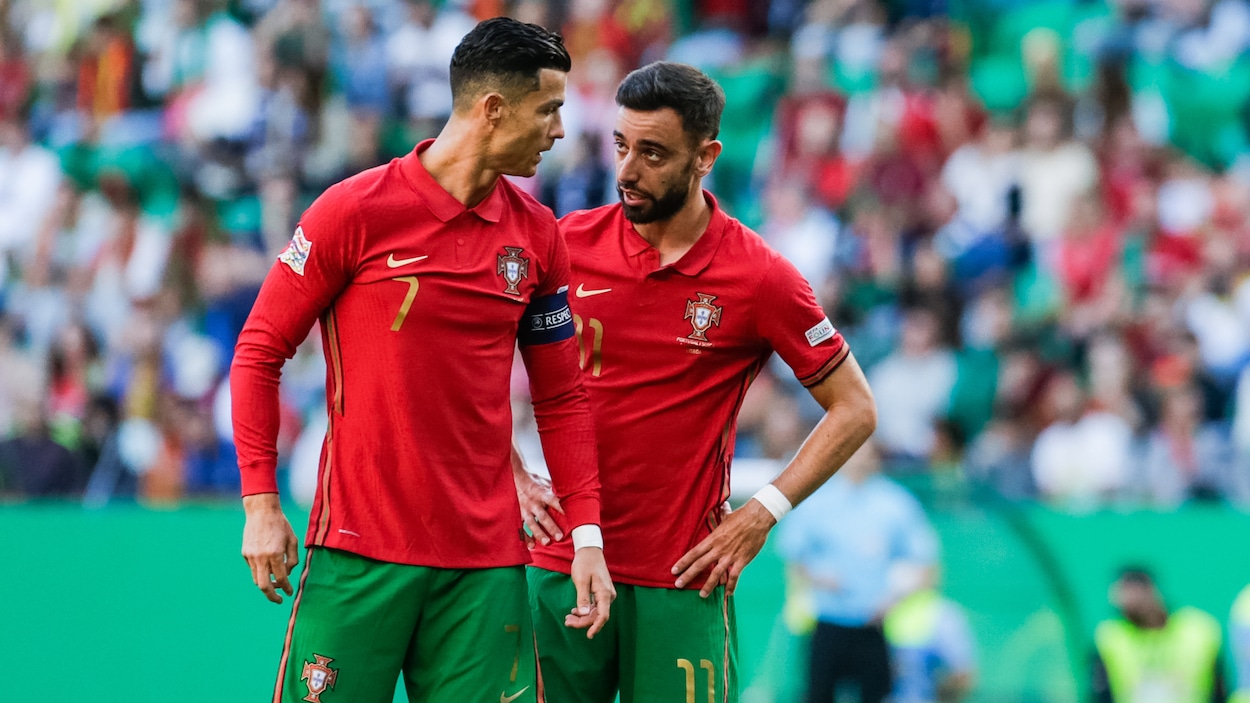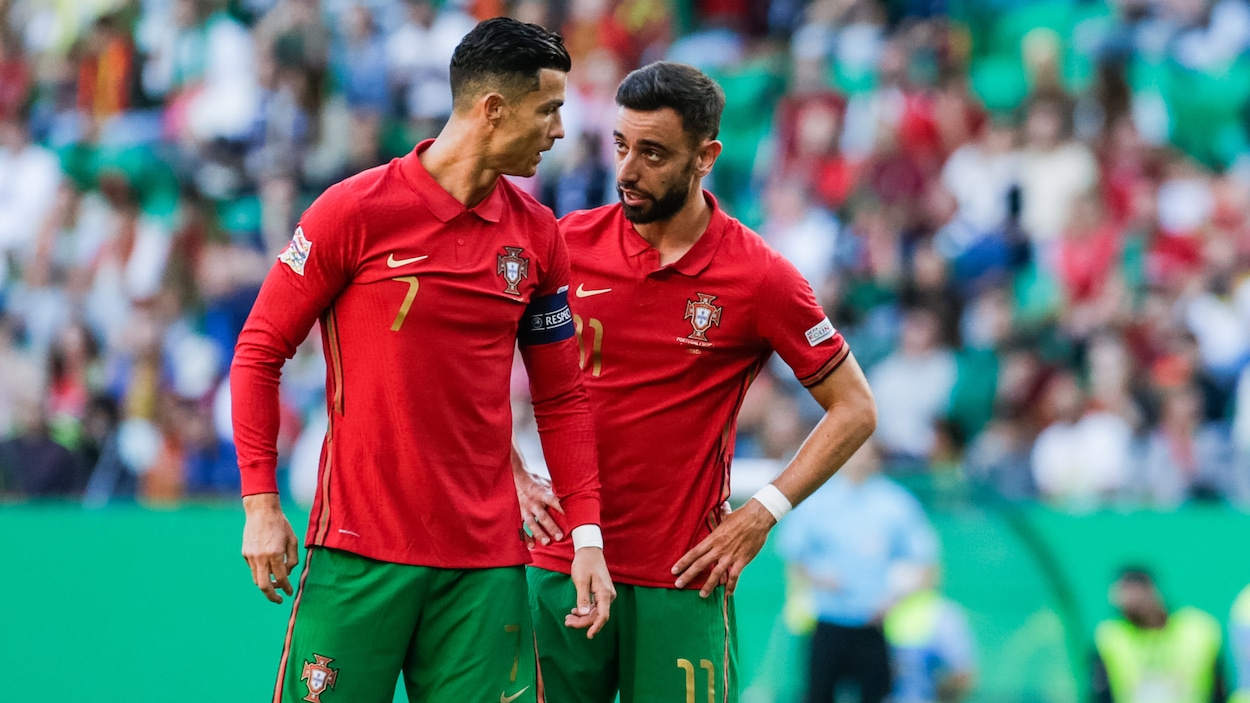 Just days ahead of Portugal's start to the 2022 World Cup, Cristiano Ronaldo sat down with talk show host and professional pot-stirrer Piers Morgan for the interviewer's show, Piers Morgan Uncensored. The longtime writer and TV personality also wrote about the interview in The Sun.
The conversation between the host and the superstar footballer hit on a wide range of subjects, from Ronaldo's career to his family life. However, the most explosive comments from the interview all seemed related to the Portuguese goal-scorer's English Premier League club, Manchester United.
Ronaldo came to United in 2003 as an 18-year-old and played under legendary manager Sir Alex Ferguson until 2009. Nearly a decade at Real Madrid and a few seasons at Juventus followed before the star returned to Old Trafford in 2021.
This season, Ronaldo has clashed with new manager Erik ten Hag and asked for a transfer in the Summer window. Without a realistic suitor, no transfer materialized, and now Ronaldo is stuck on United, at least until January.
Going back to the Red Devils after the Portugal World Cup run already would have been difficult, but it seems downright impossible after the Piers Morgan interview. Here are the highlights of what Cristiano Ronaldo said about his club and the people involved in it.
On Manchester United:
He says he feels 'betrayed' by the way he has been treated by Manchester United, annoyed that he's been made a 'black sheep' who is blamed for everything that has gone wrong at the club, and believes he is now being actively forced out.

He was shocked by the lack of improvements to training facilities [when he returned to the club], from the pool and the gym to the kitchen (nutrition and diet), and in technology.

'The progress was zero,' he sighs. 'Since Sir Alex left, I saw no evolution in the club. Nothing had changed.'

And he was dismayed by the dismissive attitude of many of the younger players, who seemed to have no interest in learning the lessons he had gleaned in his magnificent career.

Cristiano Ronaldo on the state of Manchester United
On former Manchester United caretaker manager Ralf Rangnick:
If you're not even a coach, how are you going to be the boss of Manchester United? I'd never even heard of him.

Ronaldo on his former manager
On current Manchester United manager Erik ten Hag:
I don't have respect for him because he doesn't show respect for me. If you don't have respect for me, I'm never gonna have respect for you.

Ronaldo on his current manager
On former United teammate and vocal critic Wayne Rooney:
I don't know why he criticises me so badly … probably because he finished his career and I'm still playing at high level. [Then he chuckles and adds] I'm not going to say that I'm looking better than him. Which is true …

Ronaldo on his former teammate
Ronaldo wraps up the interview by saying he is now fully focused on Portugal winning the World Cup, but that he did the interview because he loves the fans and thinks it's time for them to know what is going on with United.
Unfortunately for the Portugal National Team, it doesn't seem like Bruno Fernandes agrees with him.