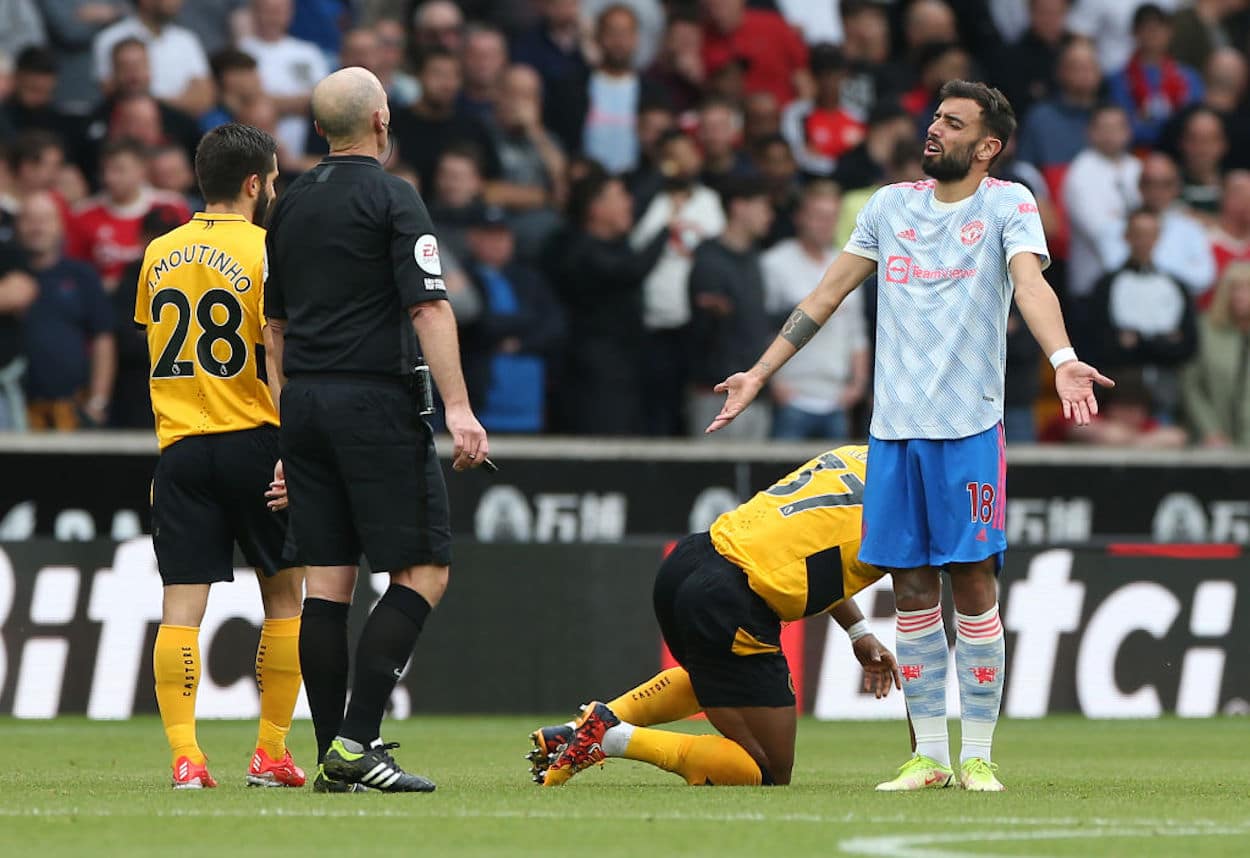 Mike Dean's On-Field Actions Caused a Positioning Problem for Bruno Fernandes
For Premier League fans, the name Mike Dean lives on in infamy. Some recent comments from Bruno Fernandes won't help matters, even if the referee was doing things right.
Dissatisfaction with referees is a fan experience that truly transcends national borders. In North America, football fans will inevitably complain about questionable catch rulings or a missed holding call. Across the pond, soccer supporters will wonder how the referee (and subsequently VAR) missed something as obvious as a hair pull. Among that latter group, there's one name that just about everyone knows: Mike Dean.
During his time on the pitch — he's since retired to exclusively serve as a video assistant referee — Dean became known for his questionable calls and penchant for grabbing the spotlight. During a recent interview with The Athletic, Bruno Fernandes even used the official as an example of someone who caused him a specific problem on the pitch.
That issue, however, probably wasn't what you think. Instead, the Portuguese midfielder found that Dean's positioning made it harder for him to find spaces on the pitch.
Mike Dean would inadvertently make Bruno Fernandes' life harder on the pitch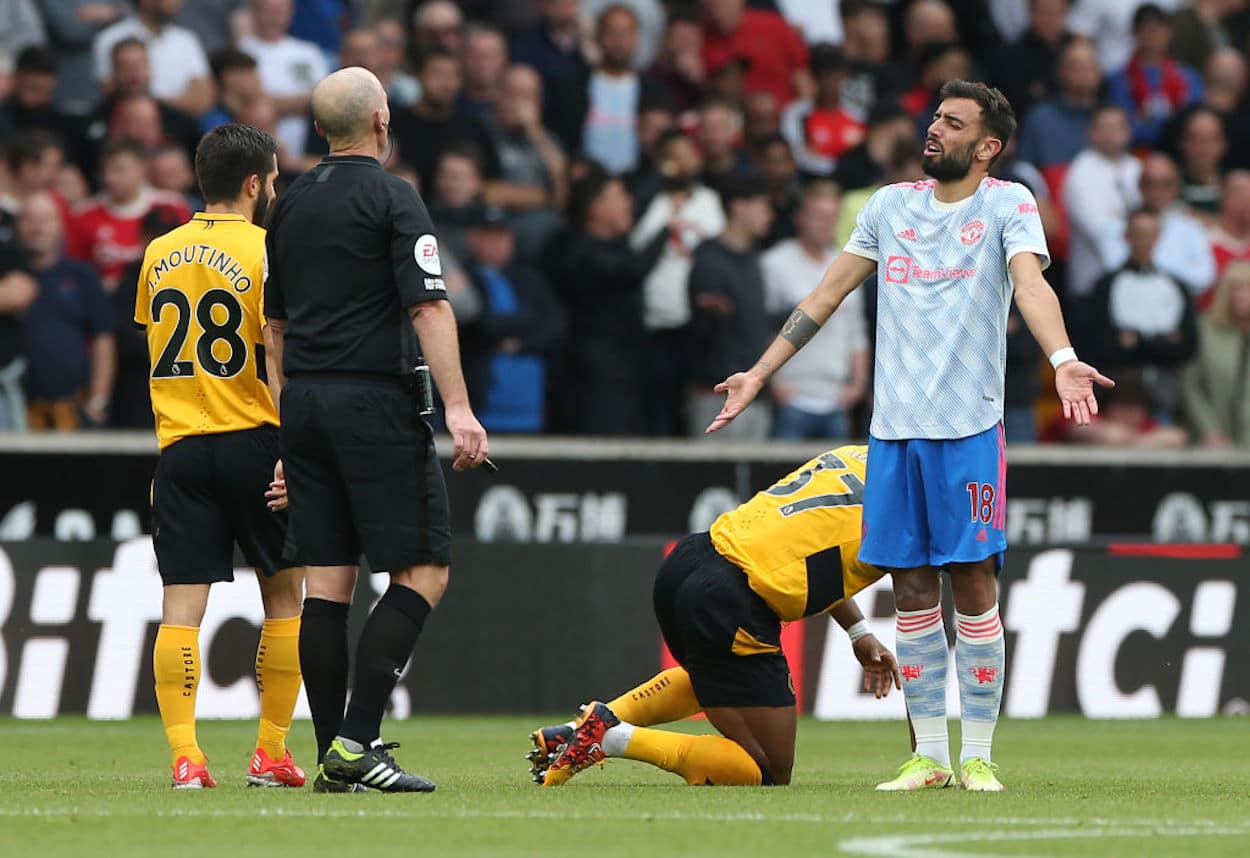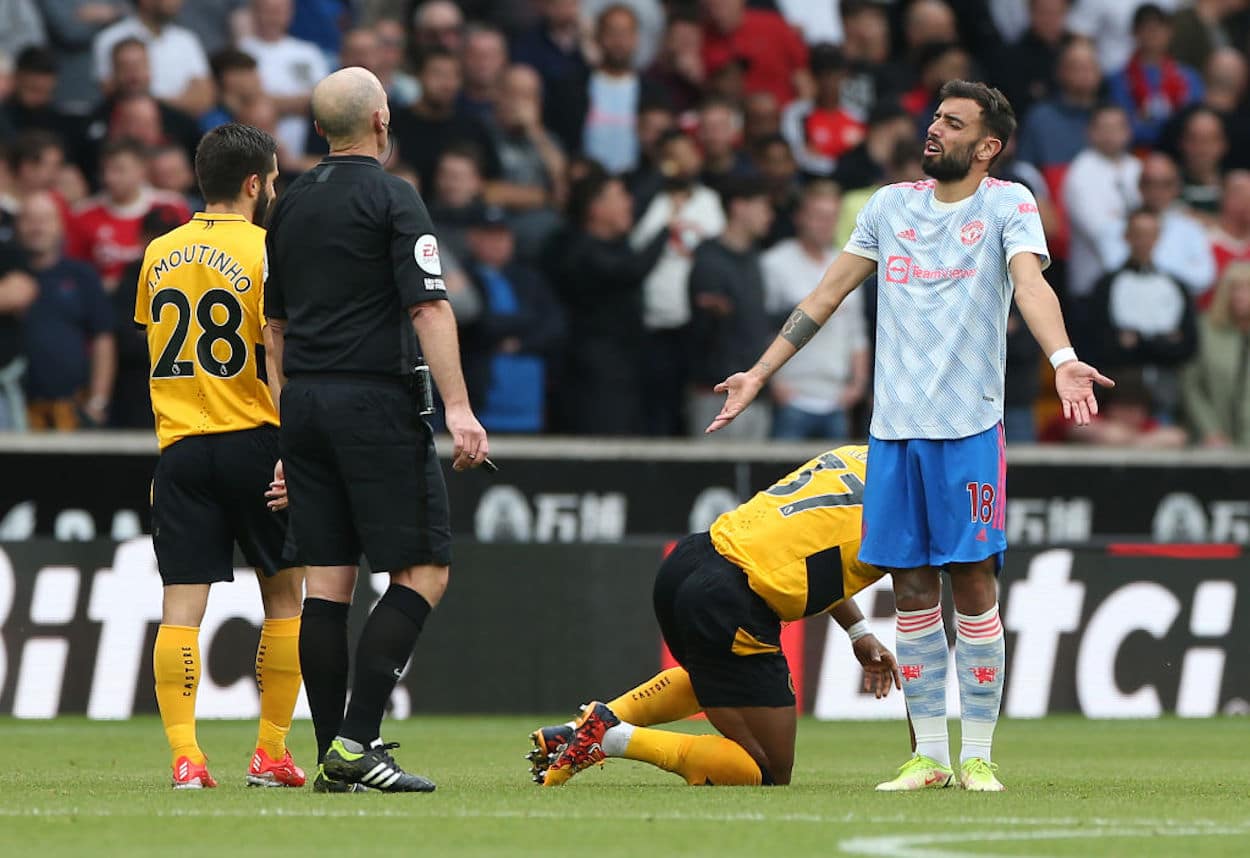 As fans, it's easy to remember a referee and their questionable decisions. Those calls, however, don't take place in a vacuum. The official is on the pitch, moving in between the players and sprinting to keep up with the play. That's a challenging part of the job — if nothing else, they cover a stamina-testing distance each weekend — and is only further complicated by the fact that there are 22 players and a ball moving around that same space.
Sometimes, there are inevitable traffic jams. That's where Dean and Bruno Fernandes would (metaphorically) clash.
In an interview with Adam Crafton of The Athletic, the attacking midfielder explained that he tries to find spaces to work his magic by occupying the same areas as the officials.
"It is about finding the non-occupied areas, or sometimes the dead zones where nobody can see you or mark you. Or, if they do mark you, they will create more space in the middle of the pitch for other people," Fernandes said. "Normally, I call these the 'referee zone'," he says. "Because nobody marks the referee. Sometimes, this is what the coaches say to players who play between the lines, or the wingers who want to come inside, or the striker when he wants to drop. Of course, sometimes the positions are different because it can be a counter-attack, for example."
Sometimes, though, the referee can be too good at finding those spaces, essentially becoming an extra defender marshaling Fernandes. Mike Dean was one of those.
"It also depends on the way an official referees the game," the Manchester United man continued. "Mike Dean, for example, ran very centrally, which was probably for him better to see the game, but for us as a No 10, that cannot be our position, so you have to find out where you can go."
While that's not the standard criticism levied at Dean, it's easy to see how his presence in the center of the park could complicate things for Bruno.
Mike Dean never had the best reputation, but the topic of positioning does show just how challenging refereeing can be
As I mentioned in the very first lines of this piece, virtually every referee is going to be criticized at some point during their career. Mike Dean, however, has earned more than his share of slings and arrows.
At the risk of reducing an entire catalog of decisions down to a few lines, Dean has been criticized for making things about himself. During a big match, it almost seemed inevitable that he'd make a headline-stealing call. Add some other choices, like letting a ball roll through his legs, seeming to celebrate after a goal is scored following his advantage, and appearing on Ted Lasso, and you've got a reputation as someone who wants to be in the spotlight.
"Football referees have always been lightning rods for more general frustration with authority figures, but the Premier League era, with its overpaid pundits and its multiple camera angles, has amplified that discontent," Tim Adams wrote in a Guardian column saying goodbye to "the Premier League ref the fans love to hate." "Dean, the elite league's most visible man in the middle for 22 years, has refereed 560 matches, dished out more than 2,000 yellow cards and a record 114 reds (at a significantly higher rate than any of his peers). He has also invited – and enjoyed – the attention that goes with that decision-making more than most."
With all of that being said, though, let's return to Fernandes' words. Without trying to play a tiny violin for Dean, situation described shows just how easy it is for a referee to get something wrong.
In this case, Dean wasn't doing anything wrong. He was following the play and, even in the Manchester United midfielder's estimation, was doing what allowed him the best view of the action. Despite that reality, though, the referee was specifically name-dropped as someone who got in the way.
While missing calls with VAR is one thing — when you're watching video replays within a system specifically designed to catch errors, then there's a higher expectation — being a referee is a tough and thankless job. Bruno Fernandes, intentionally or not, reminded us all of that.
Like Sportscasting on Facebook. Follow us on Twitter @sportscasting19 and subscribe to our YouTube channel.