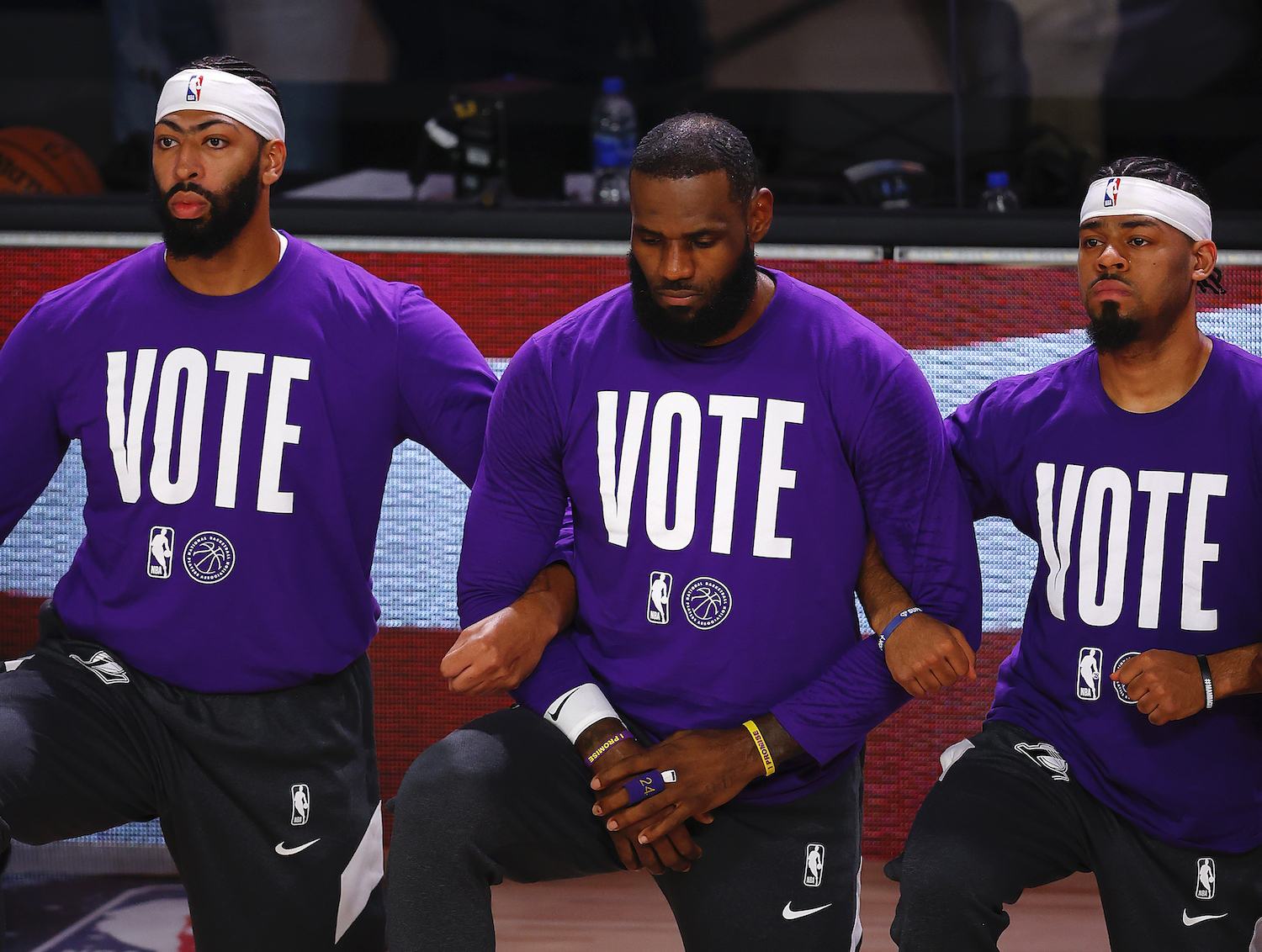 President Donald Trump Blasts 'Nasty' LeBron James and Calls Him Other Names
As LeBron James readies to try and win his fourth NBA title, President Donald Trump ripped the star player for what he's doing in a name-calling tirade.
LeBron James is one of the greatest NBA players in the game's history. He's looking to add to his legacy tonight with an LA Lakers win in Game 5 of the NBA Finals that would earn him his fourth NBA crown. President Donald Trump has a big contest of his own with the presidential election just weeks away. During an appearance on The Rush Limbaugh Show, the president blasted James for what he's doing with the NBA, Black Lives Matter, and called him a variety of names.
LeBron James has been vocal on social justice issues
After the death of George Floyd in May, numerous athletes took to social media to angrily express their frustration with more police brutality against the Black community. Among the most vocal was LeBron James.
Within hours of Floyd's death, James posted a graphic on Instagram. It featured two images side by side, including one of the Minneapolis police officer kneeling on George Floyd's neck, and the other of Colin Kaepernick kneeling. The caption read, "This…" above the image with Floyd and "…Is Why" above Kaepernick's image. 
A week later, James shared a picture on Instagram with him donning a shirt that read, "EQUALITY" spelled backward. James was suggesting that looking at him was a reflection of looking at yourself. It was, in essence, the Golden Rule. James then wrote: "What More You Want From US?!?!?! #Equality"
More Than a Vote launched by LeBron James
To his credit, LeBron James has been more than social media posts and shirts. He's been a man of action. In June, he and his childhood friend and business partner Maverick Carter announced the creation of More Than a Vote. This organization was formed to engage with the Black community in voter-related topics, including voter suppression and voter turnout. 
Numerous other athletes have joined forces with the organization, including Trae Young, Patrick Mahomes, Odell Beckham Jr., Damian Lillard, and Deandre Hopkins.
The organization has focused a part of its efforts on Florida by donating $100,000 to the Florida Rights Restoration Coalition, a key group behind a 2018 amendment passed by voters that restored felons' rights to vote. In addition to the donation, both organizations reportedly sent text messages with a website link to residents for the purpose of forwarding them to felons who need financial assistance. 
President Donald Trump calls James names
In late August, after the Milwaukee Bucks boycotted their playoff game in protest of the police shooting of Jacob Blake, President Trump said he wasn't familiar with the protest but the NBA's ratings were very bad because "they've become a political organization and that's not a good thing for sports or the country."
On Friday, the President sharpened his attack during an appearance on The Rush Limbaugh Show and focused his sights on the game's superstar LeBron James. 
"LeBron is a spokesman for the democratic party and a very nasty spokesman," Trump said. "Because, again, I've done so much for the Black community and people don't wanna see that and he's a great basketball player but people don't wanna see a guy that way. They don't want to see that. We have enough difficulty during the week, you don't wanna sit down watching a basketball game and then watch somebody that hates your guts. Okay, he's a hater."
In addition to his work with More Than a Vote, LeBron James launched the I Promise School in his hometown of Akron, Ohio in 2018, which is a public elementary school supported by his foundation that is specifically aimed to serve at-risk children.
His launch of More Than a Vote and the I Promise School show James is not a man of hate. He's a man of action trying to improve things in his local community and the Black community overall. Both gestures are signs of love and compassion for others — something the country could use a lot more of right now.