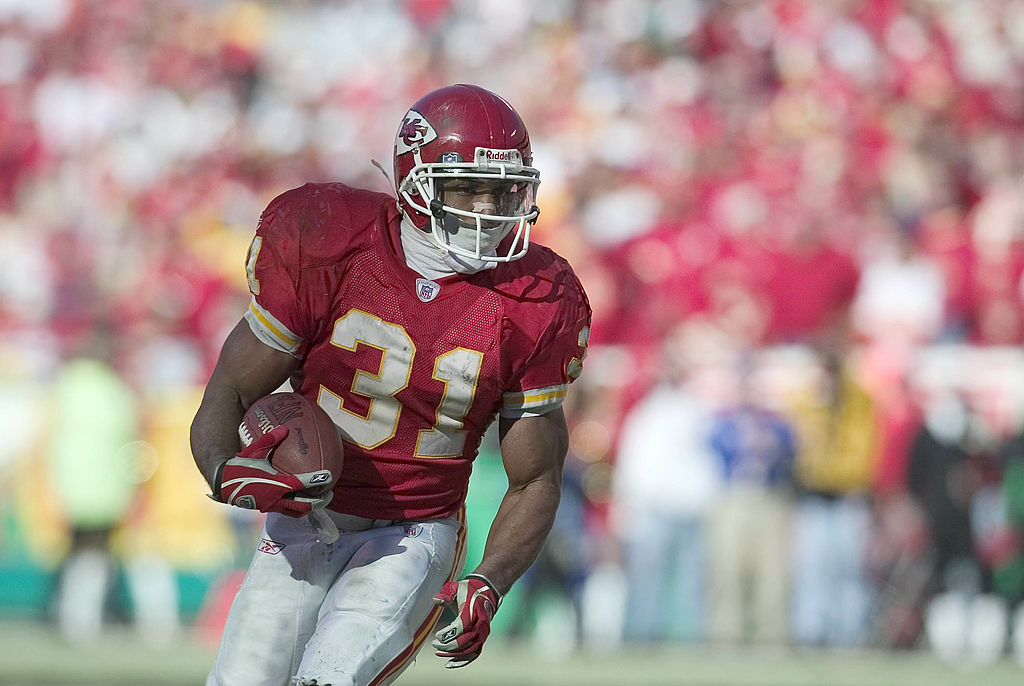 Priest Holmes' Promising Career Was Derailed Injury
Once upon a time, Priest Holmes was arguably the NFL's best running back. Injuries changed everything.
During his prime, Priest Holmes was one of the NFL's best running backs. He rose to stardom with the Kansas City Chiefs, for whom he became a fan favorite due to his impressive ability to carry the football.
But while he peaked on an unforgettable trajectory, his career went sideways because of injuries, leaving him as just a shadow of the superstar he once was.
Priest Holmes' NFL career started with the Baltimore Ravens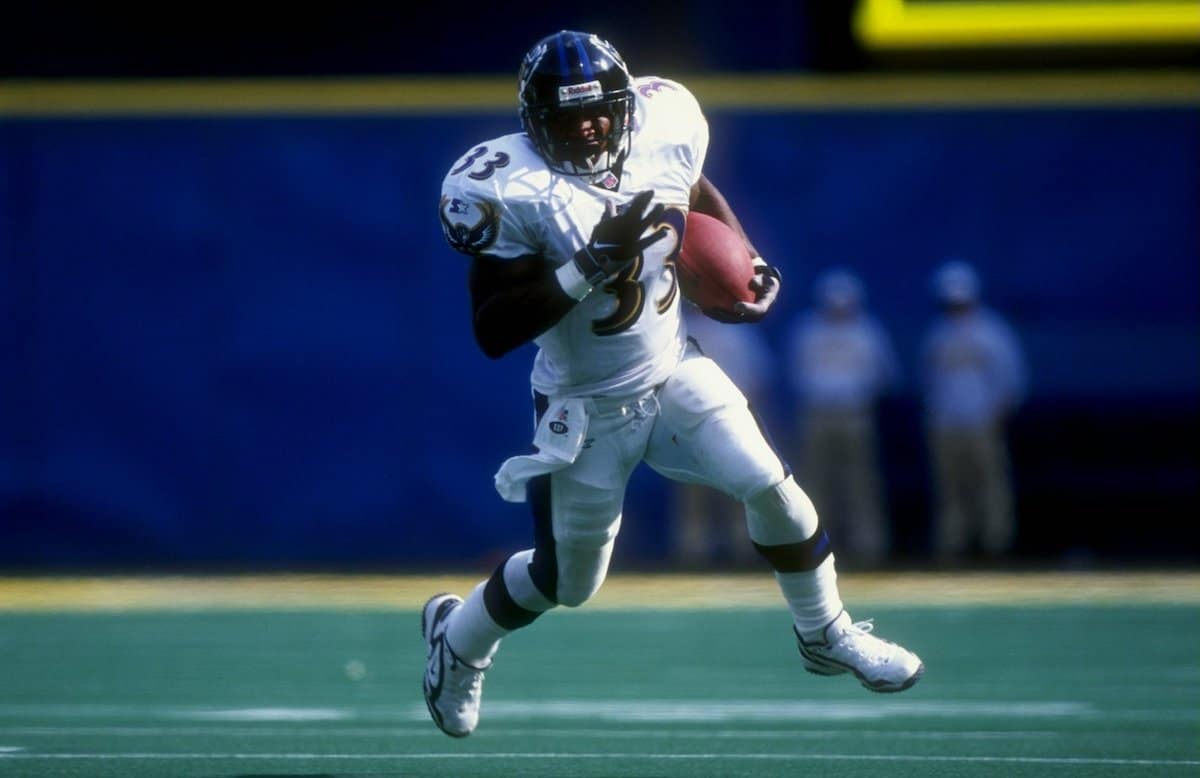 Coming off a productive collegiate career at Texas, Priest Holmes went undrafted in the 1997 NFL Draft before the Baltimore Ravens offered him a contract. He was merely a fourth-string running back throughout his rookie campaign before receiving an opportunity during his sophomore year after Bam Morris and Earnest Byner departed in the offseason.
The Longhorn product immediately broke through with his first 1,000-yard campaign and seven rushing touchdowns. The highlight was a season-high 227 rushing yards in a 20-13 Week 12 victory over the Cincinnati Bengals.
Still, Holmes hadn't done enough to take the featured job. Instead, he served in a complementary role behind Jamal Lewis over the next two seasons, making the most of his touches to aid a running game that led the Ravens to a victory over the New York Giants in Super Bowl 35.
Priest Holmes shined with the Kansas City Chiefs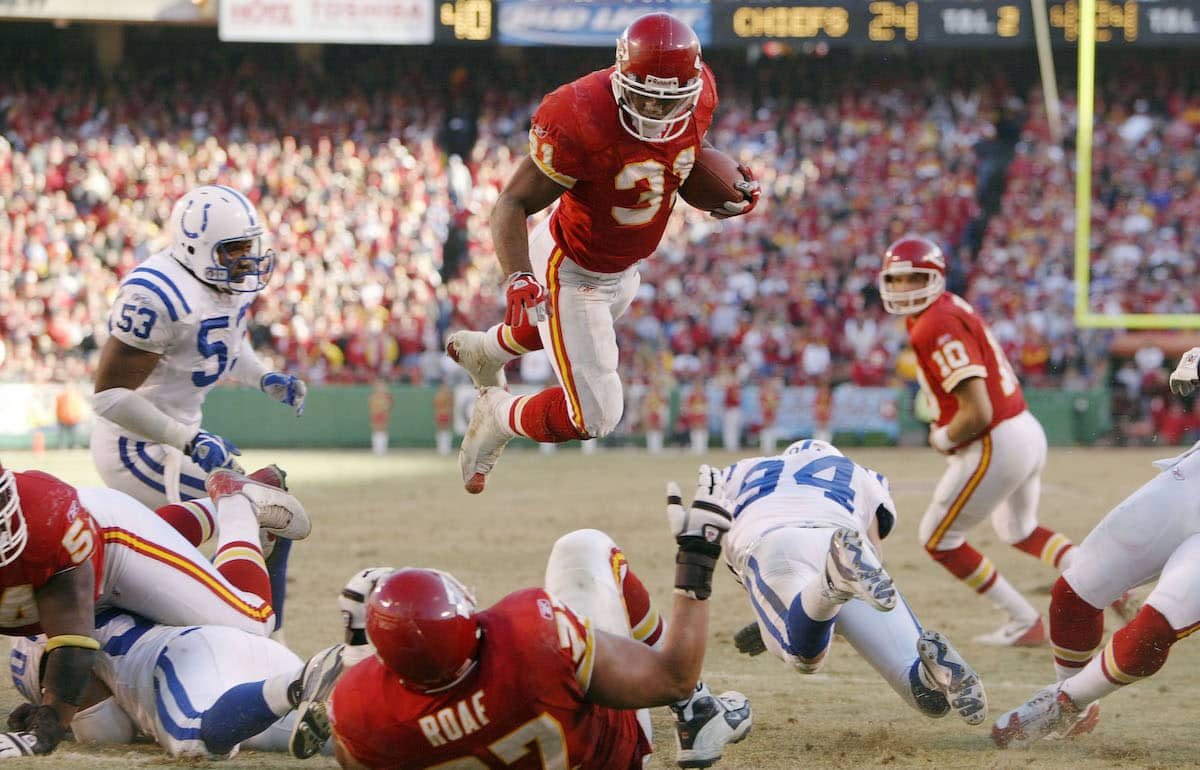 Looking for a new home to showcase his ability, Priest Holmes found one with the Chiefs on a deal worth $11.7 million over five years.
Holmes quickly proved himself worth every penny — and more — as he recorded eight rushing touchdowns and led the league with 1,555 rushing yards to become the first undrafted rushing champion since Joe Perry in 1954. Over his first three years, he surged to stardom with three Pro Bowl selections, three first-team All-Pro nods, two rushing titles, and an NFL Offensive Player of the Year award.
The 5-foot-9, 213-pound back posted his best statistical campaign in 2002, notching 1,615 rushing yards and an NFL-high 21 rushing touchdowns. One year later, he tallied 1,420 rushing yards and set a single-season record with 27 more scores on the ground. Plus, he recorded at least 60 receptions and 600 receiving yards each year to establish himself as a dual-threat weapon.
But after that dominant stretch positioned him as arguably the best running back in the NFL, injuries reared their ugly heads.
Priest Holmes' downfall due to neck injury
Priest Holmes took a major step down after that incredible three-year run.
He was limited to just eight games in the 2004 season but managed to tally 892 rushing yards and 14 touchdowns. In October 2005, he suffered a spinal injury on a tackle by Shawne Merriman, which opened the door for backup Larry Johnson to step in as the starter and take advantage of his increased responsibilities.
Holmes' spinal issues continued through the 2006 preseason, and he was placed on the Physically Unable to Perform (PUP) list. Meanwhile, Johnson remained the starter — a role he retained until Holmes reentered the starting lineup against the Oakland Raiders in Week 7 of the 2007 season.
It was the first time he'd suited up since the Merriman tackle, but his return to the field was short-lived.
Holmes suffered another neck injury, this time in his fourth game back — a 13-10 loss to the Indianapolis Colts. He announced his retirement on Nov. 21, three days after what proved to be his final appearance in the NFL.
Though injuries derailed his promising career and left him unable to earn enshrinement into the Pro Football Hall of Fame, Holmes did receive a Ring of Honor induction with Kansas City. He retired as the franchise leader in career rushing touchdowns (76), total touchdowns (83), and rushing yards (6,070). Jamal Charles later took the last record from him, but the rest remain intact.