Raiders Coach Josh McDaniels Isn't a Leader, According to His Former Player: "You've Got Guys Retiring Midseason!"
Raiders head coach Josh McDaniels isn't cut out to be an NFL head coach, according to Brandon Marshall, who played for him with the Broncos.
The Las Vegas Raiders were a trendy Super Bowl pick in the preseason. The Raiders roster is loaded with blue-chip talent, including Derek Carr, Davante Adams, Hunter Renfrow, Darren Waller, Maxx Crosby, and Chandler Jones. And after last season's Jon Gruden debacle, this season had to go smoother, right? Wrong. Under new head coach Josh McDaniels, the Raiders are 2-6 heading into Week 10, and the team is arguably the most disappointing squad in the NFL this season. While this is a shock to many, former NFL wide receiver Brandon Marshall — who played for McDaniels in his last head coaching stint in Denver — isn't surprised at all.
Brandon Marshall isn't surprised Josh McDaniels is again failing as an NFL head coach 
Josh McDaniels came up in the New England Patriots organization under Bill Belichick and worked his way up to become offensive coordinator. After several years of success (but no Super Bowls at that point), McDaniels left in 2009 to become the head coach of the Denver Broncos.
The Belichick disciple coached 28 games for the Broncos (just less than two seasons) and posted an 11-17 record. In his first season, McDaniels went 6-0 to start his head coaching career before going 2-8 down the stretch to finish .500. The following season, where McDaniels rotated Kyle Orton and Tim Tebow — who he traded up to draft in the offseason — the coach was 3-9 when the team fired him after Week 13.
The leading receiver in that 2009 team was Brandon Marshall. Ahead of Week 10 in 2022, he joined Kay Adams on Up & Adams to discuss his former coach.
Adams asked Marshall to comment on "a lot of rumblings, especially over the past week, that McDaniels is not suited to be a head coach."
With a wry smile, Marshall launched into a super-sarcastic response asking how couldn't McDaniels be suited to be a head coach? He mentioned all his experience, his resume, working with Tom Brady and Bill Belichick, and his learning experience in Denver.
Marshall even went so far as to quip, "Maybe [the Raiders] should have gone and got Jeff Saturday."
After all that, Marshall finally got to his true answer, crushing his former coach's ability to be a successful NFL leader.
"Josh McDaniels is definitely not suited to be a head coach! Absolutely not," Marshall told Adams. "Because he doesn't know how to lead people. You can have all the Xs and Os in the world, Kay. But when you go into a losing locker room, the first thing you need to do is be able to get to the players' minds and their hearts. And he's not capable of doing that with his players. He's not capable of doing that with his coaches. And when things hit the fan, he gets worse with guys like that."
Marshall then cited a specific example, saying, "You have guys retiring midseason. Think about that. That's horrible leadership!"
In that last dig at McDaniels, Marshall specifically references the unique case of Blake Martinez retiring before Week 10.
Raiders LB Blake Martinez retired midseason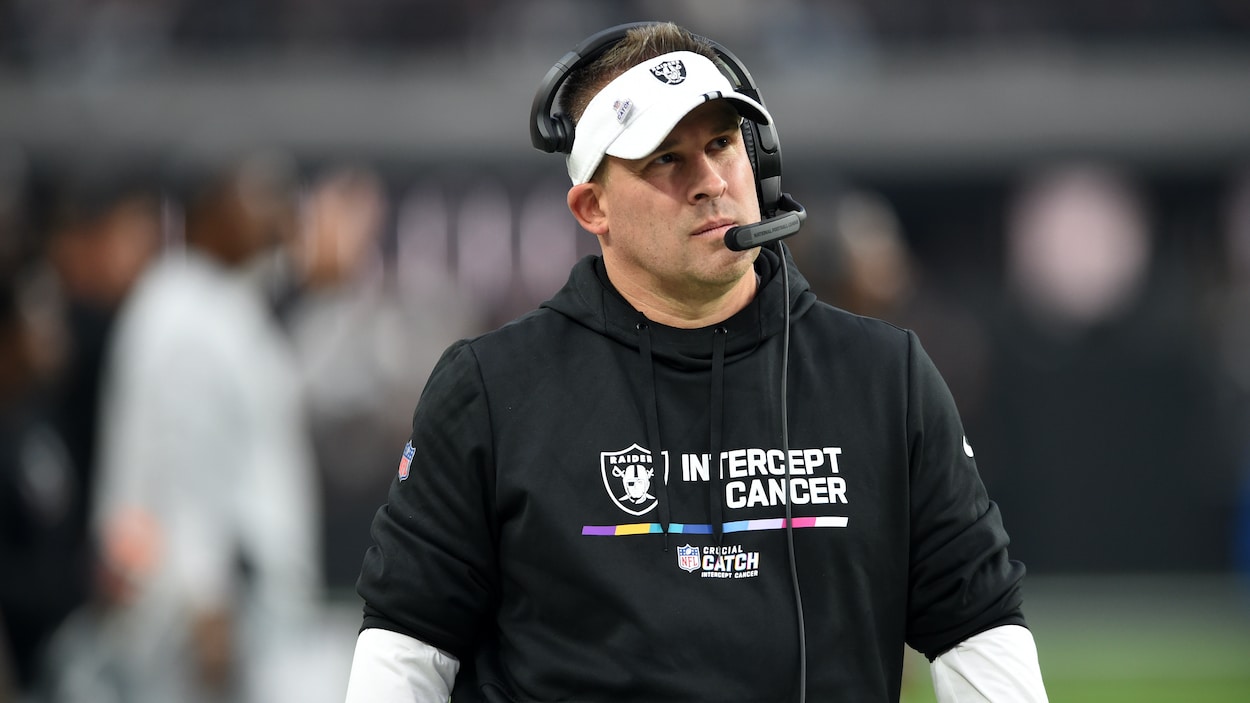 Illustrating Brandon Marshall's point is the fact that Las Vegas Raiders linebacker Blake Martinez decided to walk away from the game of football at 28 years old after four games playing for Josh McDaniels.
Martinez is an Arizona native who played football at Stanford from 2012-15. In the 2016 NFL Draft, the Green Bay Packers took the linebacker in the fourth round (No. 131 overall). Martinez started 57 games for the Packers, racking up 512 tackles, 17 passes defended, three interceptions, and 10.0 sacks.
After Green Bay, Martinez played two seasons for the New York Giants. After a solid 2020 season, the linebacker tore his ACL in Week 3 of 2021 and didn't play again until he signed with the Raiders after Week 4 of 2022.
Martinez played in four games in the Silver and Black, making 20 tackles. Then, ahead of Week 10, he announced, "I have chosen to step away from this career at this time to focus on my family and future passions!"
Among those passions is collecting, buying, and selling Pokémon cards.
Martinez recently "sold a rare Illustrator Pikachu card known as 'The Swirlustrator' from 1998 for $672,000, which would be the second-most expensive Pokémon card ever sold. The card had reportedly been valued for as much as $1.5 million a few weeks prior," per ESPN.
While Martinez's retirement is unusual and came out of the blue, it's hard to tell how much of it is directly related to Josh McDaniels, as Brandon Marshall implied. What does seem likely, though, is that if McDaniels was coaching well and the Raiders were cruising to the playoffs, Martinez probably wouldn't have walked away when he did.