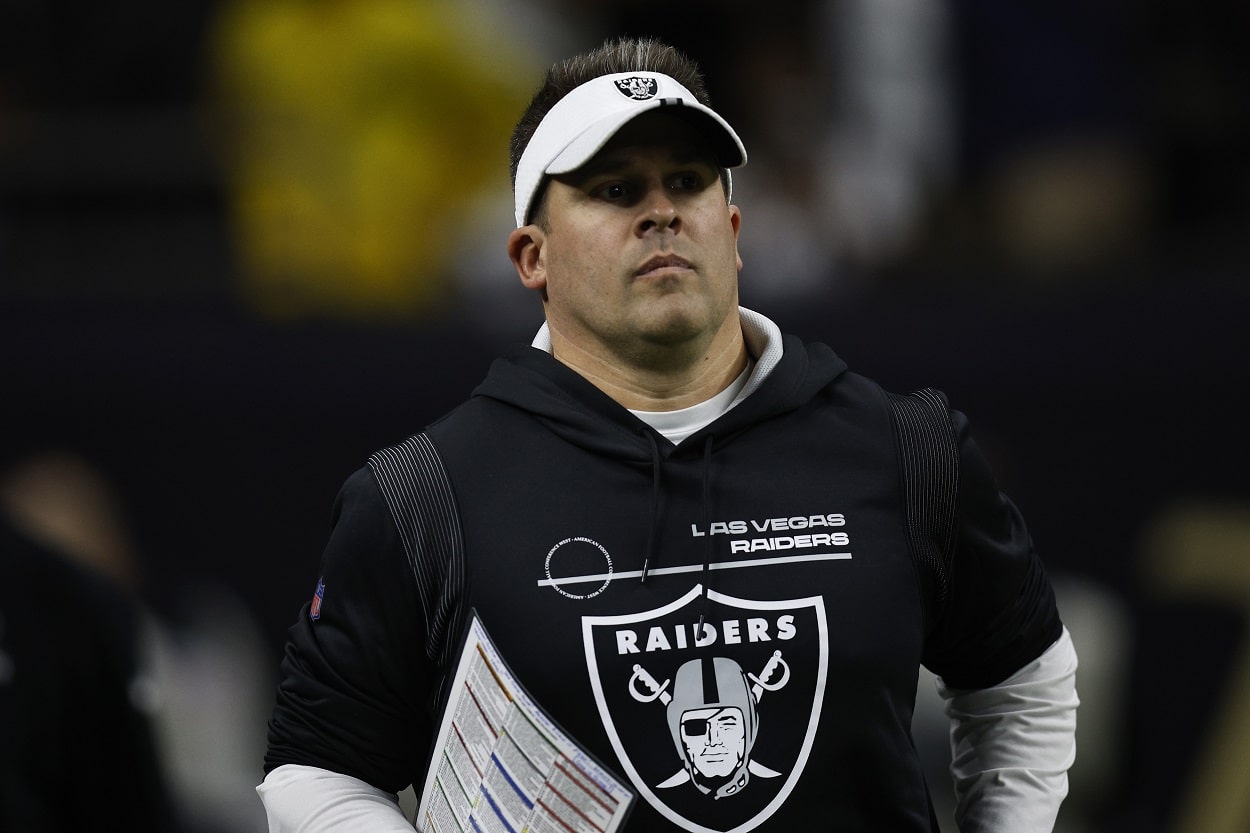 Josh McDaniels' Disastrous Raiders Run Confirms the Truth About Tom Brady and Bill Belichick
Josh McDaniels' first year with the Las Vegas Raiders has been a disaster.
Would Bill Belichick have won six Super Bowls as a head coach without Tom Brady? 
Of course not. 
But ask former players, coaches, and executives about Belichick's brilliance, and it's clear he's in a class of his own. 
On the other hand, would Josh McDaniels be one of the 32 men who get paid millions to run an NFL team without Brady? 
The answer is unequivocally no. 
If the Las Vegas Raiders don't make a miraculous turnaround in November and December, that'll only cement the fact that McDaniels has no business calling himself one of Belichick's peers. And if things keep trending in the wrong direction, don't be surprised if Brady's longtime offensive coordinator and trusted confidant finds himself looking for a new gig sooner than anyone could have expected.
Josh McDaniels' second stint as an NFL head coach has been an absolute disaster
Coming off a season in which they fired Jon Gruden and happened to sneak into the playoffs, the Raiders made the splashy decision to hire Josh McDaniels as their next head coach.

Needless to say, that move looks questionable based on how poorly Las Vegas has performed through eight games. 
Instead of competing for a division title with the Kansas City Chiefs, McDaniels' team is in the running to earn the No. 1 overall pick in the 2023 NFL Draft. With an underperforming offense that ranks 14th in scoring (22.9 points per game) and a defense that ranks 27th in points allowed at 25.1 per game, the Raiders have posted a disappointing 2-6 record, including embarrassing losses in back-to-back weeks against the New Orleans Saints and the Jacksonville Jaguars. 
Most concerning about the Raiders' sluggish start? 
For a franchise that blew leads of 17 points or more on only five occasions from 1960 through 2021, McDaniels' team has accomplished that unfortunate feat three times in just eight games in 2022.
Failing to close out what should have been easy victories has been a persistent theme for a Raiders squad that ripped off four straight wins to sneak into the postseason a year ago. 
Of course, this isn't the first time McDaniels has struggled to live up to the hype as a head coach after building his resume in New England. His infamously chaotic, short-lived stint as head coach of the Denver Broncos included an ugly 11-17 record that raised serious questions about his ability to succeed without Bill Belichick and Tom Brady. 
Now, though, it's hard to ignore the truth about the trio that hoisted the Lombardi Trophy six times across two dominant decades.
Bill Belichick's critics can't look past McDaniels' stunning lack of success without Tom Brady
As much scrutiny as Belichick deserves for his roster management and conservative approach in close games in recent years, it's obvious the man knows how to win at the NFL level. Even though he never brought a championship to Cleveland, he did lead the Browns to an 11-5 record and a playoff berth in his fourth year. And compared to many of the men who've held the head coach position with the franchise, Belichick did better than most. 
Still, detractors point to his "lack of success" without Tom Brady as one of the biggest reasons to doubt his credentials. Sure, Belichick hasn't won a Super Bowl title with anyone else but the GOAT, but he's at least proven capable of putting together a playoff-caliber team with a different quarterback under center. 
Although the 2020 season certainly didn't go as planned, the fact that Belichick coaxed seven wins out of an offense led by Cam Newton during the height of the COVID-19 pandemic says a lot about his skills as a game planner. 
However, year two of the post-Brady era saw the second-winningest coach in NFL history return to the playoffs–with a rookie quarterback. And while it would be a major stretch to call the Patriots legitimate title contenders at this point, they own a 5-4 record and are still in the hunt for a Wild Card spot. 
After enduring plenty of criticism and speculation about how much Brady factored into his success, Belichick shouldn't be the one in the spotlight. 
Instead, it's McDaniels who should feel exposed. 
Unlike his former boss, he simply hasn't accomplished anything of note without having the greatest player of all time running his offense. 
Following his short-lived tenure as Denver's head coach, McDaniels took over as OC for the then-St. Louis Rams. 
The results? 
No team finished with fewer points per game. The Rams averaged a pitiful 12.1 points during a 2-14 campaign that ultimately cost Steve Spagnuolo his job. While some of their struggles could be attributed to poor personnel, the fact the Rams finished 31st in yards and dead last in scoring certainly didn't help repair McDaniels' reputation. 
What did, however, was returning to Foxborough to work with Tom Brady. Yet once the GOAT took his talents to Tampa, McDaniels reverted back to overseeing a less-than-stellar offense (the Patriots ranked 27th in yards and scoring in 2020). The team did make a jump to sixth in scoring with Mac Jones, but even diehard New England fans would have to admit the 2021 offense didn't exactly blow defenses away. 
Somehow, even after acquiring arguably the best receiver in football, McDaniels hasn't been able to turn the Raiders into a juggernaut. Rather, they rank 14th in scoring and just 16th in total yards. Derek Carr's numbers have dropped across the board, and it isn't easy to see the team overcoming such a rocky beginning to what fans expected to be a successful season.
Raiders fans should be worried about the future of their favorite franchise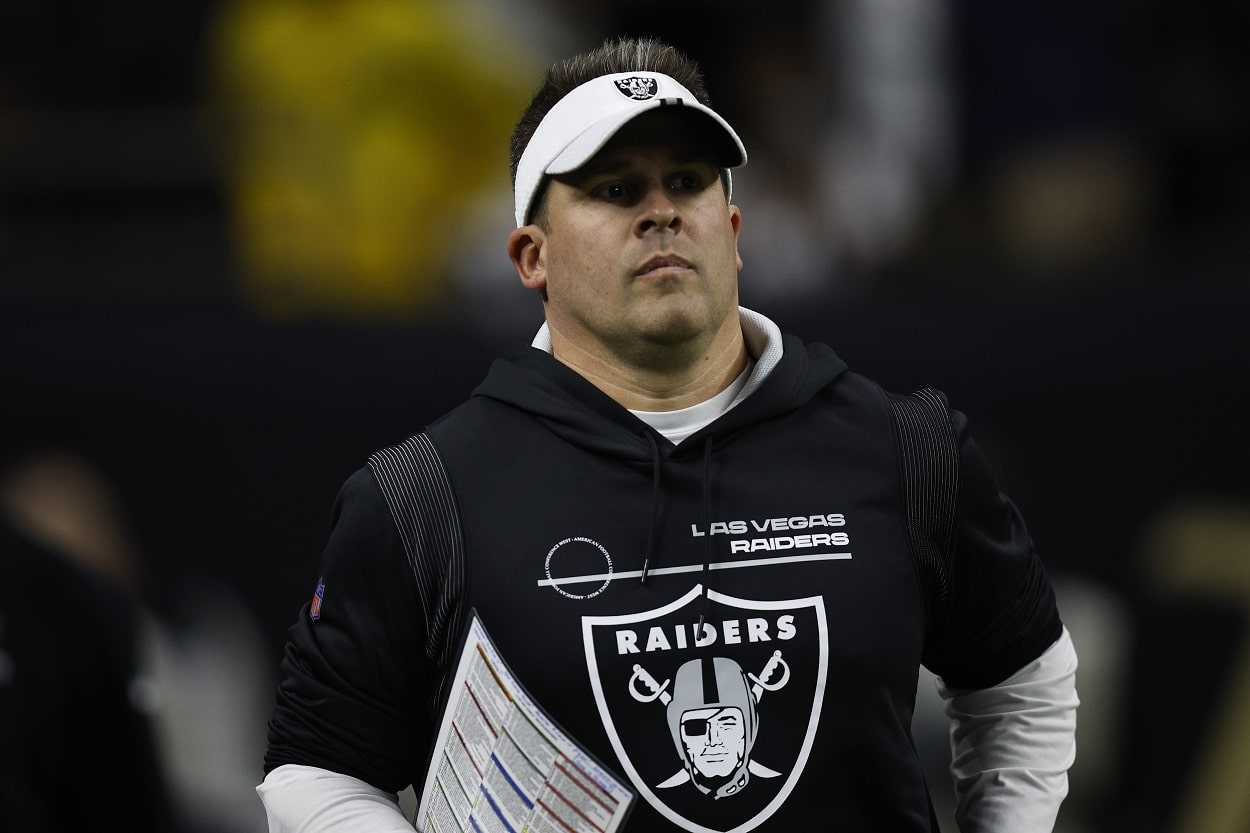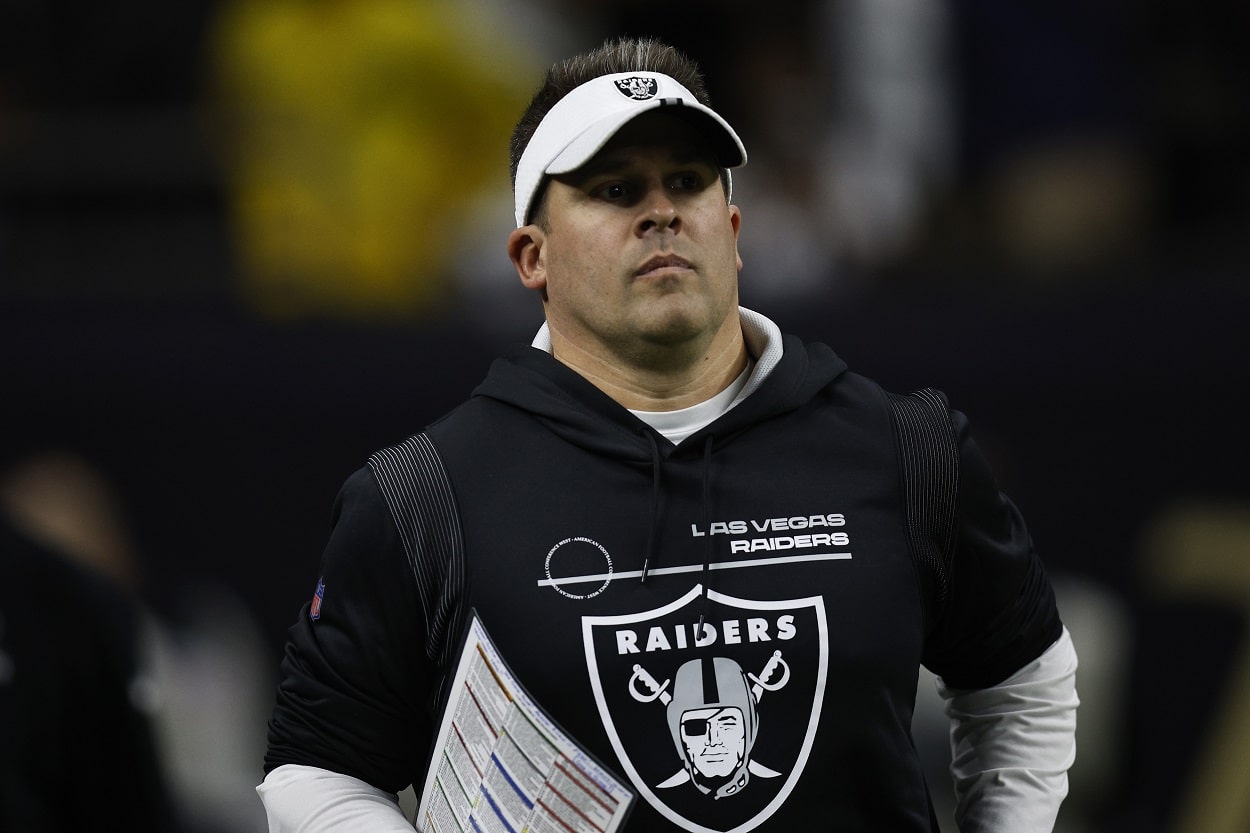 Ultimately, the more we see Josh McDaniels try to win without Tom Brady, the more it's clear that he, not Bill Belichick, is incapable of doing so. 
From flopping miserably with the Broncos to running a rudderless Rams offense to overseeing a 2-6 Raiders team that hasn't even averaged a full point more than it did in 2021, the 46-year-old's resume looks scary when you take out his time with the Patriots. That doesn't necessarily mean McDaniels doesn't know how to call or design plays. It doesn't even mean he's a lousy offensive coach. 
Clearly, though, when he hasn't had Tom Brady as his quarterback, he's experienced essentially zero success. The same cannot be said for Belichick, who at least has a few postseason berths on his resume that can't be credited to TB12. 
What does that mean for the future of a Raiders franchise that's desperate for some semblance of direction and leadership? 
Midway through the season, McDaniels looks more likely to be one-and-done than to lead the team back to the promised land. As much as ownership may be trying to voice support, that may not matter once the season ends–if not sooner. 
At the very least, if Josh McDaniels doesn't cut it in Las Vegas, he should be able to call up his former employer. 
After all, if Bill Belichick wants to win a ring without Tom Brady, it won't be with Matt Patricia as his offensive coordinator.
Have thoughts on this topic? Keep the conversation rolling in our comments section below.