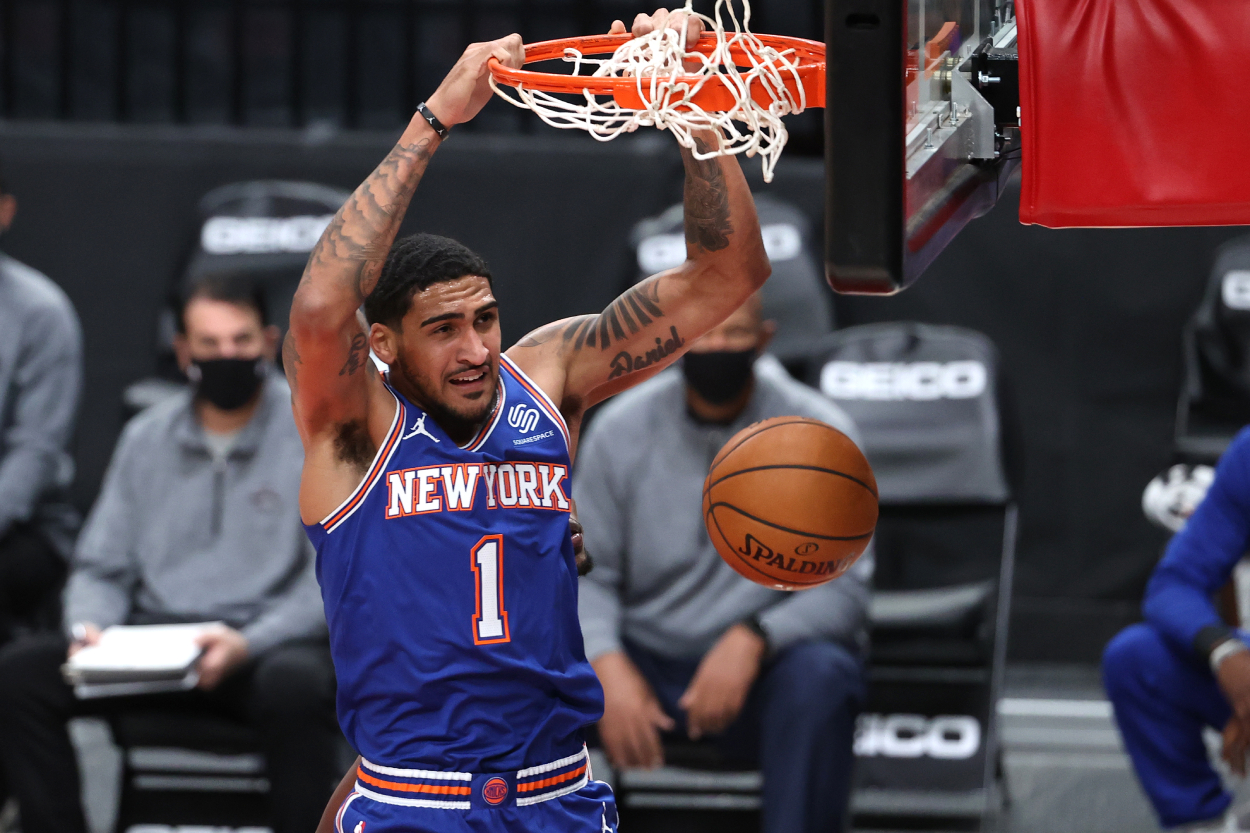 Ranking the 4 Players Competing in the 2022 NBA Slam Dunk Contest
We now know who will compete in the 2022 NBA Slam Dunk Contest. So, we ranked them on their dunking skills and what they may bring to this year's competition.
The 2022 NBA Slam Dunk Contest is almost here, and we finally know which players are participating in the competition.
We, of course, aren't getting any massive names like we used to (or hoped to), but there are still a few notable stars competing in it: Jalen Green, Obi Toppin, Juan Toscano-Anderson, and Cole Anthony.
As we head into the event, we decided to rank each of them but not for their abilities as players. This is a ranking of their dunking skills and what they will possibly bring to this competition during NBA All-Star Weekend.
We based the criteria on their athleticism and how many times they have dunked this season. We also looked at their dunking resume, whether that be in past slam dunk competitions or through various jams that have gone viral on the internet.
So, without further ado, here is a ranking of the players Shams Charania reported to be participating in 2022 NBA Slam Dunk Contest.
4. Jalen Green, Houston Rockets
Make no mistake about it; just because we have Jalen Green fourth here doesn't mean he can't dunk. The 6-foot-4-inch guard has the potential to win the entire thing.
Green, the Houston Rockets rookie, is second amongst these stars (77th in the NBA) in dunks this season with 26. He has also been going viral on Twitter since he was a teenager with unreal in-game slams.
Green's explosiveness can certainly help him win this year's slam dunk contest. But the other stars either have better NBA dunking resumes or are just explosive in different ways.
3. Juan Toscano-Anderson, Golden State Warriors
Juan Toscano-Anderson is probably the lesser of these four players in terms of overall ability. But his dunking resume is pretty impressive. 
No, there aren't numerous highlight reels from his high school days out there, but Toscano-Anderson, the 6-foot-6-inch Golden State Warriors wing, has almost recorded nearly as many dunks as Green despite playing fewer minutes. As mentioned earlier, Green has 26 dunks this season, and he has played in 1,054 total minutes (30.1 per game). Toscano-Anderson has 20 slams in 760 minutes (15.2 per game).
The Marquette product also has more experience in regards to a viral dunk in an actual NBA game. Earlier this season, he had a monster jam on Phoenix Suns big man JaVale McGee that nearly broke the internet.
So, Toscano-Anderson's in-game dunk volume and viral NBA slam give him the edge over Green. But he still doesn't crack the top two.
2. Cole Anthony, Orlando Magic
OK, this one might be controversial. Anthony, the son of former NBA player Greg Anthony, has recorded the fewest dunks of all of these players this season with 10. And he hasn't had a video reach everyone's phones during his NBA days like Toscano-Anderson.
But he has one attribute that will give him an edge in this contest: his size.
Anthony is the shortest player in this competition, standing at just 6 feet, 2 inches. His ability to get up despite his height is unreal, and, like Green, has had some well-documented (and disrespectful) jams percolate through the internet over the years, specifically as a teen.
We all know how shorter players have fared in this competition. Nate Robinson has won the most slam dunk contests, winning it three times, and he's only 5 feet, 9 inches. If Anthony can channel his inner Robinson and show just how high he can get up, the Orlando Magic guard has a chance to win this entire thing.
1. Obi Toppin, New York Knicks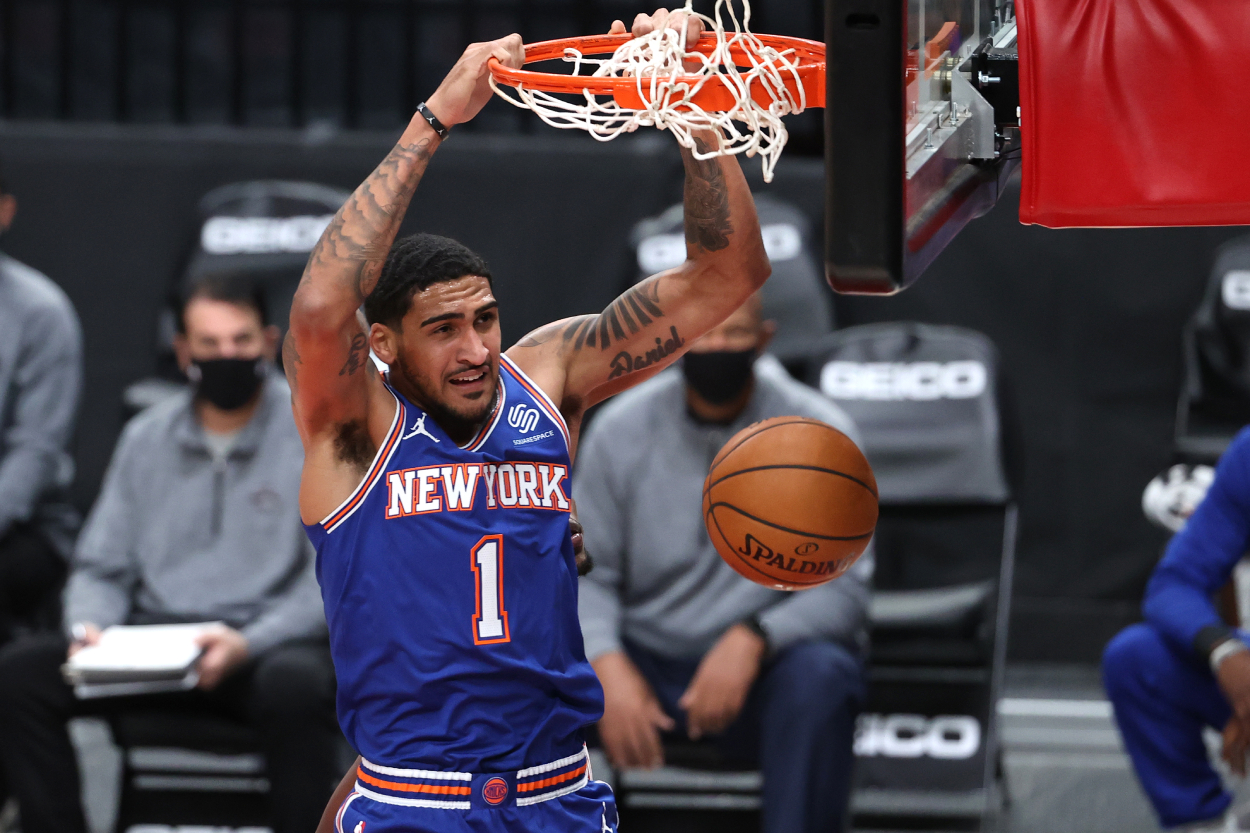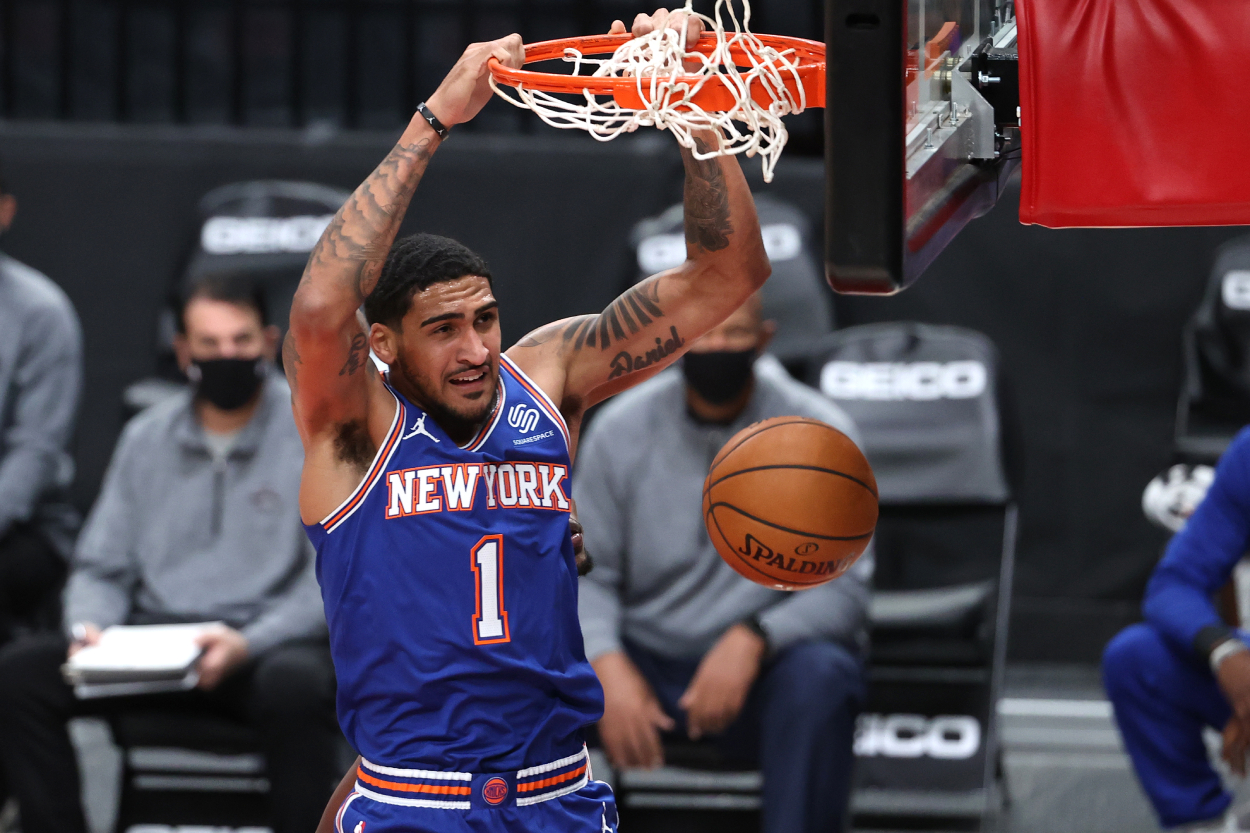 Obi Toppin is No. 1 because he pretty much checks all the criteria boxes. He has the most dunks out of each of these stars this season with 66, ranking 16th in the NBA, and that's despite playing in only 728 total minutes (15.8 per game).
He has also shown off his athleticism for years. You can find numerous videos of his ridiculous dunks ranging from his time at the University of Dayton to now with the New York Knicks. In fact, Toppin even went between the legs during an actual game this year.
But what really gives the 6-foot-9-inch forward the nod is his slam dunk contest experience. He participated in the event last year and finished second to Anfernee Simons. It's time for him to get his revenge.
All in all, this should be a fun competition, despite no massive names participating. Toppin's experience might just give him the edge over his fellow stars.
Stats courtesy of Basketball Reference and up to date as of Feb. 2, 2022.